4 free apps to boost your language learning every day
Mobile apps make it easy to learn on the go
By Lauren Aguirre

Learning something new takes time and discipline — especially when learning a new language. You have to stay disciplined in your study, even when it feels like you're getting absolutely nowhere. You don't have to squirrel yourself away with a boring textbook for hours on end anymore. Now, there are plenty of mobile apps to keep up your learning on the go. These are the perfect tools to motivate study in little bursts every single day. Best of all, these four apps can be used without having to pay a single cent.

1. Duolingo

Duolingo.com
Duolingo is by far the most popular language learning app. Unlike many of its competitors, all of its language courses will be available for free — forever. Nothing is hidden behind a paywall. Currently, you can learn 23 different languages, with more courses being added every year.
The fun of using Duolingo is the gamification aspect. The lessons are presented as a fun little game you complete every day, rather than boring texts you have to drudge through. When you keep up your daily streak, you are rewarded with small bonuses. By completing more lessons, you can earn coins to unlock extra curricular ones, including slang vocabulary. The app teaches vocal as well as grammatical concepts. It's a fun but powerful tool that will keep your language learning on track. However, if you really want to drill on specific vocabulary, other resources might be more useful.
2. Google Translate

Google.com
When starting a new language, Google Translate is probably the first tool anyone would think of. This is a completely free tool to quickly translate words, phrases or even whole passages. You can access it online, but you can also download the free app to translate on the go. This is a great tool to check on things you don't understand, including things you are reading or hearing for the first time. You can also translate offline by downloading language packs.
However, it should be noted that Google Translate isn't the perfect tool. It's great for getting a basic understanding of what is being said, but it will not always provide completely accurate translations. The app tends to go the more literal route over what is said more naturally in the language. It's a good resource (especially with its live street sign translations), but shouldn't be your only language learning tool.
3. Memrise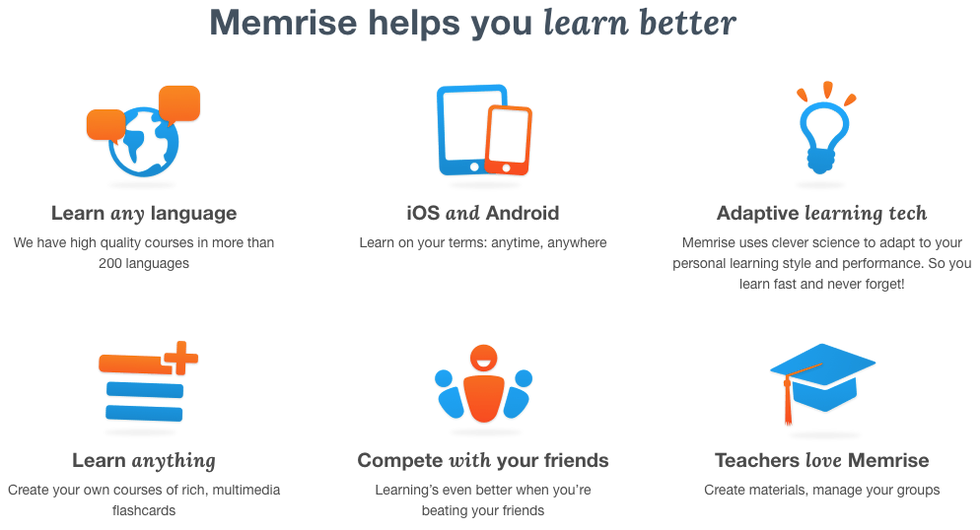 Memrise.com
Memrise is an app that is similar to Duolingo. There are pre-determined lessons in many different languages, but they are given in a traditional flashcard format. This makes the app great for repetition and drilling skills you are already familiar with. It's also a fantastic way to expand your vocabulary. Memrise has default lessons built by them, but also allows users to upload their own decks. If you're looking to study a specific subject matter or grammar concept, you can probably search and find a deck that will help you out. Failing that, you also have the ability to upload your own lessons.
Memrise is completely free to use, but with a premium subscription, you can get access to a few extra features. These include a special listening-only mode, video learning, and adaptive lessons to focus on your problem areas. The premium version used to include offline learning. However, that feature is now available for free to all users. You can get everything you need out of Memrise without ever having to pay for premium.
4. Hello Talk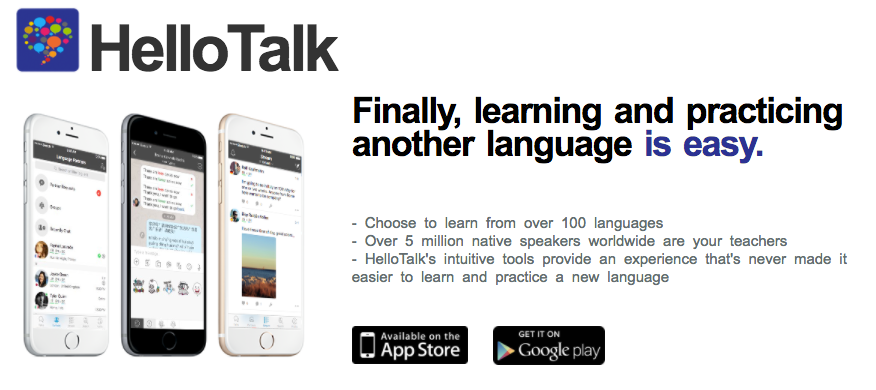 Hellotalk.com
Learning vocabulary and grammar are essential for any language, but all of these lessons are practically useless if you can't actually write or speak. This is where Hello Talk comes in. This app connects language learners from around the globe to talk to each other over text or calls. With built in grammar and translation tools, Hello Talk is a step up from your average messaging app. With the app, you can communicate with native speakers in any language you want to learn. This is a good place to practice your language skills and learn the culture surrounding your target language.
You can start using Hello Talk for free, but you'll have to upgrade to VIP status to really get the full experience. The biggest perk of the app is the in-conversation translation tools. Without paying, you're limited to a specific number of translations a day. You're also limited in how you can search for users to talk with and are limited to learning only one language at a time. That said, the monthly subscription price is only $2.99 a month or $21.99 a year. If you're ready to practice speaking almost daily, it's a reasonable price for the tools you'll need.