The final season of Game of Thrones is premiering on April 14th, and major hair envy is likely to return along with all the plot twists. The eight episode season is sure to showcase braids in some pretty interesting ways on almost all their leading ladies. Instead of just sitting on the couch with your post-workout hair thrown up in another messy bun, why not draw hair inspiration from your favorite tv shows and try them out for yourself?
Iconic shows like Scandal and Game of Thrones are packed with hours and hours of hairstyles worth replicating. From epic braids to 90s blow outs, the hairspiration is real. New seasons of some of your favorite shows are also about to hit the air. Big Little Lies, Westworld, and Russian Doll are full of easy to replicate, and surprisingly low maintenance looks.
A loosely pulled back low bun a la Meghan Markle, trendy curtain fringe, and a half up double french braid. You don't need to be a pro at styling hair to recreate the looks worn on the female leads below. The twists in the upcoming seasons might be hard to follow, but the steps for styling these hairstyles aren't.
Here are 5 hairstyles inspired by some of your favorite tv shows.
Game of Thrones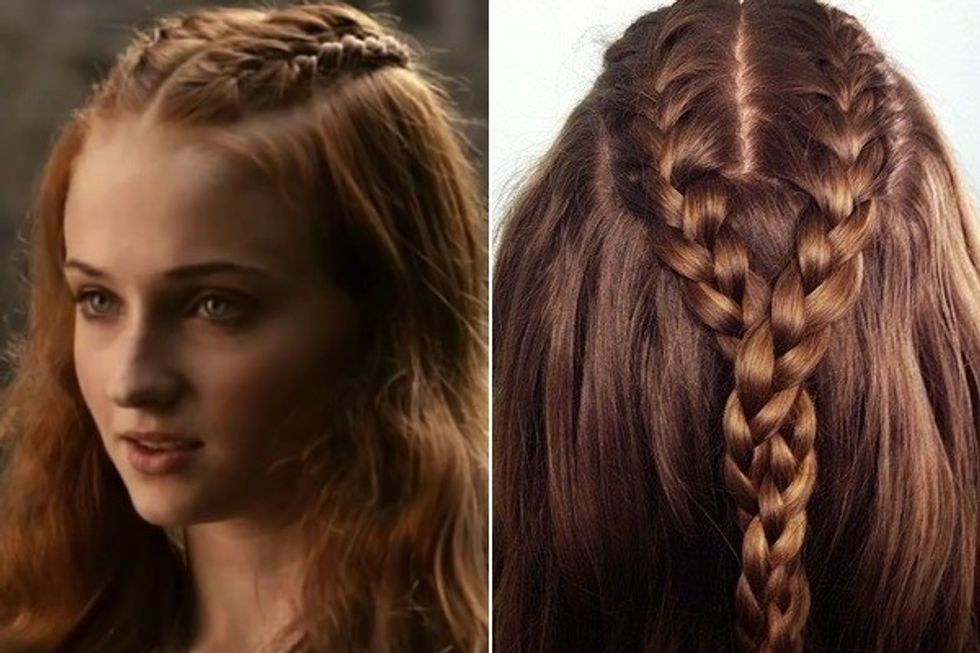 Sophie Turner Game of Thrones HBO
Winter is coming! This spring HBO's Game of Thrones is premiering its final season and the braids will back along with all of the drama. Sure there are some very intricate braids worn by the female leads that look intimidating to try on your own, but there are also plenty of casual braid hairstyles perfect for everyday. The half up, double french braid worn by Sansa Stark works on all hair types: curly, straight, wavy.

Half Up Double French Braid Steps:
Part your hair in the middle
Section off 1-2 inches on either side of your part.
French braid one section and then the other.
Braid the ends of the two french braids together.
Secure with a hair tie.
You can also try the single half up braid look worn by Cercei. Here's a quick tutorial.
Scandal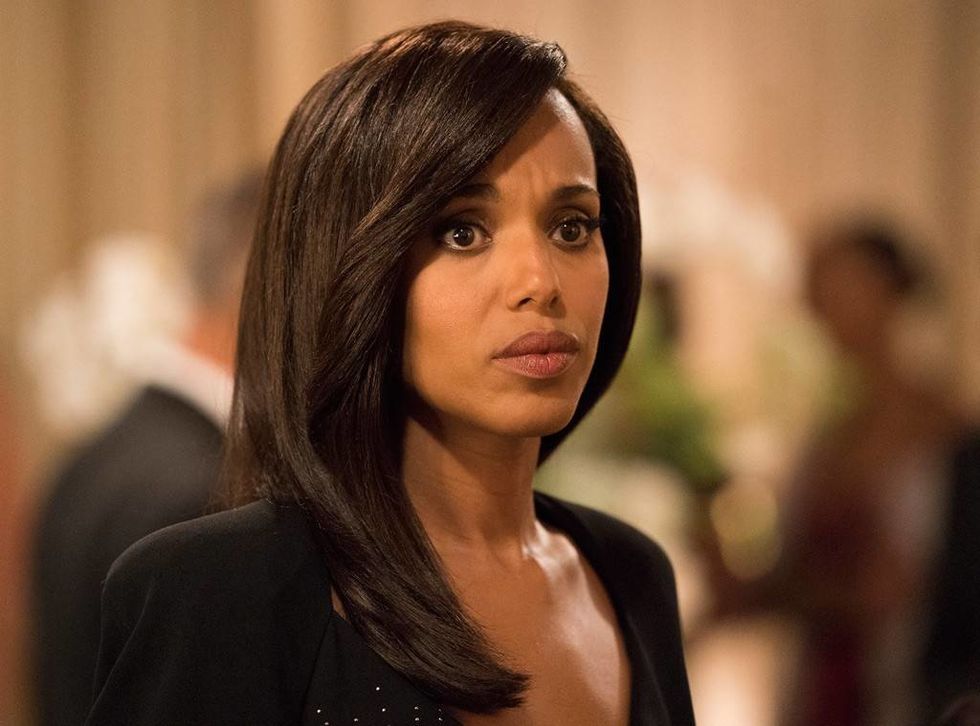 Kerry Washington Scandal ABC
Kerry Washington wore her hair curly, straight, and completely natural while appearing on Scandal. Her most iconic look was the mid length blow out with a 90s style under curl on one side. According to her hairstylist, Washington always rocked her natural hair even when she wore it straight. The key to a good blow out, without any noticeable breakage is to start with healthy hair.
Here's how to style your hair like Olivia Pope:
Use a good nourishing shampoo and conditioner.
Apply a dime size amount of Oribe Straight Away Blow Out Cream to your hair.
Brush the product through your hair with a wet brush.
Using a small round ½ inch brush, blow your hair out straight, starting with the front sections.
Use a 3 inch round brush to blow out the back.
Part your hair on to the right side.
Go over the pieces around your hairline with a flat iron.
Blast your hair with cold air to set the hairstyle.
Using a 1 ½ inch curling iron curl a 1 inch section around your hairline, wrapping the hair outwards around the iron. Hold for 10 seconds.
Big Little Lies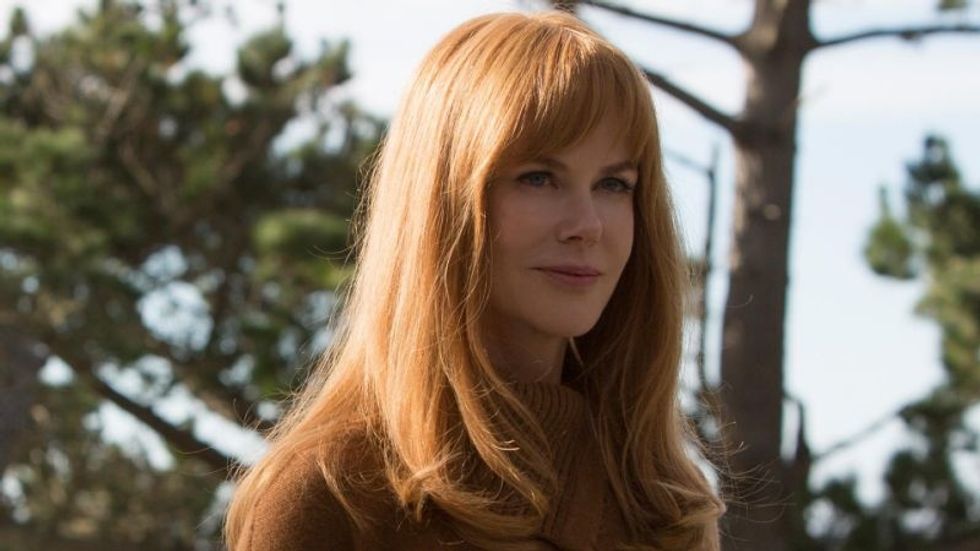 Nicole Kidman Big Little LiesHBO
Big Little Lies was a huge hit in 2017 on HBO and will be back for season 2 at the end of June. Nicole Kidman plays a fragile character named Celeste, who wears a hairstyle that's since become one of the trendiest ways to cut your hair in 2019. The long bang, otherwise known as the curtain fringe is back. These face, framing bangs are flattering on both short and long hair.
If you want to try this popular cut, ask your hairstylist to give you curtain fringe with long layers. You can wear long bangs on straight, wavy, or even curly hair. Everyone from Kendall Jenner to Ciara has been seen sporting the look lately.
Westworld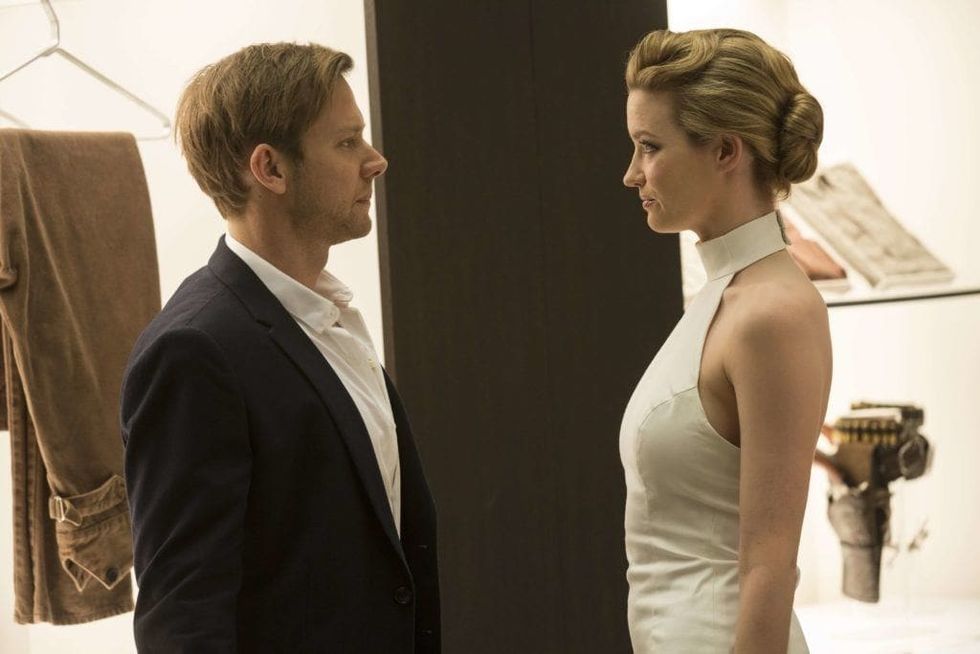 Westworld HairstylesNetflix
The top knot (or high bun) has been taking center stage when it comes to low maintenance hairstyles for the past few years, but Westworld is bringing back the low bun. Meghan Markle is also a huge fan of this easy look. She almost always wears a low bun when she's photographed by the press. It's become her signature look.
Here's how to recreate a low maintenance, low bun:
Part your hair down the middle or the at the side.
Pull your hair back and secure it into a low ponytail.
Twist the ponytail around into a bun and secure with bobby pins.
Spray with a medium hold hair spray.
If you have short layers in the front you can pull out a few wispy long bangs to frame your face like Meghan Markle does.
Russian Doll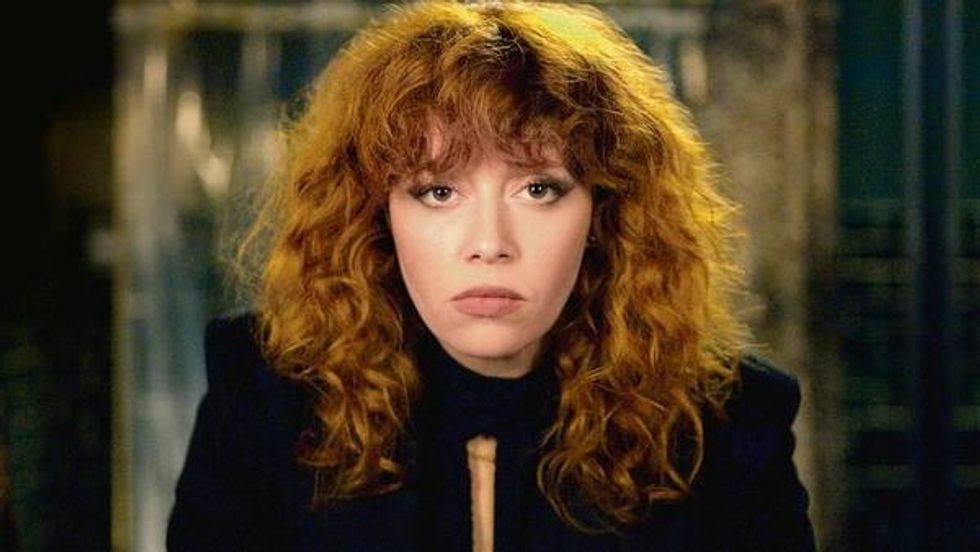 Natasha Lyon Russian DollNetflix
Natasha Lyons' hair is the real star of Russian Doll, a new Netflix show that premiered its first season earlier this year. The curls, the bangs, the color. Everything about Natasha's hair is major. The red is so red. The curls are so coiffed. And the bangs prove that 2019's biggest hair trend works on every kind of hair type. The long, face framing bang isn't just for straight hair. Curly bangs are also in.
Here's how to style curly bangs according to celebrity hairstylist, Marcel Dagenais.
Start with wet hair.
Next apply two products. First, Hairstory Hair Balm and then apply Bumble and Bumble Styling cream, styling with your fingers.
Don't touch your hair while it's drying! This step is very important. Marcel recommends air drying if you have enough time. If not, you can styling with a diffuser and hair dryer that heats but doesn't blow curls every where like this one by T3.
Once your hair is dry, finish by applying Bumble and Bumble Brilliantine for a little shine and set the curls in place with Oribe Superfine Strong Hair Spray.