When you've hit the snooze button one too many times or your morning somehow ran away from you, you're 'getting ready' time loses valuable minutes before you've gotta rush out the door. But you can't head out looking blah. You can still look put together even if you've only had a few moments to get your look in check. Here's a 9-step, 5-minute face that will have you looking flawless, fast.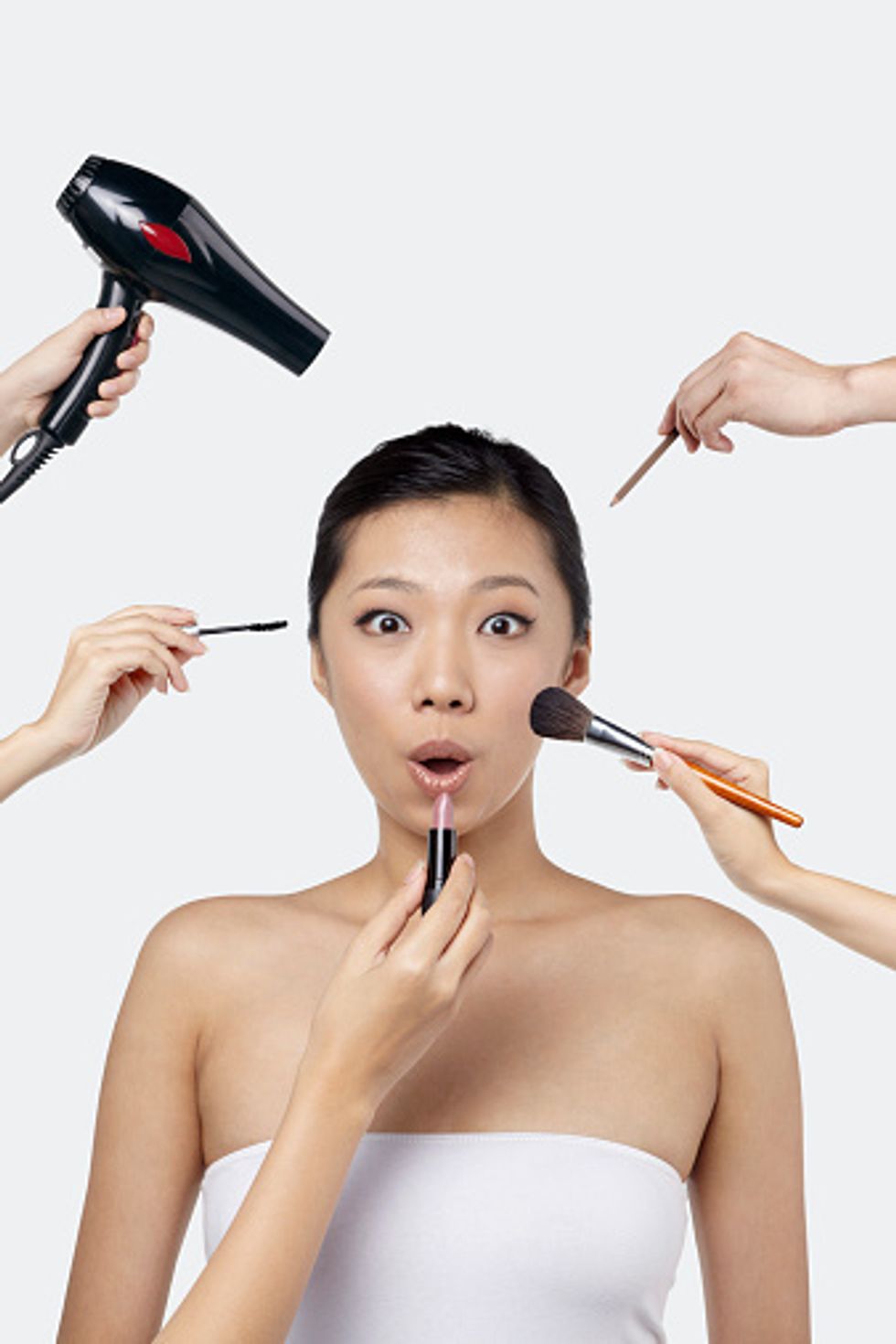 1. Scrub
A quick way to get your face looking awake and aglow is to do a quick exfoliating scrub. Wash your face with a mild scrub while showering or before applying your makeup. Blood will circulate making your cheeks rosy and your skin smooth. Dry skin will be gone revealing that dewy you underneath.
2. Moisturize
Next, use a non-greasy face moisturizer all over your face and neck. Make sure it's quick-absorbing and the right formula for your skin type. This will keep your face looking fresh all day and let the effects of the scrub last longer. Plus, it only takes a few seconds to be kind to your skin.
3. Cover
Since time is of the essence, you won't have the luxury of a full face of foundation, concealer, and the whole nine yards. Now's the time to only cover any bumps, blemishes, and breakouts. Dab a lightweight concealer one shade lighter than your skin tone on the affected areas and pat lightly until blended. If you have under eye darkness, add some here too to give you a boost.
4. Highlight
A swift application of a highlighting cream does wonders for the face. It brings out all of your best features, angles, and facial structure. Blend some over the cheekbones, on the bridge of the nose, in the inner corner of the eyes, on the chin, and the forehead. A little goes a long way and the shimmer is sublime. It really accents your unique beauty.
5. Swipe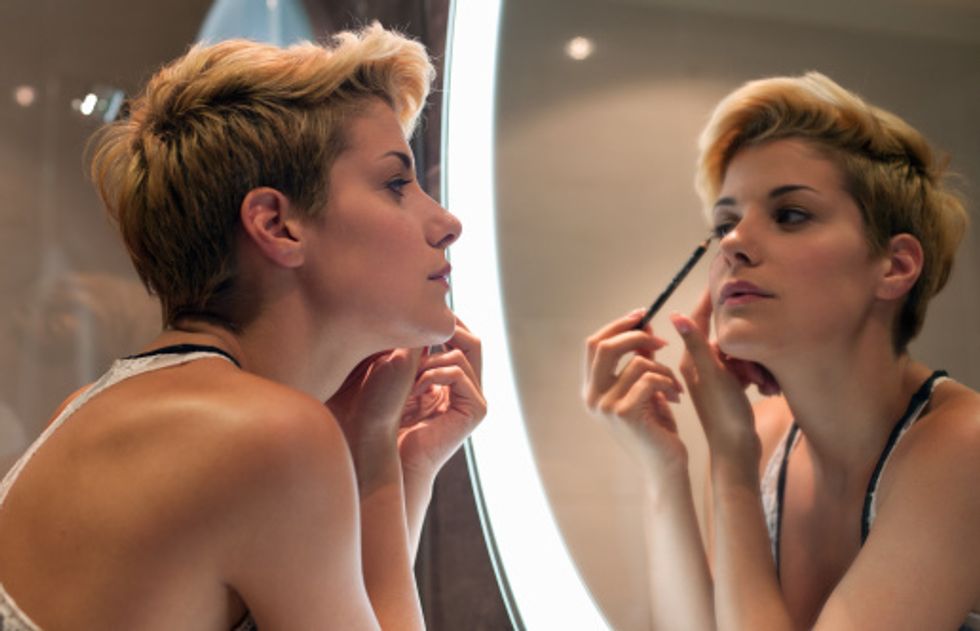 Mascara will give you the best bang for your beauty routine when you're rushing. Forgo the eyeshadow, liner, and brow pencil. A swipe or two of a dark, lengthening mascara will open the eyes, add dimension, and look like you put effort into your look. Concentrate on the outer lashes for subtle sexiness.
6. Smooth
Quickly tame unruly brows with a clear brow gel or mascara. One coat over each eyebrow should do the trick. If you don't have gel, try a dab of petroleum jelly or even a drop of hair conditioner. Neat brows frame the face and perfect even the fastest makeup routine.
7. Dab
Bring out the apples of your cheeks with a quick dab of cream blush on each cheek. Just a little is all you need to perk up your complexion and give off a warm glow. Apply your perfect shade to the center of the cheeks and blend towards the temples for the most natural look.
8. Slick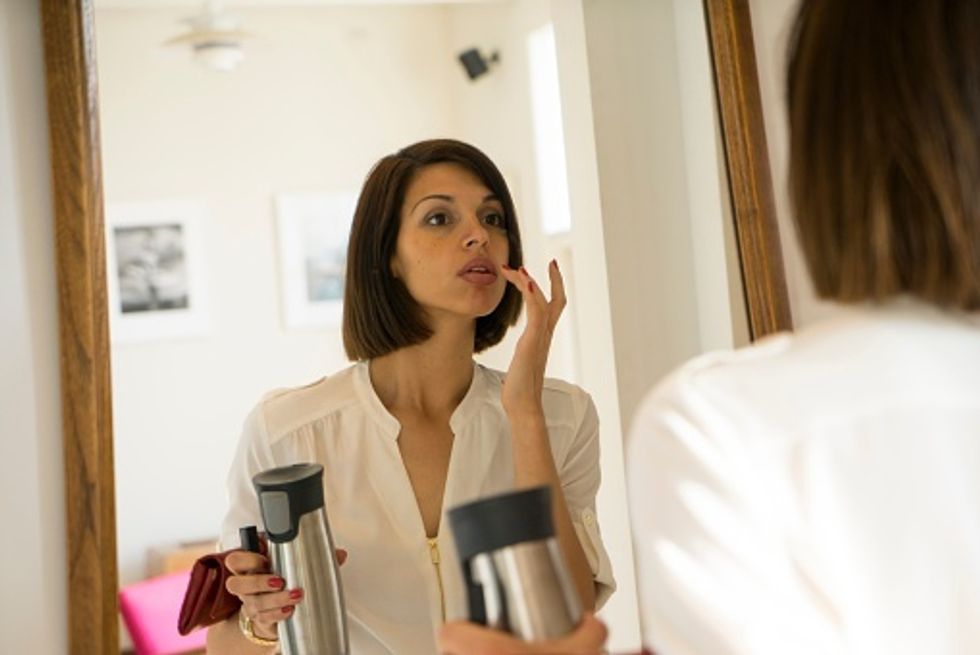 Go for gloss when the time's-a-tickin'. Lip liner and lipstick require too much concentration in order to look right. A shimmery gloss slicks on in a jiffy – just rub your lips together and you're good. Plus, a gloss looks great day or night and keeps lips moist.
9. Powder
Finally, set your 5-minute face with a pressed powder to keep makeup in place and to prevent oily shine. Dab, rather than wipe over the face to avoid ruining your makeup. Be sure to take your powder with you for touch-ups throughout the day.
Buzz! Time's up, but you've completed your look! Next time, if you get it in under 5 minutes, add some eyeshadow or foundation. Now, get going!