The temperature is sliding closer into the 50s these days and flower buds are starting to emerge. While you wait for spring flowers to fully bloom and dream of days spent basking in the sun outside, here are some of springs biggest fashion trends to get excited for. They're easy to wear and incredibly versatile.
All of these looks can be worn to work, at happy hour with friends, and even transition seamlessly into a late night out enjoying rooftop drinks. You can even get away with wearing all five of these spring trends at once, without looking like a walking advertisement. They're subtle, feminine, and flattering on all shapes, sizes, and skin tones.
Here are 5 spring fashion trends you'll want to know about.
Berry Stained Lips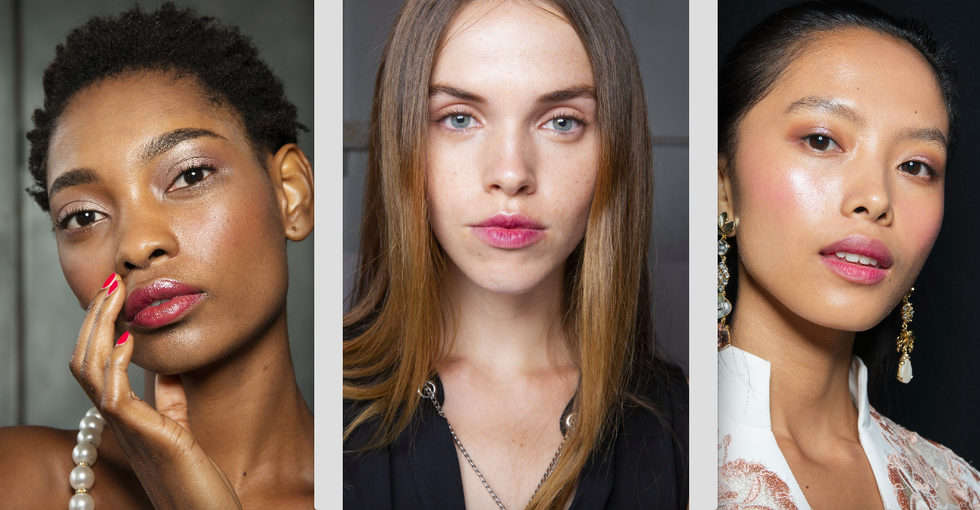 Spring 2019 makeup trend, berry lips
Just as the first hints of color starts to bloom outside, one of spring's biggest makeup trends shows off a fresh rosy glow. Subtle, berry stained lips and flushed cheeks with minimal, or no, eye-makeup is a gorgeous go-to look as the weather warms up. It's flattering on all skin tones, and takes about 10 minutes to apply.

You can easily wear this spring makeup trend to work, brunch (link), and even to after hours drinks. It's also the perfect makeup look to rock for a first date. Glossier has some of the best products to use to recreate this glowing look.
Start by applying a tinted moisturizer or light foundation with a dewy finish like the Skin Perfecting Tint and covering under eye circles and any redness with the Stretch Concealer. Next apply a creamy, rosy blush with your fingers. Cloud Paint in the color Haze has a deep berry finish. Brush your brows with Boy Brow and finish with a swipe of Generation G Lipstick in Jam. If you want to add a subtle, shimmery color to your eyelids, try the creamy Lidstar eyeshadow in Rose Gold or Lily.
Hair Clips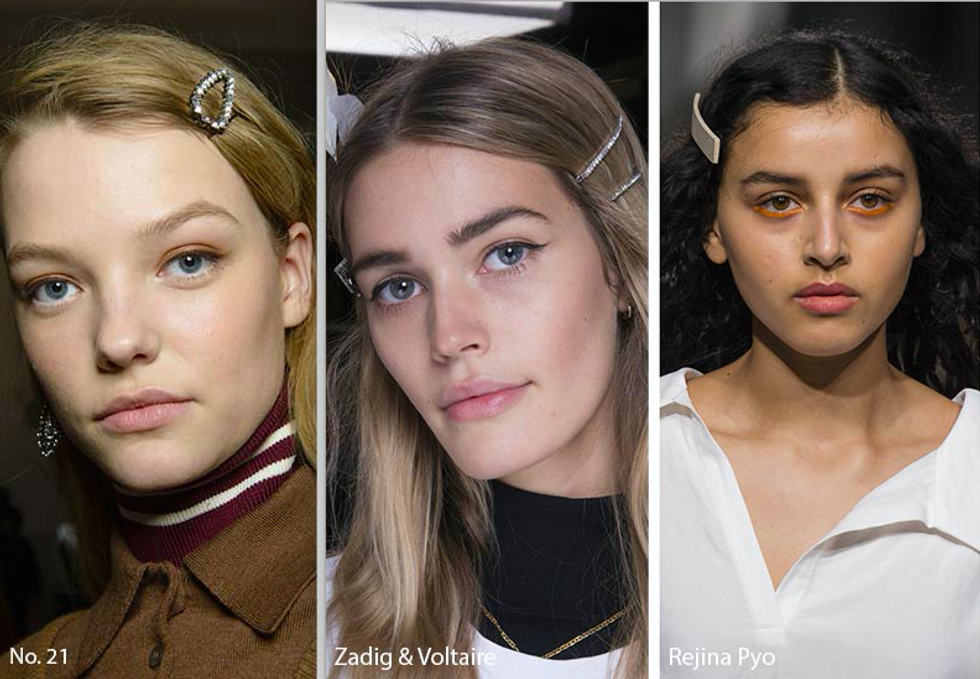 Spring 2019 hair trend, hair clips
If you haven't worn hair clips or barrettes since elementary school it's time to bring them out again. Grown up barrettes are making their way down almost every designer runway and into the hair of some of the biggest street style stars. Hair clips are one springs most popular hair trends.
The best thing about the hair clip trend is that it's low maintenance. Subtle clips like the ones pictures above can be worn with your natural, air dried hair to keep your locks out of your face. You can also play around with layering multiple hair clips on one side, or wear a single hair clip on either side of a middle part.
Pale Yellow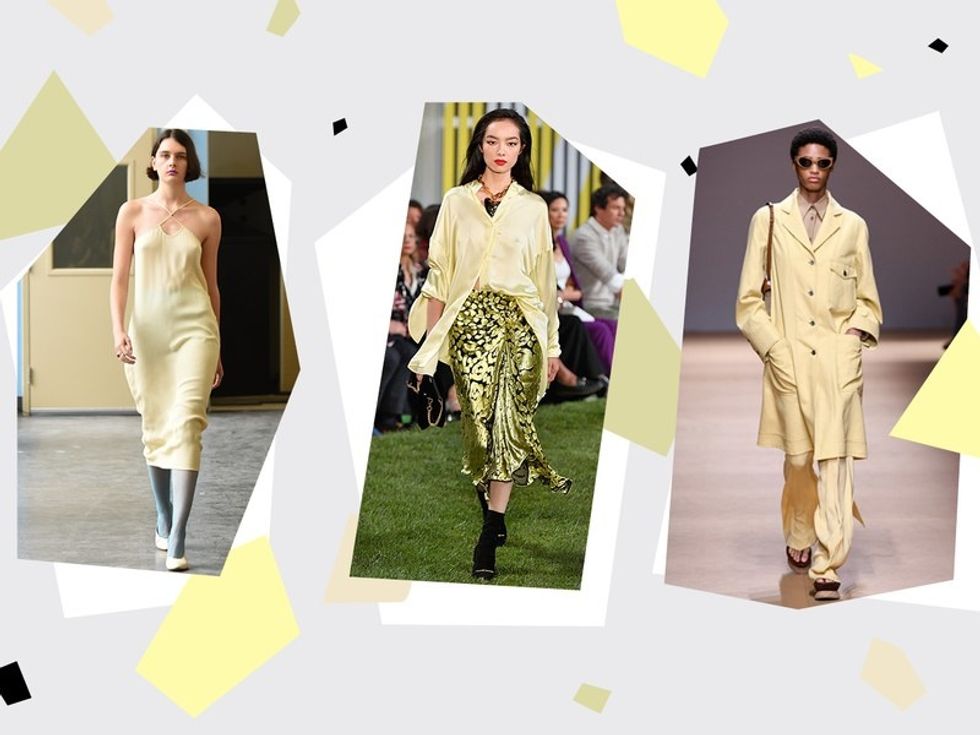 Spring 2019 color trend, pale yellow
Monochromatic beige outfits dominated fall and winter style, and are likely to continue popping up this spring and summer. While the earth tone trend is still going strong, springs biggest color trend is showing off a little more color. Pale yellow is the color to wear in spring 2019, followed closely by sage green.

This light citrus shade was seen multiple times in the spring 2019 runway shows of Maryam Nassir Zadeh, Escada, and Salvatore Ferragamo. It's best showcased on flowy, feminine fabrics and silhouettes. Think long slip dress, loose trousers, and silk skirts.
The Shirt Dress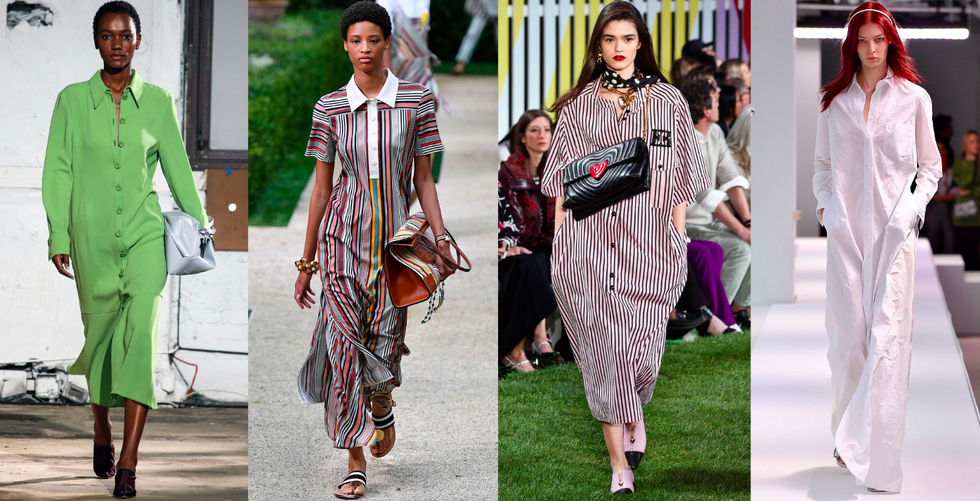 Spring 2019 fashion trend, the shirt dress
Tailoring and menswear inspired influences are still showing up on runways, but with a more feminine twist and a few playful interpretations. Shirt dresses were one of the biggest clothing trends seen in fashion weeks around the world for spring. Tailored vests worn over floral dresses and even alone with trousers was another popular look.
The shirt dress is an easy trend to embrace as the weather gets warmer. It makes getting ready a one step process and looks effortless chic in multiple settings. A shirt dress is great for work, a weekend out with friends, or for late nights when paired with a cute pair of heels. You can even get away with wearing a shirt dress to a formal occasion if you opt for a floor length style.
Shoes With Woven Details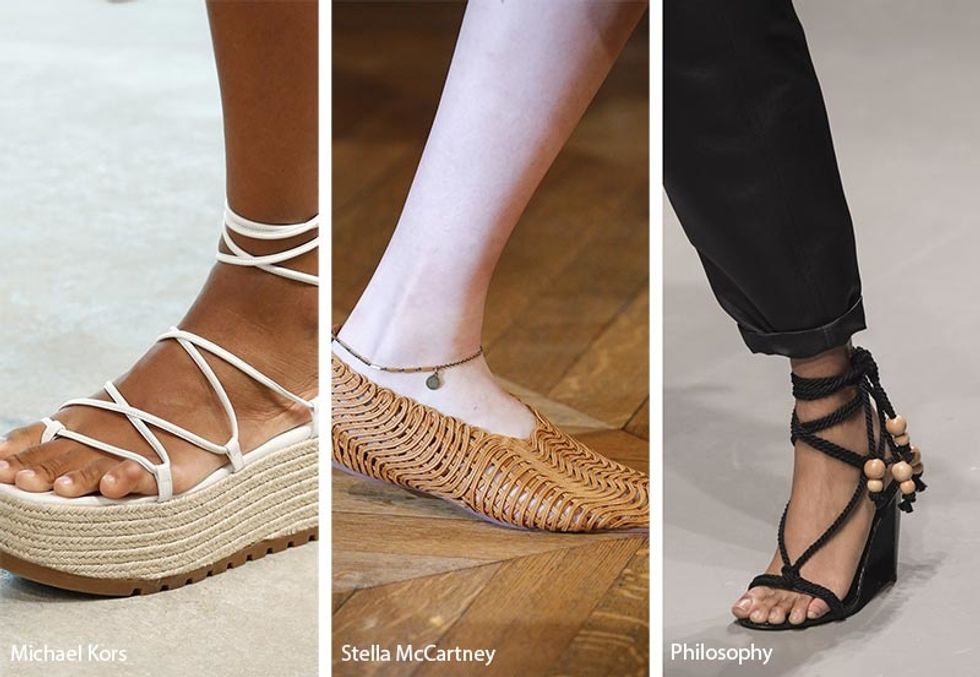 Spring woven shoe trend
Woven details are showing up on flats, stilettos, and even wedges this spring. Mesh, rope, and braids on your footwear is going to be a huge trend. Woven styles were seen at Stella McCartney, Tory Burch, and Salvatore Ferragamo.

Look for shoes that are either made entirely of woven materials or incorporate a subtle weave as an accessory. For a low maintenance way to wear this trend try Everlane's V Slingbacks. Or try the Shutz Woven Heeled Sandal to wear to work or drinks.