If you crave pasta on a regular basis, you'll love these seasonal, spring pasta recipes. Winter is all about heavier pastas like spaghetti and meatballs, short rib gnocchi, and hearty lasagnas. Spring on the other hand brings with it fresh, green produce that's perfect for making lighter, sometimes even cold, pasta dishes.
Seasonal ingredients like asparagus, peas, spinach, basil, and mint are ideal for whipping up zesty pestos. Orzo, orecchiette, and fregola make excellent bases for delicious pasta salads.
Grilled spring vegetables tossed with whatever pasta you have on hand (and a little olive oil) makes an easy seasonal meal. When you're craving something more substantial, grab a glass of white wine or rose, let the breeze in, and try making one of the dishes below.
Here are 5 easy, healthy-ish, spring pasta recipes.
Spring Onion Chive Pesto Pasta with Shrimp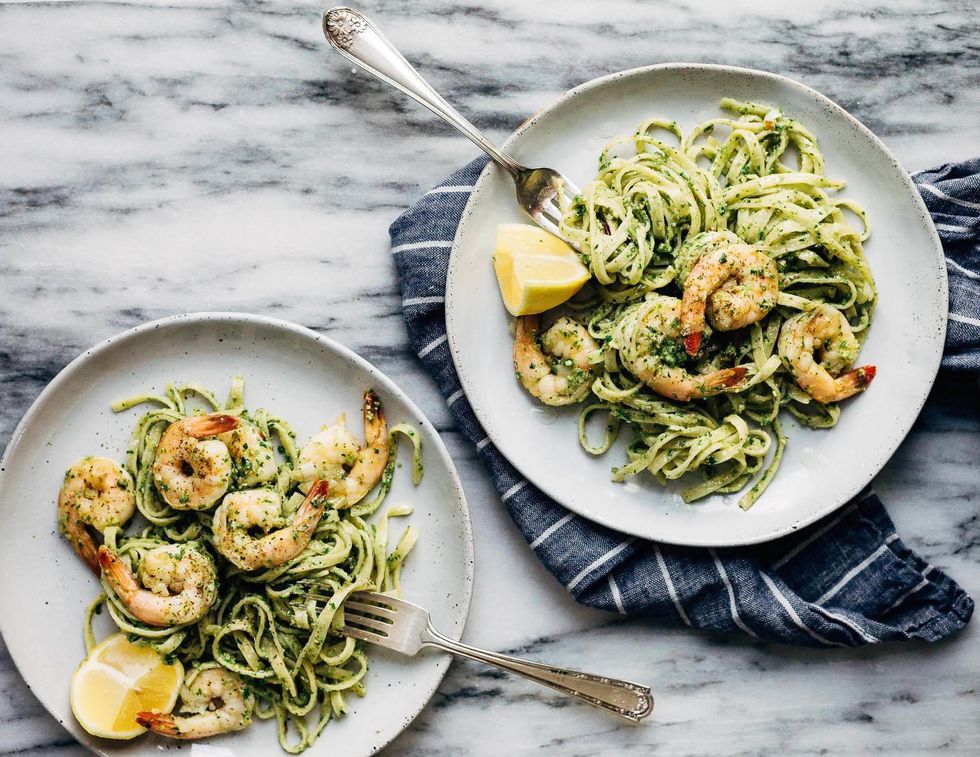 Spring pesto pasta with shrimpThe Brooklyn Super
Spring onions and chives are in bloom and they make a light, zesty base for this seasonal pesto. After getting quickly blanched to tone down the flavor, they're whipped with lemon juice, parsley, pumpkin seeds, and olive oil. The result is a creamy, vibrant pesto that's tossed with sautéed shrimp and cooked linguine.
This recipe is ready in under 30 minutes. It's perfect to make on a busy weeknight or even for a dinner party with friends. All you need to complete this easy pasta dish is a chilled glass of wine. Cheers!
Simple Vegan Spring Orzo Pasta Salad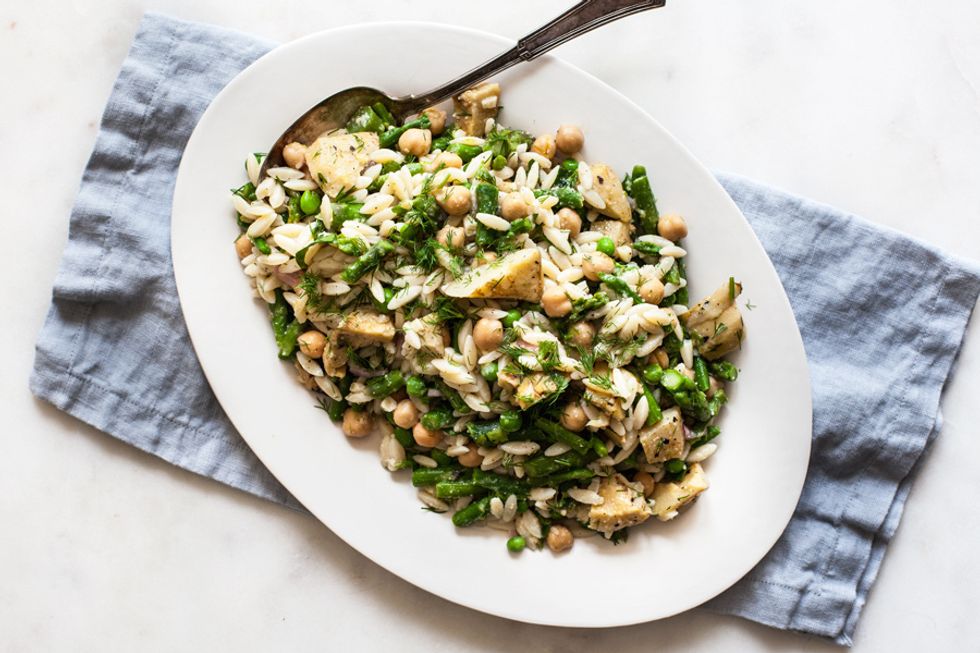 Vegan spring pasta saladThe Full Helping
When the sun is out, there's nothing better than chowing down on a light, refreshing pasta salad. This vegan recipes is loaded with spring produce like asparagus, green peas, dill, and parsley. Artichoke hearts, chickpeas, and an orzo base help make it a little heartier.
This dish can be served warm or cold. You can even make it the night before and store it in the fridge. If you aren't vegan and enjoy cheese, try adding shaved parmesan on top!
Fregola with Green Peas, Mint, and Ricotta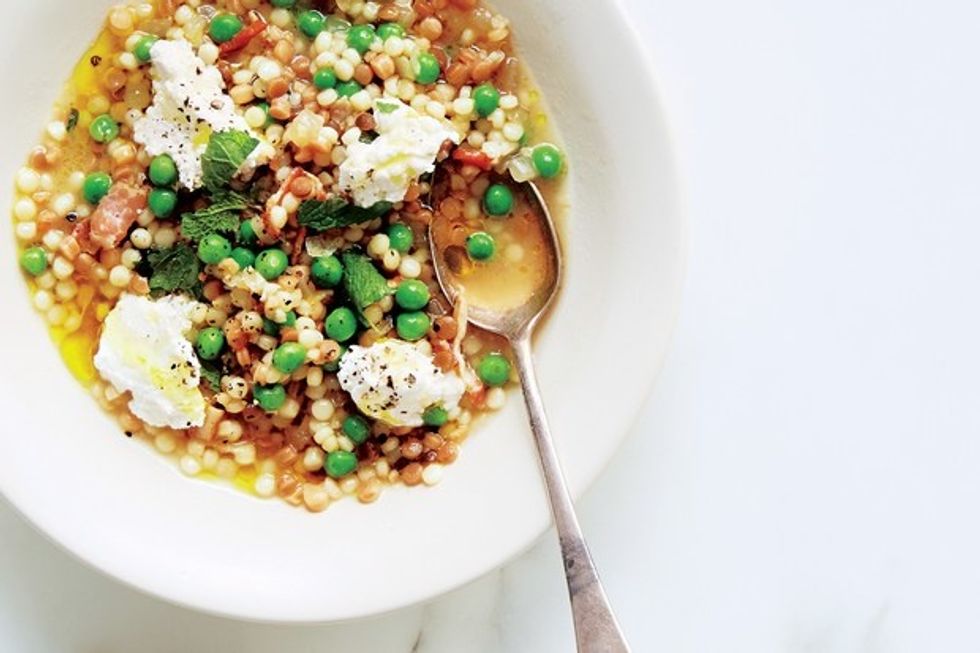 Spring pasta with green peas and mintEpicurious
Fergola is a traditional Sardinian pasta that has a rustic, nutty flavor. It's made of durum wheat flour, sun-dried, and then toasted into varying shades of yellow and brown. This comforting pasta dish from Epicurious is a great transitional meal as the weather changes.
A brothy base, creamy ricotta, and bacon make it hearty and satisfying. While spring produce like green peas and and mint help to brighten it up. It's ready in under 30 minutes and easy to make large servings of for bigger families or gatherings with friends.
Pasta Salad with Grilled Vegetables, Parsley, and Feta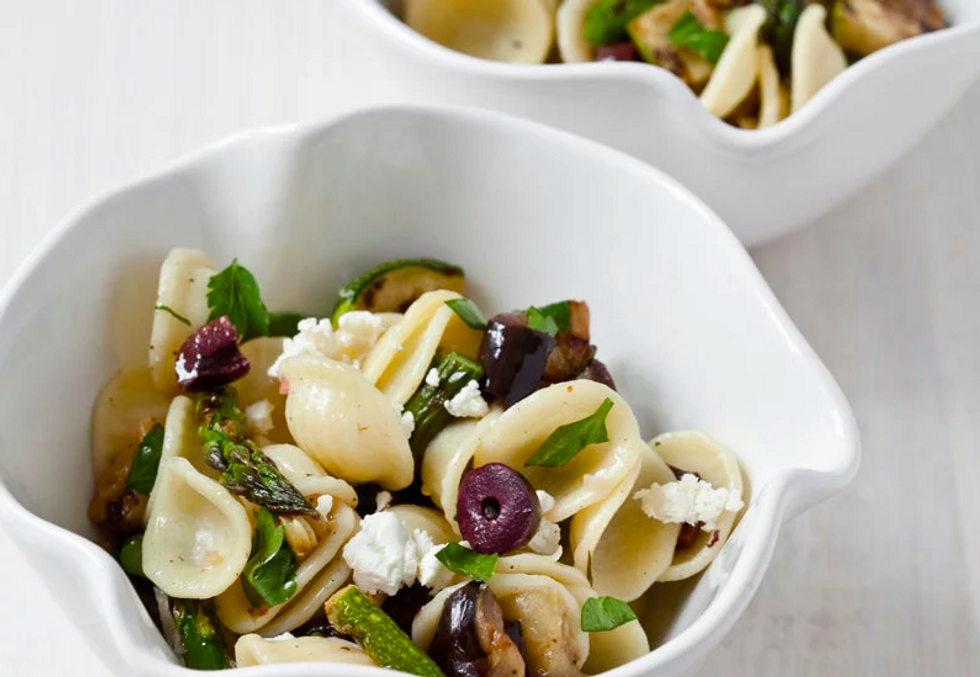 Spring pasta salad Food & Wine Magazine
Spring marks the beginning of grilling season. This orecchiette pasta salad combines grilled asparagus, zucchini, and eggplant with kalamata olive, parsley, and feta. Everything is tossed with a lemon shallot vinaigrette. It's simple, delicious, and couldn't be easier to whip to up.
Spring Gnocchi with Mustardy Arugula Pesto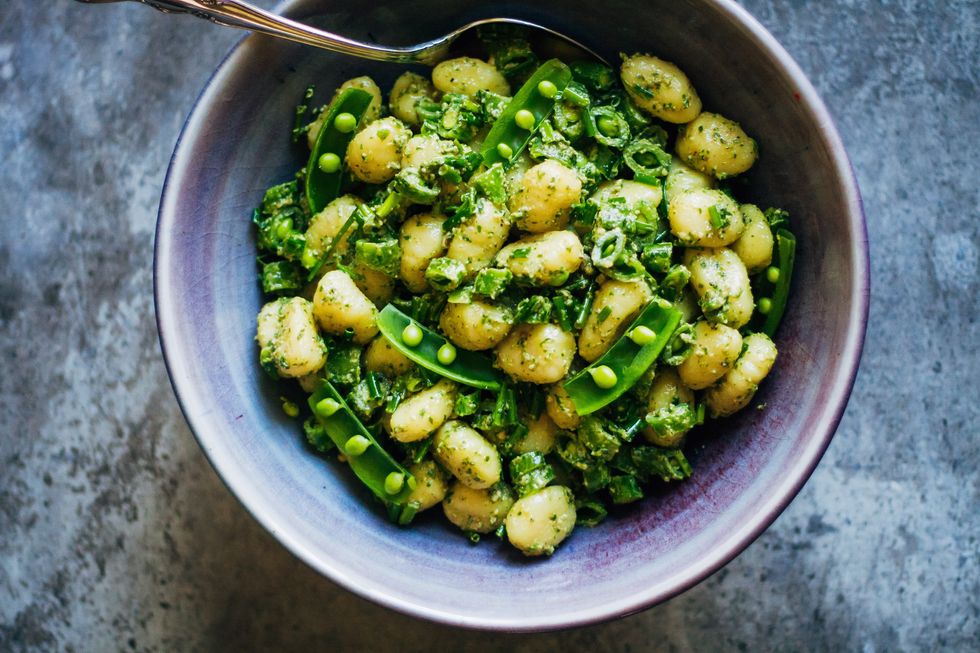 Spring gnocchi with pesto and peasWell and Full
Fresh herbs, beautiful green color, and vibrant flavors make this pasta recipe perfect for spring. Walnuts, arugula, lemon juice, dijon mustard, and olive oil make a bright pesto that's delicious with gnocchi, chopped chives, and raw snow peas.
Gnocchi is one of the fastest cooking pasta. It's ready in under 2 minutes! This entire dish takes only about 15-20 minutes to make from start to finish. You'll want to bookmark this recipe, trust me.