by: Melissa A. Kay
Although most of us know it, the fact that Jennifer Lopez is 47-years-old is still hard to believe. Her smooth and flawless skin, bangin' body, and overall dewy glow makes J. Lo far hotter than most women half her age. Sure, age is just a number, but try to find another woman in Jenny's age bracket who could pass for a 20- or 30-something.
Famous for her shapely backside, plunging necklines, firm physique, and a face that could stop traffic, J. Lo is like a freak of nature (in the best way possible) that seems to get better (and freakier) with each passing day. But it's no miracle how she manages to look so fantastic, although she amazes us just by flashing her contagious pearly-white smile.
5 of the ways "Jenny from the block" maintains such a youthful appearance can be done by nearly anyone. No magic pills, no plastic surgery (allegedly), and no BS. J. Lo puts in the effort and continues to reap the rewards from head to Louboutin-covered toe.
Lots of zzzs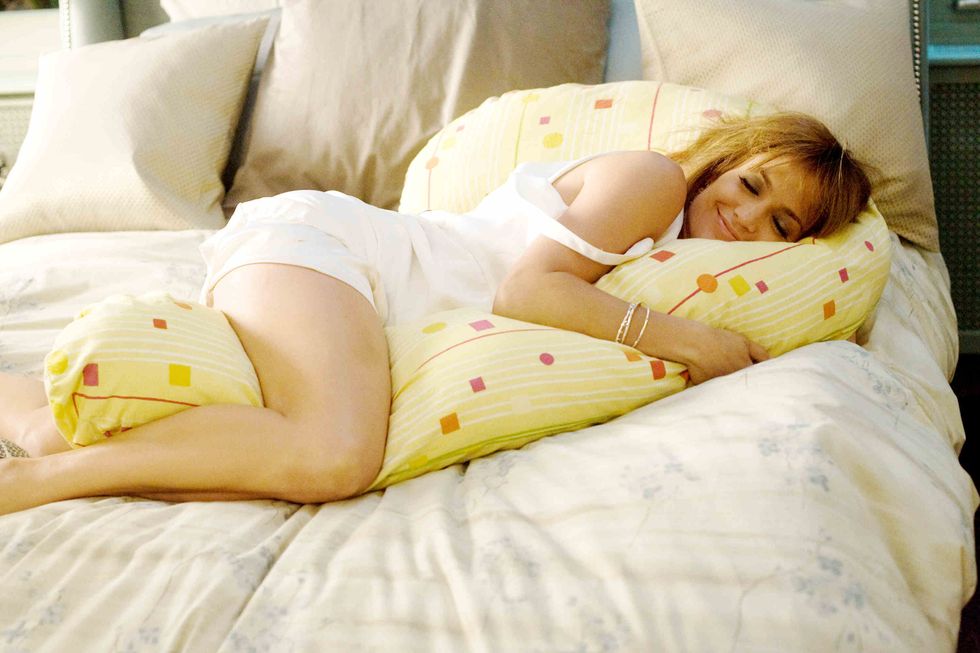 Via m.aceshowbiz.com
With such a busy schedule –from hosting to acting to performing to being a mom of twins, and then some, it's almost impossible to think J. Lo could get much sleep. But she finds the time to hit the sack in order to be as fresh-faced as possible. As told to People, "I try to always to get as much sleep as I can so that I can start the day well rested and do my morning meditation and affirmations."
Daily Mail reports that the triple threat says 7 or 8 hours per night is her sweet spot. "If I don't get it I just don't feel right. I start feeling crazy, I get emotional and I feel tired all the time."
If you didn't think "beauty sleep" was a real thing, just take one look at Jennifer and you'll be ready to get in your full 8 hours tonight. Sweet dreams indeed!
Well-watered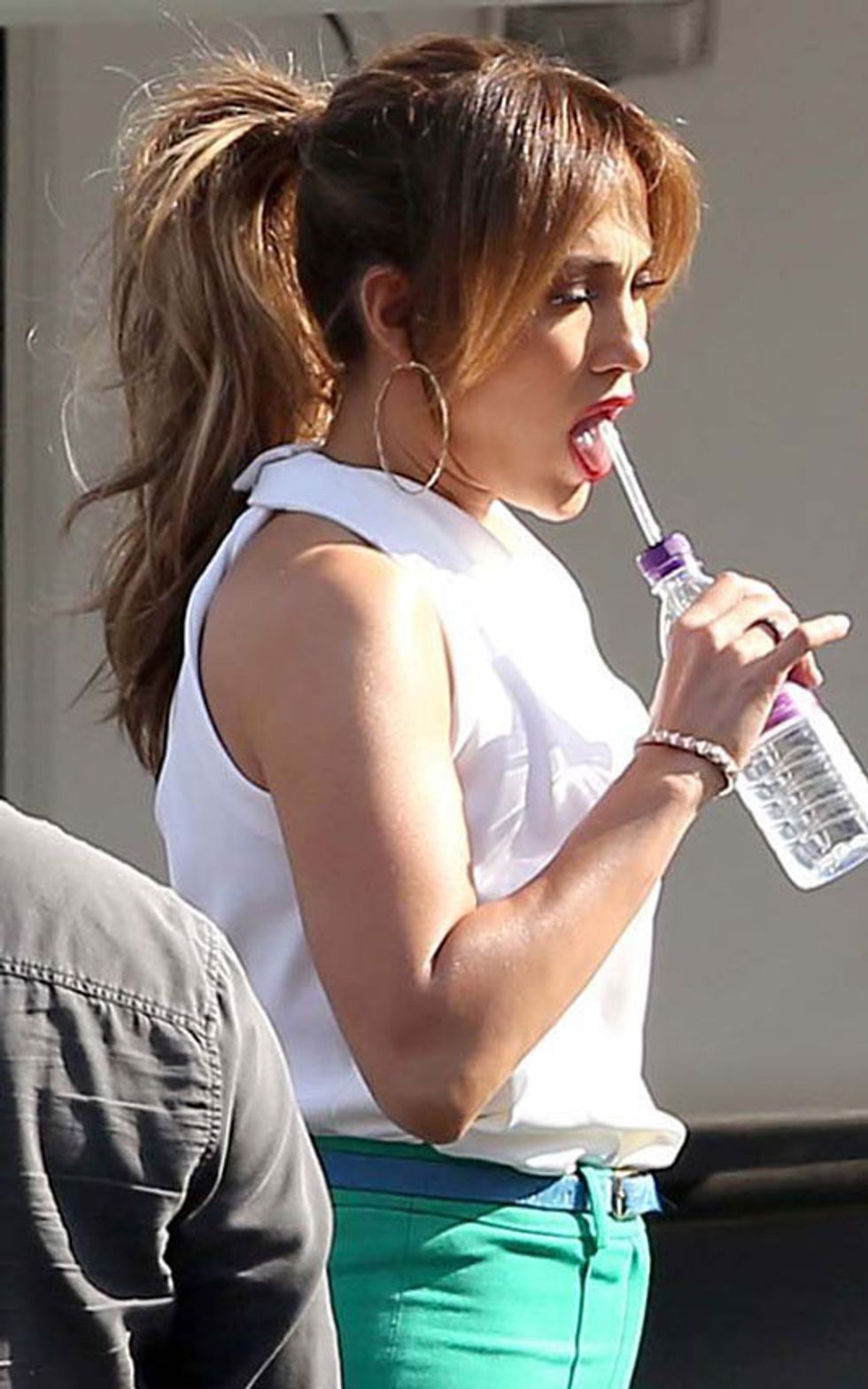 Via hawtcelebs.com
Staying well-hydrated is a must for good health and for our bodies to function at their peak, so it's no surprise that J. Lo sips lots of it. She told People, "I think drinking lots of water and fresh foods with lots of fruits and vegetables (I keep [them] with me at all time) all play into the quality of skin's appearance."
She's not kidding! Celebs have said that J. Lo's skin is perfection, even close-up. We've seen lots of makeup-free selfies of the star, and it's evident that her go-to drink is doing her body good. She must get her water exclusively bottled from the fountain of youth!
She dances her a$ off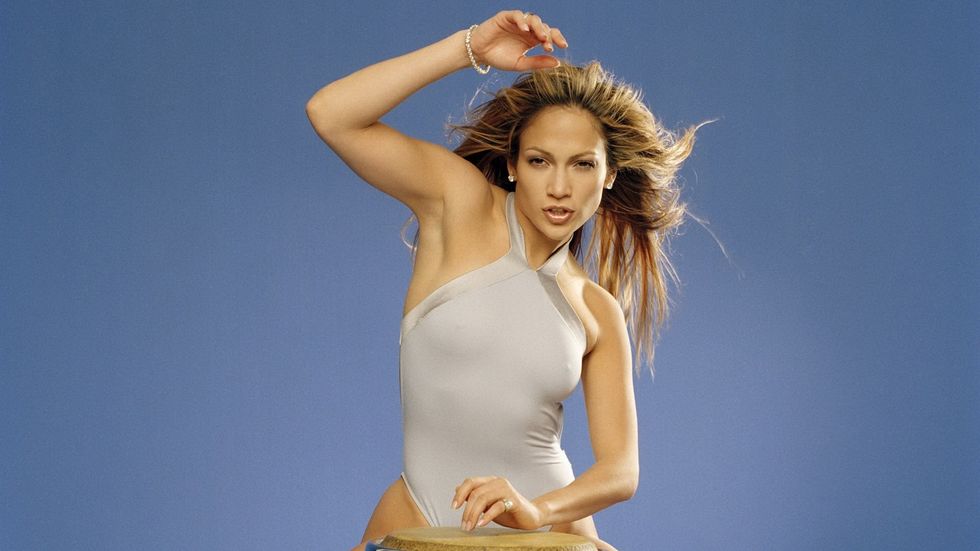 Via wallpaperscraft.com
Keeping fit keeps us young, and with the rigorous dance numbers J. Lo performs during her high-energy concerts, plus all the rehearsing that goes into making each one a showstopper, it's clear why she has the body of a teenager.
On top of all that moving and shaking, Jennifer works out too. As per StyleCaster, "Lopez gets her exercise for an hour each day and cannot go two days without working out. 30 minutes of cardio and 30 minutes of muscular structure." And, as per Daily Mail, J. Lo has 2 personal trainers – one on each coast. Must be nice to be rich and famous!
Those workouts are certainly paying off for J. Lo, who, at 47, has never looked leaner.
SPF all the way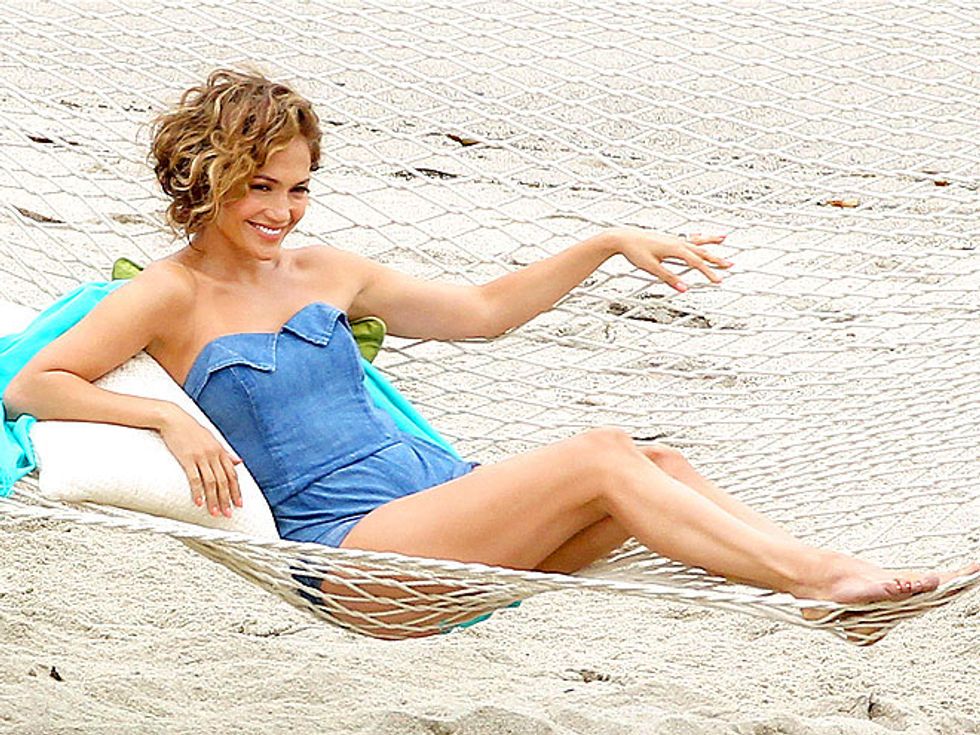 Via lipstickalley.com
Jennifer has a creamy tan complexion, but that doesn't mean she can skip the sunscreen. The aging effects from sun exposure can lead to fine lines, wrinkles, dark spots, and a worn, leathery look. J. Lo will have none of that, even though we've seen plenty of pics of the star relaxing poolside in a sexy bikini. That said, as per Daily Mail, she doesn't go in the sun much and if she is in the sun, she wears a lot of sunscreen.
She told People that for daytime, SPF is crucial. She's a L'Oréal Paris spokeswoman and uses their line of moisturizers which contain SPF every single day to protect her precious skin. As smooth and supple as her skin appears to be, she is definitely faithful to the process!
Alcohol-freedailymail.co.uk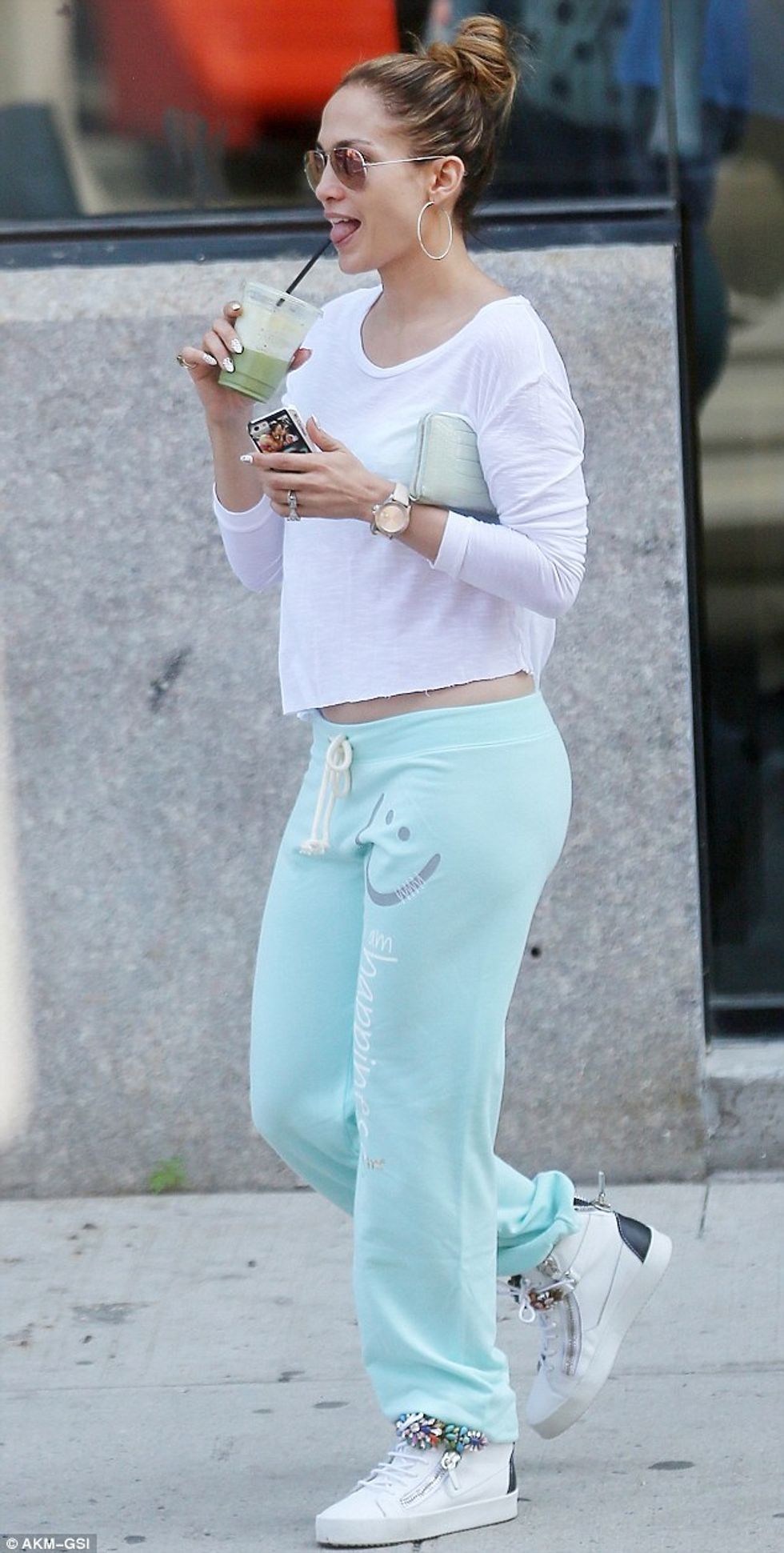 Via dailymail.co.uk
Wouldn't it be fun to party with Jenny? Sure, she'll go out, but no "adult beverages" for this babe. As per Huffington Post, J. Lo says alcohol ruins your skin. And that's not the only guilty pleasure she bans from her diet. According to Extra Crispy, J. Lo doesn't smoke or drink coffee either.
She's all about clean eating, chowing down on foods like "kale, Brussels sprouts, and zucchini, and healthy proteins like salmon, chicken, and quinoa," as per Extra Crispy. Thank goodness she's not perfect… she has a sweet tooth for chocolate chips every now and then. Hey, don't we all?
Want to rock it like J. Lo? You can dream or you can do what she's doing. While you may never be A-Rod's arm candy, at least you'll look pretty sweet!