Elaborate meals can be as fun to prepare as they are satisfying to eat. That said, the more I cook, the more I find myself returning to dishes that require only a few basic ingredients. Not counting water, salt & pepper and oil, most of the recipes I prepare can be made with six items, or less.

That's why we've created Under 6 and 60, a series of recipes you can make with 6 ingredients or less, in under 60 minutes.
It's that simple! Should you find yourself wanting more, many recipes will include a list of optional add-ons; ingredients that add another layer of flavor, or turn a side dish into a whole meal.
Break An Egg
This week, we are featuring eggs. We love them for breakfast or brunch, but eggs are also great for dinner, or a light, late night snack.
Eggs taste best when they're not overcooked. An omelette or scrambled egg should relax over a fork -- like the arm of a very content dinner guest over a sofa -- not stand at attention like a stressed out soldier. Try to buy your eggs from a farmer's market, or at least make sure they are organic, grain fed and free range. Your taste buds will thank you, and so will the planet.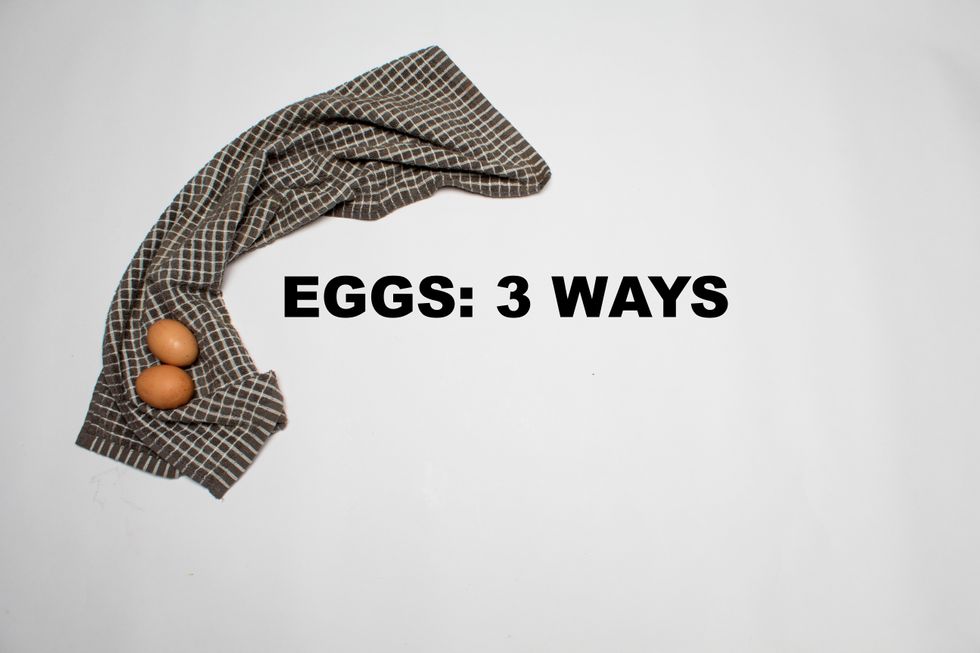 Eggs Three Different WaysPhoto by Karyn Bailey
Classic Scrambled eggs – serves 2

There are numerous references to "scrambled" eggs throughout culinary history, but this one, from England in 1874, is a personal favorite.
"Eggs, Jumbled.
Break four eggs into a stewpan with two ounces of butter and a seasoning of salt and pepper: let them set over a clear fire, and stir till the mixture becomes rather solid: then remove, and serve with or without a ragout of vegetables, celery, lettuce, spinach, sorrel or asparagus tops. If neither be liked, send to the table upon slices of hot buttered toast. Time, five minutes."
--Cassell's Dictionary of Cooking with Numerous Illustrations [Cassell, Petter, Calpin& Co.; London] 1874 (ibid (p. 200)
I've modified the technique somewhat here to ensure that the eggs don't become too "solid." Of course, feel free to add in the celery, lettuce or whatever else you like, though I think scrambled eggs shine brightest on their own.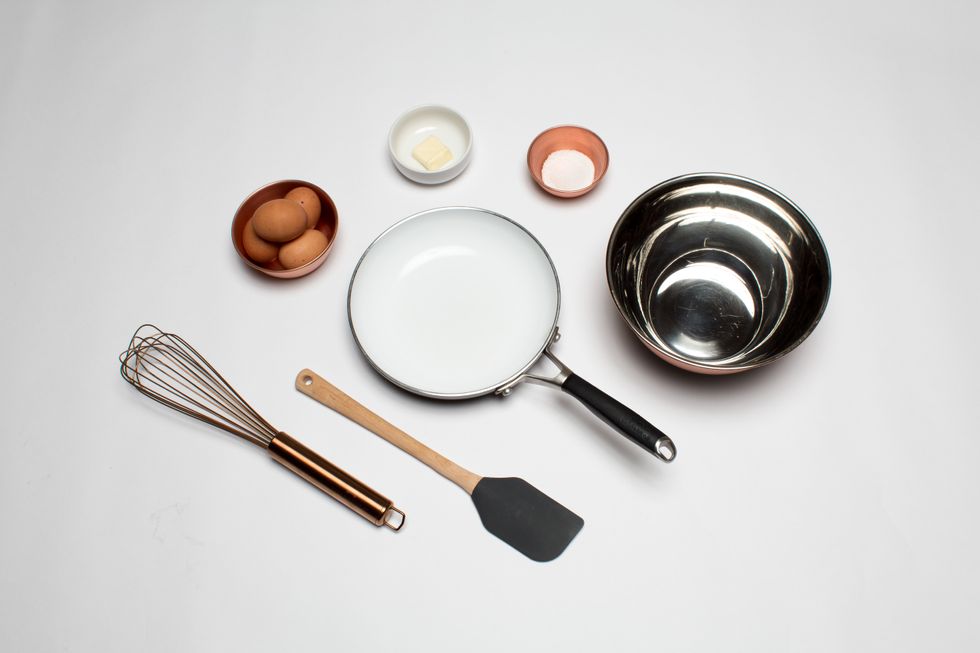 Ingredients for Jumbled EggsPhotos by Karyn Bailey
4 large or extra large eggs

1 tablespoon butter
kosher salt
Break the eggs into a bowl. Add a healthy pinch of salt and beat with a wire whisk until the yolks and the whites are combined. Do not over-beat.
Place the butter in an 8" pan (I use enamel but you may use non-stick or stainless steel or whatever works for you) over a medium-high heat until the butter starts to foam. Pour the egg mixture in, waiting a few seconds as it starts to set before quickly turning the down to low and gently moving the edges toward the center with a rubber spatula a few times, turning the eggs over until the mixture is just set.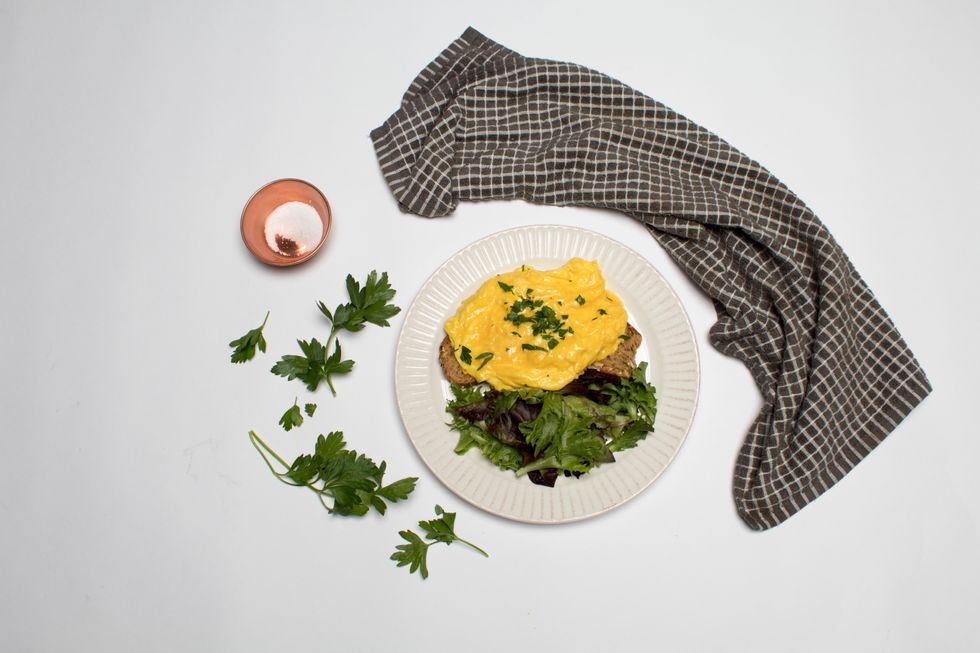 Jumbled Eggs Photo by Karyn Bailey
It should look a bit like rumbled silk. Immediately remove from pan and serve – don't forget the buttered toast!
Omelette with mushrooms and cheese – serves 1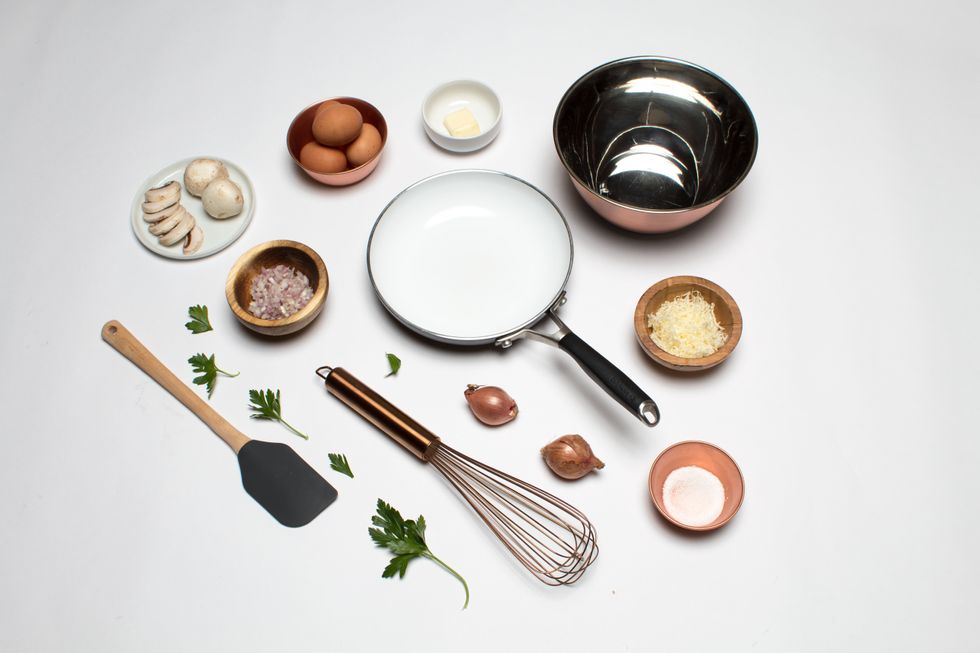 Eggs: Omelette with Mushrooms and Cheese IngredientsPhoto by Karyn Bailey
2 large or extra-large eggs

1 ½ -2 tablespoons butter
scant tablespoon minced shallot
2 or 3 mushrooms—white button, cremini or shitake
2 tablespoons grated cheese – cheddar, swiss, whatever you like
kosher salt
Options --- spinach, bacon, tomato, potato
In an 8" saute pan (I use enamel but you can use non-stick if you prefer) melt ½ tablespoon of the butter over medium heat and add the shallot and mushroom. Add more butter if it seems there is not enough coating the pan and saute quickly, taking care not to burn the shallot, until everything is just cooked and the mushrooms have shed their liquid. Transfer mixture to a small bowl and wipe the pan clean.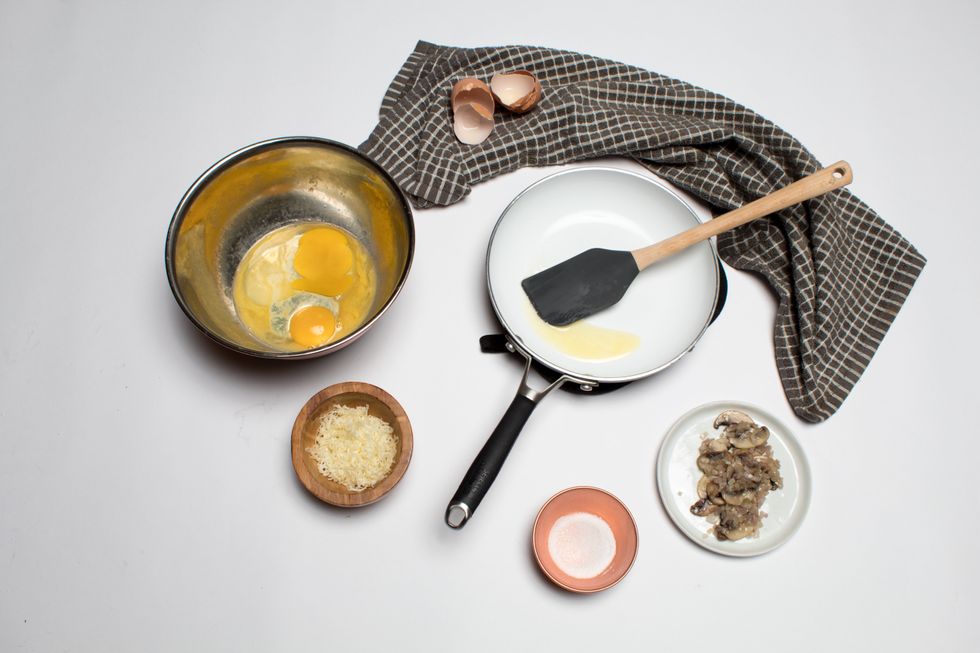 Eggs: Omelette with Mushrooms and Cheese Step 2Photo by Karyn Bailey
Crack eggs into a bowl with a pinch of salt and beat with a wire whisk until whites and yolk are combined. Do not overbeat. Add a tablespoon of butter to the pan over medium-high heat until butter starts to foam. Pour egg mixture into pan and immediately turn heat down to low. You don't want to brown your eggs!
Place the cheese and mushroom in a line down the center of the eggs. Cook for a three-four minutes until the liquid is just setting, but is still runny.
It should look like an egg pancake with a line of filling down its middle. With a spatula, gently fold one side of the egg over the filling, and then the other side.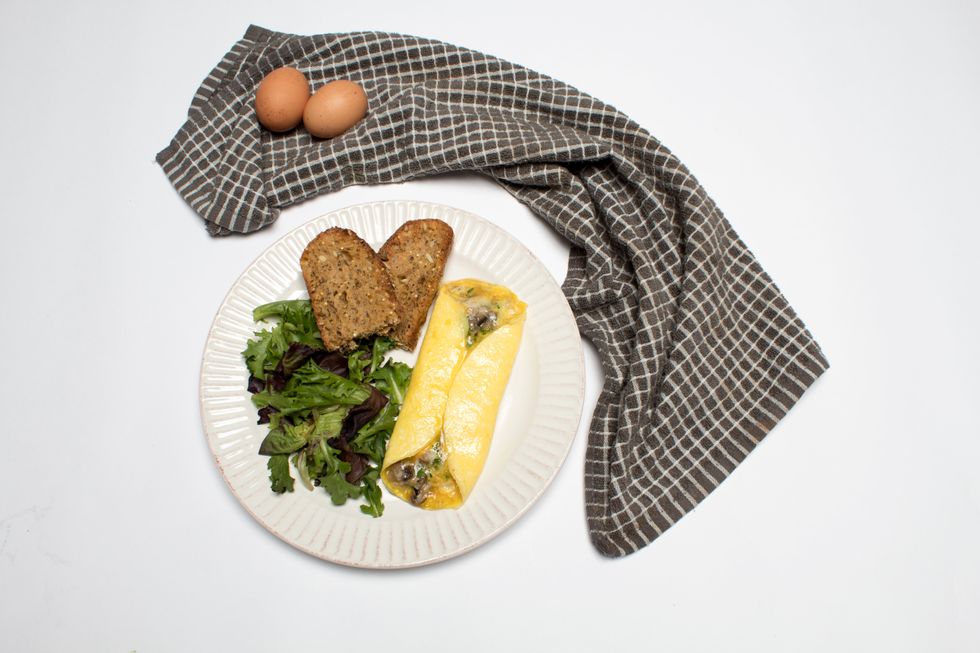 Eggs: Omelette with Mushrooms and Cheese Photo by Karyn Bailey
Turn the heat off and cover for a few minutes to set the eggs. Slide the omelette on to a plate and serve with toast, baguette or just on its own.
Options:
If using spinach, steam 1 cup loosely packed leaves, drain, and squeeze out all liquid in a clean dishtowel. Roughly chop the leaves and add to omelette filling.
If using potato, peel (or don't, if you like the peel) a small Yukon gold (or potato of your choice), and place in a small pot with enough water to cover. Put a lid on and boil until potato can be easily pierced with a paring knife. Drain and slice into thin pieces which can be shingled under the rest of your filling.
If using bacon, cook a few slices in whatever manner you prefer (I place slices on a broiler pan in a 400-degree oven and cook for 15 minutes) and crumble over filling.
If using tomato, you can dice a fresh tomato or you can blanche a tomato, peel off the skin and then slice.
Stirred eggs – English style – serves 2
I say "English-style" because whenever I order scrambled eggs in Britain, this is how they are made. The technique of stirring the eggs over a very low heat until they are just cooked gives them a beautiful, custardy richness. The earthy saltiness of serrano ham and the fresh bite of chives add a wonderful dimension to this dish.
4 large or extra large eggs
1 tablespoon butter
salt
Options – serrano ham, chives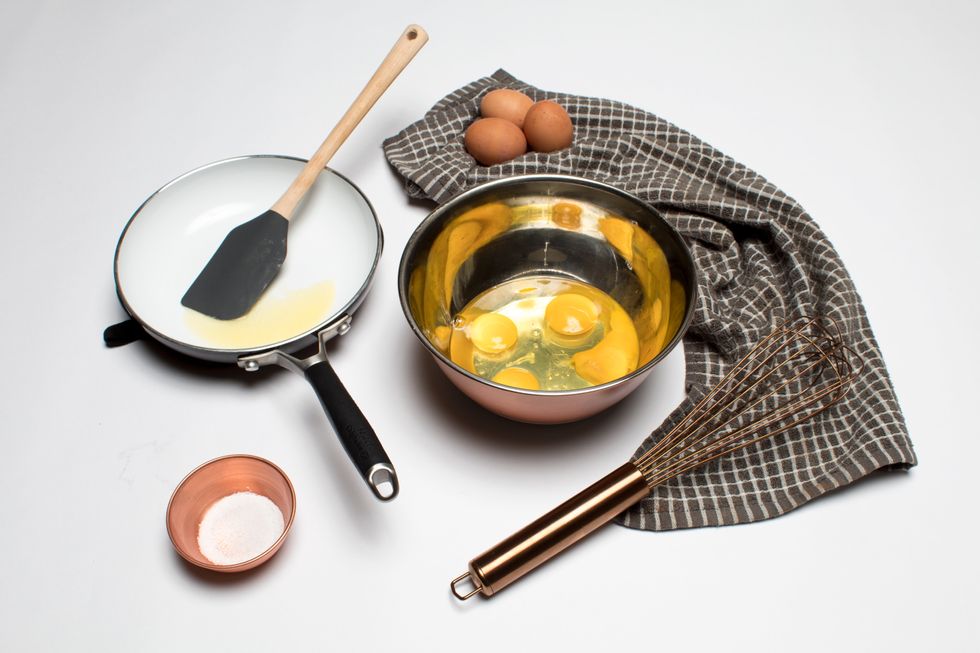 Stirred Eggs Step 1Photo by Karyn Bailey
Break the eggs into a bowl with a pinch of salt and beat with a wire whisk until blended. Melt the butter in an enamel pot or 8" pan (you may use non-stick) over a medium heat.
Add the eggs and stir from the bottom up with a rubber spatula. If it looks like the eggs are catching on the pan, turn the heat down. Stir every 30 seconds or so for about 5-8 minutes or until the eggs are just set in a textured custard.
You may find you need to turn the heat up a bit to complete the task but don't be impatient, and, whatever you do, don't overcook! Serve immediately. Brioche toast is the way to go with these eggs.
If adding the options, before beating eggs, tear a few strips of serrano ham into ¼ inch pieces and rinse and chop about 1 tablespoon of chives. Stir in just as eggs are done, before serving.
Eggs are a versatile, simple and fun option you can enjoy at any time of day or night.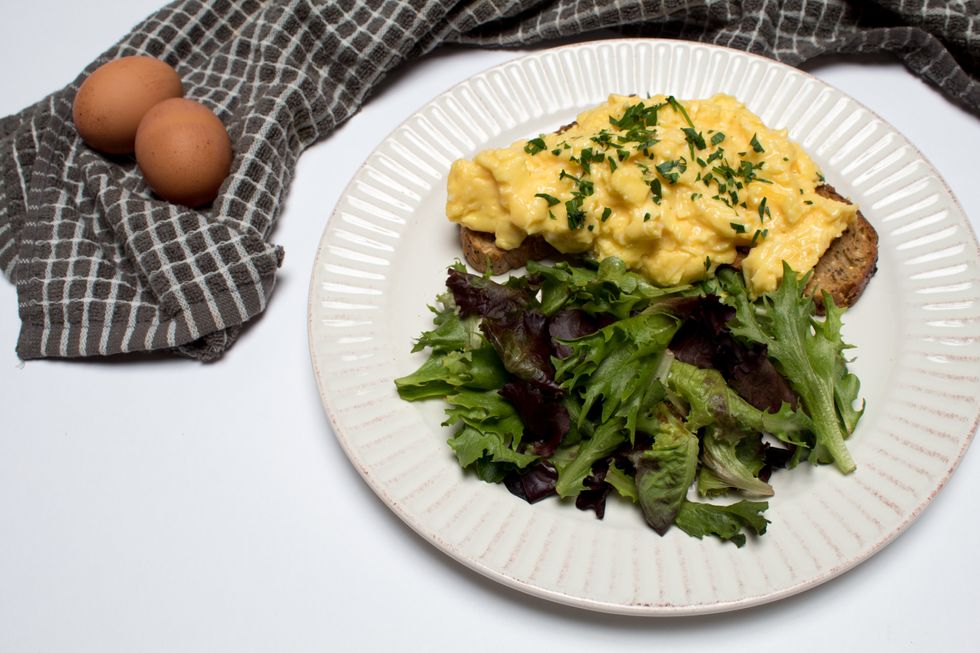 Stirred EggsPhoto by Karyn Bailey