Ponytails are not just for preppy grade-schoolers or gals sweating it out on the soccer team. A proper pony can be chic and on fleek when done up well. Just because you wear a ponytail doesn't mean you didn't have time to get your hair styled or were having a bad hair day. Here are some perfect pony pointers to get that heavenly hair off your neck and into the spotlight!

1. Pony with a Braid Wrap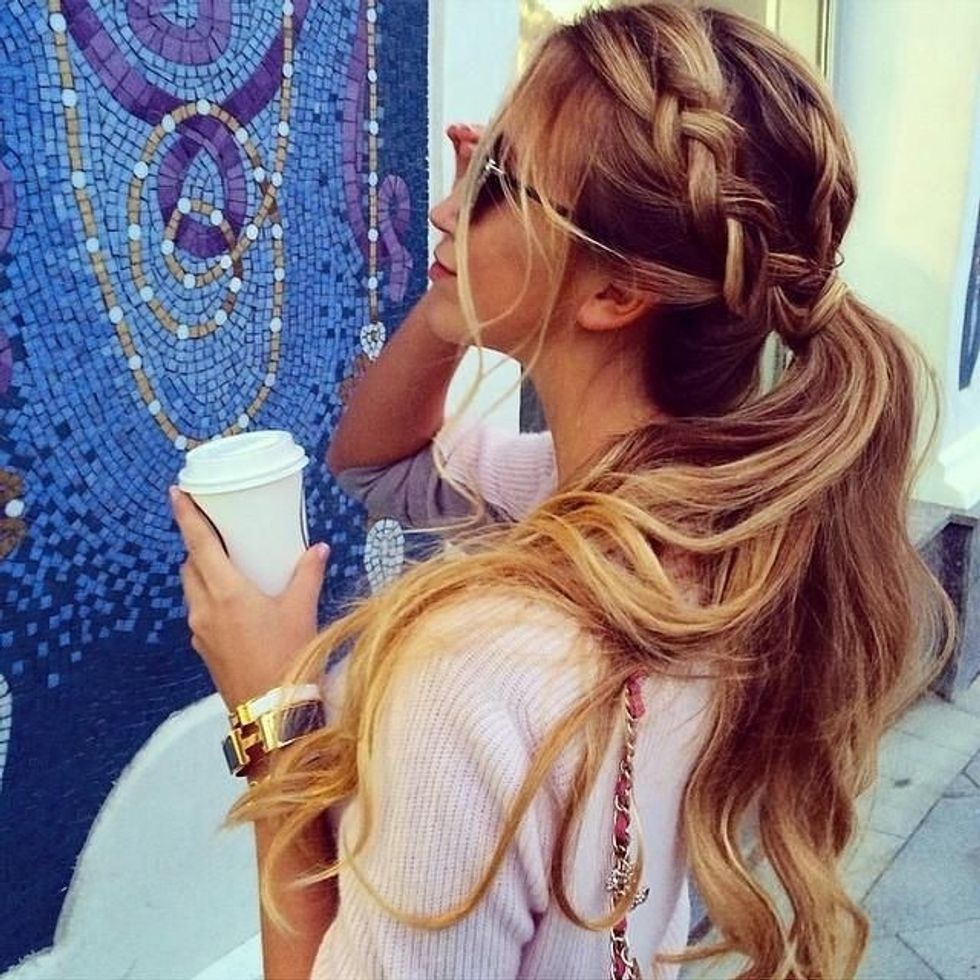 Take a simple pony and turn it into a work of art by covering the hairband with a braid of your own hair. First, make a medium-low pony, at about the middle of the back of your head, but leave a 1 inch chunk of hair hanging out of the hairband. Once the pony is in place, braid the loose bit of hair, then wrap it tightly around the base of the ponytail. Secure the ends by tucking under and fastening with bobby pins under the hairband. Braided beauty!
2. Low and Behold
A super-low pony screams sultry sophistication. Grab all your hair and make a sleek pony that starts at the nape of the neck. Secure as low as you possibly can with a hairband. It's OK if some of your hair slips out if you have a layered cut. Those wisps add an effortless and come-hither look to the hairdo. Wear your pony down your back or bring it delicately over one shoulder. Elegance and ease make this look so stylish.

3. Double Duty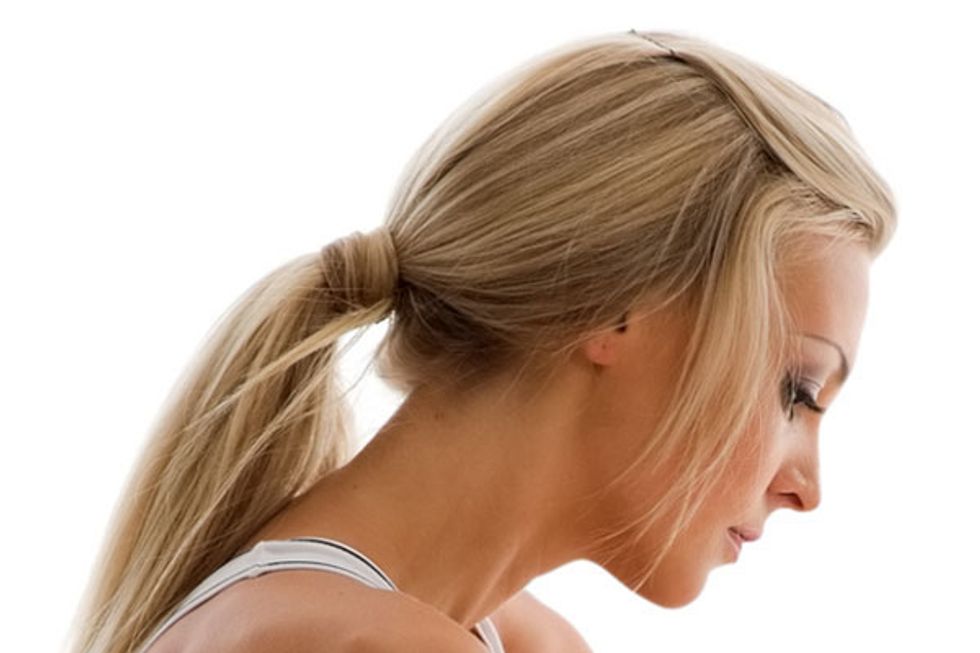 This 2-pony do is perfect for a flirty and fun look with lots of va-va-voom volume. First, do a half up, half down mini-pony with the top section of your hair and secure with a hairband. Then take the remaining hair and make a pony which includes the original mini-pony and secure at the back of the neck. This 2-pony hairstyle looks so adorable and gives off a fun-loving vibe. Plus, when you remove the hairbands, you'll have some sexy waves to flaunt.
4. Twist and Shout
Create a Grecian-inspired look by making tight twists at the temples and pinning back into a mid-low ponytail. Part your hair down the center and twist each side of 1 inch of hair at the front tightly until it's snug behind each ear. Secure with bobby pins behind the ears. Gather all the rest of your hair into a medium-low pony and include the ends from the twists. The flowing elegance of this hairdo is perfect for a romantic evening or a special event.
5. Love on Top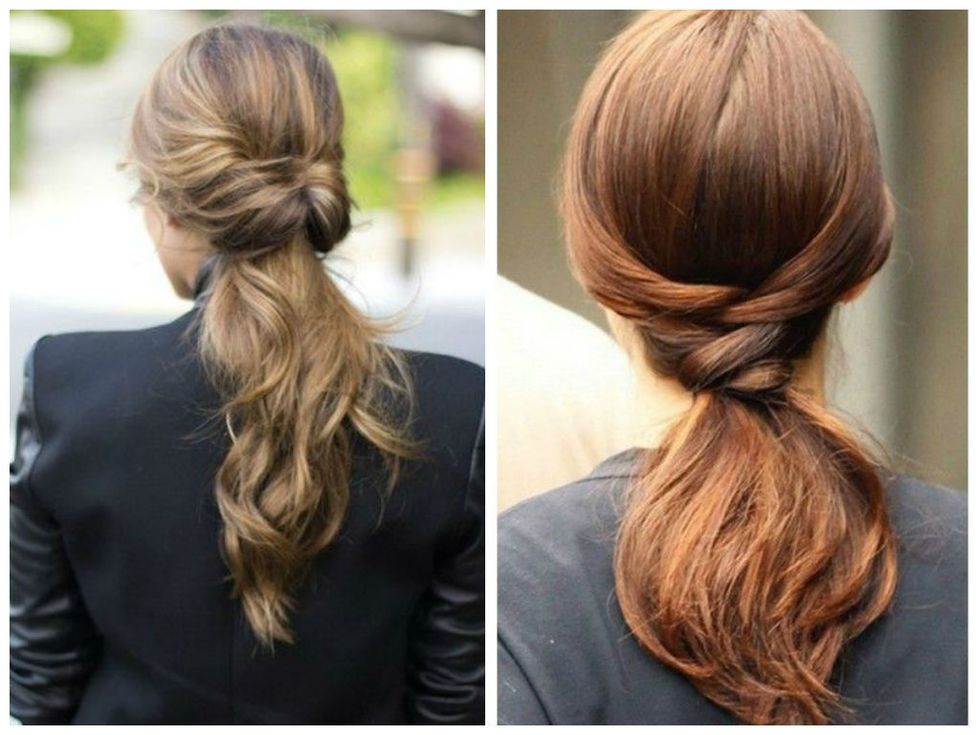 A neat ponytail that's high and mighty isn't just for little girls. Make it sexy and sleek with a few added touches. Gather all your hair on top of your head (just leave out a 1 inch hunk) and make a tight pony, secured at the middle of the top of your head with a hairband. With the hair you've left out, wrap securely around the base of the pony and secure with bobby pins. Smooth back any flyaways with hairspray and you are ready for a night on the town. Show off your shoulders and the shape of your fantastic face.
6. French Follicles
This half French braid, half ponytail look is like a work of art. Do a tight French braid until you reach the back of the head. Instead of going all the way to the ends with braiding, secure at the back of the head with a hairband and let the remainder flow freely as a bouncy pony. This look allows for more volume and opportunity to show off those shiny locks. You'll look like you belong strutting your stuff on the streets of Paris!
7. Clips, Ribbons, and Barrettes, Oh My!
Jazz up any ponytail with some amazing accessories. Match your hair accessory to your outfit and occasion. A basic ponytail will become breathtaking with a sparkly barrette, a silk ribbon, or a cute clip. You can put the accessory right at the base of the pony or get tiny ones and clip throughout the tail or on the sides of your head. The options are endless and you'll have a look that's all your own.
Ready to rock a grown-up ponytail? No laziness here, only long, lovely locks!