Though I always see them in New York City, I don't know a lot about skateboarders. I see skaters of all ages whizzing through traffic lights, rolling down sidewalks, and skidding across rails in public parks. They're everywhere in New York: almost as common as bikers and cars.

Oren Smilansky, self-proclaimed "skate junkie," grew up skating in Los Angeles, where the scene is even more vibrant than it is in New York. Though in his community, skateboarding is frowned upon by outsiders as a dangerous and destructive activity that ruins public property. (Jonah Hill, I know you would appreciate this as another L.A. skater.) Skaters sometimes prefer to skip the skatepark and repurpose the architecture around them as their playground.
"An empty pool is just a hole in the ground to most people," Oren says. "To skaters, it's heaven."
While ordinary people see "stairs, rails, ledges, monuments, handicapped ramps, [and] fire hydrants, skaters see them as obstacles to be conquered." To him, these gifts are handed to skaters, and there's nothing better to do than to use them to their full advantage.
Even though I am relatively new to the skate world, Johannesburg, South Africa is not the first city I would expect to have a booming skater population. And, at that, one comprised of a lot of girls. Skateistan is on a mission to change that expectation.
Stakeistan is an international nonprofit organization founded by Oliver Percovich that educates over 1,500 at-risk youth of over 20 different ethnicities and nationalities through skateboarding. Their acclaimed Skate Schools are located in countries where these vulnerable youth communities often fall through the cracks, including Afghanistan, Cambodia, and South Africa. While Skateistan has been active in Johannesburg since 2014, their newest school opened on August 14th in New Doornfontein. Their focus is on females and low-income youth, and so far, 47% of those registered are girls.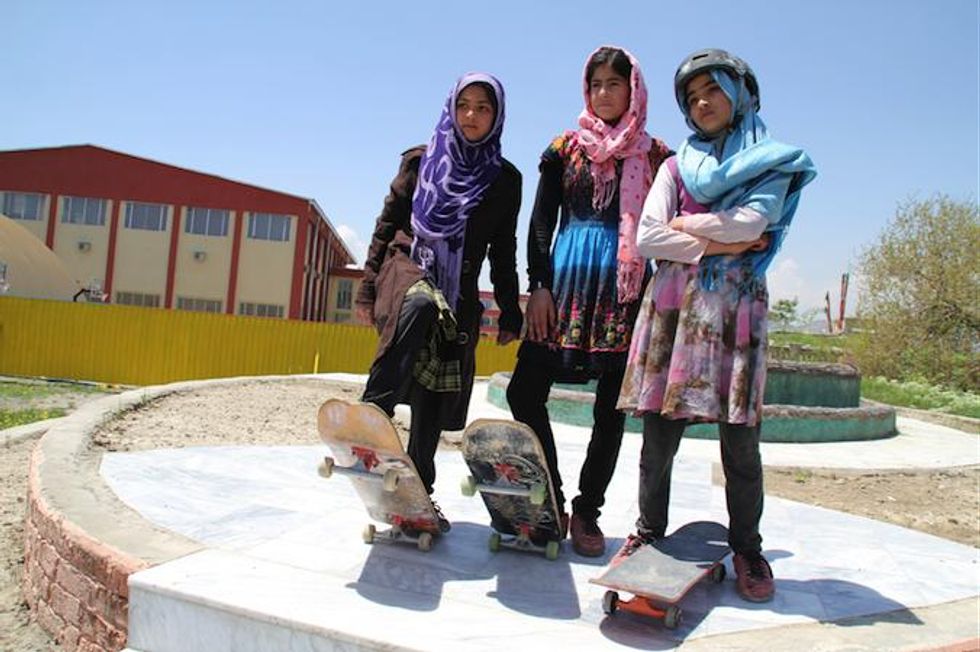 Skateistan
With the support of a wide range of donors, such as the Royal Danish Embassy, Comic Relief, The Skateroom, artist Paul McCarthy, LinkedIn, and the Tony Hawk Foundation, Skateistan's school in Johannesburg is able to provide weekly programs to over 300 students this year, and more than 400 by the end of 2017.
New Line Skateparks built them a beautiful 500 square meter skatepark that serves as the coolest classroom you could imagine. Through programs such as Skate and Create, Back-To-School, and Youth Leadership, Skateistan empowers young people ages five to seventeen by giving them a skateboard and the freedom to explore new places, socialize with different groups, and be creative in their skateboard skills and beyond.
Breaking Down Barriers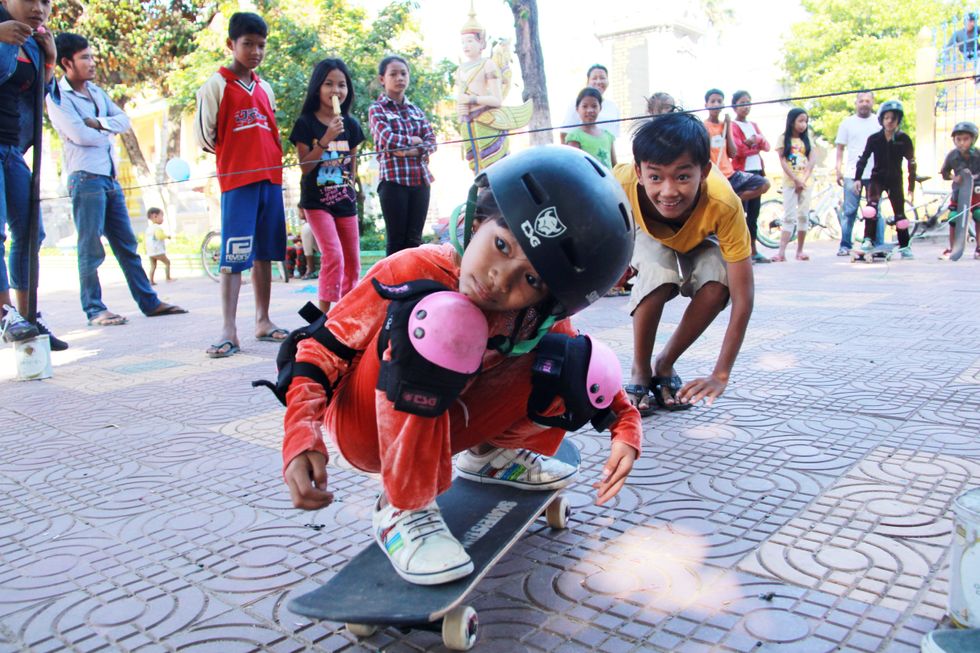 Skateistan
In Los Angeles, skating in public places is considered destructive no matter who's on the board. But in Afghanistan, the stigma is gender-based. Some communities consider it inappropriate for girls to ride bikes, so skateboarding is their unstigmatized way to achieve that freedom. Believe it or not, Afghanistan has the highest percentage of female skateboarders in the world. In any given skatepark, you'll find kids of all backgrounds. At-risk communities need something novel and stimulating to keep their interest, and skateboarding acts as just that.
Accessible and Fun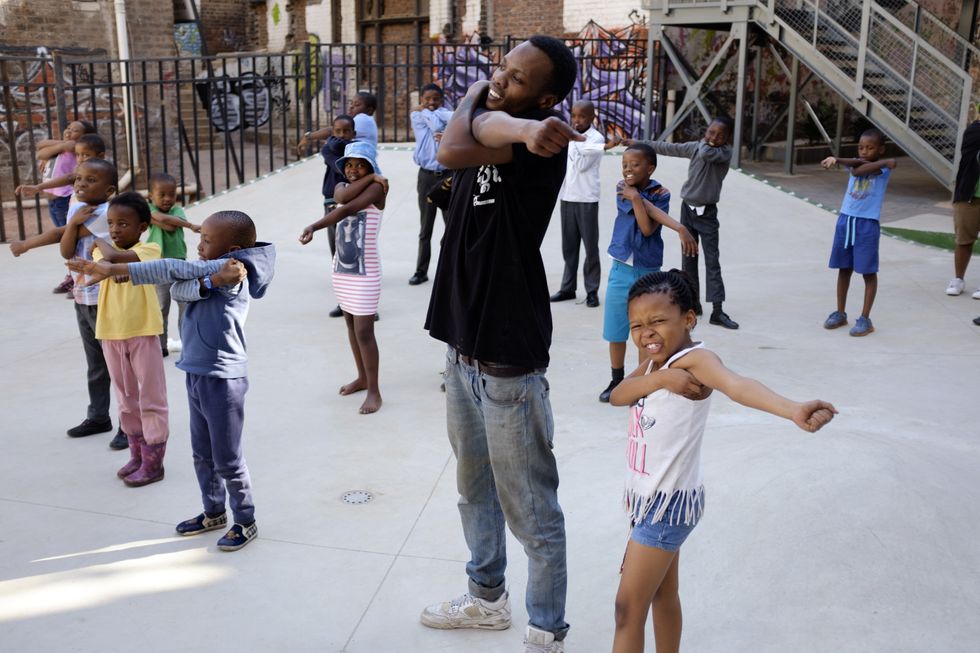 Skateistan
Skateistan also focuses on low-income youth and youth living with physical disabilities. Skateboarding offers a distraction from wayward crowds and promotes exercise, builds confidence, and encourages self-expression. To those children of migrants including refugees that have limited access to education, Skateistan is there to give them a community and a learning ground.
Turning a Skatepark Into a Classroom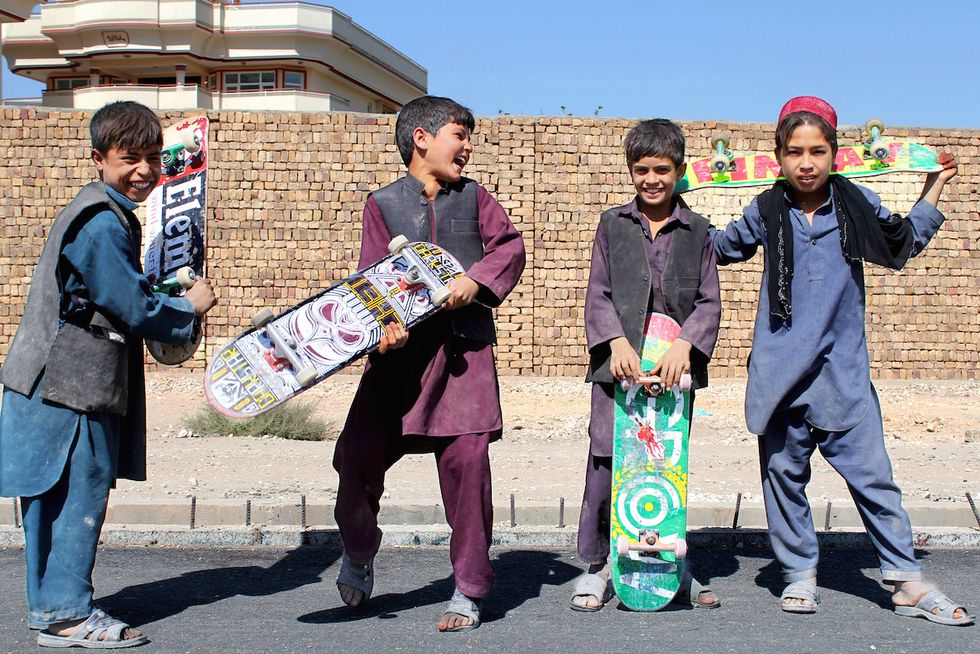 Skateistan
Skateistan has four programs. First is Skate and Create, an hour of skateboarding and an hour of educational arts. Each semester, the groups learn about topics including human rights and the environment, as well as participate in painting, sculpture, or photography. The idea here is to get kids to learn by doing, and to create lasting friendships.
The Back-To-School program provides an accelerated learning program and educational tutoring for children that are out of school in Afghanistan. The Skate School gives classes five days a week that cover the national curriculum, and then when students complete the program, the Skate School enrolls them into a public school. In the program in South Africa, Back-To-School gives after school homework help and career guidance.
Youth Leadership is for those who have excelled in the previous two programs. It gives young people the opportunity to assist Educators in classes, develop their skills, and plan local events. By holding Youth Leaders responsible for community-wide engagement, Skateistan primes them to be great role models for the younger members.
Lastly, the Outreach program is when Educators and Youth Leaders hit the streets with skateboards in tow. This is the chance for people who have never skateboarded before to see what Skateistan can do in action. Outreach efforts are responsible for introducing a whole new generation of future skaters to the organization.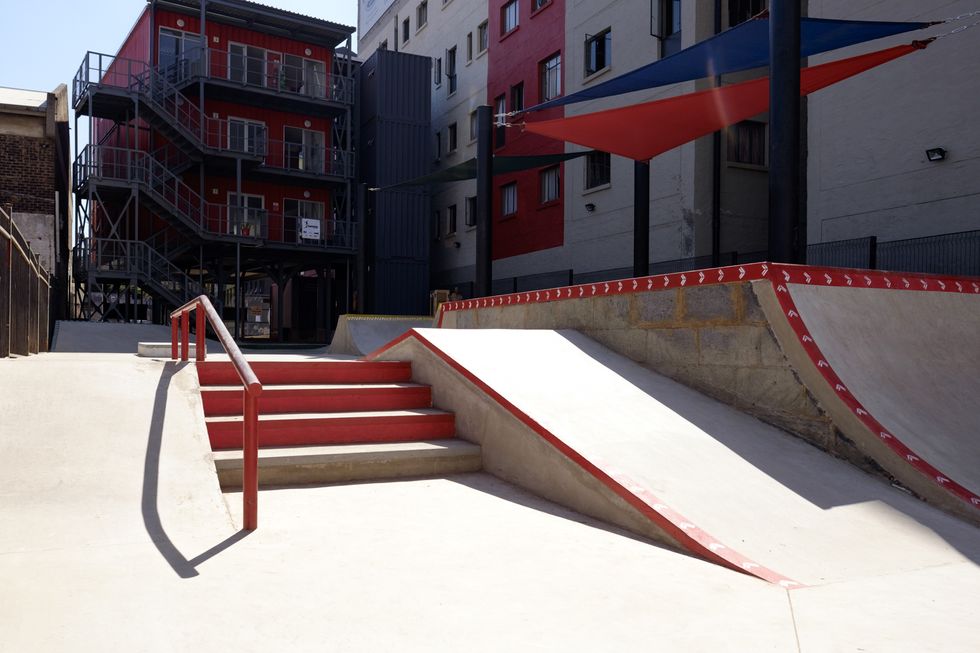 Skateistan
Pro skater Tony Hawk is also a Citizen of Skateistan. That means he's part of the international community of students, staff, skaters and supporters that help keep Skateistan going. With a donation of $10 or more a month, donors will keep the streets alive with the roll of wheels. Skateboarding is universal, and can transcend different cultures and languages.
Oren says that skateboarding is about adapting and integrating to the terrain you're given, to turn mundane city features into obstacles to be conquered and stories to be told. That's something anyone can appreciate, whether you come from a low-income community, are physically disabled, or are a girl.
Perhaps the best way to see Skateistan's impact is to hear from the people it has touched. Daniel, who is now an Educator at Skateistan, once started as a volunteer. He's one of the subjects of a short documentary created by Skateistan and director Coral Amy Brown called, "The Skateboard and The City." 25-year-old Daniel was abandoned by his mother as a child in Rustenburg, South Africa, and made it all the way to Joburg without much money. While he was struggling to get by, Skateistan saved him. It made him feel confident and happy. He could get a job working there, which was more than he expected, to be able to be paid to do what he loved. Hear more about his story below, and find out how Skateistan is expanding its global fingerprint and bringing the power of skateboarding to those who have little else.