By the end of January that new years resolution to hit the gym more often is usually a distant afterthought.
You might have been pretty consistent the first week, but commuting to and from the gym before or after work can start to feel like a huge time suck. If you haven't been faithful to the fitness goals you set for 2019, you still have plenty of time to get back on the bandwagon.
Dance video dance class workouts are a fun way to break a sweat at home. All you need is a good internet connection and enough space to bounce around and enjoy a fitness class. Even the smallest living spaces can work for dance fitness. Just push your couch aside and dance like nobody's watching.
Dancing is a really effective way to burn a lot of calories in a short amount of time. If you can't stand the monotony of the treadmill or have trouble getting zen in a yoga class, dance cardio might be the best kind of workout for you. Time flies when you're having full body fun as you sweat, and you get to learn a few new dance moves in the process.
Getting fit with dance videos can also save you money. Thanks to YouTube there's enough free workout content on the internet to ditch your gym membership entirely. If you want access to more dance workouts, you can sign up for online memberships and workout with celebrity trainers like Tracy Anderson, Helen Bowers, and Megan Roup. These fit ladies are responsible for toning victoria secret angels and celebrities like Gwyneth Paltrow and Taylor Swift.
Here are 6 of the best dance video workouts to help you stay fit from your living room.
Strong by Zumba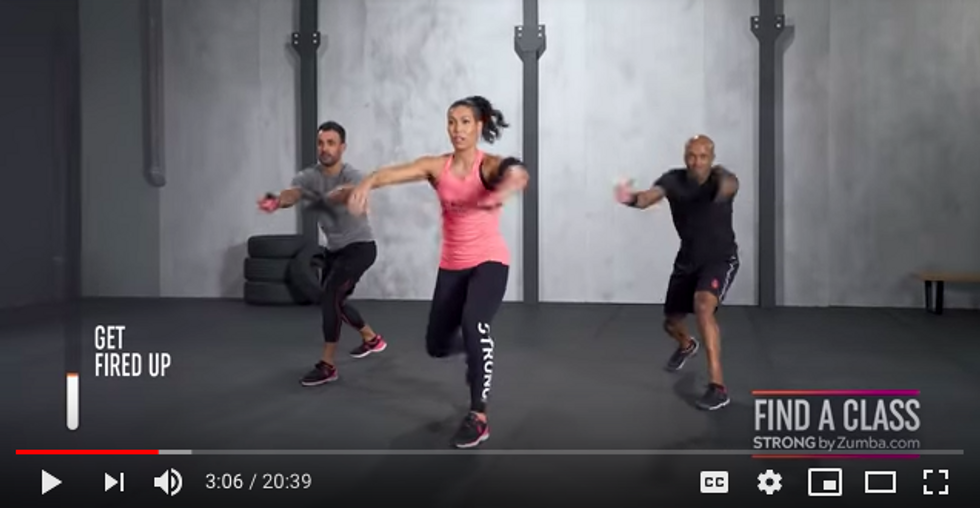 Strong by Zumba Dance Video WorkoutYoutube
You've probably heard of Zumba. This dance workout class has been around for a while and is offered at plenty of gyms throughout the world. Strong by Zumba is a more challenging version of the regular Zumba class. It's a mash-up of high-intensity dance cardio moves and intervals of plyometric exercises. Try this 20-minute introduction class offered for free on YouTube or find a class through their website.
Ballet Beautiful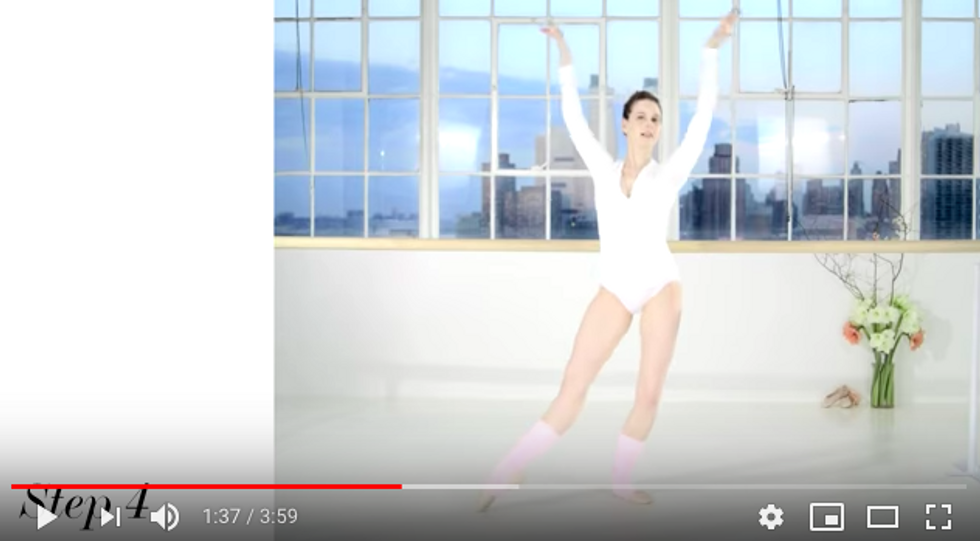 Ballet Beautiful Dance Video WorkoutYoutube
If the thought of dancing wildly around your living room is a bit too intense, there are plenty of dance video workouts which offer a more graceful approach. Ballet Beautiful by Helen Bowers is one of the most popular ballet workouts online. A long list of celebrity clients are devoted to Helen's subtle but effective moves because they really work!
Pique, arabesque, and battement are all terms you'll get very familiar with. Try this quick capsule dance cardio workout on YouTube or sign up for a monthly membership with Ballet Beautiful. With a monthly membership, you can pick the trouble zone you want to focus on and get access to a weekly workout routine that will quickly tone it up.
Tracy Anderson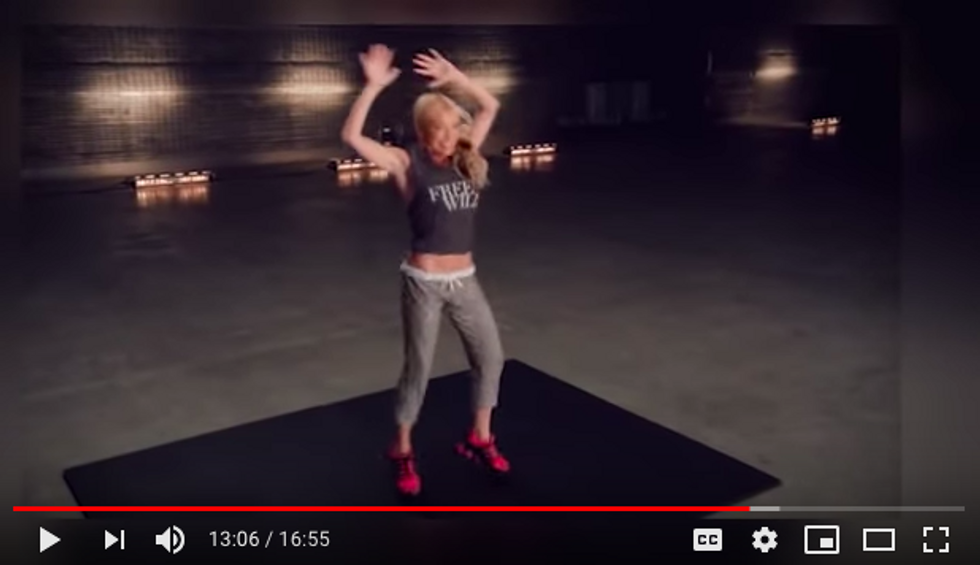 Tracy Anderson Dance Cardio WorkoutYoutube
Gwyneth Paltrow swears by the power of Tracy Anderson's dance moves to keep her butt in shape. As a former dancer who struggled with weight issues for years, Tracy eventually developed an effective dance cardio and sculpting mat routine that's capable of transforming any trouble zone and getting you in the best shape of your life. Try this 17-minute dance cardio for beginners class on YouTube or sign up for access to her online portal. You can also purchase single classes with specific focuses like pregnancy, post-baby, and more.
Body by Simone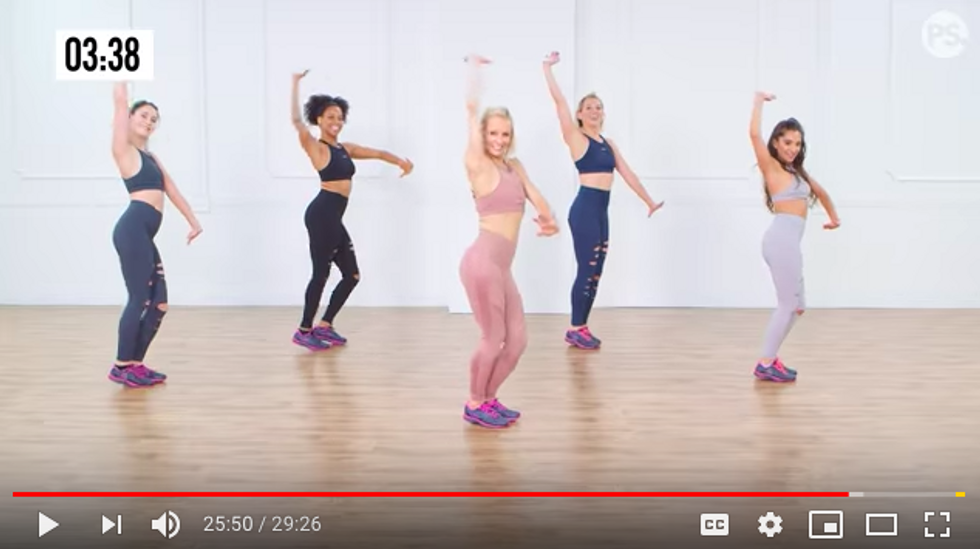 Body by Simone Dance Cardio WorkoutYoutube
Taylor Swift is a huge fan of Body by Simone's dance workout technique. Simone de la Rue is a classically trained ballerina turned professional fitness trainer. She believes that working out through dance is a more effective way to break a sweat while avoiding injuries and boredom.
Body weight exercises and light resistance training are incorporated into a dance cardio class that seriously sculpts and tones. Try this dance cardio workout that celebrities love on YouTube, or purchase one of her signature classed through her website.
JJ Dancer Method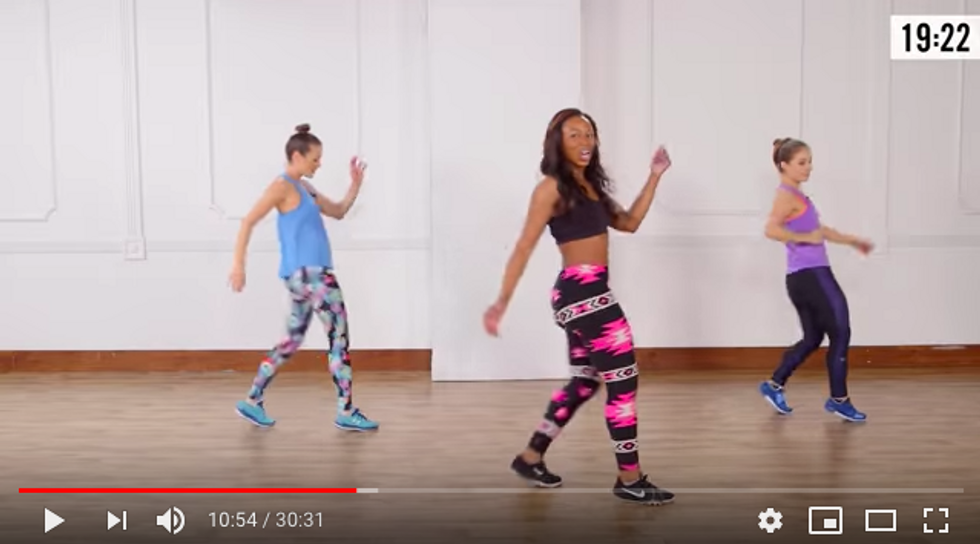 JJ Dancer Dance Cardio WorkoutYoutube
Jennifer Johnson is a professional dancer and personal trainer who created the JJ Dancer Method to get people in shape while having a lot of fun. It's hard not to smile during her high energy classes. Dancer and actress Jena Dewan Tatum is a huge fan of this dance workout method. Try this Latin dance video for your living room or sign up for a class through Jennifer's website.
Megan Roup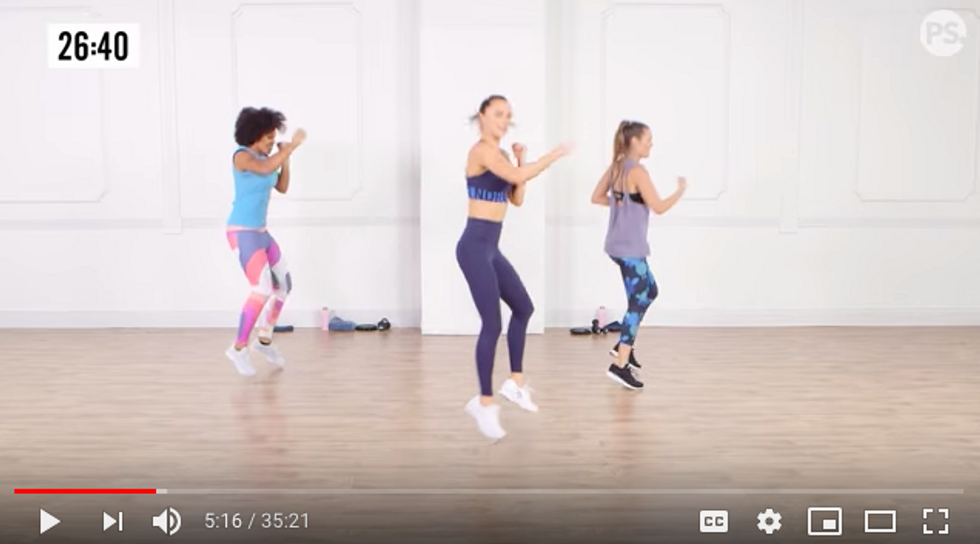 Megan Roup Dance Cardio WorkoutYoutube
Megan Roup is the founder of The Sculpt Society, a luxury, boutique fitness studio that's filled with models like Elsa Hosk, Martha Hunt, and Lais Ribeiro to name a few. After studying dance in New York City and then dancing for the Brooklyn Nets, she developed a workout method to create long, lean, sculpted bodies.

Her class mixes cardio dance moves, with slider exercises, and lightweight sculpting moves. Try this dance cardio and sculpting workout with sliders on YouTube or sign up for access to her online streaming library. You can also follow Megan on Instagram where she often uploads short workouts for free!