Get Your Hydroflask Off The Dining Table
Clinking Season Is Upon Us.
Don't Worry Darling reminded me of a lot of things. A lot of not-so-good things, but it rekindled my flame – whether good or bad, only time will tell – for drinking.
How nonchalantly Florence Pugh and Olivia Wilde balance scotch glasses on their head, how laissez-faire they fling martini glasses. A mere carelessness I could never achieve when it comes to my glassware.
And while I don't think I saw anyone drink a sip of water – other than that scene – it should be known that glassware isn't just for drinking alcohol. Look no further than Our Place's newest drop featuring their Night + Day Carafe. An outrageous concept in this water-bottle-riddled economy.
And while we're talking about water bottles: Between the hours of 9 am and 5 pm, I will allow a Hydroflask, Yeti, or whatever other massively-egregious device houses your water that has undoubtedly been sitting for days. (This is a reminder to wash your water bottle.) But once happy hour hits, release the bottle and embrace the glassware.
And no, glass water bottles don't count!
From colored coupes to textured tumblers, here are some of the best picks for glassware: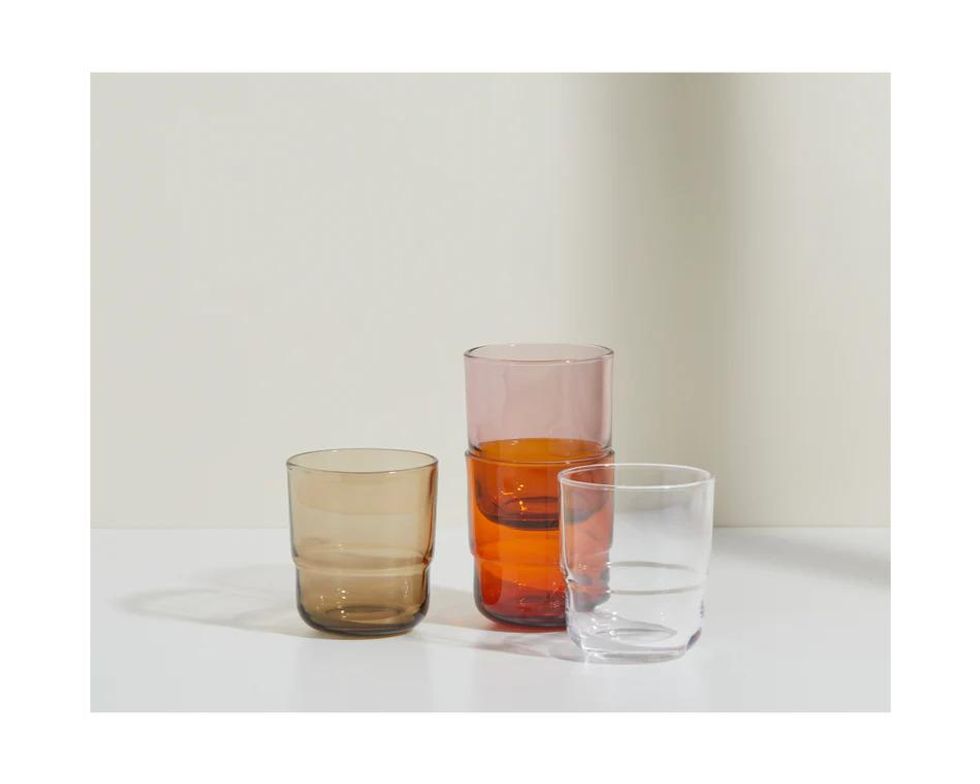 ​Via Our Place
These were my gateway drug to glassware. These glasses are thick without feeling excessively large, and the slimmer bottom fits perfectly in my hand, giving me a solid grip, unlike some other slippery glasses.
They come in a range of eight colors – I personally own Dusk, but the Warm four-pack is in my cart – and are suitable for everything from your nightstand water glass to spritzes and iced coffee.
A set of four costs $50, and a set of eight costs $90.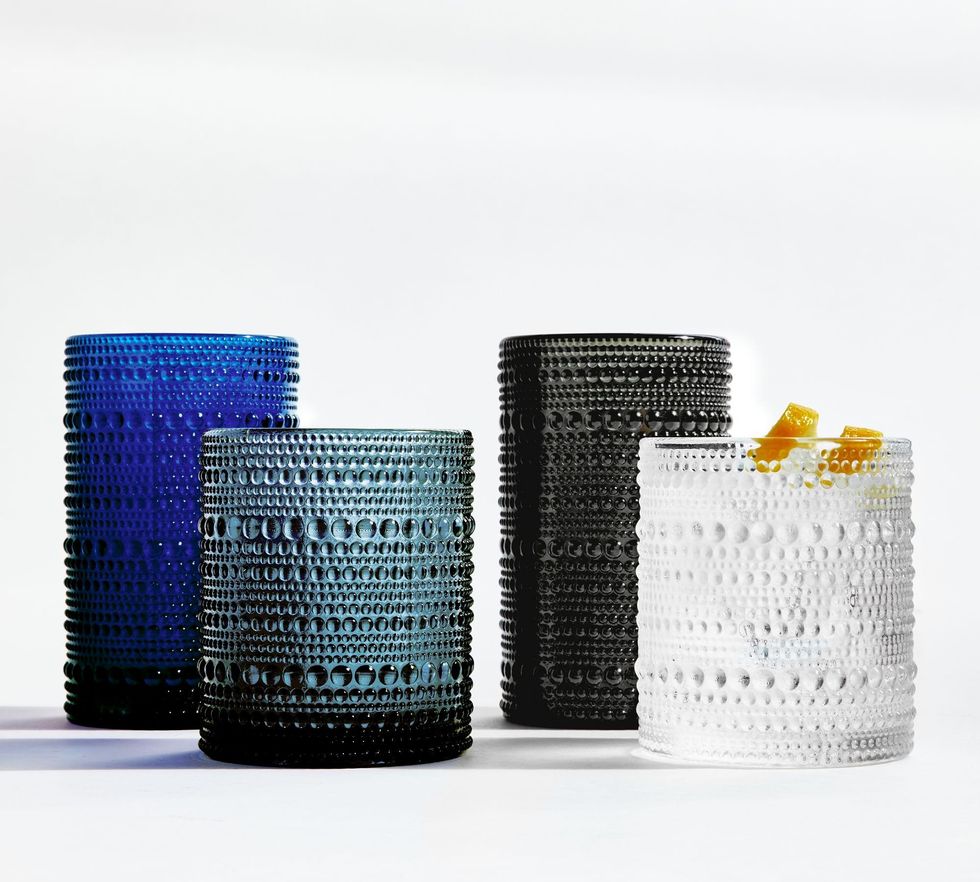 Via Pottery Barn
Every cool-yet-approachable new restaurant I've been to uses these for glassware.
The texture on these glasses elevates whatever drinking experience you have. These feel wider in your hands, but the hobnails are super smooth so you can't help but run your hands over them.
Available in either short or tall, for a set of six, they run for $48 for short and $60 for tall.
Coupe glasses are for those who truly enjoy drinking, and as such, these Estelle glasses are the only exorbitantly priced item on this list designed for only the true drinkers among us.
I don't own these glasses, but I can say they've been on my wishlist for approximately two years. I've seen them in the flesh and the colors are even more stunning in real life. The muted hues are hand-blown by artisans in Poland and inspired by the makers' grandmother who used to show off colored glasses during Sunday dinners.
I will be treating myself to these on my 30th birthday.
Designed in four hand-blown colors, a set of six costs $205.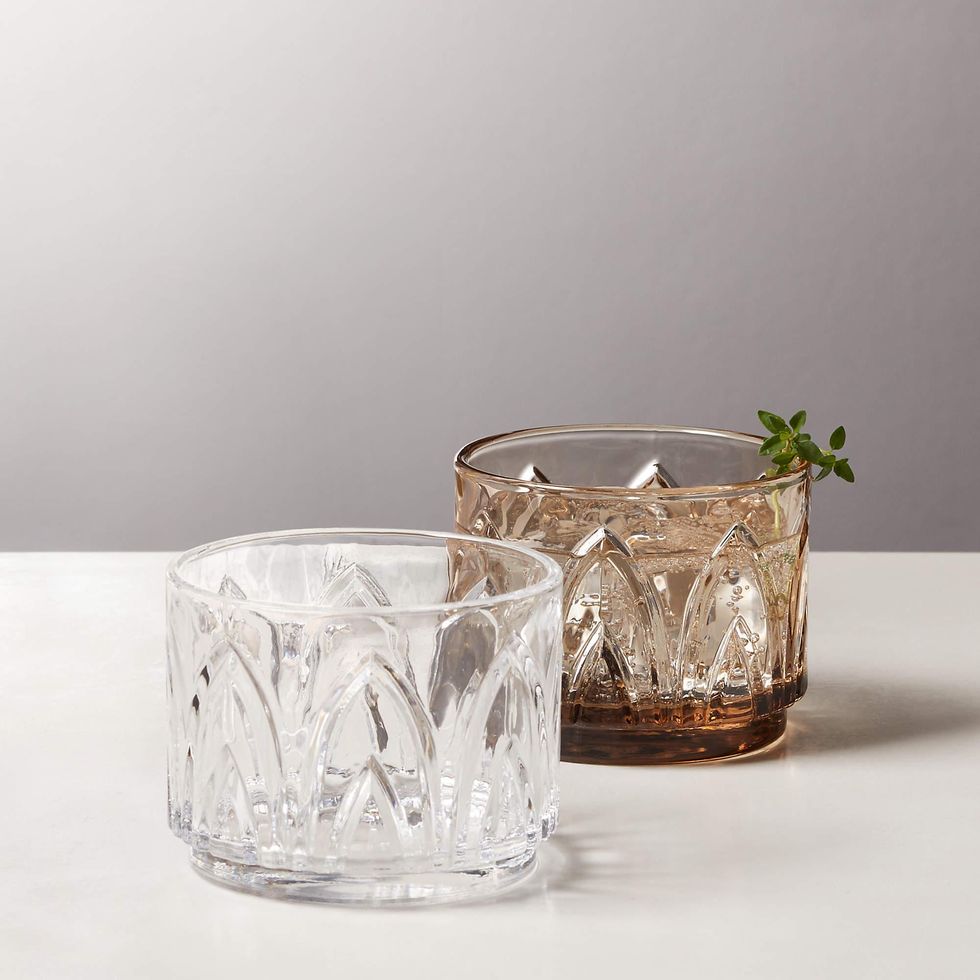 Via CB2
I love Old Fashioneds, but I do not love Old Fashioned glasses. They're either too bulky and masculine or oddly thin and tall to accommodate for the ice. Regardless, I have a few I like and these ones are extra beyond belief. I can't get enough of them.
Glasses that are low just feel chicer to me. I enjoy feeling like I'm drinking out of a small bowl. The designs on these are thick, yet intricate, and feel both Elven and vitntage.
These glasses are sold individually for $7.95 each.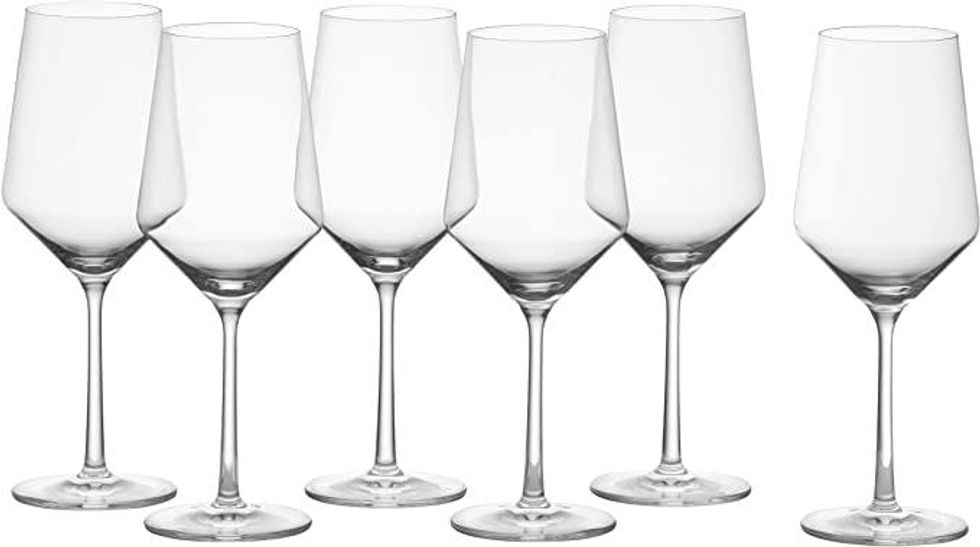 Via Amazon
No shade to anyone, but I'm a stem girl. I'm a victim of having very clammy hands, so the second I see a stemless glass, I cringe thinking of my future sticky fingers clouding up the glass.

The true wine-os will already have their Riedels, but this glass is perfect for those looking for durable, classic, and affordable wine glasses for any occasion or wine.
This set of six is currently on sale on Amazon for $54.99.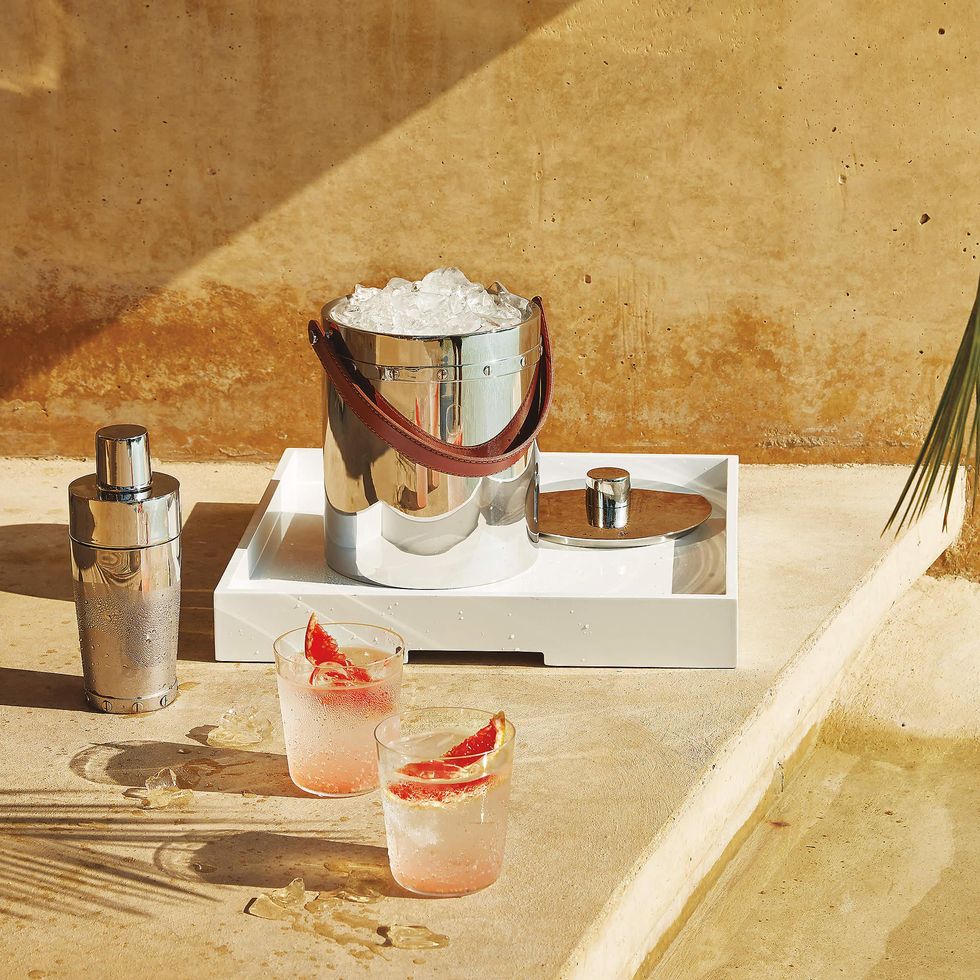 Via CB2
I know I just said I don't like Old Fashioned glasses, but these are universal for any type of beverage.
I love the simplistic style of these – especially the lack of a thick base which makes the glasses look that much more delicate.
Use these for mixed drinks, Old Fashioneds, or even as water glasses. These are exceptionally universal.
Coming in several unique colors and textures, a set of six costs $17.70.