We Compared The Best In Men's Health And Here's What Happened
Vault Health vs Roman vs Hims vs Blue Chew




Men's healthcare is finally getting the conversation it deserves. Facing low sex drive and other signs of low testosterone that come with aging can put a damper on intimate relationships, among many other aspects of a person's life.
For relief and support, there are plenty of different ways to feel like your old self again. Maybe even stronger.
One way is medication, which can always be obtained from a doctor, but we're fans of the 21st century way.
Places like Blue Chew, hims, Roman, and Vault Health have emerged to fill a need in the market. With the online help from a medical professional, they can deliver different health and sexual health aids directly to your door, in discreet packaging.
We compared the four of them to find out which is the best for you. Here are all the details.
Key Similarities
All require an online consultation with a medical professional before treatment is prescribed
All will walk you through the potential side effects and give medical advice to determine the best choice for you
All ship directly to your door
All promise discreet packaging
Key Differences
Roman and hims focus on all men's health needs, Blue Chew offers ED medication only and Vault focuses on the underlying causes of ED in addition to supplying ED meds.
Vault offers testosterone in addition to ED medication and Roman offers a testosterone booster in addition to ED medication
Blue Chew and Vault Health offer generic ED medication only, while Roman and hims offer a mix of generic and brand name options
Vault Health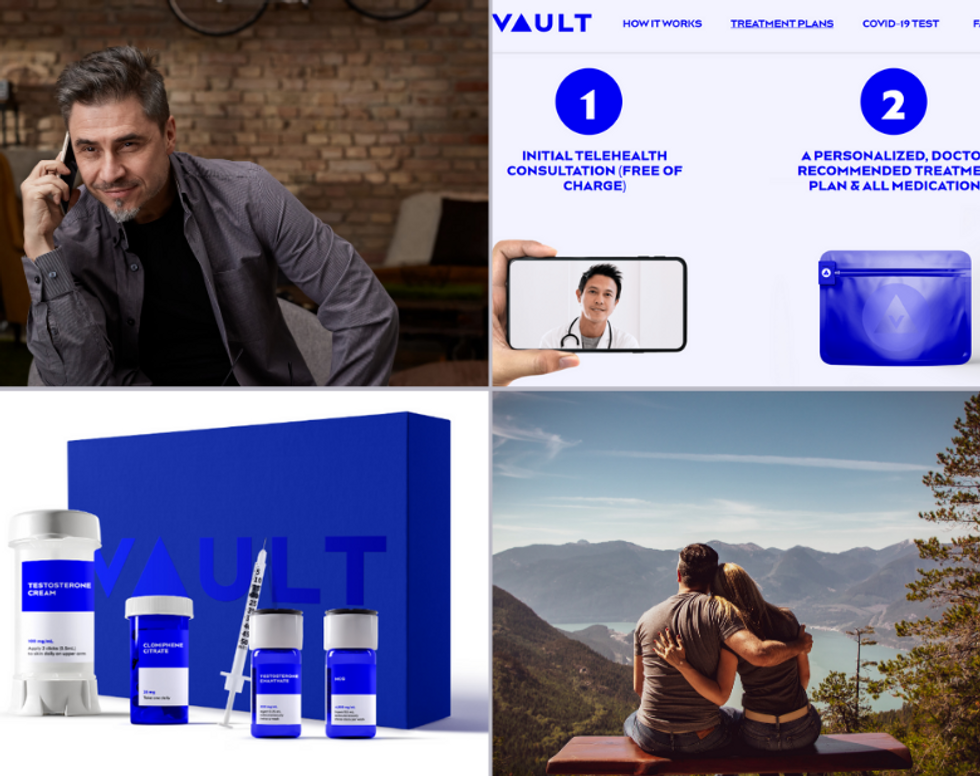 Vault focuses more on the underlying cause of ED: low testosterone. They have 3 main kits; Testosterone Replacement Therapy, a Libido Kit, and a Sex Kit.
First, there's a telehealth consultation to determine your doctor-recommended plan. While the other companies all have medical professionals evaluating you, Vault is the only one to specify that it's a doctor.
The Sex Kit gives you a combination of Tadalafil (brand name Cialisis) and Apomorphine lozenges along with Oxytocin oral drops. It's a comprehensive plan instead of just a pill, to help you sustain yourself over time.
The Libido Kit gives you Tadalafil, Oxytocin, and Bremelanotide nasal spray, to help increase your libido, if that's been an issue. Vault is the only provider to address libido concerns with medication, instead of simply erectile dysfunction.
Although Roman also has a testosterone boosting supplement, it contains no hormones. This is a great option if you can't take hormones due to other types of medication, but hormone therapy from Vault Healthis potentially life-changing.
If ED pills and sprays aren't working for you, their testosterone replacement therapy is the way to go. It requires a blood test, and if your levels are low, they'll give you a full plan to bring back your libido, along with eliminating ED, and increasing your sleep, metabolism, mood, and focus.
Vault's programs start at $75 a month.
Roman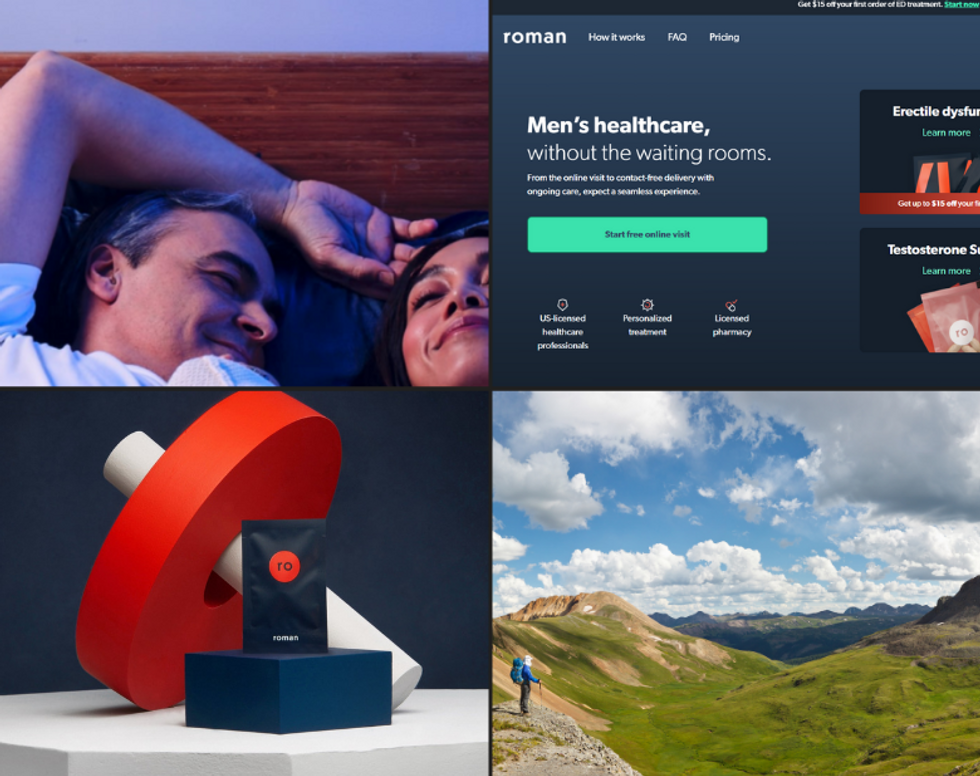 Maybe most well-known for their partnership with MLB, Roman starts with an online visit where you report symptoms to a medical professional for evaluation before getting any prescription. They have 2-day delivery and an opportunity to always text a professional if you have questions or need a change in your medication.
They have new offerings for hair health, heart health, stress relief, and much more, but they're known for their erectile dysfunction offerings.
For ED, they have Sildenafil (generic Viagra), the Viagra brand, and the brand Cialisis, which is also known as Tadalafil.
They also offer a daily testosterone support pill that contains Magnesium, Vitamin D3, Zinc, Ashwagandha, Maca, and Copper. Finally, they offer individual wipes and meds for preventing premature ejaculation.
They definitely try to be the one-stop-shop for men's health. In terms of pricing, they're transparent, but the range for pills is wide. They go from $2 a dose to $44 a dose, depending on the medication.
Hims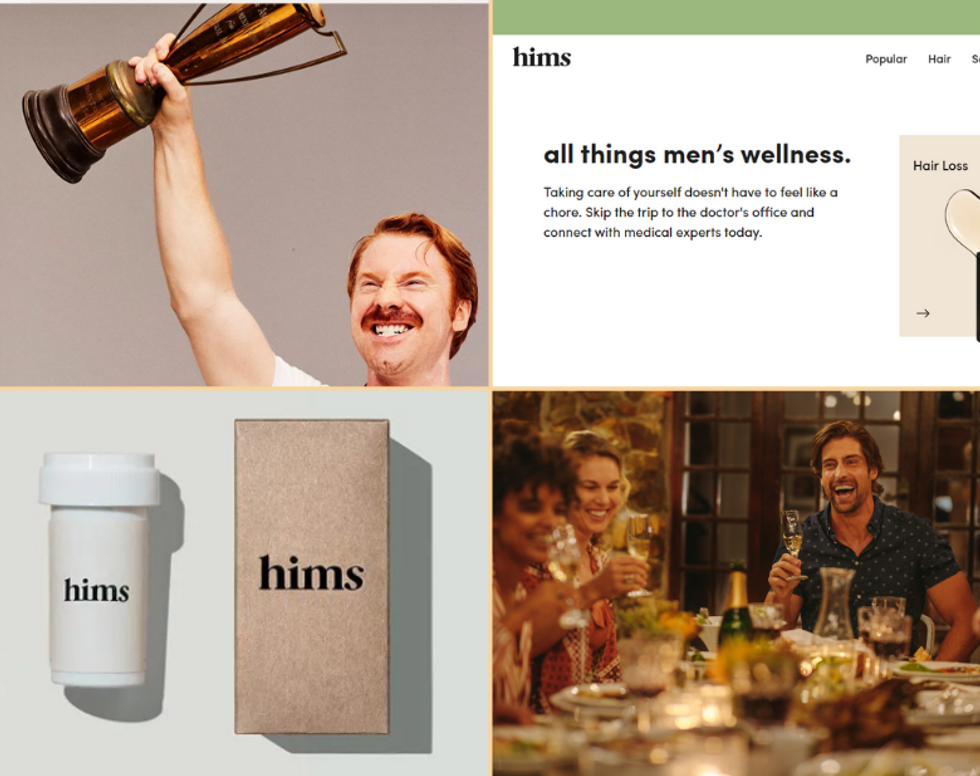 Hims offers a little bit of everything for men. They have Anti-Aging facial serums, Vitamin C gummies, and a wide range of ED medications. You'll find the generic Sildenafil and Tadalafil, name brands Viagra and Cialisis, and even Stendra (avanafil), the newest ED pill that starts working in 15 minutes.
They also have a medication and spray for premature ejaculation.
They have a slightly less clinical feel to Roman, because of their wide variety of offerings that aren't just pills.
When it comes to ED pills, you have to take a quiz before you find out pricing, but it can be around $30 a month.
Blue Chew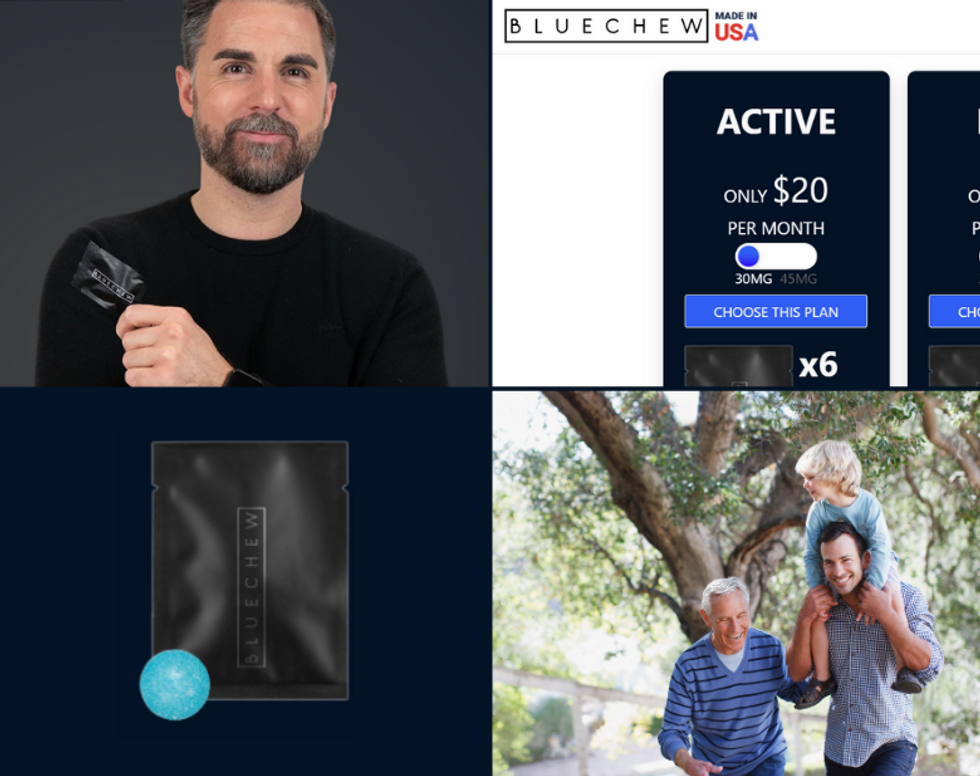 For ED, Blue Chew technically has 8 plans, but really only has 2 offerings. You can get 4 different monthly amounts of either generic Sildenafil or Tadalafil. The chewable pills are either 30 MG each or 45 MG each, depending on your choice.
After your online conversation with a medical provider, they help you choose which is the right plan for you.
Their plans are as low as $20 a month and delivered right to your door.
Conclusion
Thanks to mandatory consultation with a medical professional, whatever program you choose, you'll be able to find the right fit for you.
What do we recommend? Begin with Vault Health for treating ED. The process is much more streamlined than Roman or hims, who have a lot more going on. They have a very short quiz, that will lead you to their 3 options and help you pick what's right for you. If ED is something you're experiencing, along with lethargy, reduced metabolism, and other factors, testosterone may be the answer for you.
They can help rule out if you're experiencing low T, and help aid you in supporting healthy testosterone levels, contributing to the reduction of ED and increased libido. With an ED pill, you might just be putting a bandage on the problem, instead of looking at the root cause.
For more information, check out their websites and see how you can improve your health.