One scroll through instagram and it's clear that strength training workouts for women are trending. Instagram stars like Melissa Alcantara are responsible for sculpting some of the most famous bodies in hollywood. While women used to usher into pilates and mat classes in droves, they're now opting for workouts like boxing and heavy weight lifting to get in shape. Strong is apparently the new skinny.
Yoga classes are even jumping on the strength training trend mashing up yoga with higher intensity workouts like HIIT and cycling. Women are working out like professional athletes. And they're taking recovery from high intensity workouts just as seriously. According to ClassPass the fastest growing fitness trend of 2017 was restorative and recovery fitness classes.
Warmer, sunny days are here and beach days are just around the corner. To get in shape this summer, break a sweat with some of the best new fitness workouts to try in 2018. Don't forget to cool down with a recovery class!
1.) Boutique Boxing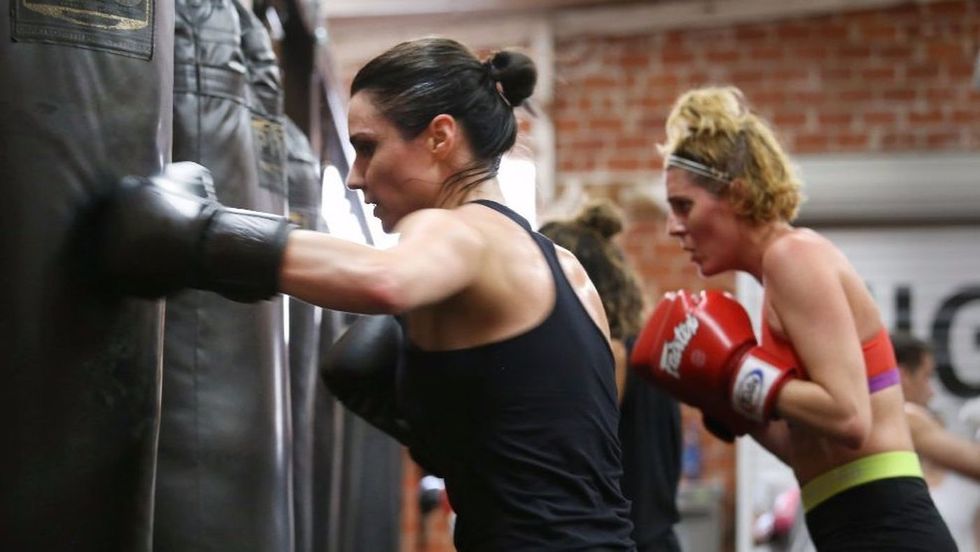 Women boxingImage: Rumble Gym
Boxing is the workout of choice for super models like Kendall Jenner and Gigi Hadid. The latest LOVE advent calendar even chose to feature the two models staying strong with their favorite strength training workout. In Ed Sheeran's Shape of You music video the singer pursues a love interest as she boxes in the ring. Boutique boxing studios are now catering to their female clientele because the number of women joining their classes is out weighing the men.
To get in shape and destress like a top model head to a boxing class and throw some forceful jabs in the air. Studios like Rumble and Box Union in NYC offer boxing inspired group fitness classes that will get you in serious shape while also teaching you a few self defense moves. For an at home workout try Daily Burn's undefeated kickboxing class.
2.) Functional Fitness Classes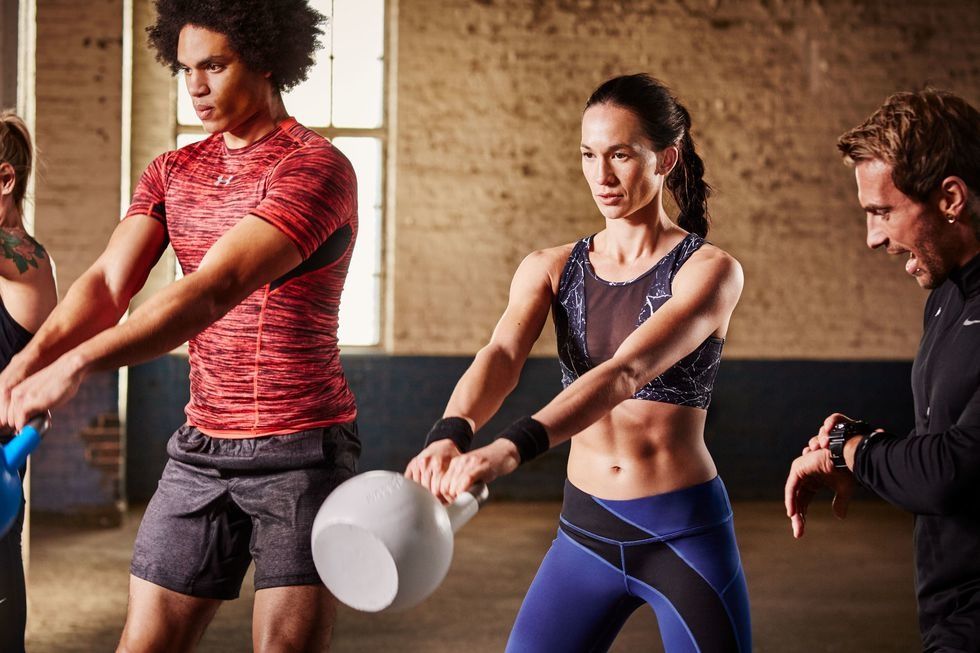 Functional Fitness Class w/ Kettle Ball Image: Elle UK
What's functional fitness? It's a very practical way of working out that involves improving your functional strength by mastering repetitive movements you do most often in everyday life. Walking, running, sprinting, lifting, bending, and twisting are all part of the wide range of natural human activities. According to the American College of Sports Medicine, functional fitness classes are one of the top workout trends of 2018.
Functional fitness isn't anything new, but it's now evolved to focus more on enhancing strength. Medicine balls, kettlebells, and barbells are now the main focus of popular functional fitness classes in 2018. Head to The Fitness Cell Collective on the upper east side or Body Space Fitness in union square to try a class in person. For an at home workout try functional fitness exercises with the app PEAR.
3.) Lifting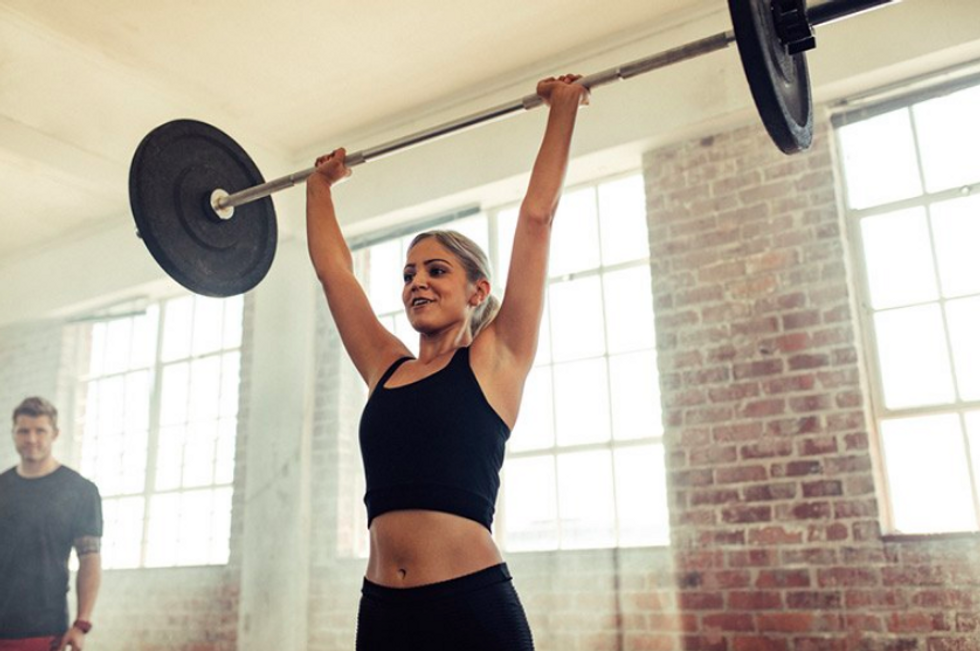 Woman Lifting Barbell WeightsImage: Stocksy/Jacob Lund
It's taken a while but the myth about women getting too bulky from weight lifting is disappearing. According the ClassPass the most popular workout genre last year was strength training and the trend is continuing in 2018. The Sports and Fitness Industry Association noted that the use of barbells rose by 4.3% last year and this is mainly due to women.
Women want real weights in the gym. So much so that gyms are expanding lifting areas to accommodate the growing numbers. Kim Kardashian shares her workouts on her instagram stories regularly featuring her lifting heavy barbells on her shoulders as her trainer spots her. Women are realizing that instead of focusing on cardio to burn calories, building muscle mass with weights is key to burning fat and maintaining your health as you age.
Fitness guru Chloe Madely says that lifting is also giving women mental feelings of strength, capability and accomplishment that have ripple effects throughout the rest of their lives. To pump some iron like a pro head to a Lift Gym in NYC or The Hamptons. For guidance in your ear as you lift at the gym try the Asics Studio App.
4.) Yoga + Strength Training (Mixed Cross Training)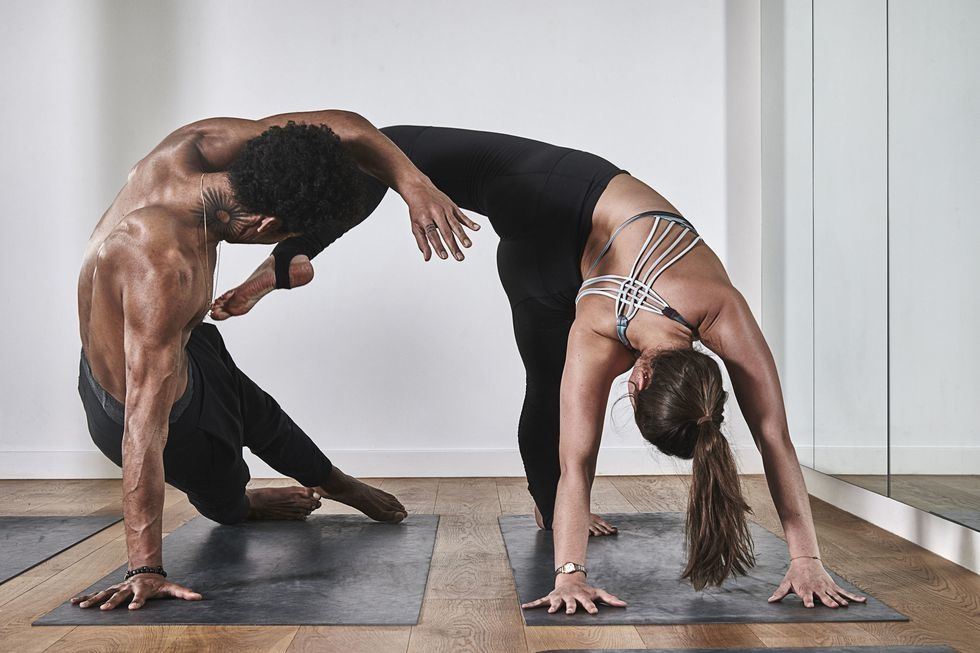 Cross Training Combined With YogaImage: Another Space Gym
The strength training trend is even popping up in yoga classes, taking the workout from zen to a serious sweat session while simultaneously stretching as you go. According to Chris Magee, head of yoga at Another Space, bridging the two disciplines maximizes the potential of your body.
Popular high intensity workouts like HIIT and Cycle are offering mash up classes. HIIT x Yoga and Yoga x Cycle are effective ways to build strength, stamina, flexibility, and endurance. To try a mash up class at home head to Yoga Download to stream a Total Body HIIT x Yoga Fusion class.
5.) Recovery Classes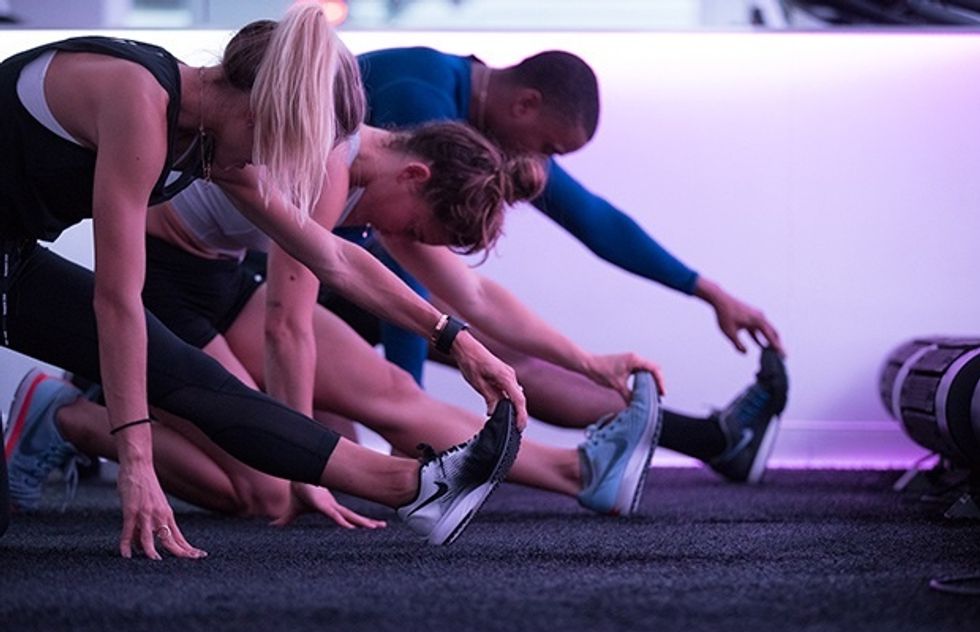 Stretch Recovery Group ClassImage: Nike Run Club
Strength training and high intensity workouts are just half of training like an athlete. Instead of focusing every workout on burning calories and building muscle, spend half your time focusing on recovery. Recovery focused classes and treatments are on the rise.
Stretch classes, foam rolling, yoga wheels, and lacrosse balls are great ways to unwind, soothe and stretch sore muscles. Recovery also focuses on getting enough sleep, taking days off from training, and maybe even trying recovery therapies like infrared saunas, cryotherapy, and ice baths. Try a recovery workshop at Tone House. To actively recover at home try Daily Burn's recover program.