Getting your nails done at a salon or painting them yourself at home can seem like a harmless way to pamper yourself, but unfortunately, many nail polish brands contain harmful, toxic chemicals.
The New York Times ran an article in 2010 about the growing health concerns of the nail polish industry, and Duke University released a study that proves that toxins in nail lacquers make their way into your bloodstream. Formaldehyde, toluene, and dibutyl phthalate (also known as TBP) are the main offenders. They're also the backbone of most nail polish formulas.
Unfortunately there more than just 3 chemicals to worry about.
Some nail polish chemicals double as a furniture fire retardant. TPHP is an endocrine-disrupting chemical that's painted on furniture to slow the burn of fire and on your nails to help the color last longer. When TPHP leaks into your body, it throws your hormones off balance and can even lead to reproductive and developmental issues. Luckily many nail polish brands have started to take note.
There are plenty of non-toxic nail polish shades to paint on without worrying about any harmful side effects.
Natural formulas are all free of the big 3, formaldehyde, TBP, and toluene. You'll see three, five, seven, eight, nine, and ten free written on the labels of non-toxic formulas. This tells you how many toxic chemicals the nail polish is free of. While the more chemical free the formula is, the better, staying away from the big 3 is critical. To help you make sense of your natural nail polish options and better understand the labels we broke down 5 of our favorite colors below.
Here are the best non-toxic nail polish shades for healthier nails.
Cote No. 10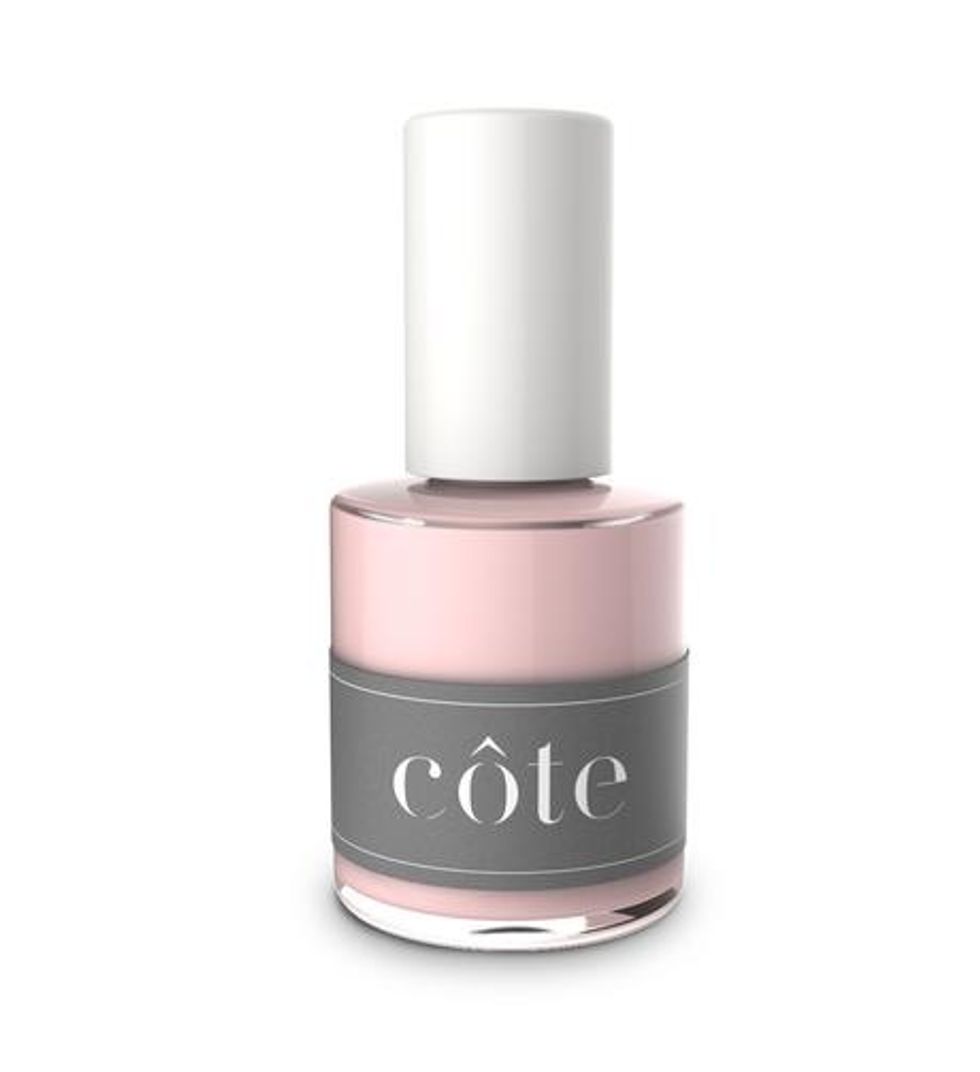 No.10 Nail LaquerCote Nail Polish
This dusty pink shade is perfect for everyday wear and free of 7 major toxins. You won't find any formaldehyde, dibutyl phthalate (DBP), toluene, camphor, formaldehyde resin and triphenyl phosphate (TPHP) in this formula. Cote is also a cruelty-free and vegan nail polish brand. It's one of the cleanest formulas you can buy.
$10.00 available at Cote Shop
Sundays No. 21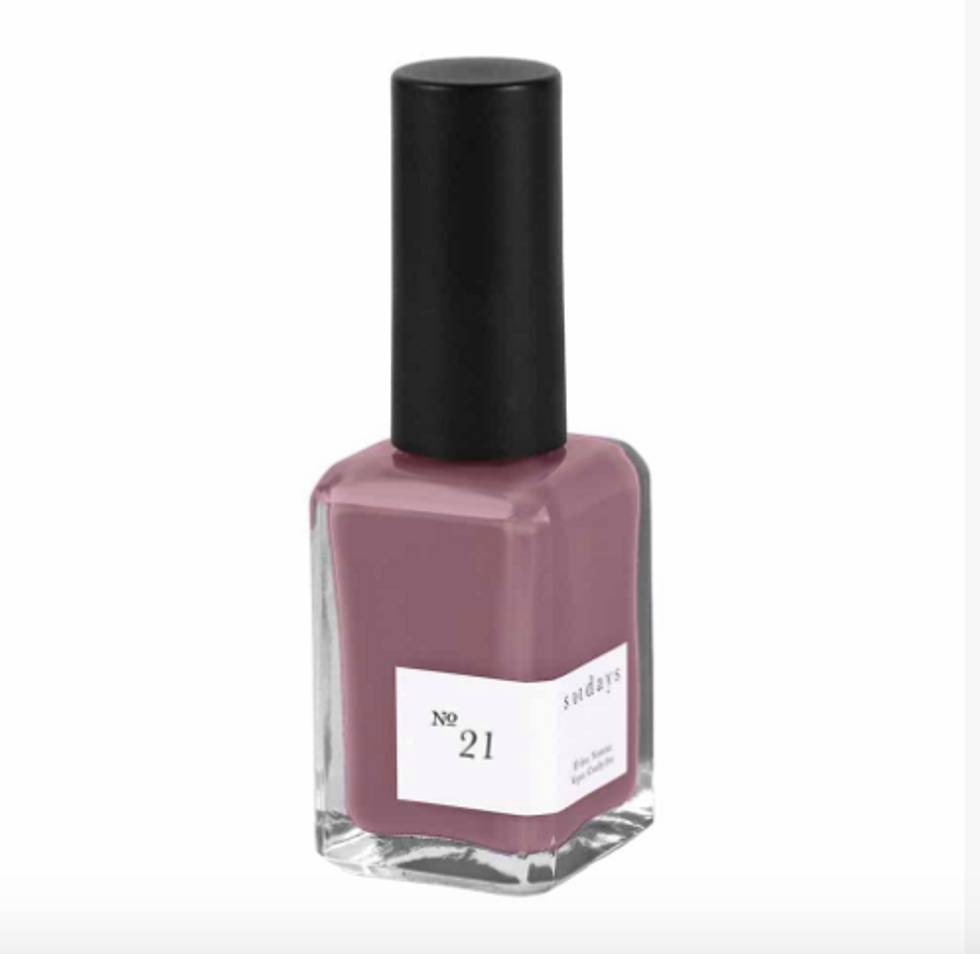 No 21 Nail LaquerSundays Nail Polish
All of Sundays nail colors are in line with the brands aim to create shades that promote a sense of meditative calm. This beautiful, serene purple color is perfect for winter. It's also 10 free, 100% vegan, and cruelty-free. Sundays formulas don't contain any dibutyl phthalate, toluene, xylene, ethyl tosylamide, camphor, formaldehyde, formaldehyde resin, parabens, and tert-butyl hydroperoxide.
$18 available at Dear Sundays
Ella + Mila: Time for a Bond Fire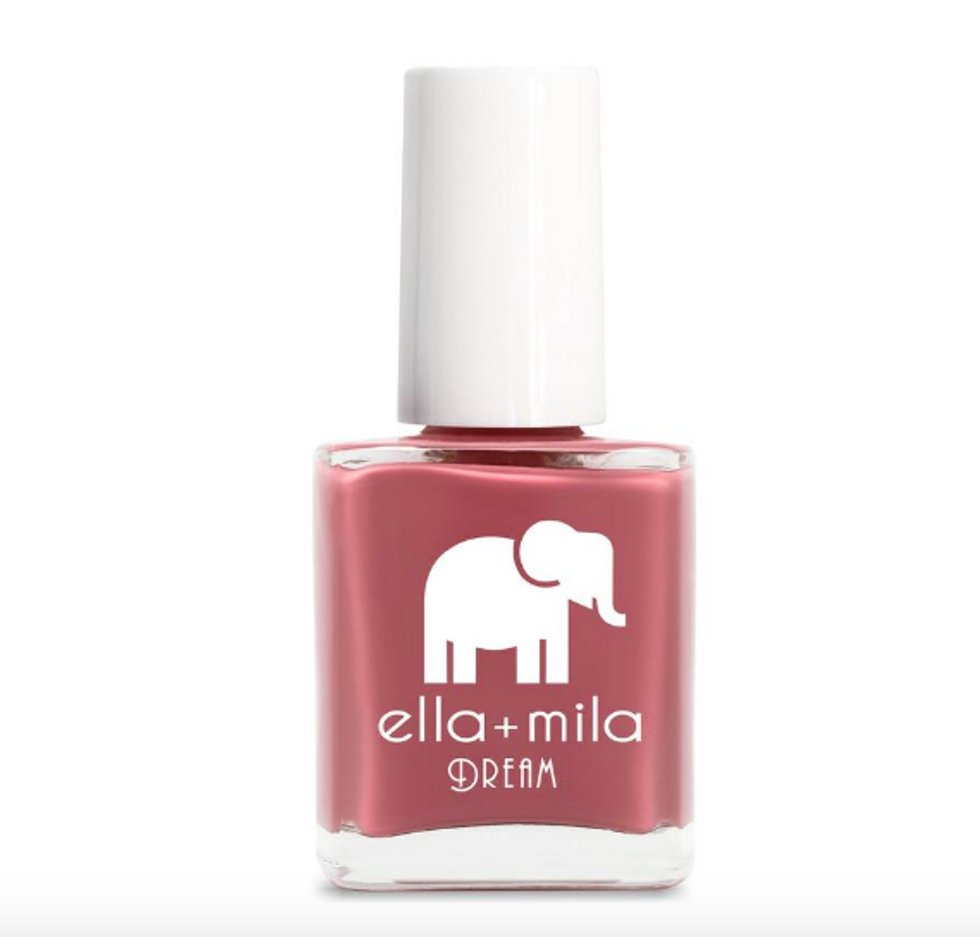 Time for a Bond Fire Nail PolishElla + Mila
This fun, flirty shade has a warm and feminine feel to it. All of Ella + Mila's colors come in cute bottles with fun names like time for a bond fire and bubble trouble. Their natural formulas are also 7 free. You won't find any Formaldehyde, Toluene, DiButyl Phthalate (DBP), Formaldehyde Resin, Camphor, TPHP, Xylene in their products.
$10.50 available at Ella + Mila
Smith & Cult: Kundalini Hustle
Kundalini Hustle Nail PolishSmith & Cult
If your go-to shade is a bright, fiery red try this non-toxic formula by Smith & Cult. It comes in a chic gold bottle, goes on glossy, and minimizes chipping. It also has an intriguing name; Kundalini Hustle sounds like the perfect mantra to adopt. Smith & Cult's nail polish shades are free of 8 harmful chemicals including formaldehyde, formaldehyde resin, DBP, toluene, camphor, ethyl tosylamide, xylene, and tphp.
$18 available at Space Nk Apothecary London
Butter London: Ruby Murray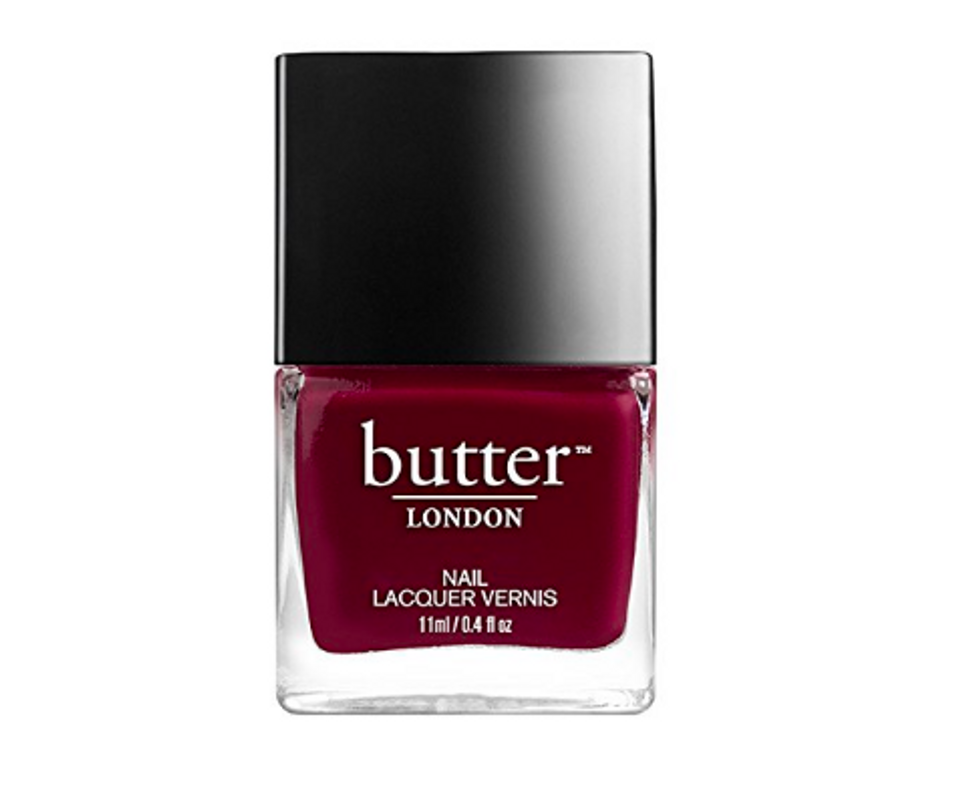 Ruby Murray Nail PolishButter London
In search of a deep, sultry shade? Try this non-toxic nail lacquer from Butter London in ruby murray. This dark plum shade is perfect for a date night for any time you're feeling a little extra moody. It's also 8 free. No formaldehyde, formaldehyde resin, DPB, toluene, camphor, ethyl tosylamide, xylene, or TPHP found in this formula.