I Didn't Believe A Detergent Could Change How I Feel About Laundry, Until I Tried FREY.
"The smell of an understanding boyfriend."
Last month, the planets finally aligned for my boyfriend and I to move in together. We've been dreaming of this day for so long, we forgot about all the anxiety that comes with moving. Trying to find a mutual aesthetic for our apartment was hard; we had absolute "no's" for some of each other's posters and art, we had to buy a new couch because we both hated each other's, he wanted to paint the living room navy blue and I wanted cream…it was exhausting!
The most heated conversation we had turned out to be about the laundry. I have incredibly sensitive skin and he is the pickiest about scents. Who doesn't like a fresh linen scent? David, that's who. He thinks it smells artificial, like chemicals. But the one detergent he actually likes makes my skin super itchy. We started looking for alternatives to the big brands we could buy at the supermarket. That's how we found Frey.
I was initially drawn to Frey's laundry detergent and other laundry products because people online couldn't stop talking about the scent. The overtones are cedarwood, oak moss, and amber, and as much as I love fresh linen, I would rather smell like a subtle hint of high-class. Because it's made with natural ingredients and without sulfates, parabens, or synthetic dyes, I figured it wouldn't irritate my skin. Most people don't think about it, but your skin is constantly in contact with all the chemicals in your detergent, and it makes a real difference. We ordered a bottle of Frey and hoped this would finally be the answer to our couple's laundry dilemma.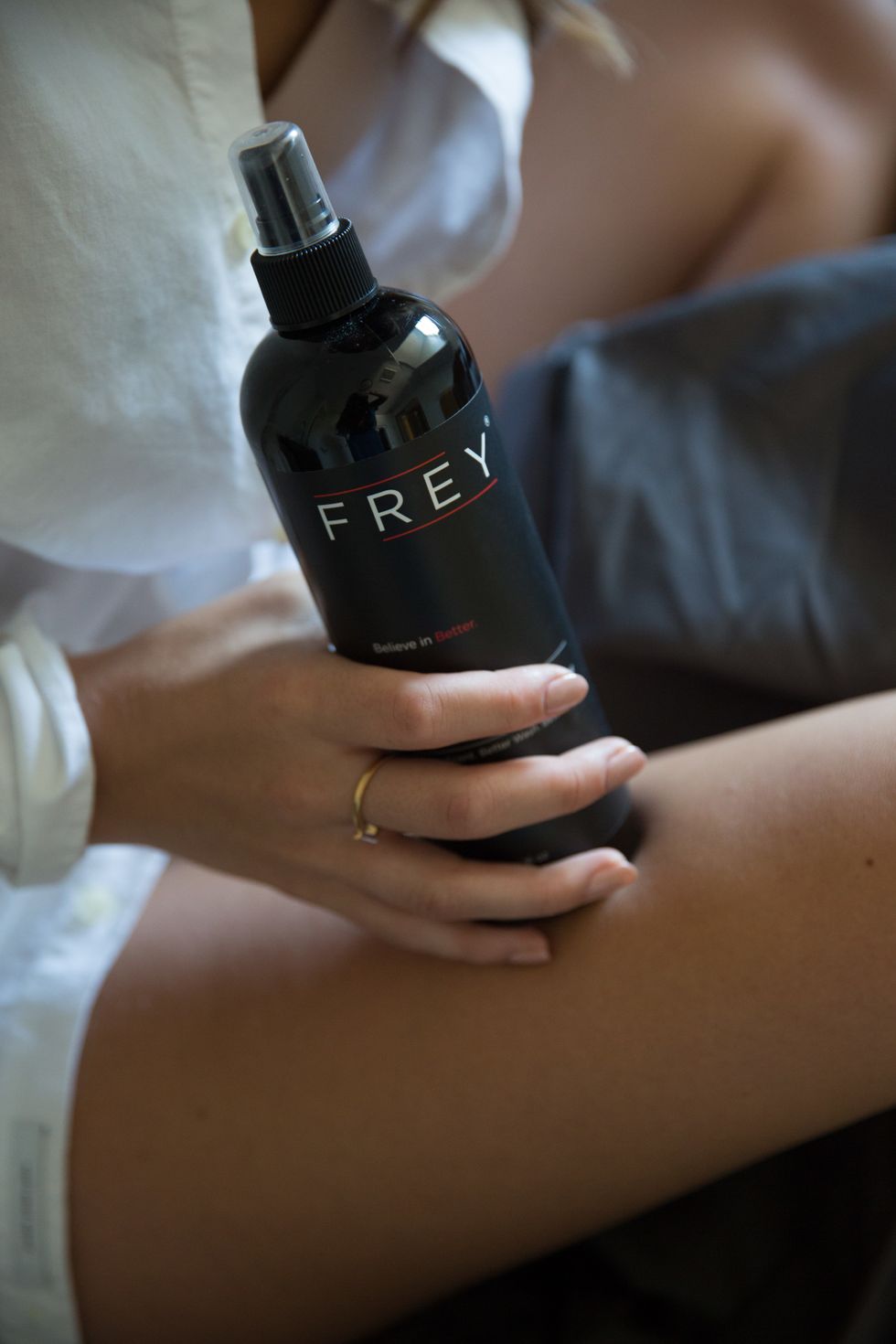 It's a little embarrassing to get excited about receiving detergent in the mail, but the bottle is sleek! It's black plastic that looks like chic glass with red and white accents and a pump, so it definitely classes up our laundry room. We did the first load of laundry together, hanging out on a Sunday morning. I was a little worried at first because the bottle was smaller than I'm used to, but Frey is a highly-concentrated formula, so we only had to use a tiny bit! David moved the laundry to the dryer, and when I went to take my clothes out, I inhaled the most delicious scent that I wanted to keep smelling forever. I immediately put on a clean sweatshirt, so I could run errands while getting the occasional whiff of like, the greatest cologne or perfume that could ever exist.
The most surprising thing about Frey is that even though it looks cuter and smells better than our usual big brand (plus, it's good on my sensitive skin), it is actually less expensive. I did the math, and because the formula lets you use so much less, it comes out to just $0.40 per load! Leading detergent brands apparently cost about $0.90 per load, and filling up that giant cap seems so wasteful.
Frey has one-time purchases options and subscriptions options, so since we do a lot of laundry (I like to work out and David doesn't rewear clothes, like a weirdo) it made sense for us to sign up for a plan. They send it to our door every month so it's one less thing to worry about making last minute runs to the store for. I even picked up Frey's Nomad Freshener, which is a quick spray to freshen clothes in between washes, which I love because I travel every month for work and it keeps my clothes fresh on the road when I don't have time to worry about laundry.
Laundry is still a chore, but with a scent we love, it feels like doing something good for you, and is even a little sexy. Having an amazing smelling laundry detergent that takes care of our clothes makes us feel like adults with their lives together, kind of like the feeling when you buy high end conditioner that leaves your hair shiny and smelling great -- it just helps you move through the day with more confidence. Plus, it reminds me of how this home is ours, and we're building and creating a life together.