Toast for breakfast, lunch or dinner might bring back memories of your childhood or even days spent cramming for finals in college with little time, or money, to eat a real meal. But toast has made a come back in a major and even updated way. Of course, there's the infamous avocado toast. It's instagrammed around the world, available for $8 a slice at trendy eateries, and has a cult following. Search #avocadotoast and you'll quickly realize that toast has turned into its own food group.
Avocados might have helped a plain piece of bread qualify as a full meal, but there are plenty of other mouth watering ways to top your toast popping up on food blogs and restaurants around the world. There's just something about toast. A plain piece of toast is the perfect canvas for a variety of delicious toppings. It's quick and easy to make. Satisfying to munch on at any time of day. An easy to share with friends.
Unlike the toast you may have snacked on in your youth, the toast recipes below are far from plain.
Here are 5 grown up ways to top your toast in 2019.
Avocado on Toast a La Josephine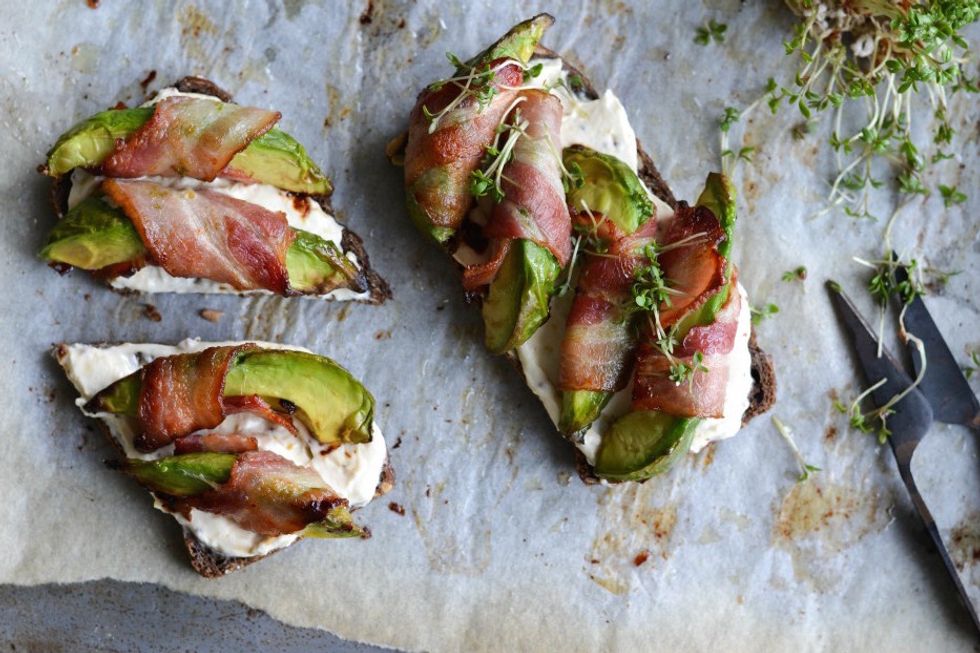 Updated avocado Toast RecipeA Tasty Love Story
We're starting off with another avocado toast, but this isn't just any avocado toast. This updated take on your favorite toast topping is from A Tasty Love Story and it's the perfect, easy recipe to whip up for a weekend brunch. Rye or sourdough bread is toasted and then topped with honey mustard cream cheese and bacon wrapped avocado wedges that have been baked to perfection. Top with fresh water crest and serve with a side of fresh fruit and your favorite coffee.
Ingredients:
2 ripe avocados
4-6 pieces of rye or sourdough bread
8 pieces of thinly sliced bacon
7 ounces of cream cheese
2 tsp of course mustard
1 tsp of honey
A handful of watercress
Salt and pepper to taste
Honey Lime Ricotta Toast with Figs and Pistachios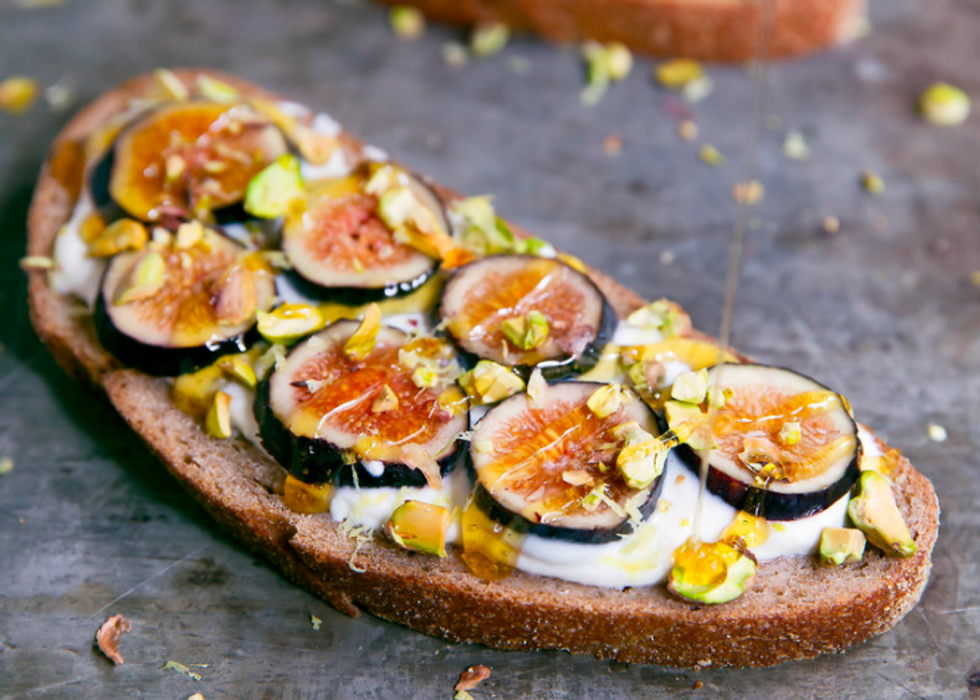 Honey Lime Ricotta Toast RecipeAmbitious Kitchen
This toast recipe from Ambitious Kitchen is a sweet way to start your morning but also qualifies as dessert. Whole grain bread is toasted and then topped with an easy to make honey lemon ricotta, sliced figs, chopped pistachios, and of course more honey. You could even add a fried egg on top for a savory and sweet breakfast combination with a little added protein.
Ingredients:
2 slices of whole grain bread (or your favorite substitute)
¼ cup of ricotta cheese
½ fresh lemon, juiced
4 figs, sliced
2 tbsp of pistachio pieces
1 tsp of lemon zest
Poached Eggs and Rainbow Chard on Sourdough Toast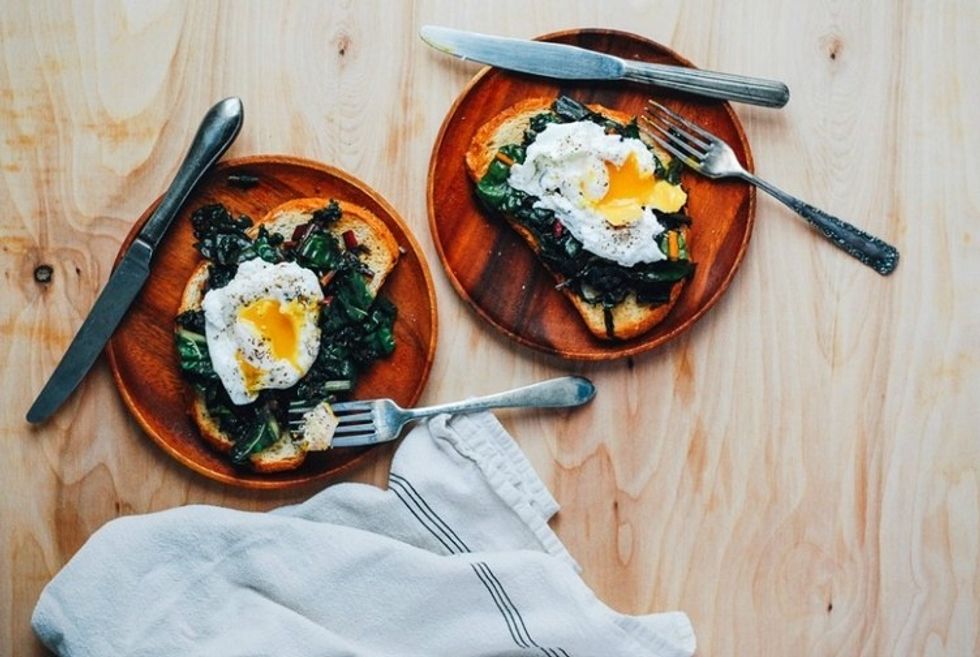 Poached Eggs and Chard on Sourdough Toast RecipeBrooklyn Super
While this is technically a "breakfast toast" it's a delicious and easy meal to whip up for breakfast, lunch, or dinner. The recipe is simple and straightforward, but extremely satisfying and filling enough to be a full meal. A perfect runny egg sits on top of thick cut sourdough toast topped with sautéed rainbow swiss chard. Pro tip: shave a little parmesan on top.
Ingredients:
1 small bunch of rainbow Swiss chard
7 cloves of garlic
1 tablespoon of butter
½ tsp of salt
Ground black pepper to taste
2 tablespoons of apple cider vinegar
2 pieces of thick cut sourdough toast
2 fresh eggs
Ricotta, Kale, and Mushroom Toast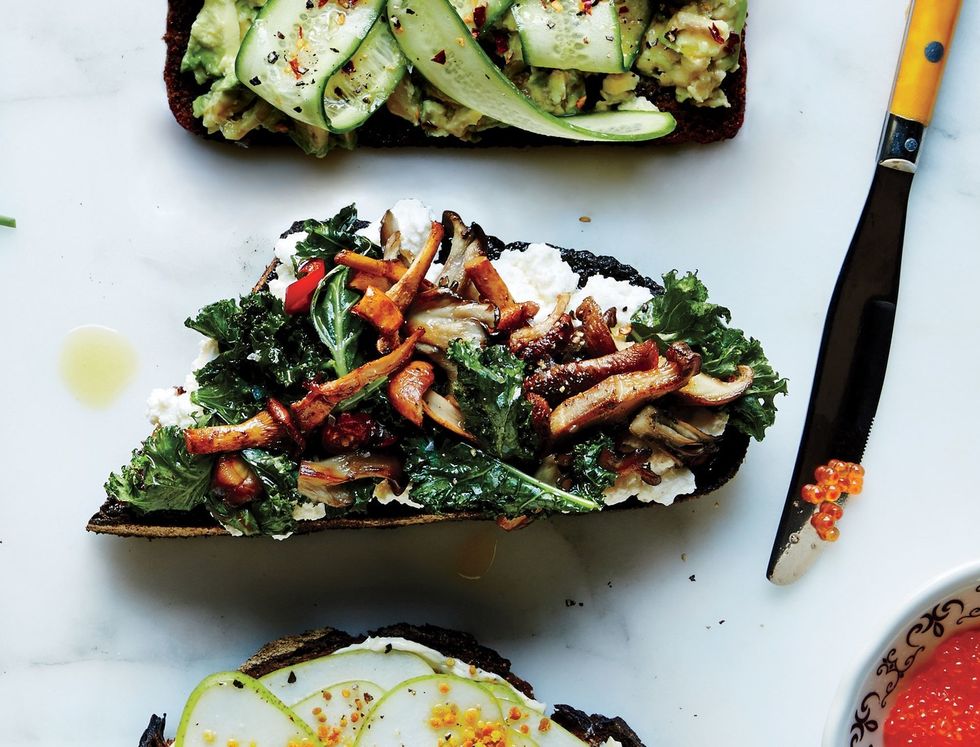 Ricotta, Kale, and Mushroom Toast RecipeBon appetit
Here's another toast recipe that features ricotta cheese, but in a savory way that's ideal for lunch or even dinner. Wild mushrooms and sliced garlic are browned in olive oil before being sautéed with torn kale and a thinly cut fresno chile. When done, the sautéed veggies are spooned on top of toasted country bread spread with creamy ricotta. Yum!
Ingredients:
1 handful of torn kale
1 fresno chili, thinly sliced
1 handful of wild mushrooms
1 tbsp of olive oil
2-3 tbsp of ricotta
2 pieces of thick cut country bread
1 tbsp of butter
Salt and pepper to taste