Bigger Than Beauty Skincare Reviewed - My Honest Experience
When I was younger, having a good skincare routine was not a priority. For years I used micellar water and cheap drugstore moisturizer – and that was it. But coming into my 30's I knew that needed to change if I didn't want to damage my skin.
I've tried some expensive products from big brands and was always super underwhelmed. After having kids I wanted to invest in clean skincare products, but I was sick of splashing out only to see no results.
Then, I heard that my favorite makeup brand – Thrive Causemetics – just launched a skincare brand called Bigger Than Beauty Skincare. I tried their mascara a while back after seeing it on a friend, and couldn't believe how much it transformed my lashes. Now my makeup bag is 90% Thrive Causemetics!
Still, would it be worth investing in a 4-5 step skincare routine from Bigger Than Beauty? The quality of their makeup is so high – and so affordable – if it's the same for skincare, it could be a game changer for me.
But I knew very little about skincare, and considering Bigger Than Beauty is brand new, I had my doubts that it would be any good. I went on their site to read some reviews before I made any decisions.
Lo and behold, just like Thrive Causemetics, the reviews are glowing. From what I read, Bigger Than Beauty Skincare is cruelty-free, effective, and suitable for all skin types. And compared to other brands I'd tried, the prices are super reasonable.
So I took the plunge and ordered the Bright Balance™ Hydrating Gel Cleanser, Moisture Flash™ Conditioning Toner Mist, Liquid Brilliance™ Super Serum, and Defying Gravity™ Lightweight Moisturizer.
My delivery arrived on time and I couldn't wait to test out Bigger Than Beauty. That evening, I put the Bright Balance™ Hydrating Gel Cleanser to the test. This cleanser is so powerful it removes every bit of makeup easily – even my waterproof mascara – yet it's still gentle and doesn't leave my skin irritated. Plus, I love the smell.
The Moisture Flash Conditioning Toner Mist is genius. I'd never used a spray toner before, I'd only apply it with a cotton pad, but the mist is much quicker. After spritzing my face twice my skin instantly feels refreshed and rehydrated. My fine lines are definitely smoother, too!
Next step is the Liquid Brilliance™ Super Serum — which is packed with a blend of niacinamide and amino acids to help skin appear more radiant. I've heard niacinamide recommended before as a key ingredient for an amazing skincare routine, and I can see why. My skin is all bright and glowy with Super Serum!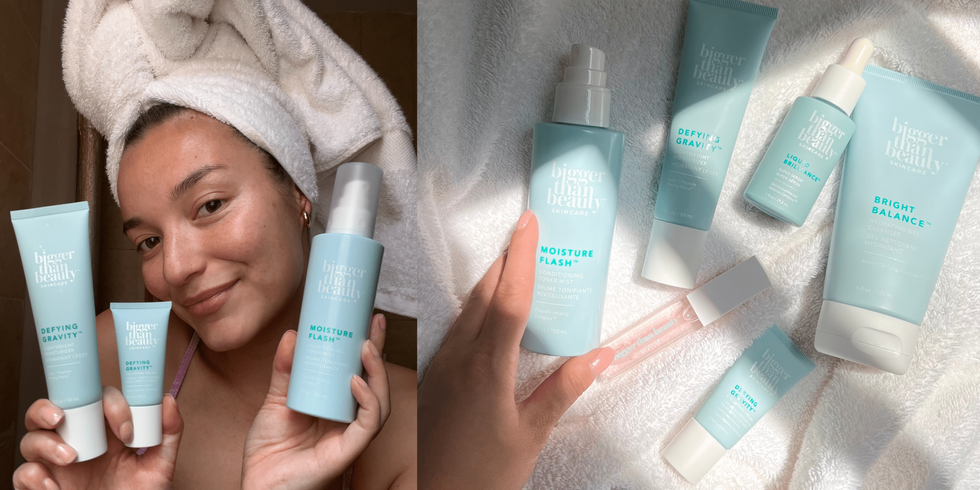 Last but not least, the Defying Gravity™ Lightweight Moisturizer. Since I have combo skin, it can get quite oily sometimes, so I don't want anything too heavy when it comes to moisturizing. This one goes on my skin like velvet and absorbs quickly. It's a blend of 7 peptides, 5 ceramides + 4 types of hyaluronic acid that hydrate and increase the look of my skin's elasticity.
If I've learned anything through my mistakes over the years, when it comes to your skincare routine, consistency is key. I've been using my Bigger Than Beauty Skincare products for a month now and have noticed a huge difference already.
I'm noticing a reduction in fine lines, my skin is less dull and dehydrated, and I'm getting fewer blemishes! My complexion is much brighter and my skin tone is more even than ever before.
Did I mention that Bigger Than Beauty Skincare believes in giving back too? They either donate high-performance products or much-needed funds that help communities thrive. As well as their efforts towards sustainability with their environmentally respectful packaging that reduces plastic by 40%.
The Bigger Than Beauty Skincare collection did not disappoint. I just ordered the Defying Gravity™ Eye Lifting Cream and Pout Hero™️ Exfoliating Lip Scrub and I cannot wait to try them!
If you're looking for a clean, ethical and effective skincare line that will suit your skin and won't break the bank, check out Bigger Than Beauty – you won't regret it!
THIS WEEKEND ONLY: Get FREE SHIPPING on all Thrive Causemetics orders + up to 2 FREE FULL-SIZE GIFTS with code LIPLOVE 💋 Follow this link to shop!