This year's truest Pride event so far had no corporate floats and no rainbow flag logos.
It came together in a spirit of rage and defiance. It was the Brooklyn Liberation March, which began at the Brooklyn Museum and wound its way through Brooklyn for hours.
15,000 people, most clad in white, walked in the hot sunshine on June 12th. The march, organized by several Black trans-led organizations, was first conceptualized by a drag queen named West Dakota, who saw hypocrisy in the George Floyd protests erupting around the world that Sumer.
---
"Black transgender people are disproportionately the victims of police violence, but attending demonstrations against police brutality can often put them in further danger," Dakota told The New York Times.
The march bloomed from her idea. Organizers like the Okra Project and the Marsha P. Johnson Institute joined in, and soon the march became a movement in itself. In spirit and practice, the march—a celebration of queer Black life and an outcry against death—resembled Pride's radical roots much more than the majority of Pride celebrations in NYC and around the world.
Pride Was a Riot: The Radical Roots of Pride
Outside the Stonewall Inn today, there is a sign that reads, "Pride was a riot."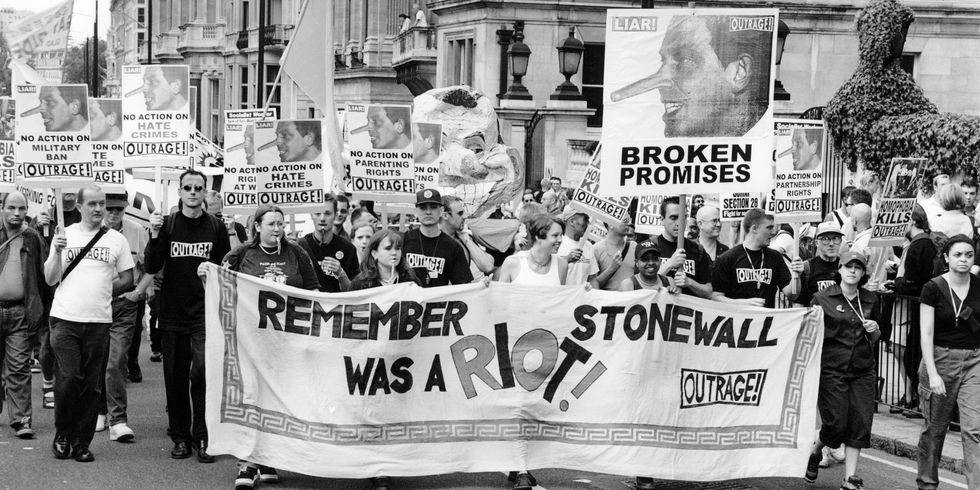 Gay Pride London 1999 UKUIG via Getty Images
Over the past few years, this phrase has served a kind of rallying cry to remind people of Pride Month's radical roots.
Queer and trans people have been celebrating their existence since the beginning of time. Underground queer networks existed in the 19th century, and LGBTQ+ organizing was happening in America in the 1920s. Still, Pride and the modern era of LGBTQ+ rights as we know it began, arguably, when legendary Black trans activist Marsha P. Johnson threw a shot glass at a mirror when police raided the Stonewall Inn.
It was June 28, 1969 when New York City's Public Moral Division (a branch of the police department) took it upon themselves to criminalize and hospitalize gay people. They barged into the bar and began trying to kick people out of the facility.
After Johnson shouted "I got my civil rights!" and threw the glass, patrons began rioting and hundreds of people resisted arrest and set cars on fire. The protests caught wind, and the riots lasted for a total of six days, bringing worldwide attention to the LGBTQ+ rights movement.
A year after Stonewall, people gathered in cities across the nation to hold "Gay Freedom Marches" which worked as both celebrations and protests. They were meant to honor the LGBTQ+ identity while calling for political changes and gay rights. These were the origin points of Pride as we know it.
But gradually, Pride was co-opted by less radical organizers and became more of a whitewashed celebration, as it is today.
Black Lives Matter Marches
This year, Pride marches were officially canceled due to coronavirus concerns. But with the Black Lives Matter movement in full swing, protestors are planning on taking the streets to march in protests of police violence against Black people and the deadly systemic and individual racism and white supremacy that pervades our nation and world.
Pride this year will not be a parade: It will be a revolution.
This weekend, which marks the 51st anniversary of Pride, dozens of Black LGBTQ+-led marches are scheduled all around the world.
In London, the activist group Gay Liberation Front will celebrate their 50th year with a Black Lives Matter march on June 28th. "We are reclaiming Pride with political demands for LGBT+ human rights," said Peter Tatchell, a LGBTQ+ activist who organized Britain's first Pride march in 1972.
And also on the 28th, New York City will see its own Queer Liberation March.
Challenges to NYC's corporate Pride events have been ongoing. In 2017, the Resistance Contingent—a group of radical activist organizations—launched a disruptive protest at Pride. The group Gays Against Guns staged a die-in, and Hoods4Justice blocked the NYPD marching band from joining the Parade, holding banners reading, "There are no queer friendly cops" and "Decolonize pride."

Last year, the Reclaim Pride Coalition—a new iteration of the Resistance Contingent—hosted its own anti-Pride, a march that put trans people at the front and proclaimed a clear anti-police and anticapitalist sentiment. The original Pride march was a riot against police, after all, so these activists' rage against the cops makes sense in the context of Pride Month's origins.
This year's Queer Liberation March has gone through many iterations. It was scheduled to be an online livestream for weeks, but in light of the Black Lives Matter protests, things changed. "There was unanimity that we needed to have a march," an organizer named Jay W. Walker said. "And we needed to have it centered on the movement for black lives."
The march will begin at 1PM on Sunday at Foley Square. "We have voted on a start time, 1 p.m., so for the queers that utterly took umbrage at our 9:30 start time last year, I'm sure they'll be relieved," said organizer Natalie James.
Organized in a DIY, explicitly anti-police and anti-corporate fashion, the Queer Liberation March promises to be much closer to Pride's actual roots and much closer to the movement's original demands, which are needed today as sorely as they've ever been.
"Radical organizing, influenced by and in concert with the antiracist and antiwar movement, followed [Stonewall]," says archivist Caitlin McCarthy. "The protests, sit-ins and direct actions conducted and participated in by early gay liberation groups such as Gay Liberation Front, Street Transvestite Action Revolutionaries, Dyketactics and Combahee River Collective demanded radical structural change in the face of continued oppression." Activists didn't only want LGBTQ+ rights: They wanted true justice for all.
The Importance of Anti-Corporate, POC and Trans-Led Pride Marches
Pride was never supposed to only be about marriage equality for white middle-class queers, and the fact that mainstream Pride coverage has focused on this for so long is just indicative of the way that Pride's original message has been damaged by capitalism, whiteness, and other factors.
Despite all the gains that LGBTQ+ people have made over the years, trans people of color—who were responsible for kickstarting Pride—are still facing tremendous oppression and danger.
At the Brooklyn Liberation March speakers included Melania Brown, sister of Layleen Polanco, a transgender woman found dead in 2019 in her cell at Rikers Island. In the days before the rally, two Black transgender women—Dominique Rem'mie Fells and Riah Milton—were murdered. Last year, the American Medical Association said that violence against Black trans women amounts to an "epidemic."
Whitewashing of Pride at the expense of the lives of trans people of color has always been a disturbing trend in queer circles. Sylvia Rivera, a trans activist and one of the original founders of Pride, was booed offstage during a speech she gave in Washington Square Park in 1973 because she was advocating for trans rights.
L020A Sylvia Rivera, "Y'all Better Quiet Down" Original Authorized Video, 1973 Gay Pride Rally NYCwww.youtube.com
Sylvia dedicated her life to helping homeless queer and trans youth. With Marsha P. Johnson, she co-founded the Street Transvestite Revolutionaries (STAR), and spent her life fighting against homophobia, classism, and harassment in the queer community.

Rivera and Johnson's activism—which was incredibly foundational in the Pride movement—was always intersectional, focusing on interlocking webs of race, class, and other interconnected issues. Pride was a movement built on intersectionality, by the idea that only by liberating everyone could anyone become free.
Rivera and Johnson were only two of the many queer trans activists of color who are responsible for the Pride movement. Black trans and queer people like Bayard Rustin, Audre Lorde, Ernestine Eckstein, Barbara Jordan, Angela Davis, and James Baldwin are just a few of the names who were foundational in the entangled Black liberation and queer liberation movements.
Ultimately, the queer-led Black Lives Matter marches this month, which address the interlocking forces of racism, transphobia, and homophobia, are true returns to the Pride movement's radical roots. And the changes they're bringing to our world prove that all movements will fail unless they embrace an understanding of their fundamental interconnectedness.