5 Reasons I'm Glad I Used Block Renovation

My apartment was perfectly tolerable when it was merely a place where I cooked, showered and slept because I was out in the world doing things. But after staring at the same four walls all day, I'm noticing small things that really bother me.
There are chipped tiles in our bathroom, the knobs are all rusted, and don't even get me started on that grimy, old bathtub. After endless zoom calls all day long, the only thing I wanted was a nice hot shower, but my bathroom was cramped and far from enticing. I needed to renovate my bathroom, but quick.
A neighbor of mine suggested I look at Block Renovation. She said they're super easy to work with and they brought her vision for her bathroom to life. I decided to see what Block Renovation was all about. They claim to be a technology-driven home renovation company offering high-end bathroom and kitchen renovations built by vetted contractors at competitive prices.
It seemed too good to be true, but I had to go down the rabbit hole and see what else Block has to offer. Their website is simple to navigate and their gallery is stunning, not to mention inspiring. But I was still skeptical. Yes, the reviews and images seemed like real people's houses but could one service really deliver my dream bathroom at an affordable price and little stress?
Every review mentioned the same two benefits - "incredibly seamless" and "incredible job". Although I was still a bit hesitant - and I would be until the job was done! - I decided to sign up. Now I feel ready to turn my old bathroom into one where I could spend hours pampering myself.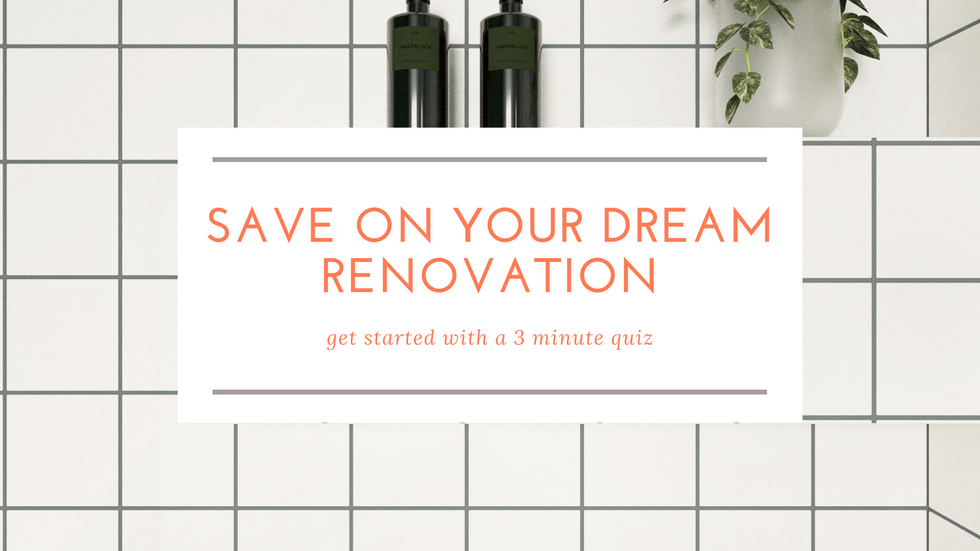 Here are 5 reasons you should go with Block:
All Your Renovation Needs Under One Roof
From design to finished product, Block Renovation does it all - accurate home pre-construction, architect-grade designs & drawings, materials sourcing, and a vetted general contractor who's ready-to-build. Block works with a network of trusted local contractors and vendors. What a relief - I won't have to go through the pains of vetting and checking references.
I was most worried about the delivery of materials but Block coordinates their purchase and delivery before construction to ensure a smooth and uninterrupted build.
Convenient Online Application
I've never done an online application for a renovation before, but Block is completely thorough. Once I let them know about my dream bathroom I received an online estimate in less than 5 minutes! Even with my amature pics and video, they sent me a highly detailed, all-inclusive project proposal with clear pricing and a realistic timeline within 24 hours.
Block's Experts Have Your Back
Block's project planners really helped me organize my goals and budget while keeping an eye on the overall scope of work. Their award-winning designers' thoughtful expertise kept me on track in terms of choosing materials, fixtures, and styles that will suit both my needs and colorful taste.
Design Confidently With Block Renovation's Visual Planner Tool
I was hesitant to add a designer to a run-of-the-mill renovation because it drives up the cost and I thought I knew exactly what I wanted. But thanks to Block's Visual Planner tool, I could actually see how different materials come together onscreen and how my choices would look.
Block also provides a design session with their award-winning designers and the Block team will follow up with technical drawings, 3-D renderings, and construction-ready plans.
Financing Options - Renovate Now, Pay Later
My final concern was the cost. Even with Block's many amazing features, I was hesitant that it would go over budget. But Block's easy financing begins at 0% APR. Their transparent payment schedule has a variety of flexible plans with fixed interest, low monthly rates, and no annual fees. Block means exactly what they say - renovate now, pay later!
If you've been dreaming of the perfect new bathroom or kitchen, Block can help you achieve your renovation goals in the most pain-free and affordable way. And they'll do it quickly - a typical Block renovation takes close to 2/3rds less time than the national average and will come in on-time, on-budget, and hassle-free.
I'd always dreamt of luxuriating in a light-filled bathroom with a contemporary feel and was thrilled that Block helped make it a reality. Block Renovation does it all. Trust me and give them a try.
It's never too early to get started on your fall build.Get started on your dream renovation with this 2 minute quiz!