"Breakup boot camp" might be a bit of a misnomer. At Renew Breakup Bootcamp, there are no drill sergeants, rope climbs, or 6am wake up calls. Instead there are practitioners of "psychomagic," tantric breathwork, and blood orange ricotta cheesecake. Welcome to the work of Amy Chan, 36, the founder of an all-female retreat billed as a "scientific and spiritual approach to healing the heart."
For $1,295 to $2,495, weekend participants practice therapy, yoga, meditation, and other healing activities in a luxurious log mansion on a farm in New York's Hudson Valley. They sleep in propane-heated yurts and dine on meatless, gluten-free meals prepared by an on-site nutritionist. Other one-on-one sessions, like tarot readings, can be added on to the weekend for an additional $145. Is this heartbreak healing for the 1%, or a new way to grieve and grow after a breakup?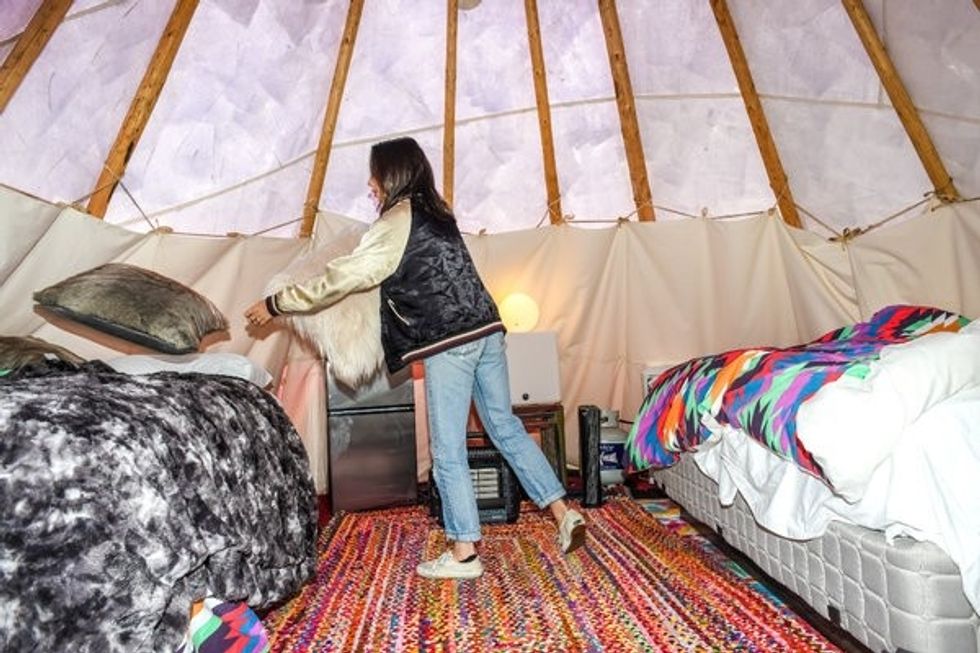 Renew Breakup BootcampNew York Times
"[The fees], on top of the cost of transportation, makes Renew a rarefied type of therapeutic gathering," writes Molly Oswaks at the New York Times. "Yes, this weekend was bougie. But bougie felt nice."
A look at the privileged healing seem to set people off.
"My God... to be that privileged is something I cannot fathom," wrote a commenter. "If I were to run a 'break-up boot camp' the menu would consist of pizza, Oreos and whiskey. For activities, I'd offer an arts & crafts class, where we'd make voodoo dolls of our exes and use their shredded clothing to make litter box liners...Punching bags would be available 24 hours a day, along with screenings of My So-Called Life. If that's not enough, everyone who participates leaves with a new kitten or puppy from a local animal rescue."
"THIS is exactly why I read the Sunday Styles section," wrote another. "Real-life stories of the clueless, self-involved, affluent, educated-but-believe-in-horoscopes 'mostly white' people who exist in their self-contained little bubbles of privilege—especially when they're trying to 'break out' of their self-destructive patterns and embrace the spiritual, and get down to what 'really matters,' so long as it is exclusive, glamorous and luxurious. It is catnip, please, keep it up!"
In addition to a visit from a dominatrix and dinners of salmon and forbidden rice, Oswaks writes about coming together with other women. They talk about sex, fantasy, communication, and shame. They tell each other secrets, practicing vulnerability and honesty. They experience a sense of pride in each other's admissions and growth.
Founder Amy Chan has spoken about her desire to offer a program for women that helps them, "restore their power." What's the harm in that?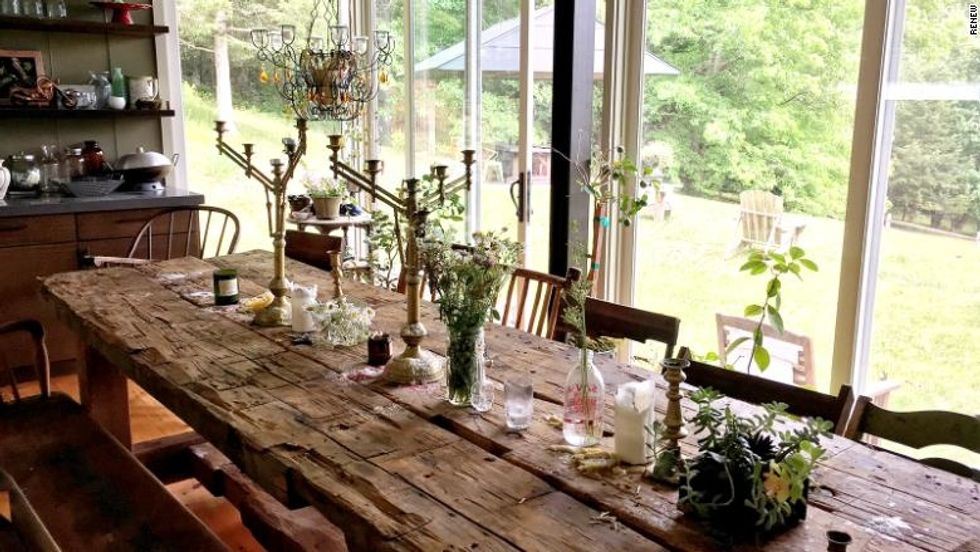 Renew Break up BootcampCNN Money
"Our entire culture needs access to this kind of 'work,'" wrote a commenter, who pointed out the similarities between the healing modalities at Renew and somatic therapy. "If only we could bring this experience to the black mother in Ferguson, MO who grew up sexually abused and lives in constant fear of what her neighborhood has become...We're all worthy of healing...Maybe we can start finding a way to connect these services to the 'least of us.'"

But critiquing the boot camp for its price tag alone takes too narrow a view.
"Some women have gone out and built successful careers and have enough extra money to spend on a weekend of peace, bonding, growth, healing, and great food — and you're offended by that? That's what misogyny looks like, bro."
"Can you imagine this response to a piece about a group of hard-working male CEOs who go off to play golf at an expensive resort in order to decompress, bond with each other, and share friendship—even without the heartbreak piece? I doubt anyone would suggest that they should go do mission work in impoverished countries instead."
Not all visitors to Renew are as won-over as Oswaks. Writing in The Cut, Lisa Ryan describes a meditation session, during which she can hear a number of women weeping. Whatever is working for these women, she admits, is not working for her.
"Instead of breathing, clearing my head, finding a sense of peace or whatever it is people do when meditating, I'm counting the wood beams that seem to shoot out of the skylight like the sun, and wondering if the wood-burning stove that's heating the yurt is going to give us all carbon-monoxide poisoning. Is that how I die? By a stove in a yurt?"
So if you're not at all the woo-woo, crystals-in-the-full-moon type, and you live your life on a budget, Renew might not be your bag. But for those who can swing it, and can gift themselves a weekend of community healing among women, why not put yourself in the line of breakthroughs and insights about yourself and lost love?
"He's never going to change," an intuitive healer tells Oswaks. "In that moment, I knew what she meant. I realized how much I had changed, that all the hard work I'd done on myself was paying off. I hadn't cried in months — I was all cried out from months of moping — so it was deeply cathartic, luxurious even, to feel so deeply."
And feeling deeply doesn't come with a price tag.