For a while, elaborate skincare routines were fun.

For most of us, when 10-step skincare routines replaced the cleanser-moisturizer combination we were used to. We were eager to try out new products like essences, fancy serums, and even snail creams.
---
But often, they're more work than they're worth. Counteracting ingredients can sometimes render actives impotent, and using numerous products in the wrong order can keep the outer layers from penetrating your skin. What a waste of money, waste of time, not to mention a massive waste of products and the packaging.
I know myself well enough to admit that I was seduced by elaborate skincare routines because I'm easily seduced by strong marketing and pretty packaging. Give me a snappy slogan and sleek, minimalist packaging and I'm there, adding product after product to my routine.
However, reality is inherently different from Instagram ads. Inevitably, most of my gorgeous, expensive products went unused on my shelves. I know, it's abhorrent of me. I'd get so paralyzed by the overwhelming options lined up in my skincare cabinet. Instead of making a decision, I'd choose … none of them … then return to the cleanser-moisturizer combo I bought all these products to avoid.
Busy Co is here to save you from the same fate.
But what is it? Only the latest skincare brand that's getting all the buzz. It's a zero-waste, sustainable brand committed to giving you back your time while doing good for the planet.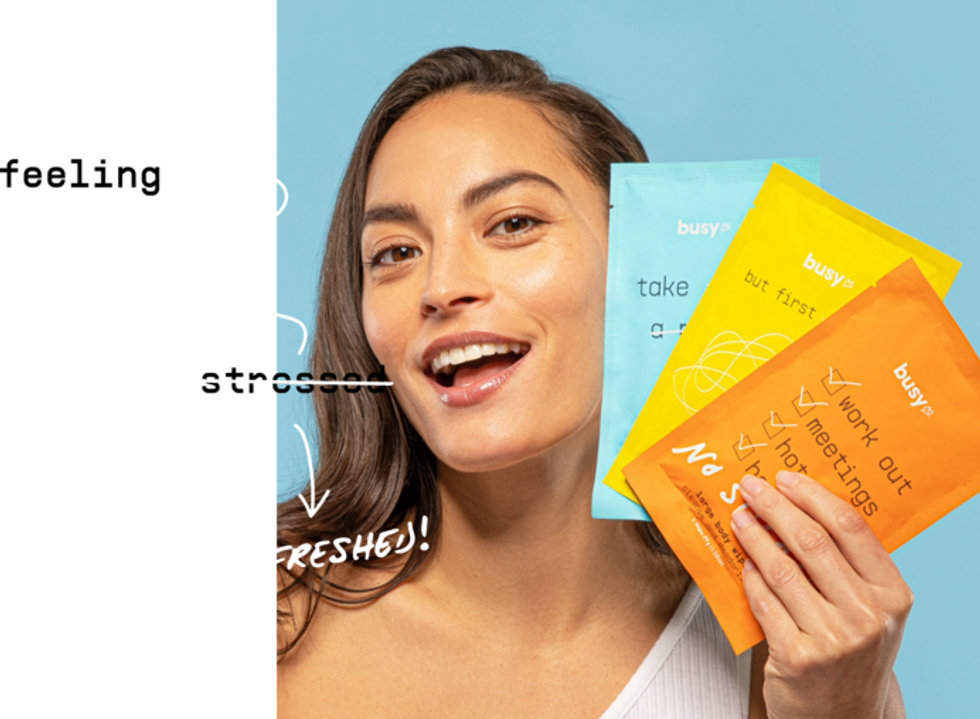 What exactly is Busy Co?
According to Busy Co, "women should have the freedom to freshen up as they see fit, whether that's 5 minutes or 5 hours." Obviously, their brand is all about freedom — freedom to choose how you spend your time, money, and energy. If you're spending hours on a multi-step routine, they say, you should do this because you want to, not because you think you have to.
Busy Co's mission is to energize your routine with powerful products that use clean ingredients that help you look and feel your best while being mindful of this great planet of ours.
Why should I switch my routine?
Listen … if it's broken, just fix it. If you bypass your complex routine every day and dig out your 3-in-1face wash instead, it's time cut out the middleman and buy things you'll actually use.
Busy Co provides efficacious alternatives to your current lineup. Whether you're looking for just one moisturizer to do the job of the three cluttering up your bathroom, or if you're looking to supercharge your ritual — they've got you. They've also got the earth in mind.
What is Zero Waste?
According to the Zero Waste International Alliance: "Zero Waste is the conservation of resources by means of responsible production, consumption, reuse, and recovery of products, packaging, and materials without burning and with no discharges to land, water, or air that threaten the environment or human health."
Busy Cosustainability initiative includes 100% compostable and biodegradable packaging that are crafted from recycled materials, and powered by wind energy.
Is it expensive?
No! For most brands, high-quality products come with high prices. Luckily, Busy Cois unlike most brands. Busy Co wants everyone to be able to live their dream lifestyle, which means offering products people can afford.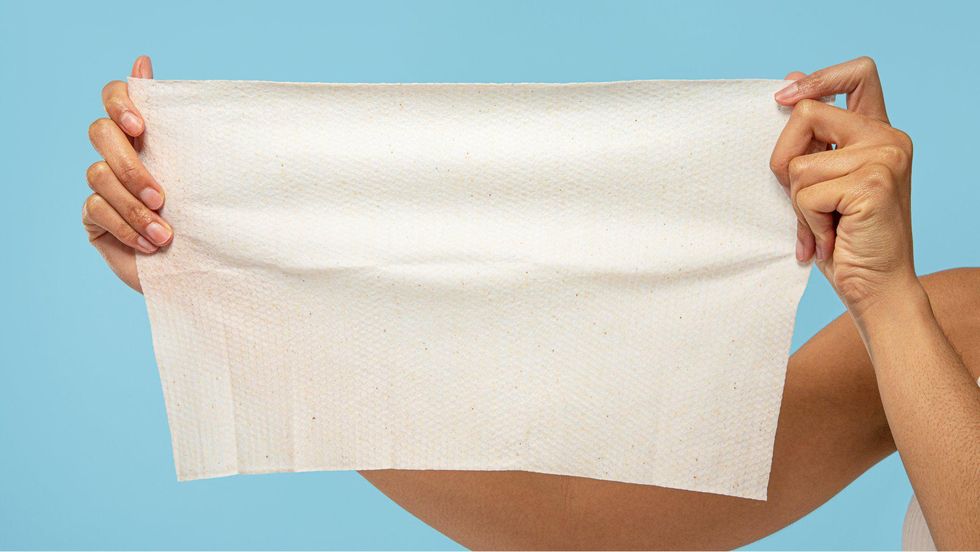 How do I start?
First, be honest with yourself. Take inventory. Ask yourself how much your current routine serves you. What are your goals? What are your habits? How much time do you actually have when you quit hitting snooze and finally roll out of bed? Not enough for 10 steps, that's for sure.
Some of our favorite products perform multiple jobs at once. I'm an adult! I don't have time to waste! So I swear by the Busy Co to make my routine faster and my life so much easier — and yes, the packaging is cool, too.
Clarifying Body Cleansing Cloths: Sweat your way through your shirt on the way to work? Don't have time to shower after a quick gym sesh? Wanna freshen up between work and dinner? These wipes can be your new on-the-go essential. Packed with natural cleansers, gentle exfoliants, and botanical extracts that cleanse and soothe your skin while removing sweat, pungent scents, grit, and grime.
Hydrating Hand Serum Pads: Most hand sanitizers dehydrate your skin and wipes can leave your hands sticky. But, with these serum pads, you can finally have it all — clean hands without the tacky feel or the cracked skin. Plus, they protect against skin damage caused by sun exposure and free radicals.
Brightening Facial Serum Pads: I'm begging all skincare beginners to put down the harsh acids and opt for something gentler. Keep your moisture barrier intact as you soothe and smooth your skin with this exfoliating and hydrating combo. The Vitamin C works to firm and brighten skin while the hyaluronic acid boosts hydration and improves moisture retention. With these, you can skip those tedious steps while enhancing your natural glow.
You're busy, so are we. And you deserve to spend as much or as little time as you need for your self care. Busy Co will fit your needs and the planet's needs with unmatched innovation.
-