As a New Golfer, Can PXG Apparel Meet My Performance & Tech Needs?
PGX just dropped their new tech and performance apparel collection. I spent a week testing out 6 items from their women's line—here's my honest review of whether these threads will put you under par or straight into the nearest bunker.
When I was a kid, my dad would bring me along to our local golf club and teach me to play. During those early morning hours, I learned both the game of golf and some quality life lessons that have served me well over the years.
Today, as a 33 year old woman with a full time career, it's been hard to find the time (and motivation) to get back on the green. So when a good friend recently told me about her weekend golf club, I decided it was time to resurrect my onetime passion.
Up first? Apparel! I vividly remember how elegant and classy the women at my dad's club looked, so I knew I needed golf attire that not only made me feel like a million bucks, but would perform at the highest level so I could bring my A-game to the links, regardless of the weather forecast.
Unfortunately, a quick online search revealed that most of the big brand sellers of golf apparel either featured items that looked too cheap/dated, or were completely sold out. Not wanting to wait six weeks, I turned to my golf club friend, who was quick to suggest PXG: a rising-star brand in the golf space both for clubs and its apparel lines, the latter of which are known for their innovative design, superior quality, advanced technology, and availability.
Game on.
Week 1: The Start of a Journey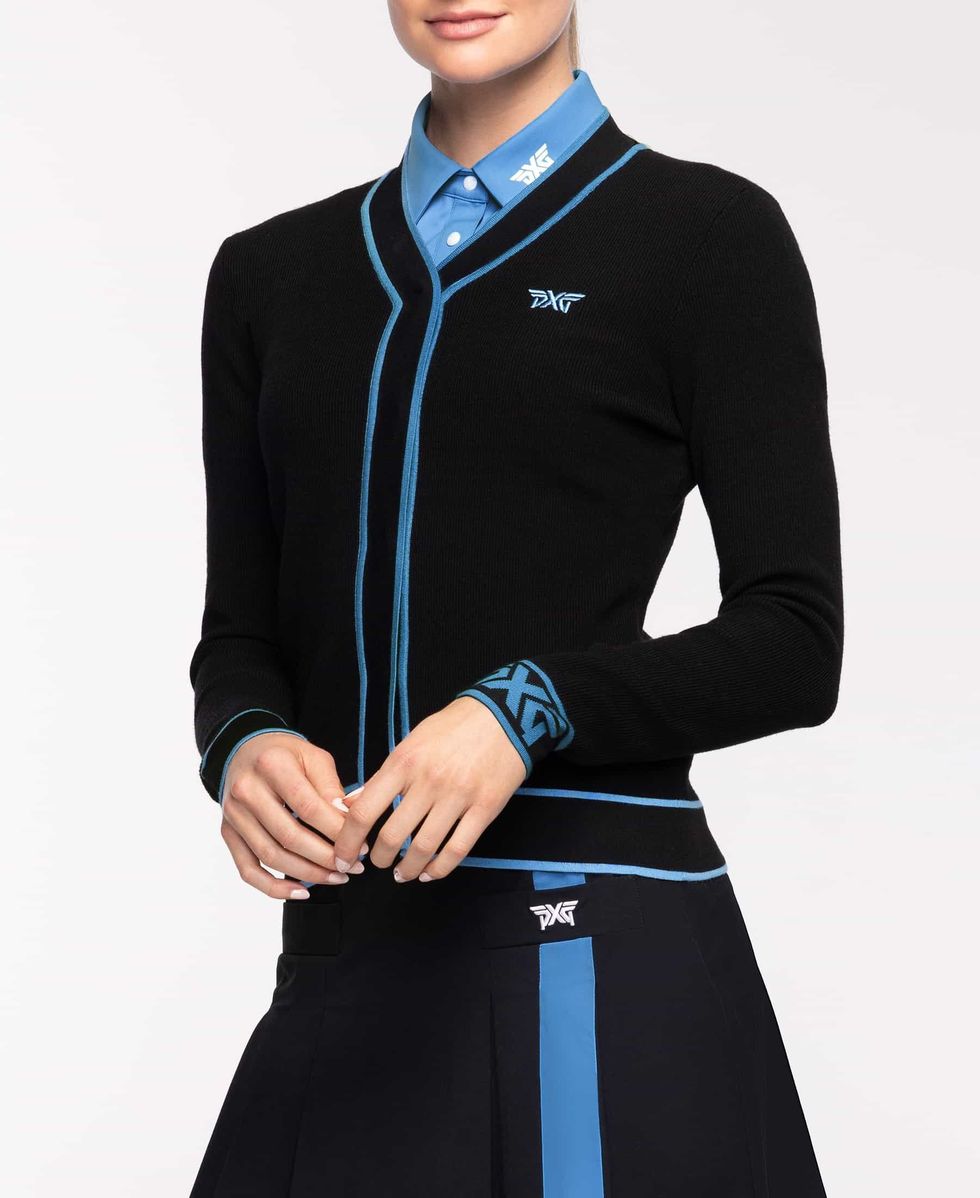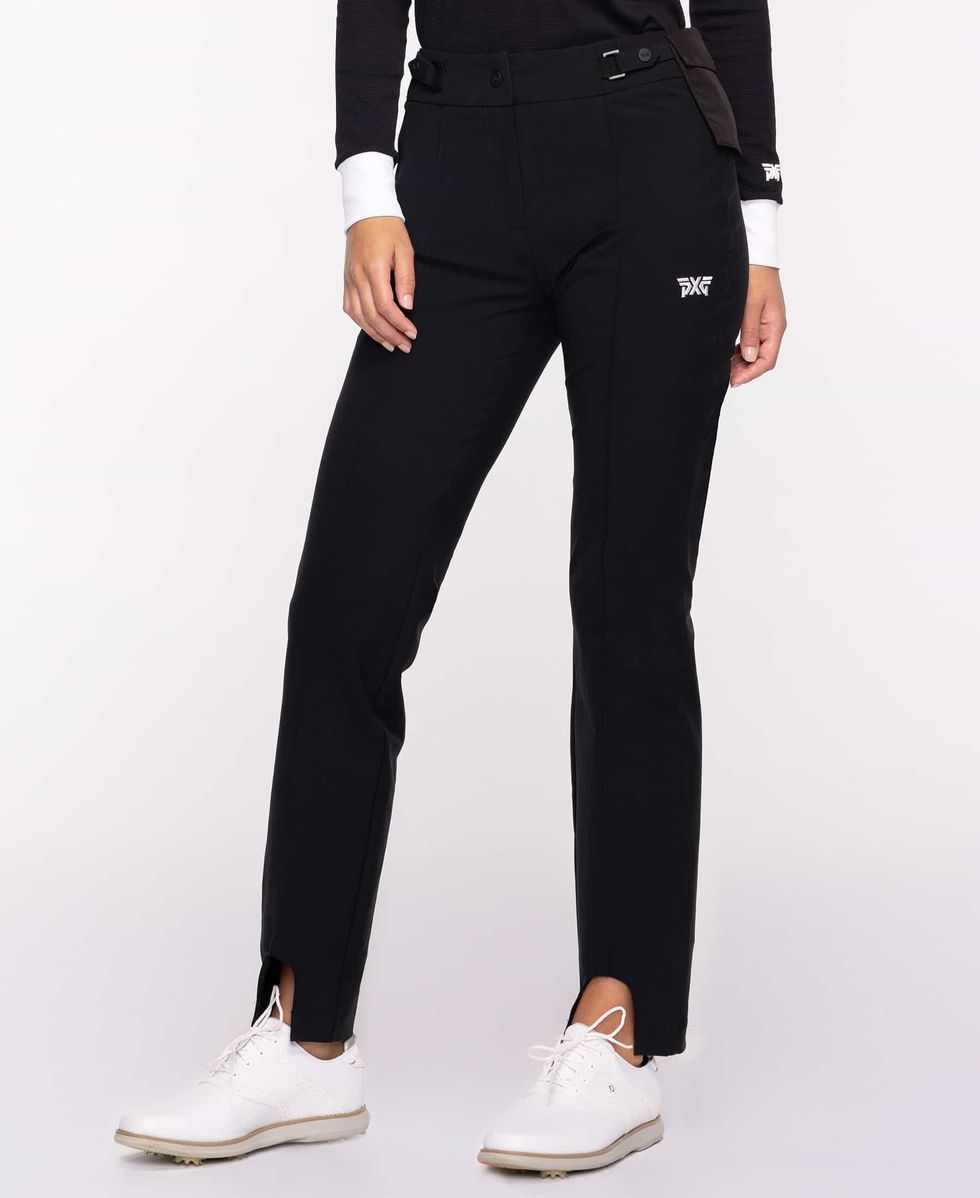 So, here I am, a total newbie at the golf club, decked out in the Aubergine RP Signature Polo ($110) and black High-Low Ankle Golf Pant ($195). Surprisingly, I felt like I belonged. A seasoned golfer even gave a thumbs up to my unique polo color!
During practice I notice the RP Polo's comfy fabric and the pants' breathability, allowing me to focus on my form with no distractions – just me and my swings. These pants have fabulous four-way stretch, adjustable snap waist straps for comfort – and an attached small pouch adds versatility. The Polo's UV protection is an added bonus that shields me from the sun on those hot days around the course!
During the week, I wore the RP Polo while out and about too. Its versatile style easily complements my casual outfits and the moisture-wicking fabric keeps me fresh on busy days.
Week 2: Classy Meets Comfy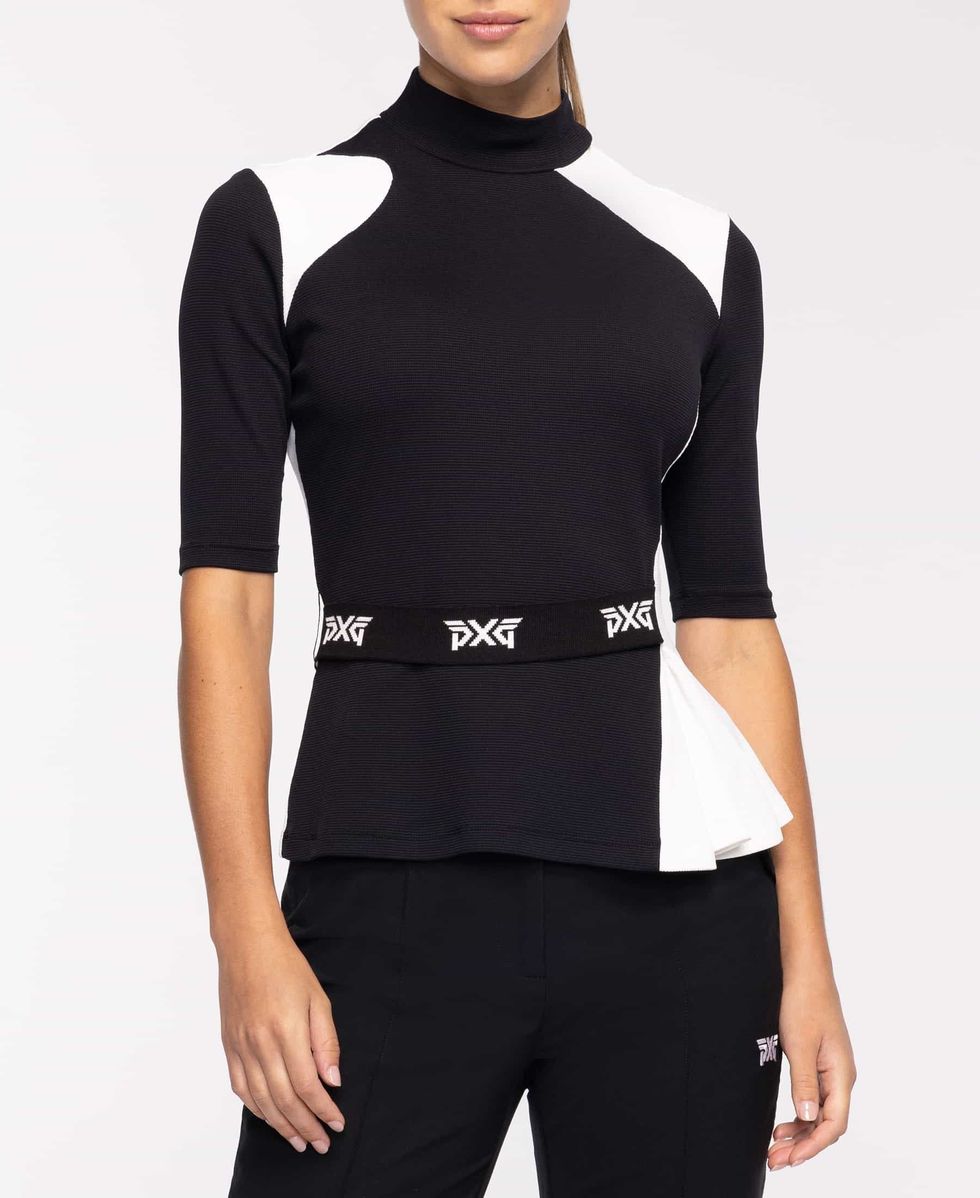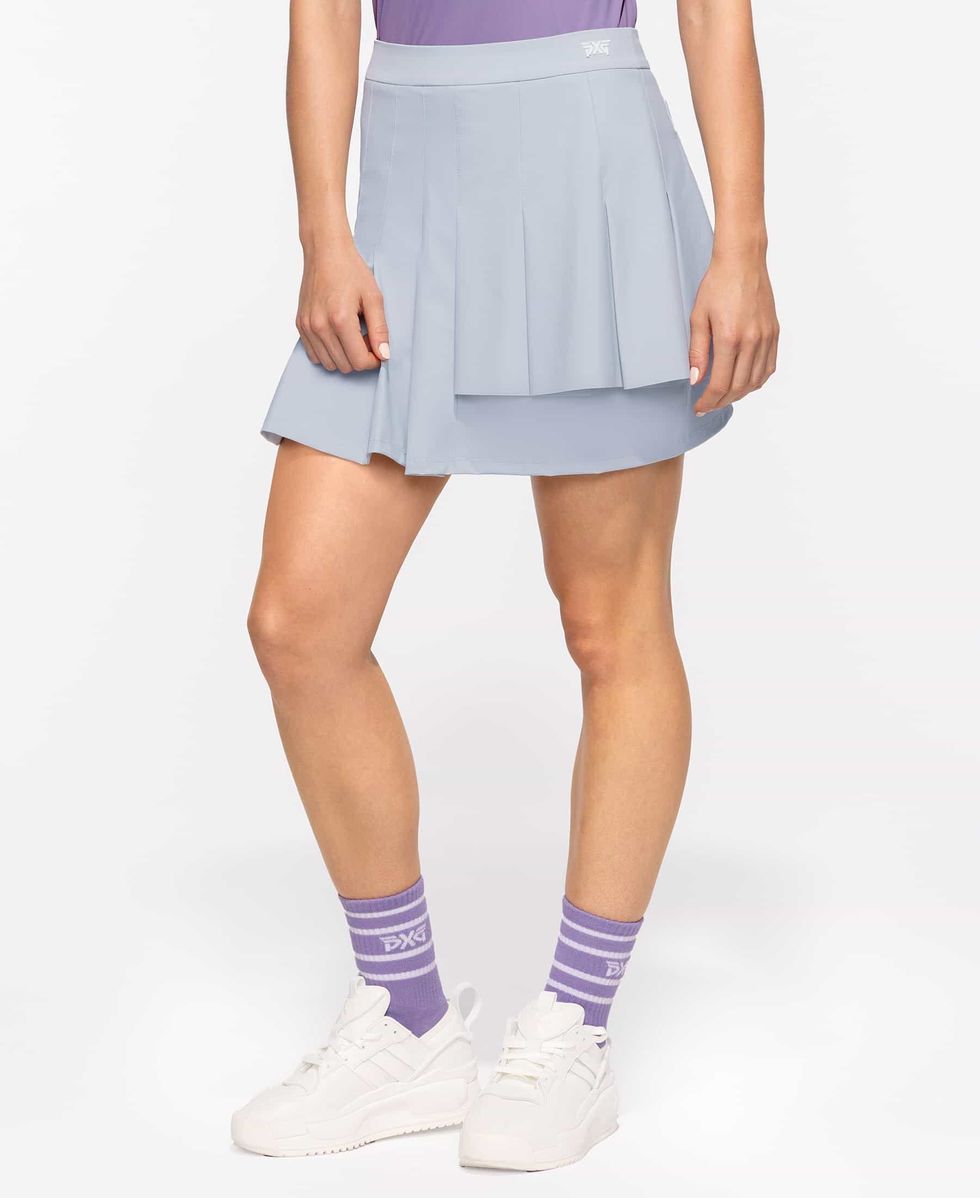 Time for my second round of golf. Strolling onto the green, I felt effortlessly sophisticated wearing the Belted Mock Neck Knit ($135) top in black, paired with the Pleated Side Pocket Skirt ($165) in light grey.
My Belted Mock Neck Knit exudes elegance with its elbow-length sleeves and flattering peplum detail. The stretchy wool-knit blend lets me swing like a pro – high-performance and stylish! And the Pleated Side Pocket Skirt's built-in shorts kept me confident throughout. I got chatting with a golfer who adored my outfit because while it embraces golf's classic fashion PXG Apparel has a trendy feel.
During off-golf hours, I wore the Belted Mock Neck Knit while relaxing at home. Its softness and style makes it my go-to choice for cozy evenings.
Week 3: Embracing the Challenge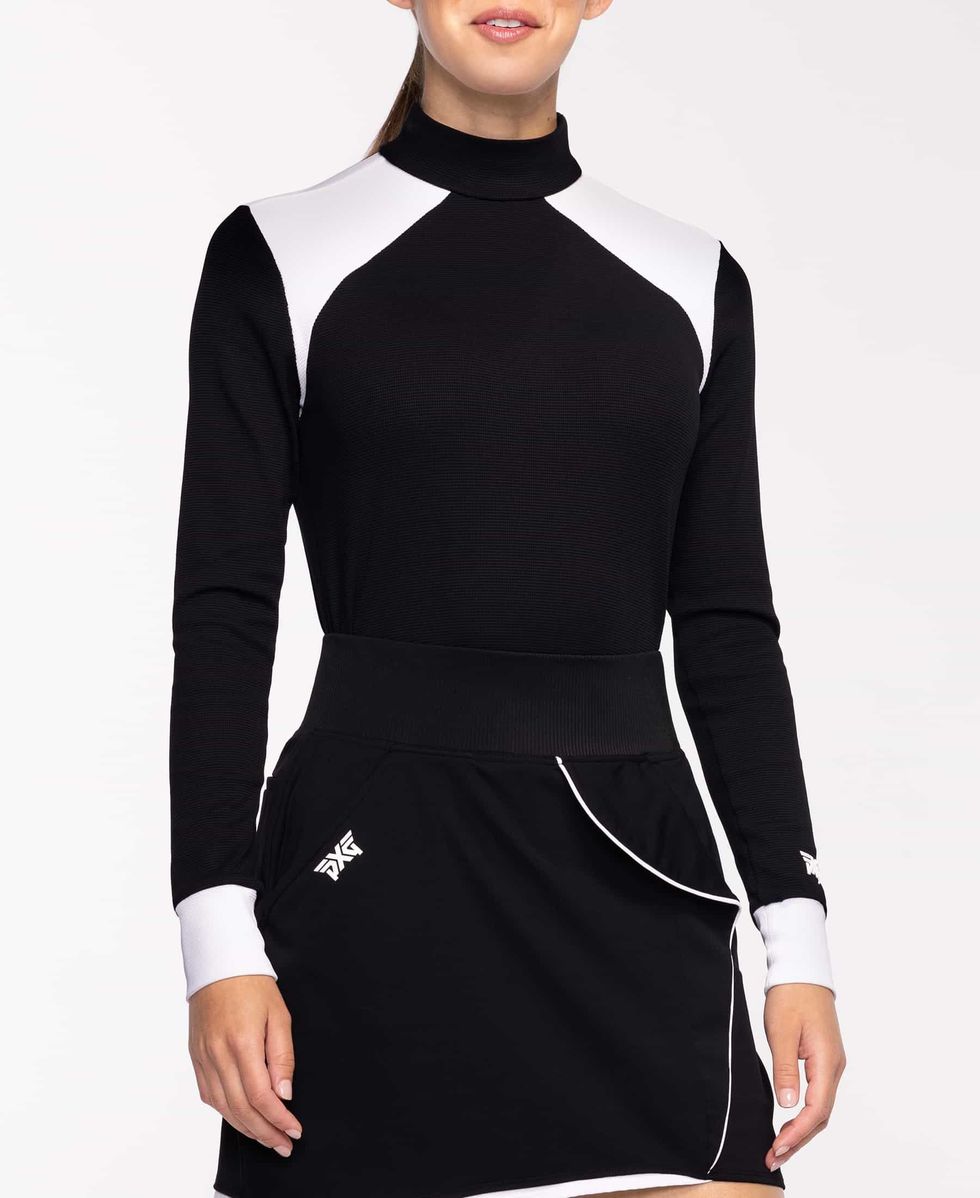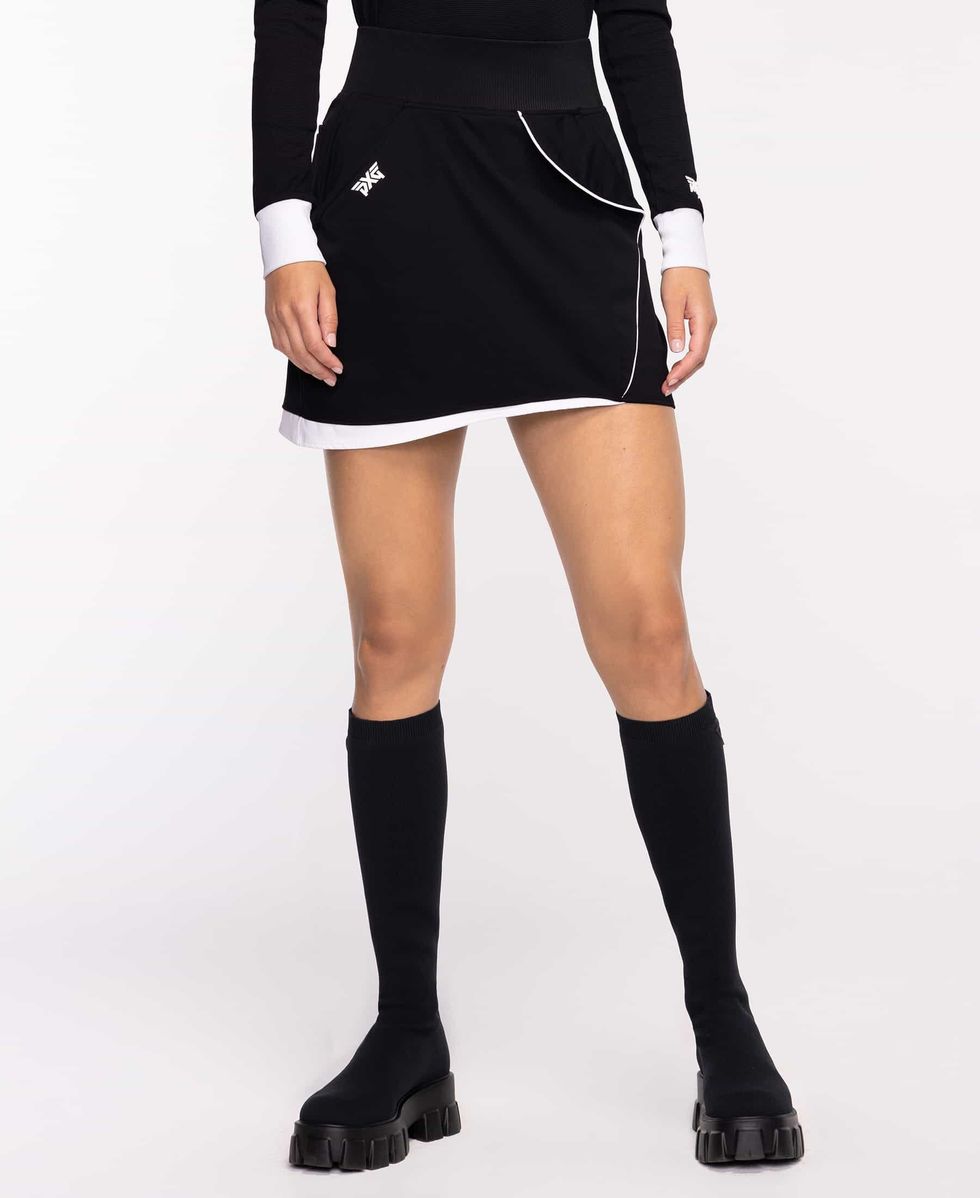 Although this week we only had time to play nine, the Long Sleeve Contour Mock Neck ($145) top became my MVP. The textured performance fabric provides a secure fit and the contrasting accents add a modern flare. It looks super cool with the Ruffle Jersey Skirt ($165) – the asymmetrical hem and ruffle combined with the built-in shorts and flexible fabric gives the best blend of fashion and function. If I get chilly I throw on the High-Waisted Bomber Jacket, which looks so classy with this skirt.
Off the course, the Long Sleeve Contour Mock Neck proves versatile for my active lifestyle. I wear it on my brisk morning walks, providing me with both warmth and style.
Week 4: Mastering the Green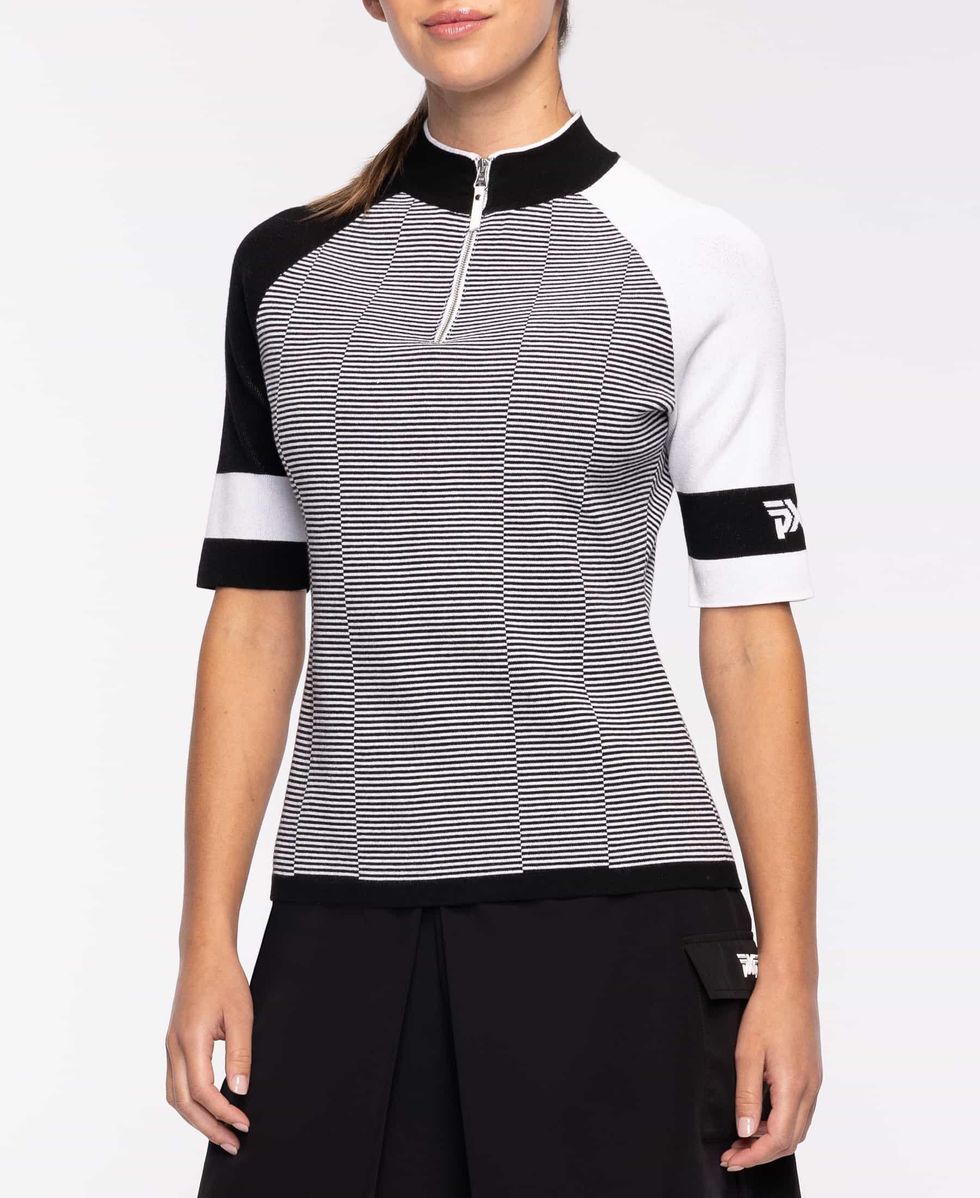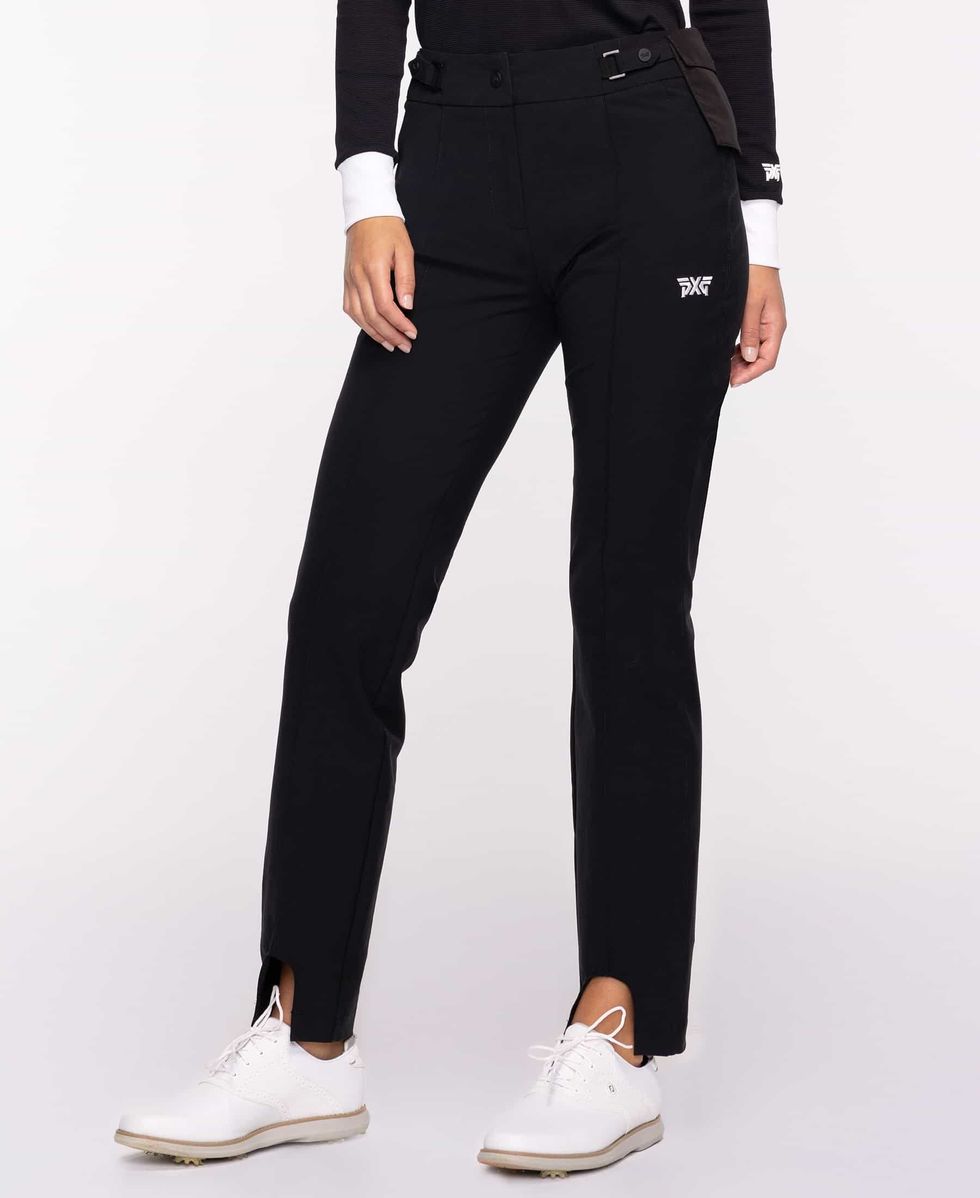 For my final round of the month, I donned the High-Low Ankle Golf Pant again with the Broken Stripe 1/4 Zip Knit Top ($185) . The flexible 1/4 zip top is a combination of elegance and performance, enhancing my game with its ultra-soft, four-way stretch fabric. I felt a whole new level of confidence in this outfit, I'm perfecting all my swings!

I wore the High-Low Ankle Golf Pant to the grocery store and the High-Waisted Bomber Jacket ($295) on a coffee run. Let's be honest, looking stylish while getting things done is a win-win!
Final Thoughts
I have to say, my first month at Amy's club exceeded my expectations. No-wait, it's not just Amy's club, but my golf club. And a lot of that sense of belonging I attribute to PXG. From teeing off to reaching the green, I'm always comfy and confident in my PXG Apparel. And the comfort doesn't stop there – these pieces are so dynamic and sleek, I wear them all the time.
PXG clothing is all about performance. Their smart fabrics keep you dry, let you breathe, and stretch where it matters, so I'm always set for whatever comes my way. PXG combines contemporary style, groundbreaking tech, and the highest quality material (from cashmere to vegan leather). It really ticks every box.