Ladies, ladies, ladies. The summer is officially here and we've been going absolutely feral waiting around for it. I don't know about you, but I thrive in the summer. The summer screams possibility.
When the weather gets warmer and it's light out for more than six hours a day, something inside me switches and the seasonal depression lifts. I become a real person for the next three months with a living, breathing zest for life. I am willing to leave the house again.
After hibernating all winter, I also take the summer as the opportunity to get all my social media content for basically the rest of the year. I'm always looking a little better than average in the summer with a tan and a little rosy cheek action. I'm a firm believer in the fact that the summer makes everyone happier, and thus feel more beautiful.
Behold…The Summer's Hottest Bikinis
One of my key strengths that should be put on my resume is the beach photo – photos of me looking carefree and fun-loving on the beach in my fave bikini. I don't know what it is about wearing a bikini that makes me able to pose like a model and not care at all, but somehow it just happens.
I like to attribute this to wearing bikinis that make me feel like an Instagram model. Ones that make me feel excited to show off a photo of me in my new kini, even if my body isn't exactly beach ready.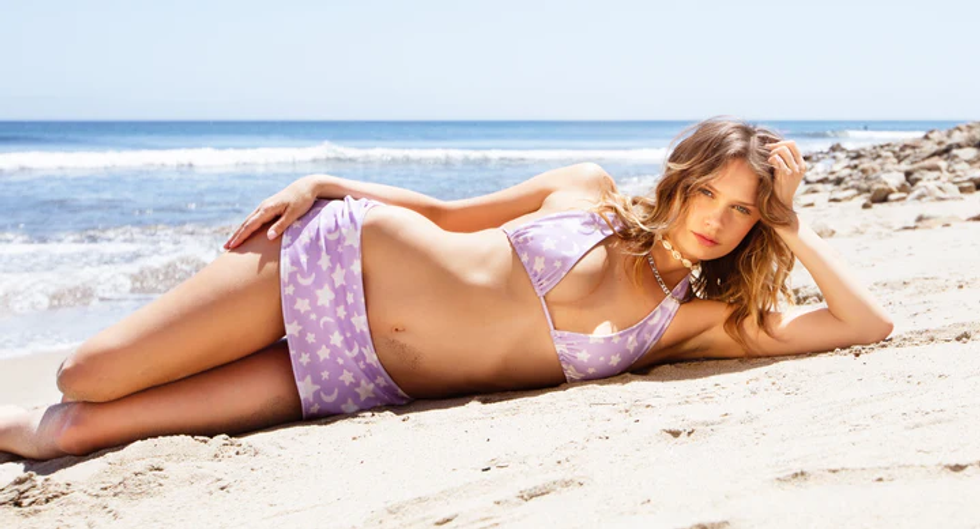 What's really caught my eye this summer is the return of the retro bikini. If you don't know what I'm talking about just by the term retro bikini…think 1980's high leg bikini bottoms and perhaps a strapless sweetheart top. Personally, I find a high leg cut super flattering because it can give the illusion of cinching your waist without squeezing your sides and giving unflattering rolls.
There is no better brand for dictating what swimwear is in this season than our savior, Frankie's Bikinis. Frankie's is summer's main character and they have the celeb endorsements to prove it. I own one of these luxury bad boy bikinis and they are so comfortable it honestly feels like there's nothing on your body (which I understand may be alarming at times).
Frankie's has collabed with some of the hottest women in Hollywood: the Hadid sisters, Sofia Richie, Billie Eilish, Alexa Demie, you name it. Even if you live under a rock, you have to understand how huge it is for so many celebs to love this brand.
Made By Women For Women
What I personally adore about Frankie's Bikinis is that this swimwear line was started by 25 year old, Francesca Aiello – AKA, someone who really understands the struggles of bikinis and swimwear. Frankie's offers fashion-forward prints and cuts that are always flattering and on trend with the times.
If you can get your hands on any of the sold out styles Frankie's has to offer, you won't regret it. The women behind Frankies are just like us – it's clear they've done the entire rigamorale: stood in a heinously lit fitting room with an ill-fitting biking that is wrong on so many levels, and then come home disappointed with a major ego-hit because nothing fits or looks good enough.
Unlike the dreaded in-store-bikini-nightmare-shopping, you're definitely going to find something up your alley on Frankie's website as they offer so many different styles and cuts. There really is something for everyone, no matter if it's coverage-levels, print variety, or style.
What I've learned with swimwear is that you should always feel extremely comfortable and confident in your bathing suit. I used to be someone who bought bikinis based on low prices, sacrificing quality and confidence for my wallet's sake – but no more!
Frankie's Bikinis is typically priced under $100, so not only can you look like your favorite celeb, but you also won't break the bank doing so.
Channel Your Inner Bella Hadid
This summer, we want to channel Bella Hadid's energy as much as humanly possible – sans the buzz cut for Marc Jacobs. We want to radiate positive vibes while lounging on a chaise somewhere in Santorini, but will settle with a fold up lounge chair in our backyards. It doesn't matter where in the world you are, you can easily feel as confident and cool as her in a Frankie's bikini.
Even Kylie Jenner loves Frankie's – need I say more?
Fine, I will. The iconic Euphoria scene when Cassie walks down the steps in the hot pink bikini to get Nate's attention? That's a Frankie's classic. You genuinely won't go wrong when you purchase one of their swimsuits.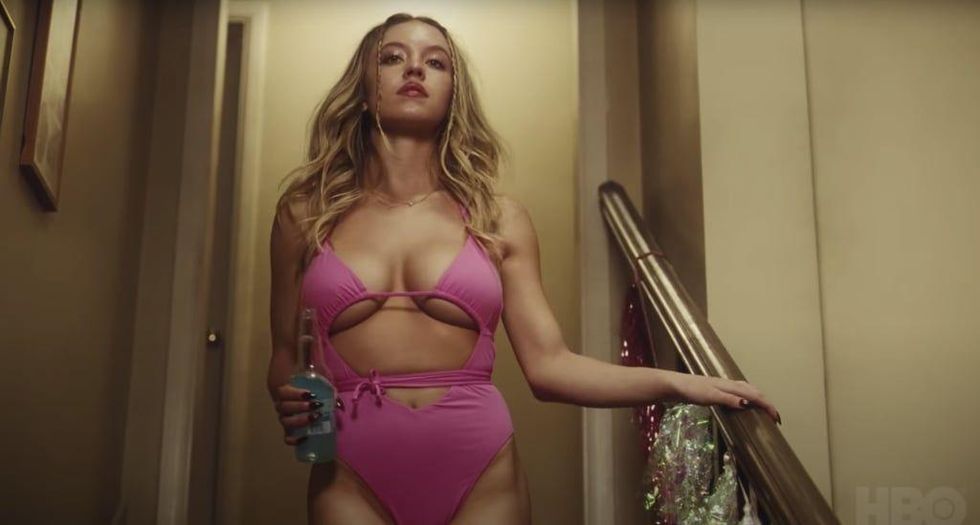 HBO
For every hot girl, there's a bikini that makes her look and feel like Hollywood's next it girl. I just put you one step closer to finding it.