"I have 78 meal swipes and $153 in dining dollars left. Who wants?"

That used to be a popular line on the campus of my New York City alma mater every semester's end. It was the effect of students having realized they'd eaten out so much that they'd neglected their all-inclusive, expensive, and mandated university meal plans. You'd see students in the dining halls juggling 12 take out trays filled with cookies, buying ridiculous Starbucks memorabilia with their extra dining dollars, and swiping their friends, professors, and even strangers into every cafeteria to enjoy one of seven meals for the day. It was the ultimate free-for-all before everyone went home for break.
Last June, the New York Times ran a story on hungry college students in New York City. I thought I knew all about those, as I'd been one of them, myself. But this story wouldn't have been so shocking if it was about students who shovel down potato chips in the library while cramming for finals. This was not a story about the Freshman Fifteen. This was a story about students who have to choose between books or food.
While at my university, some students had too much food, others suffered a more invisible problem. It's the problem of being forced to find an excuse when your friends want to go out to dinner at a place with $26 entrées. It's the problem of planning out every aspect of your day around food. How can I make this last longer? How can I find a better price? How will I be able to stay healthy? There's a name for that. It's called, "food insecurity."
University students are just some of the nearly 1.4 million people living in New York that struggle to put healthy food on the table. City Harvest , an organization founded on food rescue, provides healthy food to everyone from the homeless, to workers, to the elderly, to the children and students that will be New York City's future.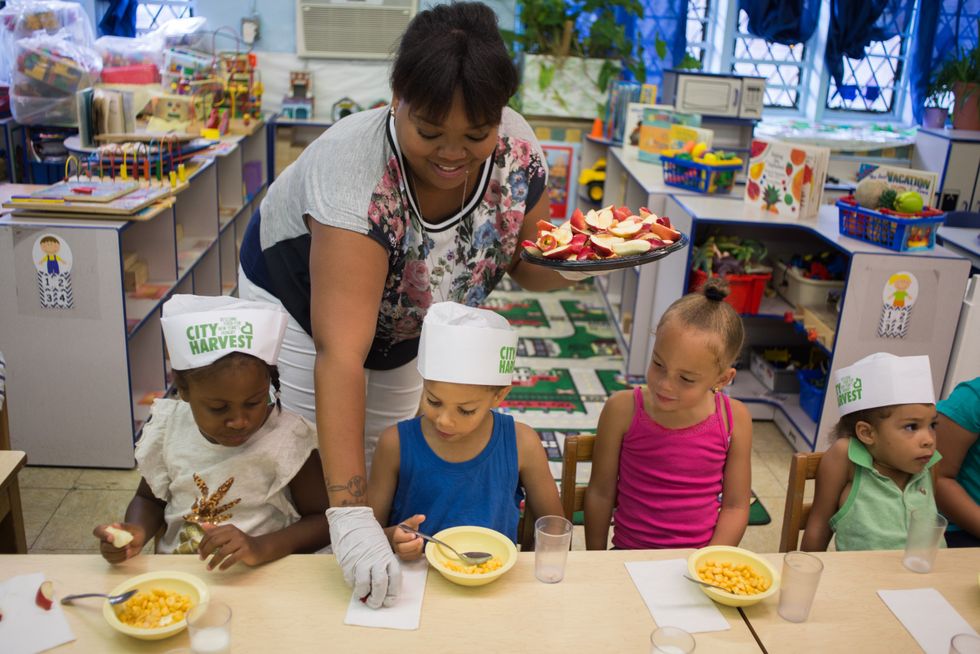 A volunteer serves food to children at City Harvest's Fruit Bowl day care program. City Harvest
The story goes, that back in 1982, Helen verDuin, who later became City Harvest's first Executive Director, struggled to keep up with the demand of hungry people that came to her soup kitchen at lunch time. The answer struck her when she was eating an order of potato skins at a nearby restaurant. She asked the chef where the leftover potatoes go, and he told her that they're usually thrown out. She then told the chef that her soup kitchen would make the perfect home for any extra food the restaurant had. The next day, the chef donated 30 pounds of cooked potatoes, which the kitchen was able to use to thicken its soup. Thus, food rescue and City Harvest were born.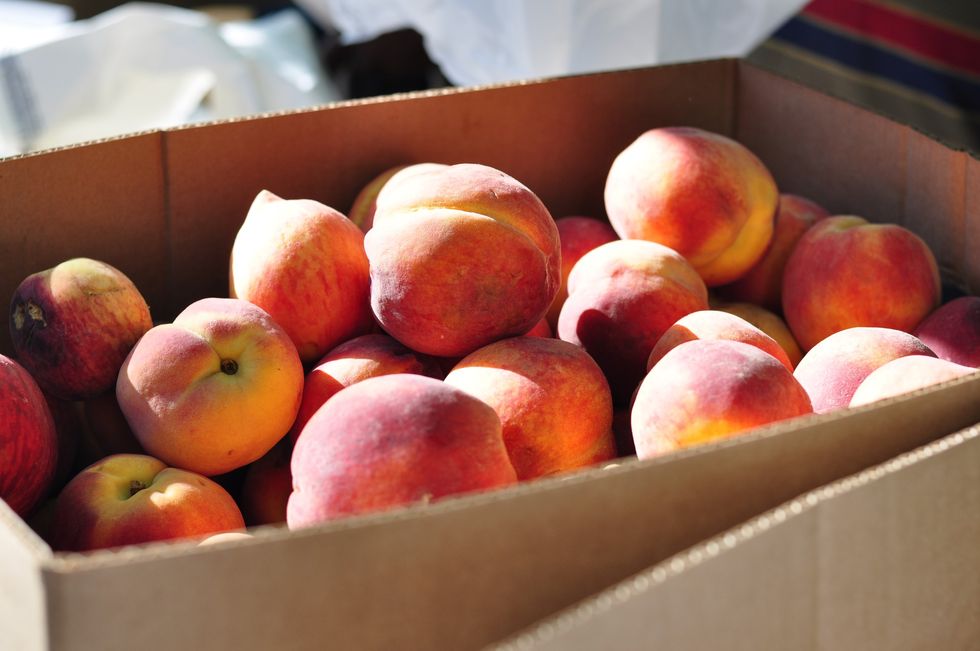 Peaches at a City Harvest Mobile Market. City Harvest
From there, it's been a continual service of friends who volunteer their time; New Yorkers helping New Yorkers. The original team was able to use the little resources they had to donate hundreds and then thousands of food to soup kitchens and food pantries. The organization started out by delivering food to only about 30 soup kitchens in New York City. Now, it has 500 community partners, 22 food-delivery trucks, and collects about 150,000 pounds of food a day. Through the Healthy Neighborhoods program, City Harvest partners with low-income communities to provide residents the education to make health-conscious and budget-conscious decisions about their food.
Two of City Harvest's directors are Rosanna Campitiello Robbins, who heads Healthy Retail, and Maggie Meehan, who heads Nutritional Education. I got the opportunity to sit down with these nutrition experts in their Manhattan headquarters to discuss hunger in New York City, and the kindness of strangers.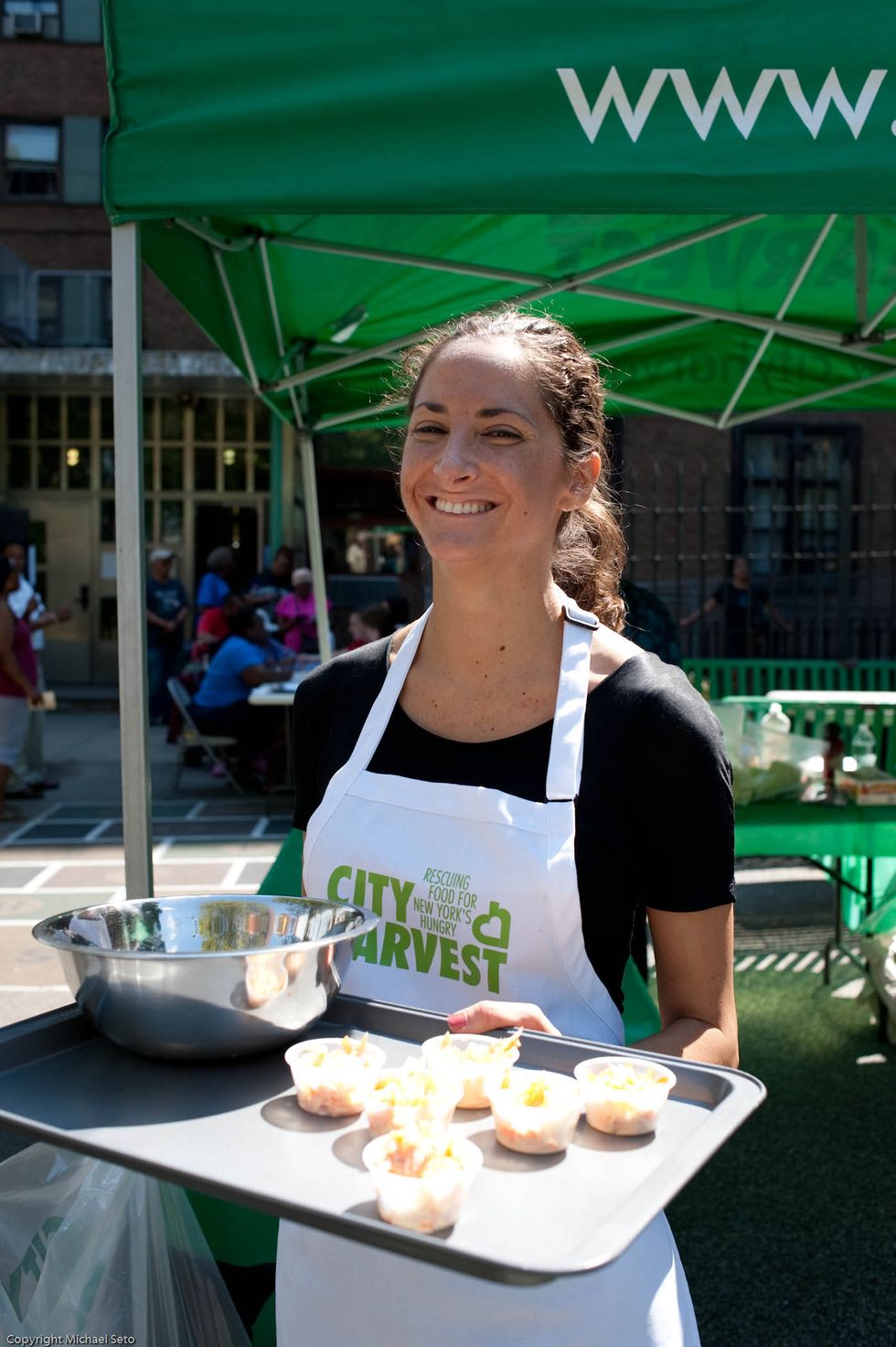 Rosanna Campitiello Robbins at a cooking demonstration in a Mobile Market. City Harvest
Robbins's interest in health was shaped in part by her family's history of cancer; her mother had breast cancer and one of her cousins had Leukemia. Her interest in how diet impacts long-term health led her to complete her M.S. and R.D. in nutrition at Columbia University. While initial thoughts of working in a hospital invigorated her, during her R.D. internship in Crown Heights, Brooklyn, she was shocked to see a whole floor of patients who had amputations from Type II Diabetes. This made her realize that she wanted to work in the community instead, to intervene before these people needed to be hospitalized. City Harvest was just the organization she needed.
Meehan's interest in nutrition began with her fascination behind the biological causes of obesity. After a career in finance, she sought out a path in clinical research and went back to school for her R.D. and M.P.H. at Hunter College. After completing clinical rotations, she also realized that she wanted to outreach to the community, and joined City Harvest to develop a food education curriculum for senior citizens.
"Food insecurity" is the USDA's term that refers to having no reliable access to healthy food. Over two in five New York City families lack adequate income to pay for necessities including shelter, child care, health care, and food. Though all New Yorkers lie somewhere along the spectrum of food insecurity, it's rare that anyone would think of it in these terms. "A lot of New Yorkers just struggle to put food on the table," Robbins says. "It's just the way of life." These could be people who are working full time, but whose wages aren't enough to cover basic expenses. They therefore have to make decisions about what food they can afford. Robbins says, "When you're in a grocery store, it is an either/or decision."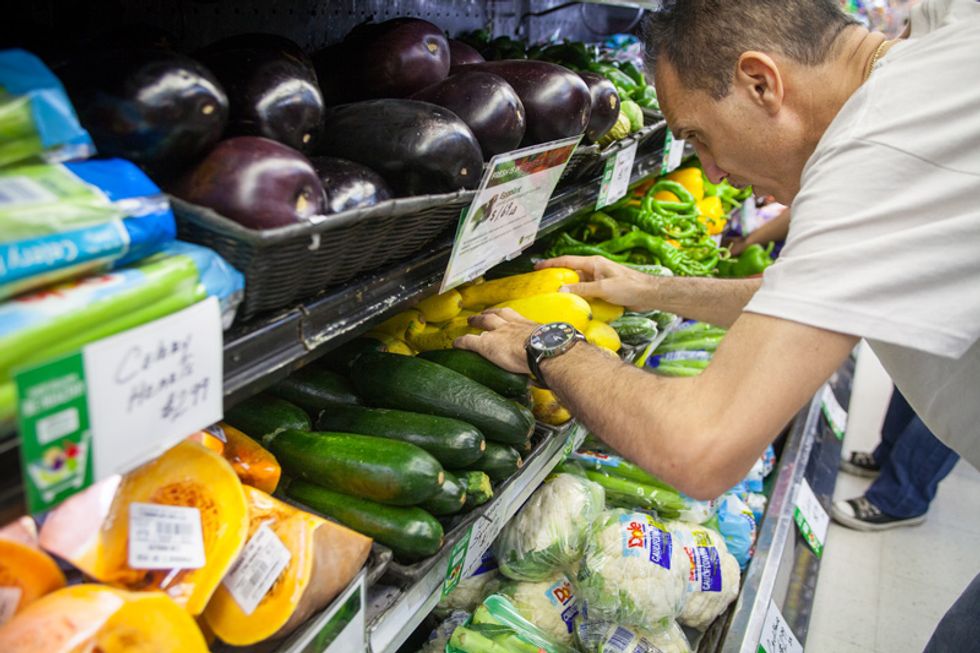 Produce in a Healthy Retail supermarket. City Harvest
The grocery store is just one instance that tests the mind and willpower of the food insecure population in New York. Meehan says, "I've seen people at the cash register, with the food they want, then slowly putting it all back because they can't afford any of it." This awareness of food insecurity is something that most food secure New Yorkers may not deeply understand. It requires a lot of thought to be a smart shopper, especially when your health depends on it. Meehan has seen many people who know how to navigate a supermarket for the best deals on healthy food, but many still struggle.
For that population, City Harvest offers a robust series of programming, including shopping tours to teach people how to stretch their budgets. In a typical course, Robbins might recommend buying produce in season, seeking out longer-lasting root vegetables, foregoing pre-prepped foods, and stocking up on bread to store in the freezer. Meehan recommends rinsing the extra sodium off of canned products to reduce salt levels. At the end of each tour, every participant gets $10 subsidized by City Harvest to see if they can practice what's been preached. Finding the best deals and techniques takes a lot of training and practice. It's not just about seeking out healthy food for a special occasion, but knowing how to get it all the time.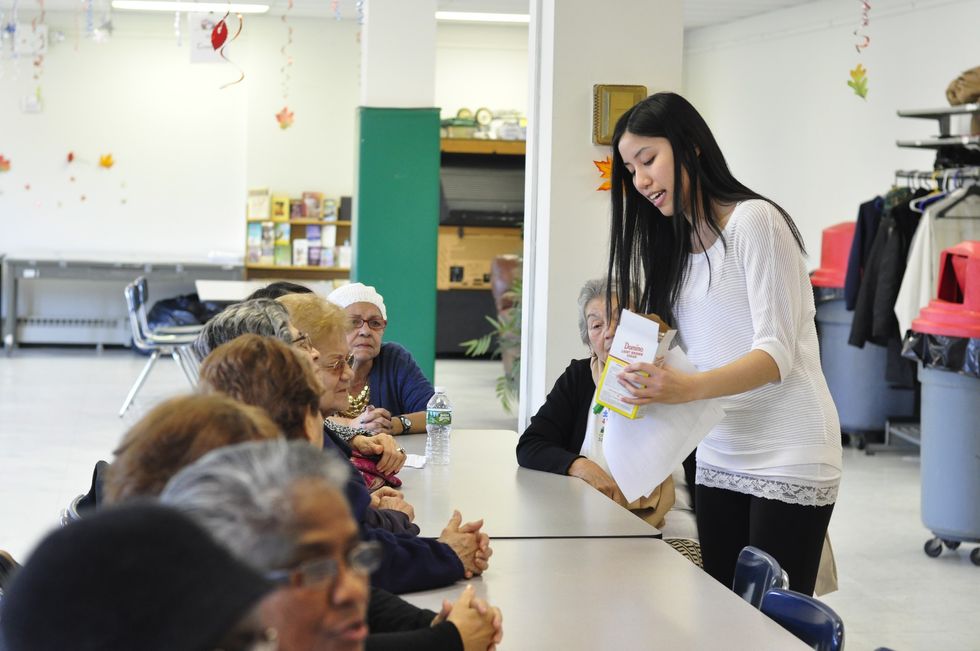 A City Harvest volunteer explains how to read labels for important nutrition information at a Nutrition Education course. City Harvest
Another helpful option for the food insecure community is to take free classes. Share Our Strength developed "Cooking Matters" courses for kids, teens, parents and seniors offered at schools, senior centers, churches and other community locations. These 2-hour courses can run 6 weeks, 11 weeks, or stand alone. Each course has a nutrition activity and cooking demo to show simple recipes and cooking skills. Often, the people that use City Harvest's resources don't know how to cook certain ingredients, like a sweet potato, for example, and have therefore avoided them in the past. With the right knowledge, they can branch out to new, healthy ingredients. Most of the recipes can be made with five ingredients or less, and cost around $2.50 per serving.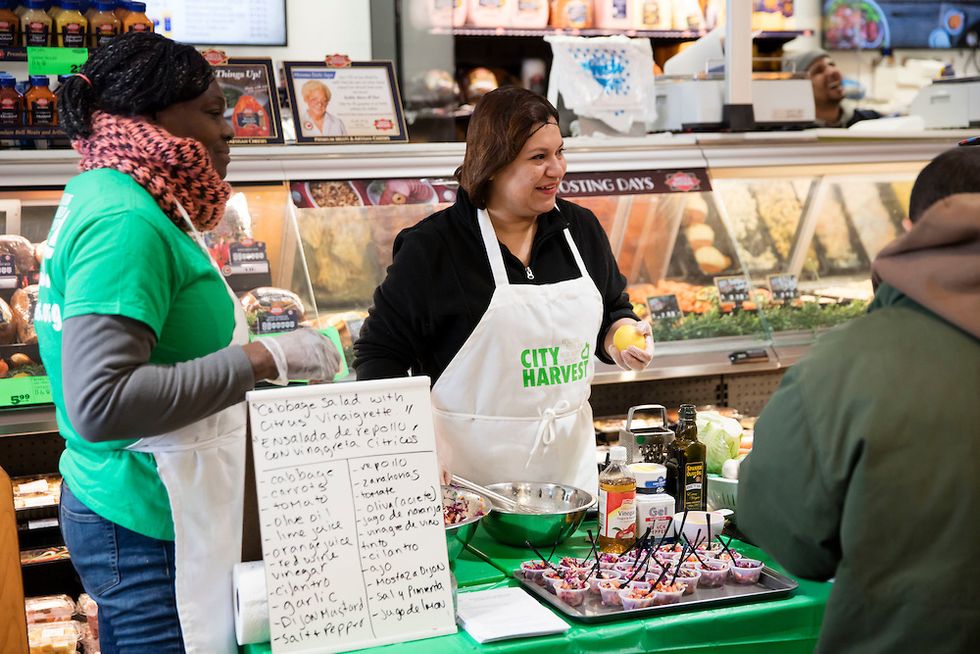 City Harvest volunteers present a recipe demonstration for Cabbage Salad with Citrus Vinaigrette. City Harvest
City Harvest also uses mobile markets to distribute food directly to communities in pre-packaged bags to make for easy transportation. Many volunteers also put on cooking technique demonstrations, such as how to blanch a vegetable, or how to make a stock. These are ways for the community to see first hand what to do with the ingredients they receive.
Hunger in New York City is not a problem that City Harvest can end alone. By leveraging the support of partners including Share our Strength, New York Cares, and their huge network of volunteers, they are able to expand their reach, adapt to growing community need, and continue to both serve food immediately to those who need it, and plan for the long term. They aim to listen to the community and respond as the demand changes to improve the efficacy of their programs.
In the end, City Harvest goes beyond feeding hungry mothers, fathers, children, and students. Meehan says one of her favorite success so far has been seeing the individual impact of City Harvest's touch. Whether someone loses 30 pounds by switching to a healthy diet or gets his or her Diabetes under control, that is a City Harvest victory. Each year, according to the USDA, the United States wastes 133 billion pounds of food. Since its founding, City Harvest has helped prevent 545 million pounds of good food from being wasted, which has also prevented 500,000 metric tons of greenhouse gas from threatening our planet. That's an even bigger victory.
Universities are also starting to develop food pantries and meal donation programs to help support the population of Americans that are still in need of food. And as Americans head into the holiday season, it's more important than ever to be thankful for our food, which many of us too often taken for granted.
What's next for City Harvest? On December 8th, the organization will celebrate its 34th anniversary and will later in the month deliver its 600 millionth pound of food since its founding. That's no small feast.
To find out how you can help fill the bellies of hungry New Yorkers, and more, read about City Harvest, here !