How To Make Your Home More Eco-Friendly
This one cleaning upgrade is ridiculously easy.
I feel the need to live more sustainably - to take care of our planet - but at the same time it's hard to put a lot of my time, or energy into this.
One of the easiest steps I could do was to change my household products, so I decided to switch to green, all-natural cleaners. They sound great - but take it from me - they don't work. I mean, let's be honest here, cleaners gotta clean.

I was complaining to my co-worker who said she'd recently started using cleancult, a cleaning company that delivers all-natural, biodegradable household products directly to your home. I flew off to my desk to do my own research and was instantly converted.
From someone who's been subscribing for over half a year now, here's everything you need to know about this sustainable startup.
What kind of products do they offer?
cleancult has a wide range of essential, eco-friendly cleaning products, including an all-purpose cleaner, bar soap, liquid dish soap, dishwasher and laundry tablets, and wool dryer balls. They're free from parabens and sulfates and blended with essential oils.
What makes cleancult different from conventional cleaners?
Most conventional cleaners contain untested, potentially toxic chemicals. Even natural cleaners still use plastic bottles that end up in landfills, while others don't produce a robust enough clean.
cleancult's products are powerful - tough on mess, gentle on you, and safe for sensitive skin. Their formulas are packed with natural and biodegradable ingredients and supercharged with coconut and care. This is a different clean.
What's the difference between the two plans (Starter Kit vs. Refill Only)?
cleancult's Starter Kits contain reusable glass bottles that ship for free and arrive fully-loaded with everything you need to start an effective and natural cleaning lifestyle.
The signature Evergreen Glass Suite is off white, simple yet sophisticated, and filled to the brim with natural cleaners and tablets. The Mosaic Starter Kit bundle comes in bright pastels, sure to make your kitchen pop.
They also offer a Refill Only option - simply refill your own bottles, or cleancult's beautiful, durable glass bottles. Refills are delivered in eco-friendly, milk-carton-style cardboard, which is 100% recyclable and biodegradable.
This reduces cleancult's plastic waste to almost zero - which translates to a tremendous reduction in your plastic consumption.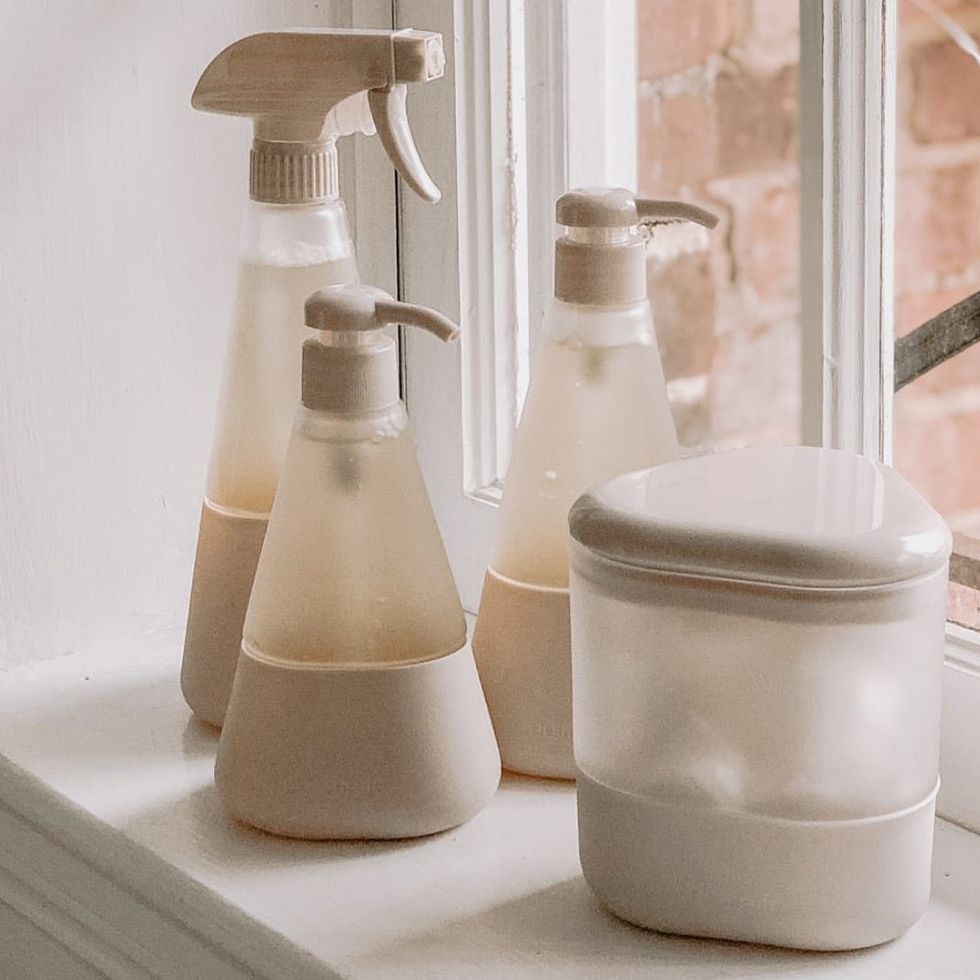 Won't they send me tons and overload my cabinets?

You can customize your plan for the perfect balance, so there's no excess and you won't run out. You also pay monthly, so there's no commitment.
What's in this exactly? Is it really good for the planet?
Their website has tons of detailed information on what's exactly in each product. Plus, ingredients are prominently printed on the side of the bottle. Unlike generic cleaning products, it's all good stuff you'll actually recognize. For instance, the All Purpose Cleaner Spray contains saponified coconut oil, citric acid, and essential oils.
Are their products pet-friendly?
Yes! All products are free from animal testing and kind to animals. With the exception of the Dryer Balls (which contain ethically sourced sheep's wool), cleancult's products are vegan too.
Does cleancult make a real difference?
cleancult's proud to claim official carbon-neutral shipping status. Not only are they committed to a carbon-neutral shipping system, they partner with environmental agencies to plant trees that undo any shipping carbon they emit.
We all have a long way to go before we're truly eco-friendly, but cleancult is taking a huge step in the right direction.
cleancult's sustainable design, zero-waste packaging, and real, coconut-based ingredients actually do the dirty work. Clean and green from start to finish. Good for you, your home, and our world.