Which Diaper Helps Me Save Time, Stress, And A Big Mess?
This post is in partnership with Coterie. We only endorse products we believe in.
If there's one thing all new parents need in excess, it's diapers. However, there are tons of options, which makes finding a suitable diaper challenging - especially if you're a working mom like me and just don't have the time.
Most brands claim to keep the baby's skin dry, prevent diaper rash, and offer maximum absorbency. As a mom myself, though, I concluded that that's not always true.
Until my little Chloe turned three months, I constantly had to switch diaper brands because they either caused a red rash or didn't have enough capacity. It took me a while to find one that checked off all of our must-haves. After all, diapers are the only thing that stands between my little one's bottom and a big mess.
To help other moms going through the same struggle, I decided to review the most well-loved diaper brands - Coterie, Hello Bello, and Kirkland. Here's my honest opinion of each:
Coterie:
I like to call Coterie the Tesla of diapers since they're made out of incredibly soft materials free from skin-harming ingredients, such as chlorine, parabens, dyes, lotions, phthalates, and heavy metals – an absolute must for my baby.
Coteriediapers dry way faster than other brands, which I noticed when Chloe started to get through an entire car ride without crying. Also, I barely need to use diaper cream since she's less wet - meaning no diaper rash.
I also find that Coterie diapers have a higher capacity than other brands, which is necessary to avoid accidents. Sometimes it's just not possible for me to change Chloe right away, so the diaper needs to be able to hold the mess in until I can. My little one loves to do her business while I'm on a Zoom call with a client, so it can take me 30 minutes until I manage to change her – I'm sure working moms get that!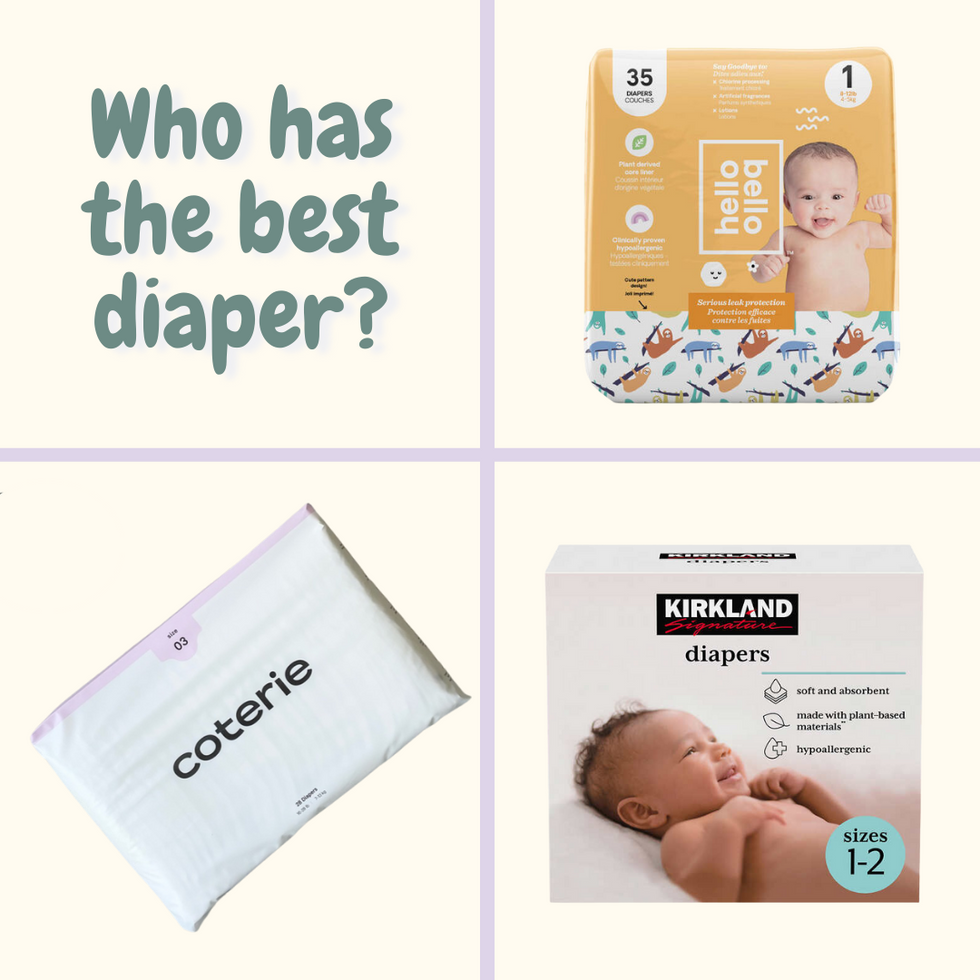 I love that Coterie diapers are well-engineered with side cuffs that prevent leaks, a stripe at the center which turns blue when the diaper is filled with pee, quick-wicking tech, and a breathable top sheet to protect my baby's skin – not to mention that Coterie diapers are 25% plant-based.
Lastly, Coterie diapers fit perfectly and I'm a big fan of their minimalistic white design. They are a little higher in price, but their quality is outstanding, so I'm happy to pay a little extra. I also feel like Chloe sleeps better (meaning I do too!) because she just stays dry all night – and of course, less laundry for me!
Hello Bello
Hello Bello diapers come in bright and colorful patterns, with two different designs in each box. While I find their diaper design cute, it bothers me that it's visible through my baby's clothes.
Their diapers are safe-to-use and are made without lotions, fragrances, phthalates, and latex. And their plant-derived core liner and sustainably harvested fluff pulp make them fairly eco-friendly.
Hello Bello diapers feel soft and fit okay, but I wish they'd have more stretch and stay in place better. They absorb pee fine, but it can go through the diaper, which happened to Chloe not just once, so I don't recommend using Hello Bello during the night. If you're not being careful enough, Hello Bello diapers can also leave a rash. I guess it's because of the wetness when pee leaks through.
I wouldn't call Hello Bello a diaper expert since they focus more broadly on a wide range of other products, including vitamins and shampoos – but still, they are a decent buy if your baby doesn't have very sensitive skin and you're looking for cheap diapers that get the job done.
Kirkland
Kirkland Signature Diapers are a popular choice for parents looking to save money on one of their family's biggest expenses. When I saw that they made an effort to produce a more eco-friendly diaper that's free of lotions, perfumes and parabens, I had high hopes.
These diapers are designed to make any points of friction feel comfortable, and I like that the leg gussets don't scratch or poke Chloe's sensitive skin. In terms of coverage, they're are on the smaller side. The back doesn't come up as high as other diapers, and they don't provide as much coverage on the sides, either. Another annoying thing was that a few times, the closure tabs tore off completely when I put the diaper on Chloe! Kirkland absorbs liquid which is great, but I wasn't impressed with the absorbency results. The diaper's inner lining occasionally stuck to Chloe's bum, which irritated her skin and led to a rash. Plus, they didn't prevent massive blowouts.
Pampers Pure absorbs liquid and locks it away quickly, which is great, but I wasn't impressed with the absorbency results. The diaper's inner lining occasionally stuck to Chloe's bum, which irritated her skin and led to a rash. Plus, they didn't prevent massive blowouts.



Accidents at the playground, in restaurants, or while on the go can be super uncomfortable and nerve-wracking. However, with a good diaper, you can avoid them. That's why it was essential to me to find a diaper made of safe materials that provide serious leak protection and maximum capacity.
After trying all three brands myself, I can say that Kirkland and Hello Bello aren't the best picks for parents who want to get a little extra "oomph" out of their diapers. If you're looking for high-quality diapers that prevent leaks, keep your little one dry and protect your baby's skin from irritation, then Coterie is your go-to brand – it's mine for sure!
They offer free standard shipping on orders over $49 and 10% savings on subscription and SMS order management, which helps me save money. And I love Coterie's flexible subscription service - as an already busy mom I never have to worry about running out of diapers now!
Just For You: Our Readers Get An Additional 10% Off New Subscriptions With Code 10EXTRA