Coterie Vs Honest Diaper Vs Millie Moon? Which Diaper Truly Stands Out?
This post is in partnership with Coterie. We only endorse products we believe in.



Diapers are an absolute must-have for your baby. Everyone has a horror story about taking those late-night diaper runs. Although there are tons of different diaper brands to choose from, it can be overwhelming.
As a busy working mom who has 2 kids under 4 years old, we've run into our fair share of diaper rashes. Using a diaper brand that keeps your baby clean, dry – and happy – is essential. And, frankly, who has the time to test out multiple brands?
With my son, Keegan – he was born first, so what did I know? – I went for big-name brands like Huggies or Pampers. Sure, they promised a lot but never seemed to deliver. Then with my youngest daughter, Jessie, I needed a diaper that would last through an afternoon of meetings without having to hit mute several times to get Jessie quickly changed and dry.
A few of my mom friends suggested Honest Diapers, Millie Moon, and Coterie. I did my research and checked into all three brands.
Here's what I found:
Coterie: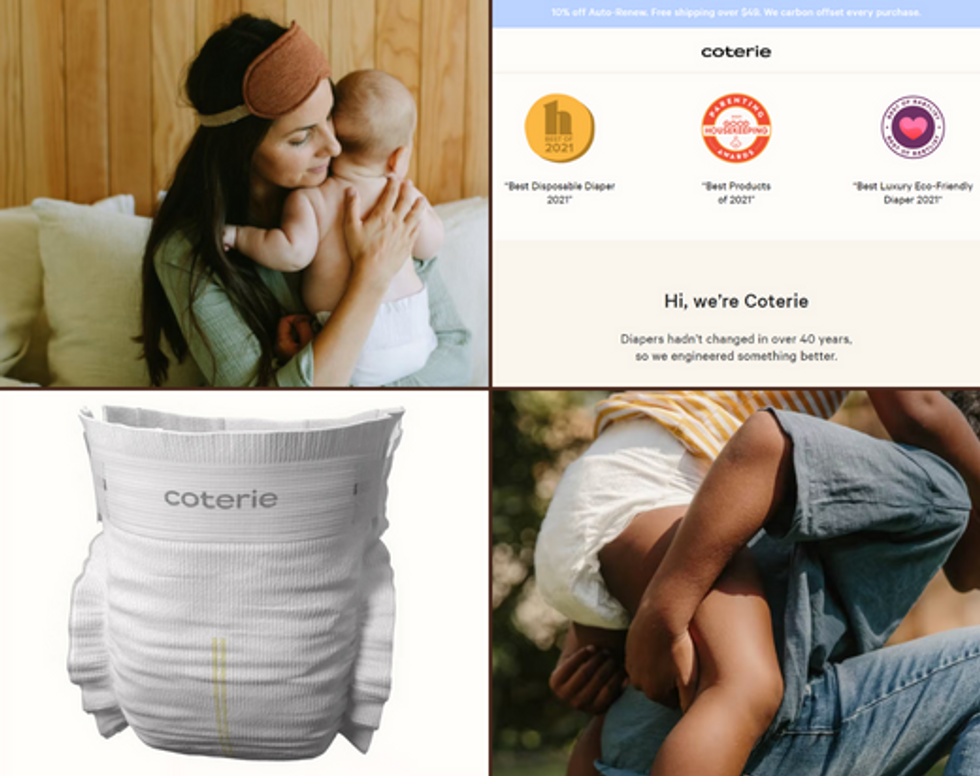 Coterie diapers are constructed with materials that are free from skin-harming ingredients, such as chlorine, parabens, dyes, lotions, phthalates, and heavy metals. Plus, they're eco-friendly, sustainable and 25% plant-based!
Their diapers are easy to put on and are made with a well-designed side cuff to prevent leaks. The diaper's breathable top sheet and incredibly soft back sheet increase the comfort and fits your little one without letting it slip down. Although they are comfy, some mothers have noticed that Coterie run a little small, thus our slightly lower size rating.
Coterie diapers are created with a quick-wicking tech and double the capacity of other diapers reducing the amount of diaper cream you would need as your baby would stay dry. So, you can go longer without having to get your little one on a changing table. There's a super-smart stripe at the center, which turns blue when the diaper is full.
With 10% savings on subscriptions, SMS order management, and free shipping on orders above $49 – Coterie is fantastic for busy parents who want to save money. Extra tip: while other brands may cost less than $90 for 186 diapers, Coterie diapers are a worthy investment due to high-quality materials, the quick-wicking tech and high absorbency, which means fewer changes and fewer diapers.
Rating: Size & Fit: 8.5/10, Liquid Capacity: 9/10, Quality Materials: 9/10, Price:6.9/10 Overall Rating: 9.3/10
Millie Moon:
Designed with comfort in mind, Millie Moon diapers are fragrance, latex, chlorine, and lotion-free. Millie Moon diaper's side tabs are a little long and a few little ones have been able to open them on their own – yikes.
The diapers are soft to touch both outside and in. Millie Moon's contain a wetness indicator that turns purple when a diaper is full. Their luxury diapers have a double leak guard and secure tabs to prevent leaks. But they run a little wide – so having the right size is crucial to avoiding leaks.
Sadly, Millie Moon diapers are only found at Target and cost $24.99 for 88 diapers. Since their diapers are high-waisted and a little bulkier, they could be a little bothersome for your baby. Many parents also report that since they run a little wide, having the right size can be a little difficult to judge – especially to start off with, which can cause leaks.
Rating: Size & Fit: 6.2/10, Liquid Capacity: 8.5/10, Quality Materials: 6./10, Price: 8.1/10 Overall Rating: 7.5/10
Honest Diaper:
Honest Diapers come in a range of prints, which are lovely but can sometimes be seen through clothes. Many parents report that the diapers are easy to put on but can sometimes slip because they are slightly bigger, and they do not have the absorption speed that we desire. They can be rather wet, as the leakage sometimes runs off the leg cuffs and back.
With enhanced blowout protection, advanced absorption, and a wetness indicator, Honest diapers are a tad bulky, so you might need to size down. Additionally, their diapers are free of any latex, fragrances, or parabens, and are never tested on animals. But a lot of parents have reported their little ones seeming uncomfortable in these diapers.
Although Honest is cheaper at $11.99 for 32 diapers, some parents have reported difficulties with their orders getting lost. They also offer a range of beauty, cleaning, and wellness products.
Rating: Size & Fit: 7.6/10, Liquid Capacity: 7.2/10, Quality Materials: 6.5/10, Price: 7.5/10 Overall Rating: 7.1/10
Final Thoughts:
Late-night diaper runs can be such a hassle, not to mention an inconvenience. So finding a sustainable diaper that has strong liquid capacity, uses high-quality materials, and is leak proof is critical.
After researching and thoroughly checking into these three brands – Honest Diaper and Millie Moon seem great but are missing a few important features.
Honest Diapers seem too bulky and not absorbent enough. Millie Moon has some good tech and can be absorbent if the right size, but seems to be less comfortable and too wide sometimes, and even be opened by the babies themselves leaving a mess.
But with Coterie'sexceptional diapers, they offer everything my Jessie needs. I wish I'd known about them for Keegan's worst accidents.
Coterie's flexible subscription service means I have one less thing to stress about. I'll never run out of diapers again! These days, Jessie's clean, dry, and happy thanks to Coterie.
Superior absorbency. Soft as cashmere. Use Code 10EXTRA For An Additional 10% Off Subscriptions For New Customers!