Celebrate the holidays in style by getting in the spirit from head to toe — literally.
Rookie-behavior is decorating your home and carving pumpkins. Intermediate level might include coordinating your outfits to match the autumnal mood. But playing the holidays at wizard level means embedding festivity in every single part of your routine.
---
When we say every part, admittedly we're not daring you to eat Christmas tree shaped sugar cookies for breakfast, lunch, dinner and snacks or swan around in your most ostentatious holiday garb. What we do mean is injecting a little holiday cheer into your day in ways that are easy and fun.
Since the year has gone by so fast, indulging in the full gamut of seasonal traditions will remind you that 2021 is almost up and you can go out with a bang if you simply lean into it.
Haven't decorated for Halloween yet? This is your sign! Grab some gourds, shake cinnamon on your lattes, and slap some ghost-shaped stickers on your walls. And when you wake up from your sugar-crash on November 1st, put up your Christmas tree, switch out your morning coffee with hot cocoa, and play your first "All I Want For Christmas Is You" of the season.
There are more subtle ways to give yourself a burst of festive joy, such as lighting winter spruce scented candles, or treating your hair to a well-deserved Champagne Hair Mask from Cuvee Beauty.
This luxe mask is the seasonal self-care product that will change your life. Champagne showers take on a whole new meaning with this staple in your haircare arsenal all through the holidays and beyond.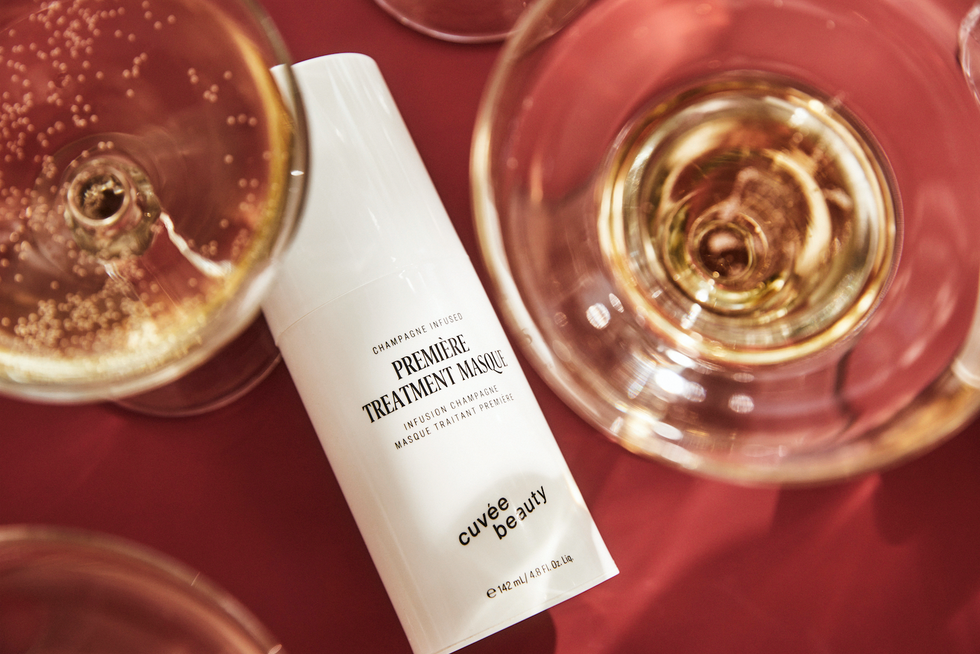 Here are four reasons why we should add a bit 'o whimsical glimmer to our holidays with this champagne hair mask from Cuvee Beauty:
It works!
This is no fad! The champagne hair mask really does give your hair a whole new glow.
Holiday season is practically here, which means more pix than you're ready for. But this year, strut into every family event with the confidence of a celeb going to face the paparazzi. No need to adjust your hair, you'll know it's healthy and gleaming — thanks to Cuvee's signature complex.
The Cuvee complex isn't merely champagne — It's packed with ultra-efficacious, skincare-grade ingredients that enhance hair and scalp health. Drawing on the power of natural ingredients, this clean mask won't damage your hair with sulfates, phthalates and parabens. Cuvee's champagne-infused hair care is clinically proven to make hair 2x stronger, 4x smoother, with 50% less breakage — definitely something to pop bottles over.
2. It's totally unique
Wonder why you've never heard of a champagne hair mask before? It's because Cuvee Beauty masks are based on a happy accident.
This innovative formula is the product of careful engineering, potent ingredients, and a true passion for hair. But before all that, came the idea. The founders of Cuvee Beauty were celebrating with a bottle of bubbly when they accidentally sprayed some on their hair. Yet, instead of the sticky mess they expected the champers to leave behind — voilà! — their hair had never looked better.
In a moment of clumsiness, the Cuvee Beauty founders discovered that grapeseed is a common ingredient in most champagne and many popular skincare products. They took the idea and ran! This antioxidant-rich mask is a one-of-a-kind indulgence that loads your hair with nourishment and luxury.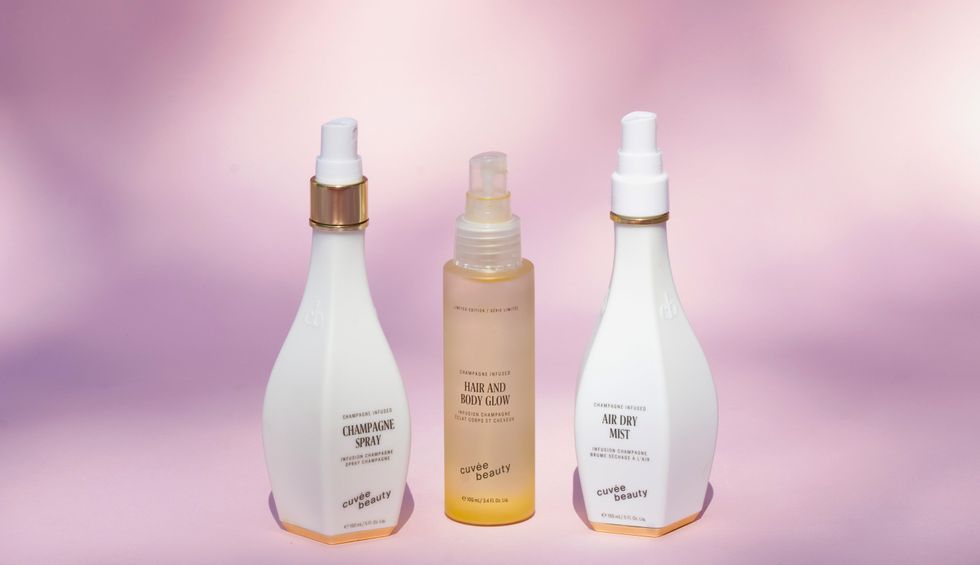 3. You deserve a break
Don't save this mask for special occasions! Treat yourself to spa-like indulgence all the time. Your hair — and your zen-self — will thank you. The holidays are such a busy time so, as you run around charming everyone you come across and impressing them with your luscious locks, be sure you make time for you.
The difference between other high-quality hair products and Cuvee Beauty is that it's tons-of-fun to use. This champagne hair mask is not a chore to apply — so you'll want to use it as often as possible. Make it a whole spa event — light a few aromatherapy candles, drop eucalyptus in your bath, and sip a glass of bubbly as the champagne mask works its magic in your hair!
4. It's a great gift

Why keep the joy of theCuvee Beautyhair mask to yourself!
Just like a bottle of champagne, this hair mask is best when shared with loved ones. Gather your friends for a PJ party and masking session, or get ready together for your big events with a mask-in. Whatever your holiday plans, treat your friends how you want to be treated, as the saying goes.