Dakota Johnson is at the top of her game and the top of the industry right this minute. And no one could have predicted it.
As some are aware, Dakota has family in the entertainment industry — yes, she's a nepotism baby. Both parents are famous actors: Don Johnson and Melanie Griffith. Her maternal grandmother, Tippi Hedren, was one of Alfred Hitchcock's muses and marks #metoo 1963.
---
Yet, despite Dakota's industry origins, her success is unprecedented. She first gained notice for her starring role in the salacious and scandalous Fifty Shades of Grey — which made her a household name. Although the franchise brought fame and popularity, her opening act pales to her latest adventure.
She soon became a darling of the entertainment world on her own merits. From being a Gucci muse for Creative Director Alessandro Michele to her viral Architectural Digest home tour, Johnson has won fans over with her elegant beauty and her disarming personality.
While Johnson has been famous for years, her career is reaching new heights only proving she's just getting started.
Dakota Johnson is in a New Phase of Her Career
The past few years have been monumental for Johnson, despite their challenges. In early 2020, she starred in a blockbuster romantic comedy The High Note, alongside Kelvin Harrison Jr and Tracee Ellis Ross. Although the film was set to be a cinematic highlight that spring, the dawn of Covid halted its potential impact.
Despite that setback, Dakota's AD feature made her an internet sensation. From her effortlessly cool style, her charming and unpretentious demeanor, and the Pinterest-worthy green kitchen, the internet simply fell in love with her home.
They fell deeply under her spell when she revealed during an interview that she'd had a lime-tastrophe. Dakota was sent into a panic after discovering her home stager had set out a plate of limes and she lied about loving the green fruit … despite being allergic.
This funny, awkward moment became a viral sensation on its own so now everyone is obsessed with her personality.
But with her career back in full swing post-covid, Ms. Johnson is reaching new heights. Though she might seem approachable and fun in real life, her roles are often unnerving and intense. Recent harrowing performances include The Lost Daughter, where she stars alongside Olivia Coleman, and Cha Cha Real Smooth, which received stunning reviews at Sundance.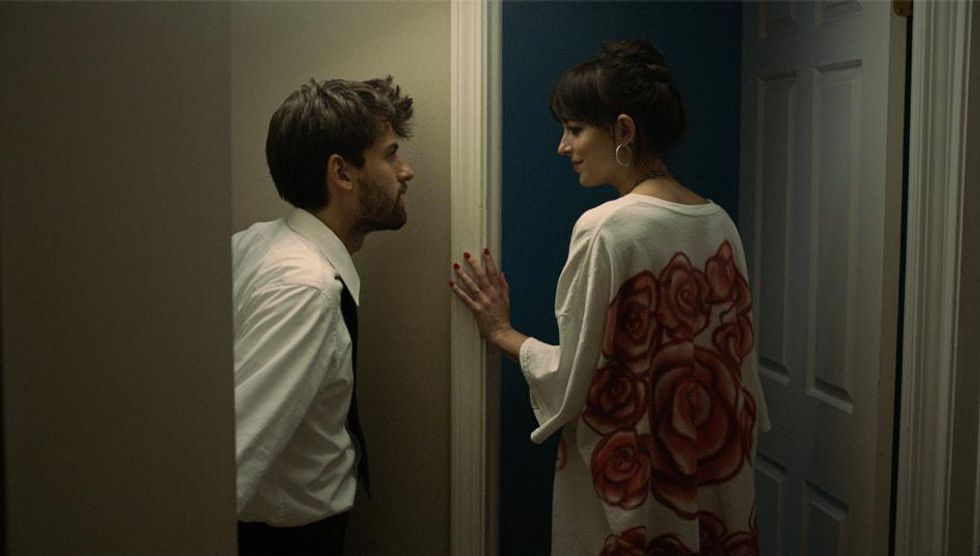 Dakota Johnson and Cooper Raiff in Cha Cha Real Smooth
Apple TV+
And let's not overlook the 2022 adaptation of Persuasion, streaming on Netflix now. That's if you — like the entire world — can't get enough of Dakota.
Dakota's Passion for Sexual Wellness
Dakota's not just one of the biggest stars on the planet — she's also an advocate for sexual wellness and sexual health. Given that a film about intimacy and sexuality launched her career, it makes sense that she'd champion openness about this taboo topic.
She's currently an investor and creative director at a sexual wellness company that matches her aspirations — Maude Wellness. Founder and CEO Eva Goicochea spent her early career as a legislative aide in healthcare and transfered those experiences to the sexual wellness industry — a modern company built on quality, simplicity, and inclusivity. A company with beautifully designed, affordable products.
Maude launched in 2018, taking the world by storm. By 2020, Dakota Johnson joined the team as an investor and Co-Creative Director. Together with their team and medical advisory board, they're changing the industry and creating a company that stands for modern intimacy — all people welcome.
Passionate about passion, Maude is on a mission to improve intimacy for all people.
What is Maude?
Everything from Maude is thoughtfully made and fairly-priced. Their products range from self-care to partner care for a high-quality, intimate experience.
Maude's Mission
Maude prioritizes the critical importance of comprehensive sex ed for all people. They even produced a limited edition collection with a portion of the proceeds benefiting their partners at SIECUS.
Focusing on cross-movement federal policy, SIECUS advances sex education by leading the Sex Ed Policy Action Council (SEPAC) – a network of state-based sex-ed advocates and policy leaders. They're working toward a world where all people can access sexual and reproductive freedom as they define it for themselves.
Founder and CEO, Eva Goicochea is passionate about creative, supportive education systems. "At Maude, we've created an ecosystem that creates, supports, and fosters sex ed throughout a person's adult life. This is via inclusive products, an informative platform, and thoughtful partnerships with organizations that drive change by access and education," she says. "We are proud to uplift SIECUS and Advocates for Youth and their shared mission to ensure a safer, healthier future for everyone."
Why Maude?
Maude's pillars are quality — working with the best factories in the world to make safe and fuss-free essentials. Simplicity — universal design to keep everything pared down and simple, always. And inclusivity.
From sexual identity to body inclusivity, Maude believes intimacy is about people so they stand for inclusion for all — no matter your preference.