And now, a brief lesson in fashion history: The year was 1873. Whale-boned corsets were considered Spanx, pocket watches were iPhones that only told time, women's swimsuits were ankle length dresses with matching pantaloons, and denim jeans were made and sold to ranchers by a little brand called Levi-Strauss.

A lot has changed in nearly 150 years, particularly when it comes to jeans options. These days, denims are runway-ready and redefining the fall trend we've come to rely on. In fact, 2018 has witnessed a bit of a denim renaissance, with indie and mass market brands rethinking the way we buy—and wear—our favorite pair of pants. This season's trends range from bold to classic and everything in between. Below, 5 trends that are making major waves in the denim department.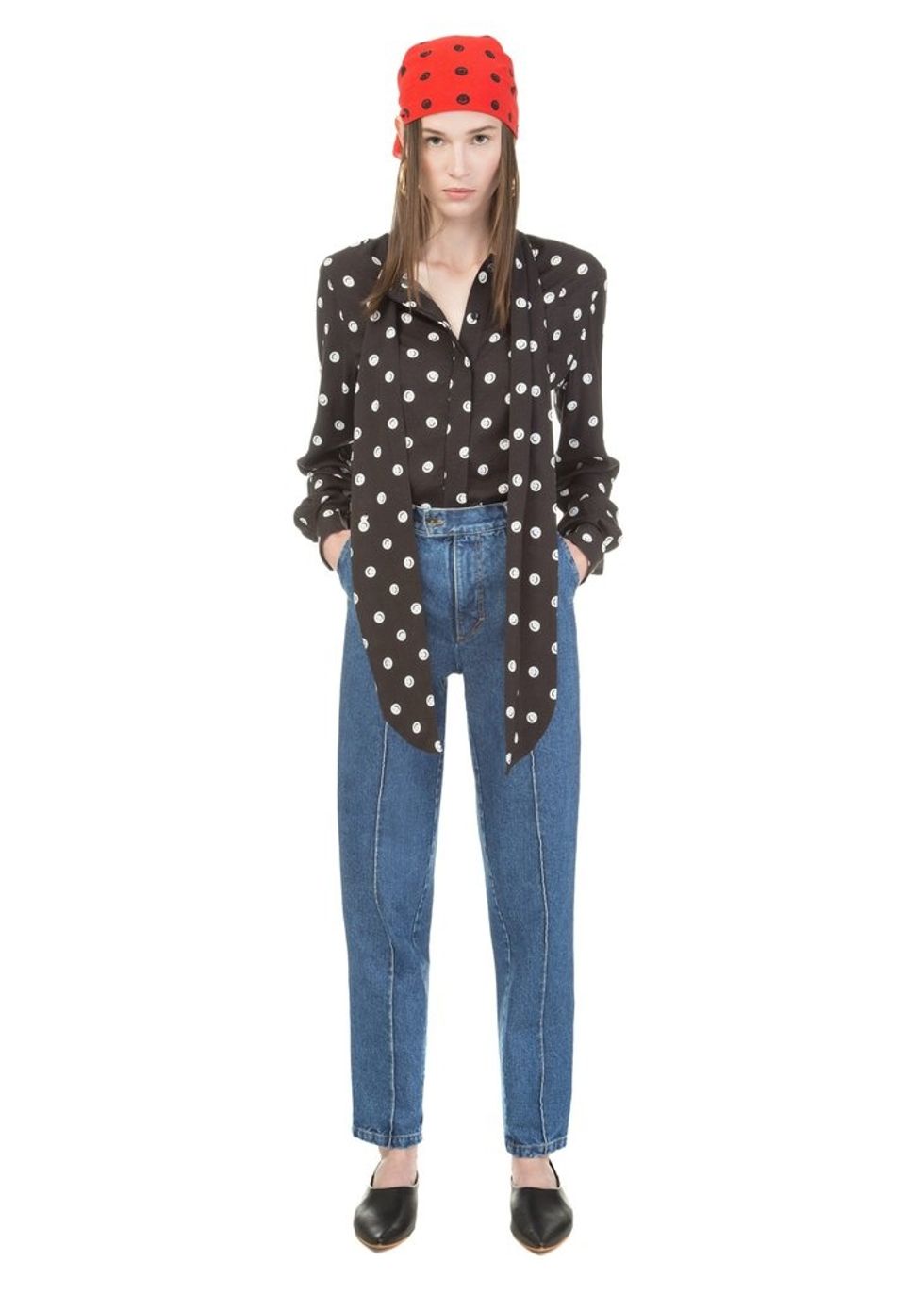 Slim Banana Jeans by Ksenia Schnaider ($375)Ksenia Schnaider
Trousers

Skinny jeans are so 2008. In this brave new world, baby blues are taking a page from classic slacks—formal enough for the office, sleek enough date night. "For fall, denim is a bit more tailored than past seasons," denim buyer Sherri McMullen tells WhoWhatWear. "I'm seeing more trouser styles, bootcut, fuller legs, and long and lean silhouettes in clean washes."
Take for example Eloquii's high-rise wide-leg denims ($89) that range in size from 14-28 and fasten with a fab bow belt.
A more streamlined version is Lysse's wide-legged denim trousers ($98) that feature a side-zipper closure, for a sleeker look.
Not to be outdone, Kiev-based designer Ksenia Schnaider, a favorite of both Bella and Gigi Hadid, boasts a wide-legged, seamed dark denim ($375) and a high-waisted and creased Banana Jean, with a trouser-style fastener. As with all all her jeans, they're handmade from recycled, vintage denim.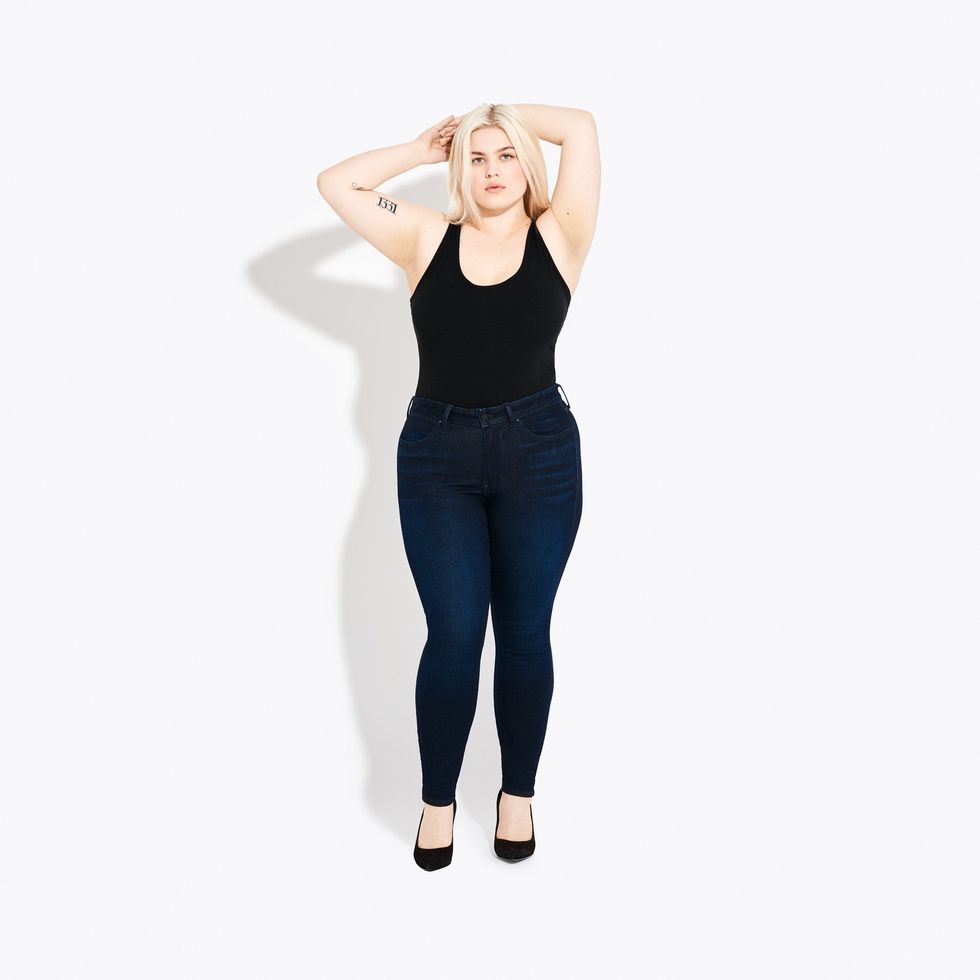 The OneLove Jean by Ayr ($195)Ayr
Eco-Friendly
Schnaider is also leading the charge on sustainable denim designs. "As a designer, it's important for me to create clothing not only with organic and vintage materials, but also to make them cutting-edge," she told Forbes in July. "All denim from the collection will be created using certified recycled and organic cotton." With only about 5 pairs of jeans produced each day, her limited output makes for coveted buys. Another beloved brand sourcing sustainable material: Closed. The Italian-made, family-run label emphasizes minimal environmental impact and sends their materials to a lab to test for pollutants. Their denims range from stretchy and skinny to wide-legged but most boast their signature, retro-style front pocket design.
Indie-brand Ohlin/D uses deadstock material to upcycle their denims. "To help minimize the continuous output that the fashion industry is guilty of as well as the massive amount of waste we send to landfills, as a brand we seek out fabric that is designated to be thrown out," brand founder and president Anne Deane tells Fashionista. "A large amount of our denim comes to us this way."
Meanwhile, LA-label Ayr requires minimal resources (a cup of water and recycled denim) to create their styles, and donates a portion of their proceeds to charities like the Fresh Air Fund.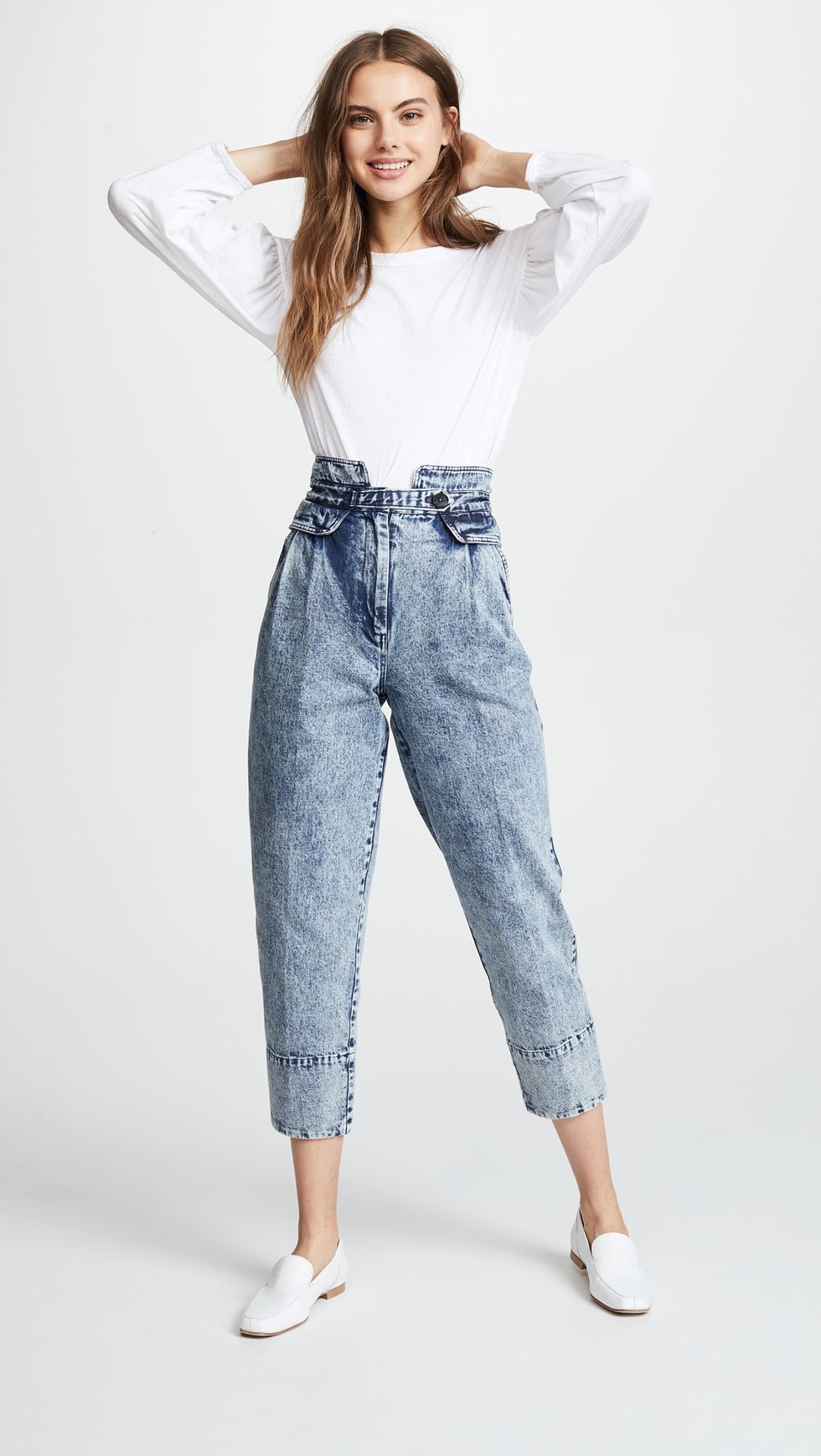 Jocelyn Acid Wash by Sea ($345)ShopBop
Acid Washed

Back in August, Katy Perry pulled on a pair of acid-washed jeans and posted a pic on Instagram which got enough traction that Vogue declared the return of the '80s trend. "Perry's acid-wash experiment may look like something pulled straight out of Nancy's closet on Stranger Things," wrote Vogue's Janelle Okwodu, "but don't act surprised if you see every street style queen wearing the exact same thing in a few months' time." Truth. There's no shortage of the washed-out, Reagan-era look this fall, with brands like Good American pulling a straight-legged look ($100), Noisy May ($64) and Sea honoring the mom-jean cut ($345), and even Gap reviving the look for budget-shoppers ($34).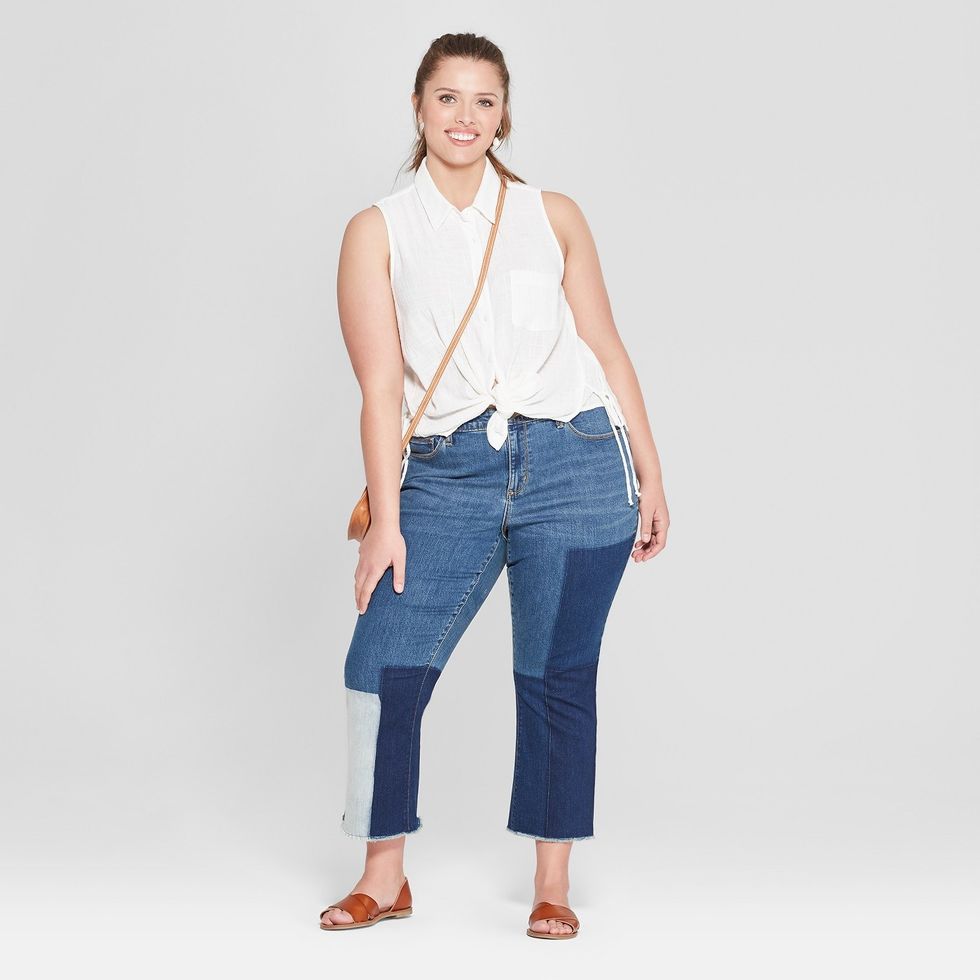 Patchwork Kickboot Crop by Universal Thread ($22)Target
Patchwork

The Denim on Denim look is huge this season—with denim jackets and jeans harkening back to a purer time when Justin Timberlake and Britney Spears were VMA dates. But if you're looking for a toned-down version, consider patchwork jeans. The look is actually more '70s than early 2000s, with squares of dark and light denim comprising both narrow and flare-legged cuts.
"Wearing different washes and colors together will be big," Brooklyn-based buyer Jessica Mastriano told The List. From J.Crew's knee-framing style ($125) to Universal Thread's all-over quilting ($22), you can mix-and-match your denim wash all with one single pair.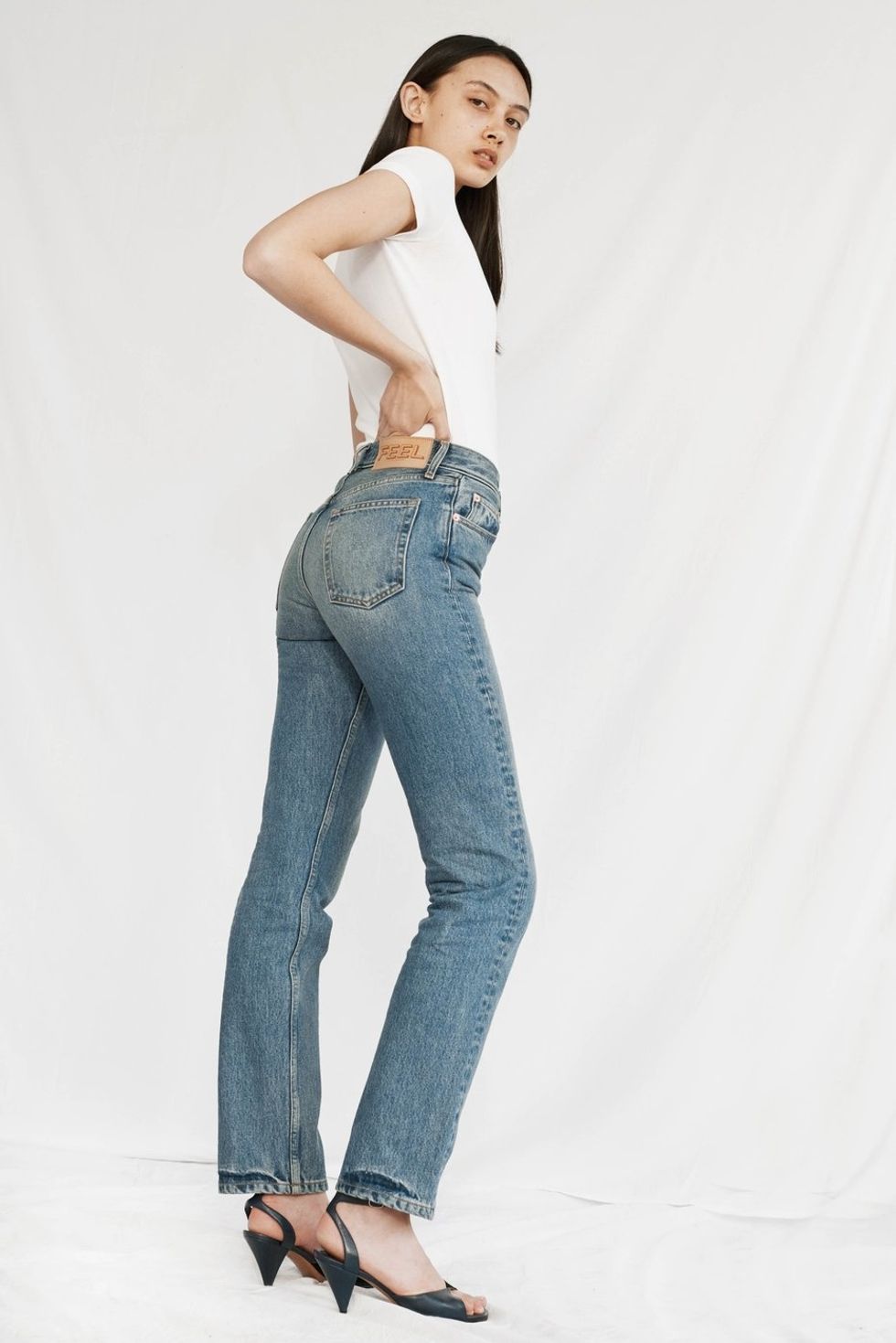 Genuine Jeans by Feel Studio ($225)Feel Studio Inc.
One-Style-Fits-All

Finally, there's one trend that's going back to the basics. Feel Studio Inc. has been receiving plenty of buzz for their bold decision: designing one style of jeans for every body type. Boasting a simple, medium-rise waistline and a straight cut, Feel's jeans ($225) focus on flattering various figures with one solo design. "Fit is what we really focus on," founder Stevie Dance recently told TheNewYorkTimes. "It doesn't matter how cool the wash is or how great the fabric is. Ultimately it always comes down to how you feel in them." Meanwhile, designer Telfar Clemens, whose eponymous unisex label broke out in a major way a few years back, has introduced a new line of gender-neutral denims. ""The whole point of the line is that it's universal," Clemens told Women's Wear Daily earlier this year. And let's not forget Levis, the brand that brought us the OG workwear pants. This season, they've introduced (or reintroduced) Levi's Classics into their Made and Crafted line, bringing fine craftsmanship and internationally sourced fabrics to the classic button-fly 501s ($188). The straight, simple, durable style, as the company puts it, "is a blank canvas for self-expression." So what do you want to say with your jeans?