In 2019, our smartphones have become virtual nutritionists—with over 250,000 fitness and diet apps available with the tap of a finger. While downloading an app doesn't guarantee you a healthier lifestyle, there is new evidence that diet apps, like My Fitness Pal and Lose It!, can help users lose the weight and keep it off more effectively.
"Free and low-cost weight loss apps have changed the ways that Americans manage their weight," notes Gary Bennett, a Duke psychology professor and co-author of a recent study that found food tracking apps to be effective. "We've shown that commercial smartphone apps can be a helpful way to get started with weight loss."
Food tracking apps may be effective, but they're only scratching the surface of what's possible when it comes to mobile nutrition. There are a handful of innovative new apps that combine scientific research with crowdsourcing to help users make healthier choices with the swipe of a finger. From AI to Chatbots and more, behold the future of weight loss.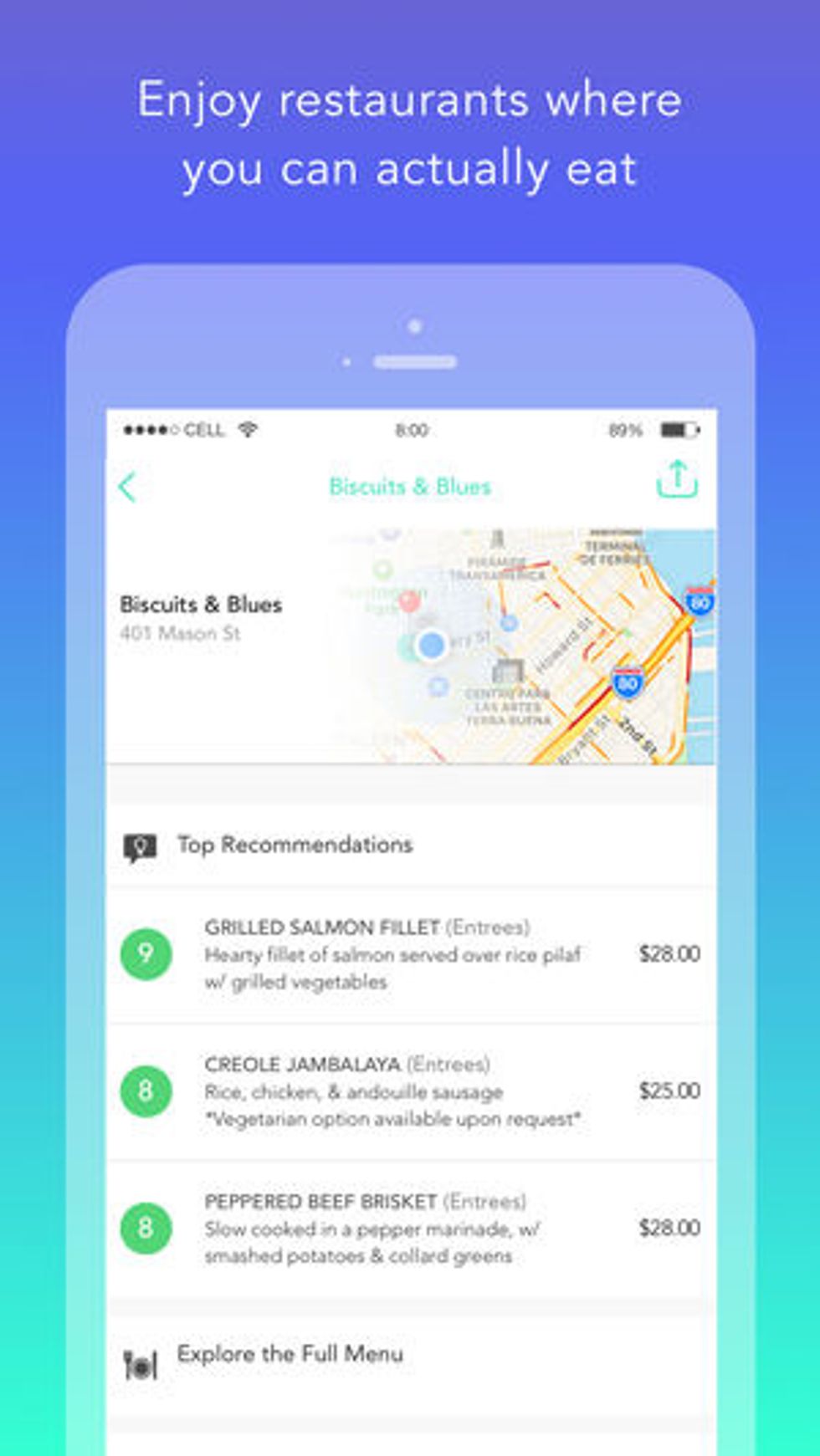 itunes
One of the biggest diet de-railers is eating out. It's what makes so many meal-plan diets unrealistic, and the root of many an anxiety attack in the face of a restaurant menu. Enter Suggestic, an app that uses artificial intelligence to help you make healthy choices even outside of your own kitchen. After you fill in your diet plan and basic health info, the app is able to suggest local restaurants and then determine what you should order based on your weight loss goals. Just point your phone at a menu (there are over 500,000 restaurants in their database) and let the app detect your guilt-free order.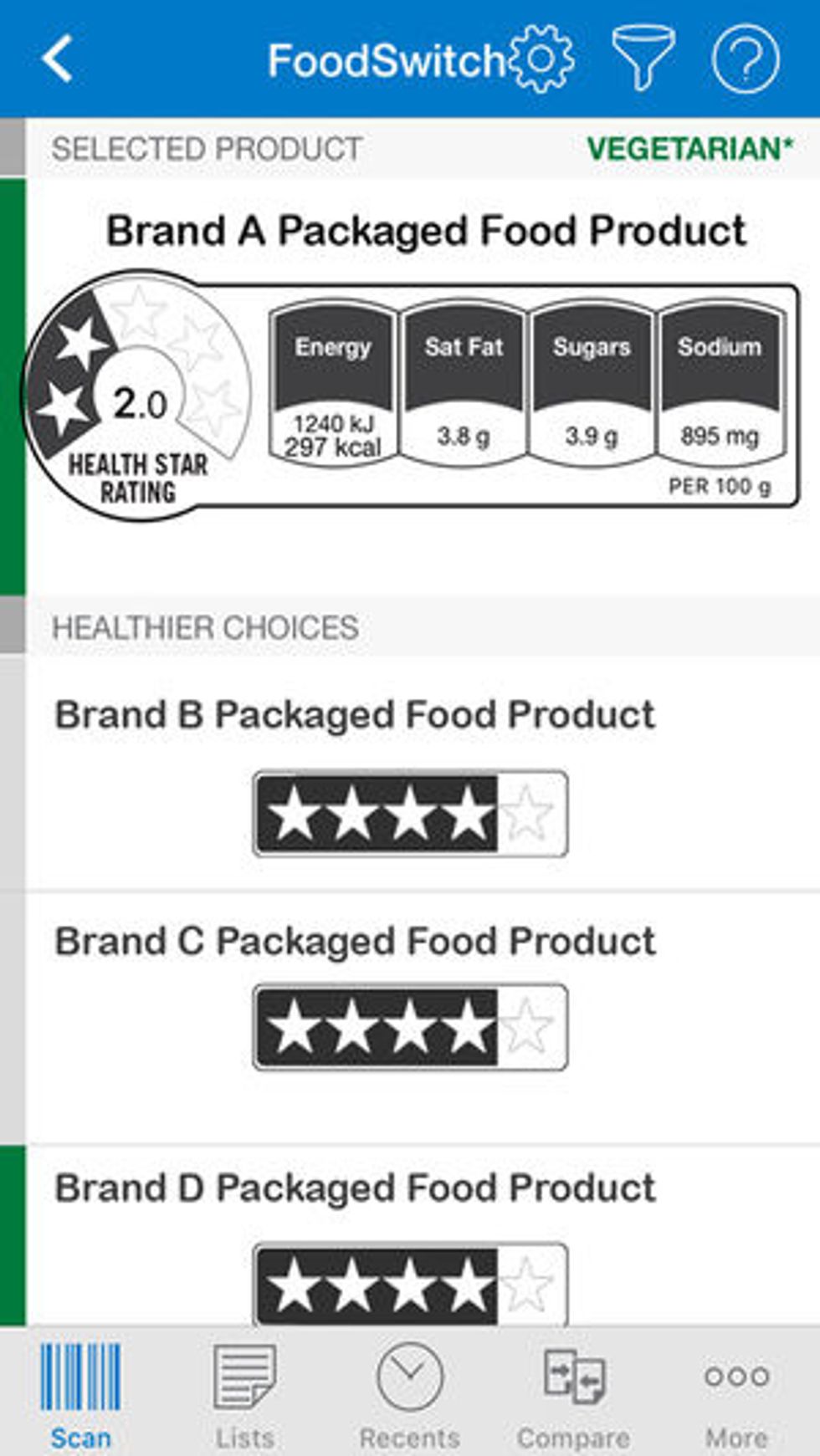 itunes
This app is like having a personal nutritionist in your own back pocket. Created in collaboration with a Northwestern University cardiologist, Foodswitch lets you scan barcodes in grocery stores and provides health-based star ratings for over 260,000 products. It also suggests healthier options— so if you're looking for, say, peanut butter with less sugar or lower salt content, the app will suggest which brand is your best bet. With so many labels boasting fat-free and healthy alternatives, FoodSwitch examines the actual stats and lets you compare items to decode whether something is really good for you or just marketed that way.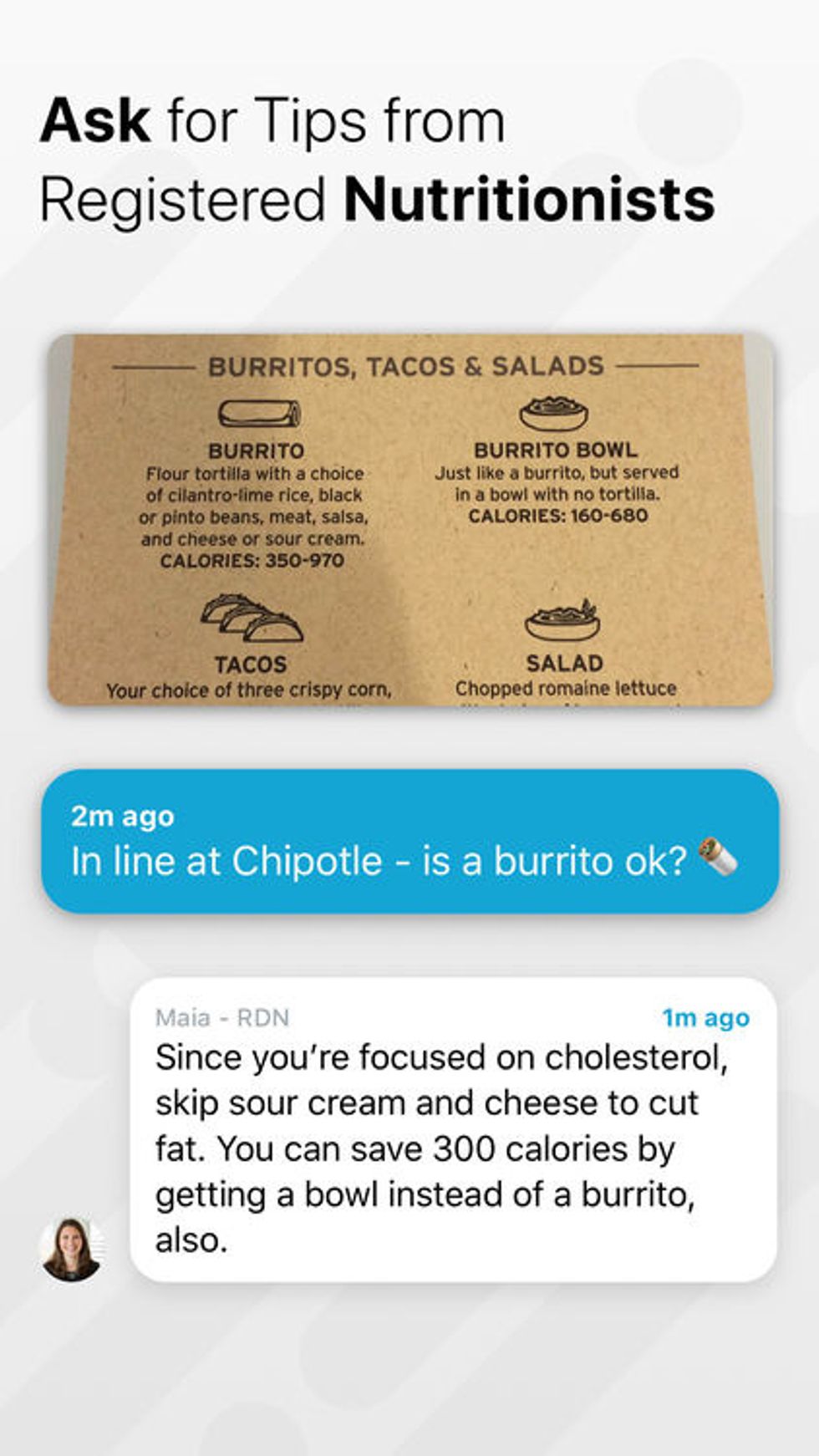 itunes
If you prefer an on-call advisor to coach you through your healthy choices, this app may be for you. Launched in 2018, Food Therapy uses chatbot technology to match users with registered dieticians for personalized answers on everything from meal prep to menu decisions, as well as prompts about staying the course. Weekly challenges offer extra incentives to commit to your dietary plans, and you don't even have to pay a penny to download the app.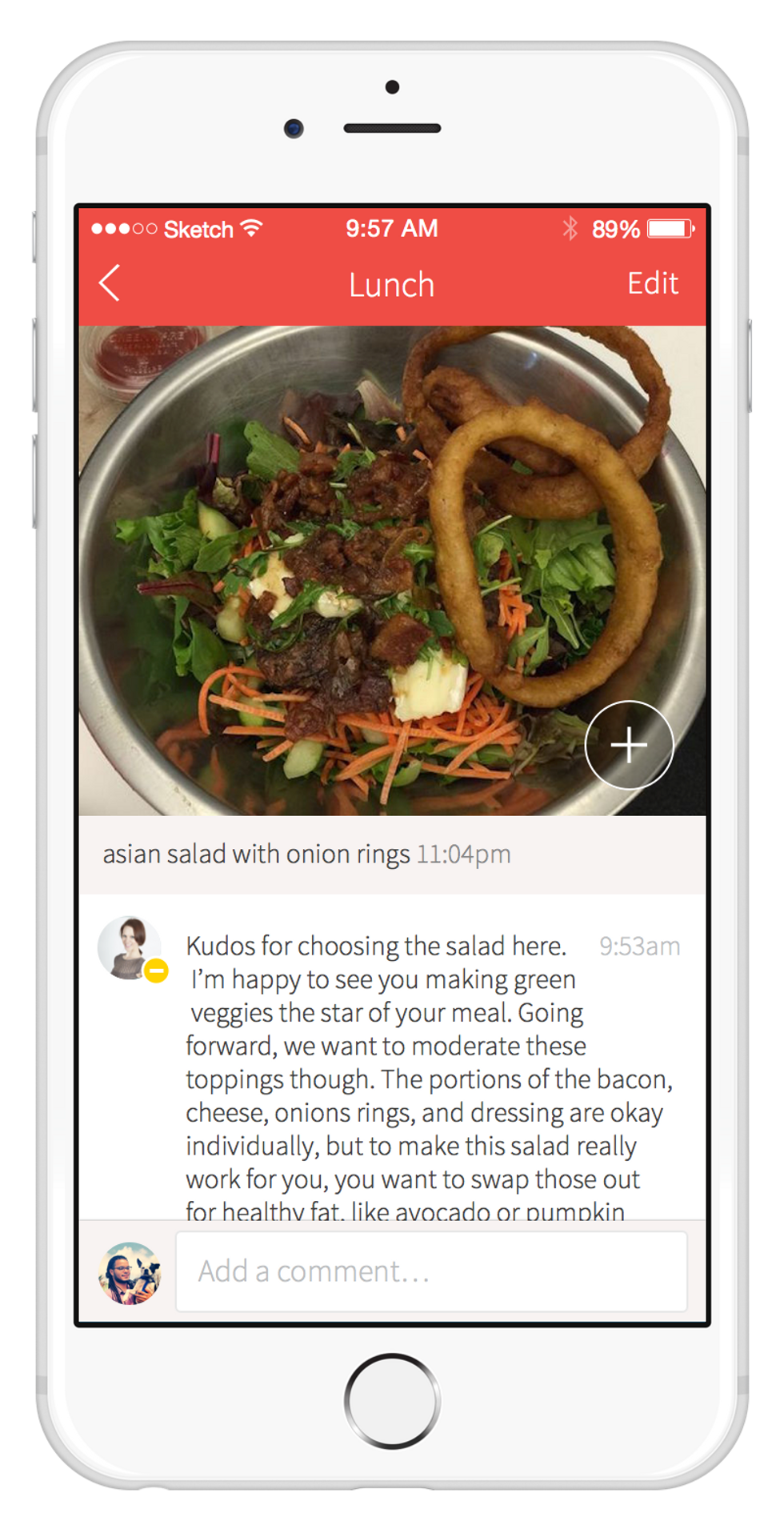 itunes
If you're already snapping pics of your food, why not send them to a health expert for feedback? Co-founded by CNN's chief medical correspondent Dr. Sanjay Gupta, Rise offers one-on-one diet coaching in an inventive way. Based on your food photos, your personalized nutritionist will target problematic foods you may be eating, offer alternatives that satisfy your tastebuds, and enroll you in group challenges to set you on a healthier path and keep you on it.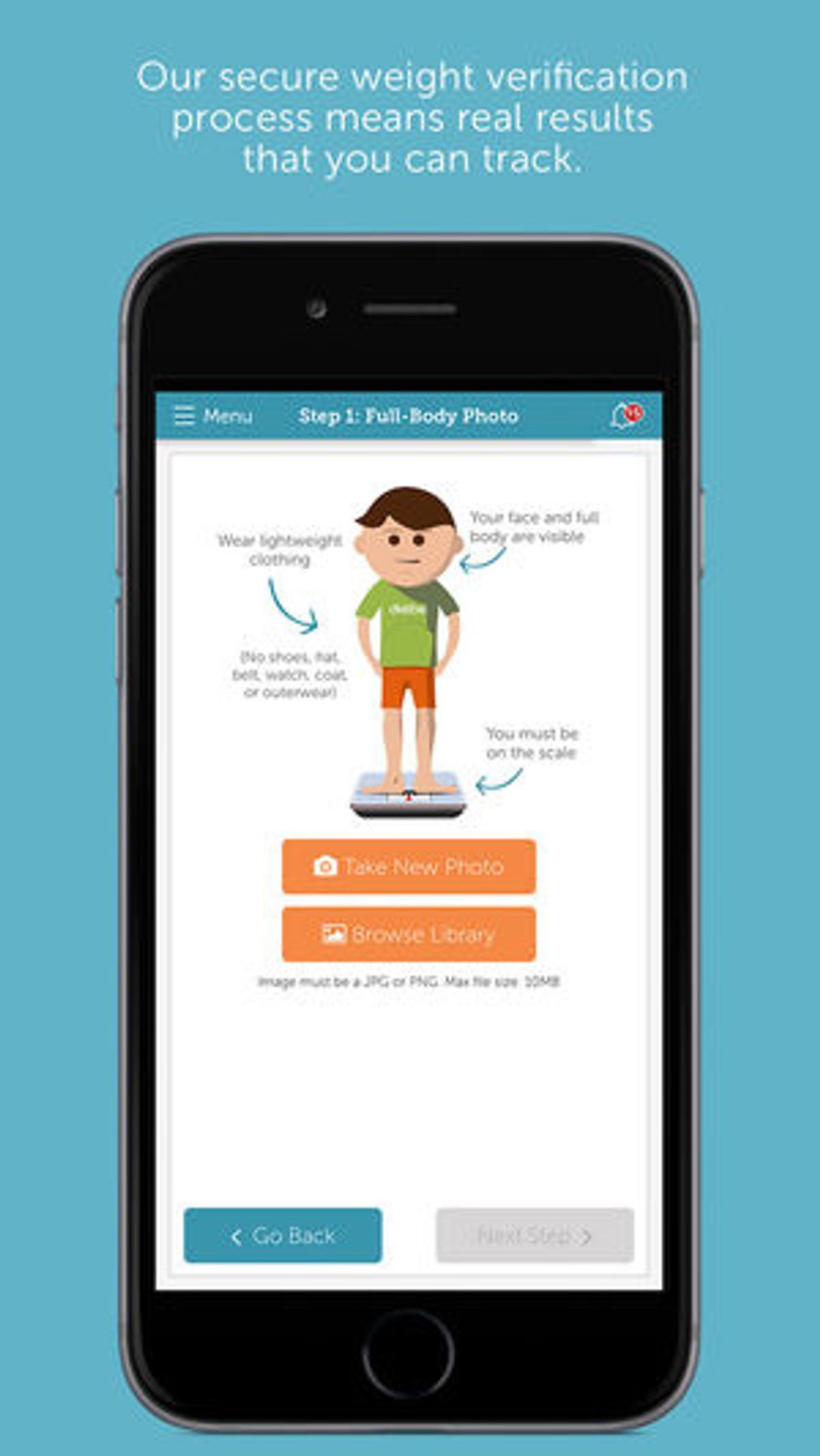 itunes
Losing weight is a journey and the rewards aren't always instantaneous. This app aims to resolve that problem by dangling prize money for users who meet their target weight loss goals within set time frames. The community-based app offers multiple challenges, like a four-week plan where participants compete to lose 4 percent of their body weight. Depending on the challenge, betters throw down as little as $25 and as much as $125 in order to compete. According to the company, on average, players win anywhere between $40 and $325 depending on which challenges they partake in and how they fare at the end.
While the competitive, goal-oriented aspect of the app can be incentivizing for some dieters, it's not for everyone. "There's the hope that you will follow through on a behavioral change by committing to something," notes Dr. Ariane Machín, a clinical and sports psychologist who examined the app for CookingLight. "[But] I could see it setting up rigidity about food and exercise that may be hard to break—it could disconnect you from natural signals about eating healthy."
Reviews run the gamut from superfans who lost weight and made money, to those who felt scammed by the guidelines. As one reviewer notes, winning isn't really about the money. "On average I've made an extra $20 or so in addition to my initial bet. If you're just looking for a way to make cash, this isn't it... The goal here is motivating yourself to be healthy, not making money."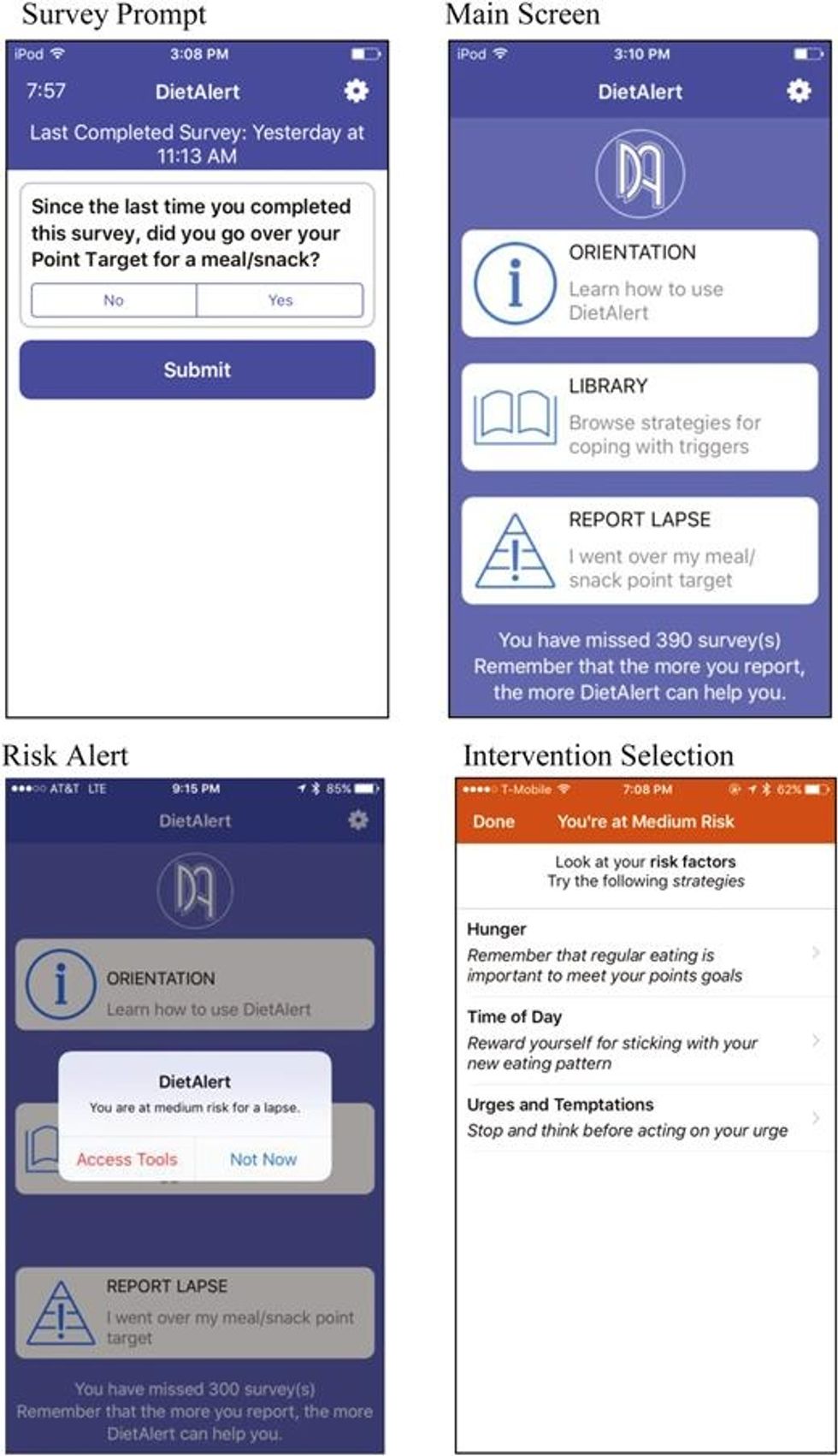 Drexel University
OnTrack (Coming Soon!)
This upcoming data-driven app employs AI and customized algorithms to predict an individual users' dietary habits, and put a stop to the bad ones. If this sounds like science fiction, it's not. In March, researchers at Drexel University published results from their study road-testing OnTrack with volunteers. Each time a participant veered from their diet, the app took note, using the intel to predict future breaking points and offer coaching messages to keep the user on track. And the results? It apparently worked. Participants averaged a 3.13 percent weight loss and a marked reduction in unplanned lapses in their diet. So when can we download this thing? It's apparently still being prepped for the public, so keep an eye out for this app to drop sometime in the not-so-distant future.
Dieting is still a challenge, and committing to a healthier lifestyle doesn't happen with a single download. But with the latest influx of apps, there are more ways to stay motivated and avoid the pitfalls in order to meet your goals. The best part? It's all in the palm of your hand.