The tastiest way to welcome fall?
Making the most of fall produce, like eggplants, that are in their peak season until the end of October. Traditional French and Italian dishes like ratatouille and caponata transform fresh vegetables into creamy, caramelized perfection. These delicious vegetable dishes can be slathered on crusty bread, mixed into pasta, eaten as a side with any protein, or even served on their own. To enjoy these classic recipes the traditional way, dig in with a loaf of fresh, warm bread. Glass of red wine (or two or three) optional.
Ratatouille
Ratatouille is a well known French recipe. Unlike many protein based French dishes, vegetables are the main attraction in Ratatouille. Learning how to cook this savory dish teaches you how to get the most flavor out of your vegetables, a technique you'll use over and over again with other produce year round.
The secret to great ratatouille? Cook all your veggies separately in a pot on the stove until caramelized and brown. Then layer all the vegetables back in the same pot and add lots of olive oil. Add in some tomatoes and let it all stew. Caramelizing each vegetable to perfection on it's own before mixing them all together is the secret to unbeatable flavor.
We recommend that you blanch and peel your tomatoes before adding them to your other caramelized vegetables. Use high quality extra virgin olive oil, preferably from France. Cube your eggplant, slice your peppers and onions, and cut zucchini into rounds. Cutting your veggies into different shapes gives the dish a more interesting texture.
Recipe byMelissa Clark for The New York Times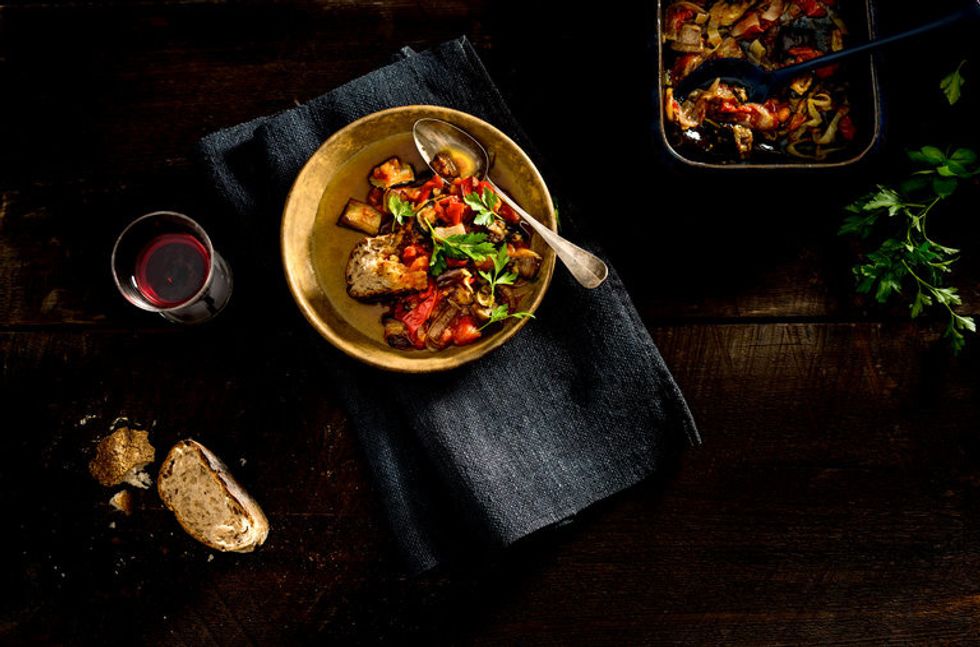 Ratatouille Recipe New York Times Cooking
4 garlic cloves
2 medium white onions
3 medium zucchini
2 medium eggplant
3 sweet red peppers, such as bell peppers, red cubanelle or any other sweet variety
3 sprigs fresh rosemary
6 sprigs fresh thyme
1 cup olive oil, more as needed
2 large heirloom or beefsteak tomatoes
2 small bay leaves, ripped in half
1 ½ teaspoons fine sea salt, more as needed
Freshly ground black pepper
Directions:
Heat oven to 350 degrees.
Prepare the vegetables: Smash and peel 3 garlic cloves, saving the 4th. Halve onions through their roots, and slice halves into 1/4-inch-thick pieces. Slice zucchini into 1/4-inch-thick rounds. Cut eggplant into 1-inch cubes or spears. Seed peppers, and cut them into 1/4-inch-thick strips.
Spread each vegetable on a separate rimmed baking sheet (use extra sheets as necessary). Add the 3 cloves of smashed garlic to the onion pan. Add 1 sprig rosemary and 2 sprigs thyme to each of the pepper, eggplant and zucchini pans. Sprinkle salt lightly over vegetables. Drizzle 3 tablespoons olive oil on each of the pans.
Place all the pans in the oven (or work in batches if they don't fit at once). Cook until vegetables are very tender and lightly browned at the edges. This will take about 35 to 40 minutes for the peppers (their skins should shrivel), 40 to 45 minutes for the eggplant and zucchini (the eggplant should crisp slightly and the zucchini should be well cooked, so let them go 3 to 5 minutes longer than you normally might), and 60 to 65 minutes for the onions. Don't worry about the vegetables being pretty; they will meld into the ratatouille. Shake or stir the pans every 15 to 20 minutes or so, especially the onions.
In the meantime, prepare the tomatoes: Bring a large pot of water to a boil. Add tomatoes and blanch until the skins split, about 10 seconds. Use a slotted spoon to quickly transfer the tomatoes to a bowl filled with ice water.
Using a paring knife, peel the cooled tomatoes (the skins should slip right off). Halve tomatoes across their equators. Set a sieve over a bowl. Working over the bowl, use your fingers to seed the tomatoes, letting the seeds catch in the sieve and the juice run into the bowl. Discard seeds but save juices. Dice tomatoes and add to the reserved juices in bowl.
Finely grate or mince remaining garlic clove. Add garlic to tomatoes along with bay leaves and a large pinch of salt. Set aside.
Once vegetables are done cooking, combine them on one baking sheet or a large shallow baking dish and add ingredients from tomato bowl. Toss well. Vegetables will be stacked, and that's O.K. Cover generously with olive oil, using remaining ¼ cup oil or more, and sprinkle with salt. Everything should have a good coat of oil, but should not be drowning in it. Cook at least 1 hour, stirring every 15 to 20 minutes, until vegetables are very tender and imbued with juices and oil. Add salt and pepper to taste, then serve warm, or let cool.
Caponata

Caponata is a traditional Sicilian dish. It's a sweet and sour version of ratatouille that uses sugar and vinegar to transform the vegetables into more of a relish than a stew. It's delicious served warm as bruschetta, but even tastier cold the next day. Make a big batch. You can also use caponata as a topping for fish, on eat it on a bed of arugula for a delicious lunch, or just dig in with a side of warm bread.
For the best flavor, follow the same instructions as ratatouille, cooking each vegetable separately first. You can also use your oven instead of the stove top to make both ratatouille and caponata, by baking each vegetable separately on a baking sheet —drenched in olive oil of course. Combine all the veggies on one baking sheet when they're nice and caramelized, then add more olive oil. Roast it all again until everything is melt in your mouth tender.
Recipeby SAVEUR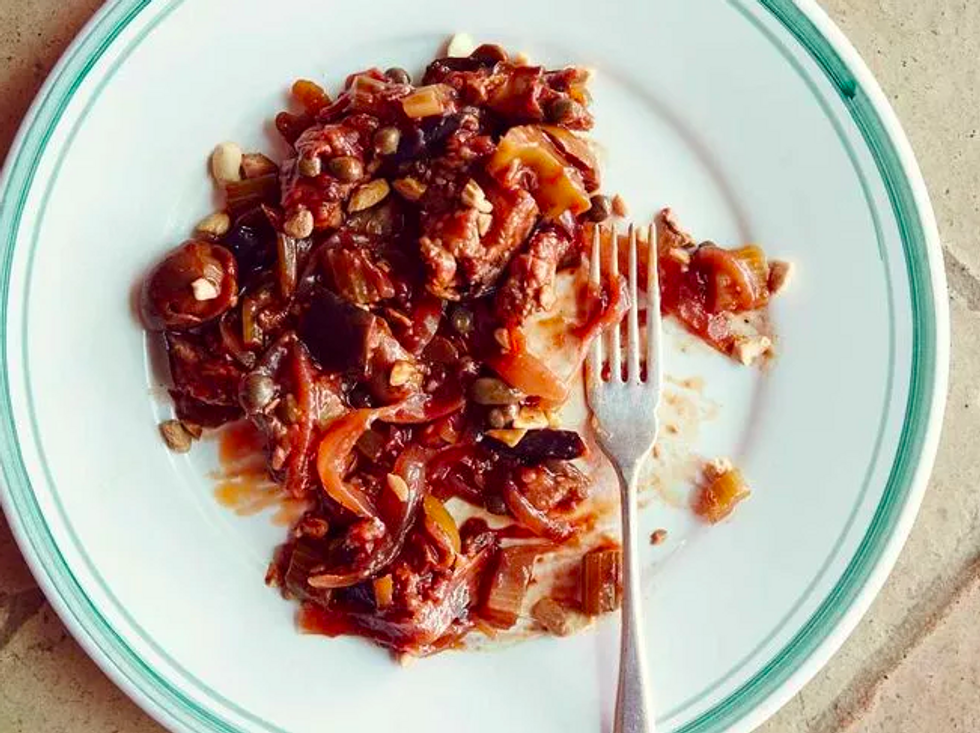 Caponata RecipeSaveur
Ingredients:
4 medium eggplants (about 2 lbs.), cut into ¾-inch cubes
Kosher salt
2 celery stalks, cut into ½-inch-long pieces
1 large red onion, thinly sliced lengthwise
6 oz. pitted green olives, halved
1⁄4 cup capers, rinsed and drained
1⁄4 cup tomato paste
1⁄2 cup red wine vinegar
2 tbsp. sugar
1⁄2 cup toasted whole almonds, finely chopped
Freshly ground black pepper
Extra-virgin olive oil, for drizzling
Directions:
Place the eggplant in a colander, season liberally with salt, and toss to combine. Let the eggplant stand for 30 minutes, then rinse under cold running water until all the salt is gone. Squeeze all the moisture from the eggplant and dry them thoroughly on paper towels. In a large skillet, warm the olive oil over high heat. Working in three batches, add the eggplant to the oil and fry, tossing occasionally, until dark brown all over for about 10 minutes. Using a slotted spoon, transfer the eggplant to paper towels to drain and discard all but 2 tablespoons of the olive oil.
Reduce the skillet to medium heat, add the celery and onion, and cook. Stir occasionally until soft, about 6 minutes. Stir in the olives and capers and cook for 2 minutes. Add the tomato paste and cook, stirring, until the paste is lightly caramelized, about 2 minutes more. Pour in the vinegar and sugar and cook, stirring, until the sugar dissolves and the vinegar almost completely evaporates, 2 to 3 minutes more.
Scrape the vegetables into a large bowl, stir in the eggplant and the almonds, and season the caponata with salt and pepper. Drizzle the caponata with extra-virgin olive oil before serving.