Chances are your slow cooker gets a lot of use during the fall and winter, but has been tucked away for months. That doesn't mean you have to give up convenient one pot meals though. If you want to make the most of summers delicious produce before fall rolls in, but don't have time to put together complicated meals, look no further than your sheet pan!
A sheet pan is incredibly versatile and is a great way to make light, summer, one-dish meals. Sheet pans usually get pulled out to bake a fresh batch of cookies but can be used for so much more. Think: homemade granola, toasted nuts, pizzas, roasted vegetables, juicy roast chicken, and perfectly baked fish. You can even make sheet pan desserts. Roasted pineapple with honey and pistachios anyone?
Roasting vegetables with proteins like salmon or chicken lets all the juices mix together as they cook. The result is a mouth watering sauce at the bottom of the pan. You also get beautiful caramelization and browning on chicken skins and vegetables that you wouldn't be able to get with your slow cooker. Sheet pans make no-nonsense meals easy to whip up. Just throw a few ingredients on one pan, add your seasonings, a light drizzle of oil and pop it in the oven. Aside from making dinner easy to put together, sheet pans also make cleaning up a one step process.
They're a kitchen item almost everyone has. Even if you don't consider yourself a homecook, you probably have a sheet pan laying around somewhere. If you're one of the few without a classic sheet pan pick one up asap. They're inexpensive and will definitely come in handy. Want to heat those leftovers up without a microwave? Grab your sheet pan. Look for one with nonstick finishes, it'll make cleaning up a breeze.
Here are four healthy summer sheet pan dinners for those lazy, end of summer nights:
One Sheet Pan Herb Crusted Salmon with Garlicky Green Beans and Cherry Tomatoes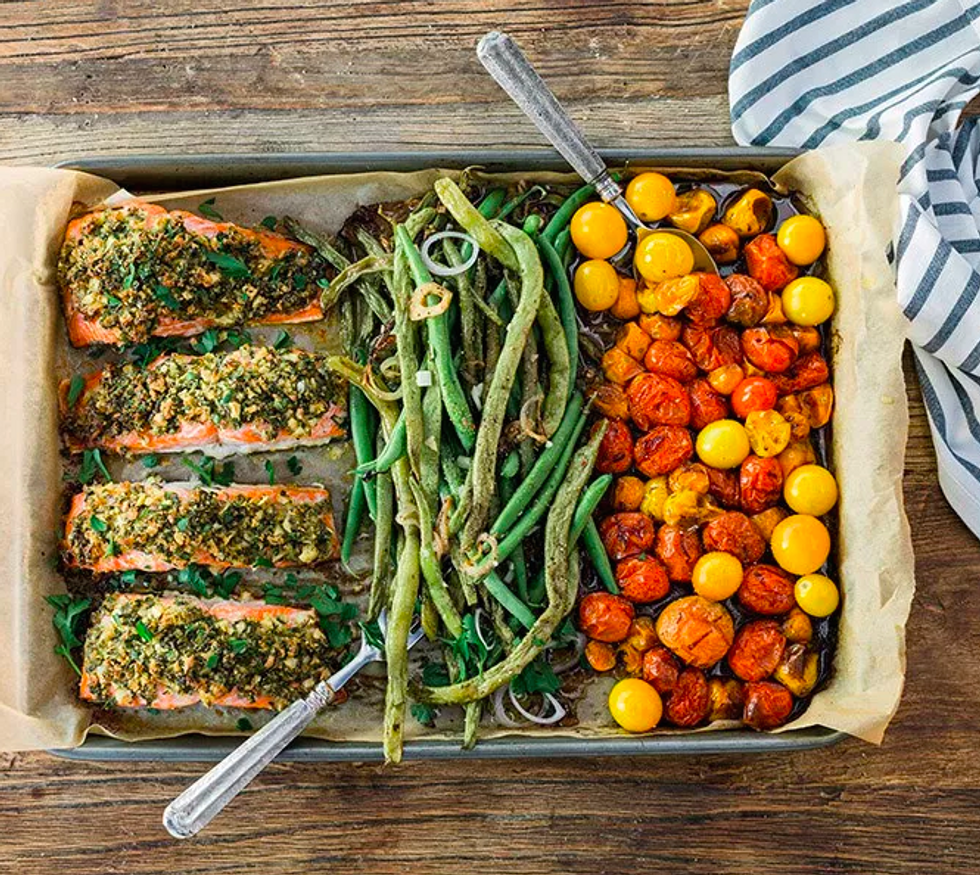 Sheet pan salmon with green beans and cherry tomatoesWaiting on Martha
This recipe by Waiting on Martha is super easy to make, but when plated looks like you put in a lot of effort. It's super lean, seasonal, and elegant enough to serve if you're having guests over. Stop by the farmers market and pick up delicious heirloom cherry tomatoes and green beans while they're still in season!
Ingredients:
1 Large filet of wild caught salmon or 4 individual fillets with skin on and de-boned
Fresh, whole, green beans
2 pints of heirloom cherry tomatoes
2 sliced shallots
3 garlic cloves, roughly chopped
Salt and pepper to taste
4 tbs of olive oil
2-3 tbs of balsamic vinegar
1 sheet of parchment paper
Herb Mixture:
8 cloves of garlic
Handful of parsley, thyme, rosemary, oregano, and basil chopped
1 tbs of olive oil
Salt and pepper
Directions:
Preheat oven to 400 F degrees.
Assemble tomatoes to one side of the sheet pan and season with salt, pepper, and drizzle balsamic vinegar on top.
Add green beans to sheet pan, top with slice shallots and rough chopped garlic. Season with salt, pepper, and drizzle olive oil on top.
Make herb mixture by combine all chopped herbs into a pile on cutting board. Drizzle with olive oil and mix into a paste with your fingers.
Assemble salmon fillets on sheet pan and rub with herb mixture on top.
Cook for approx. 20 minutes or until tomatoes are bursting.
Enjoy!
Sheet Pan Vegetarian Bowl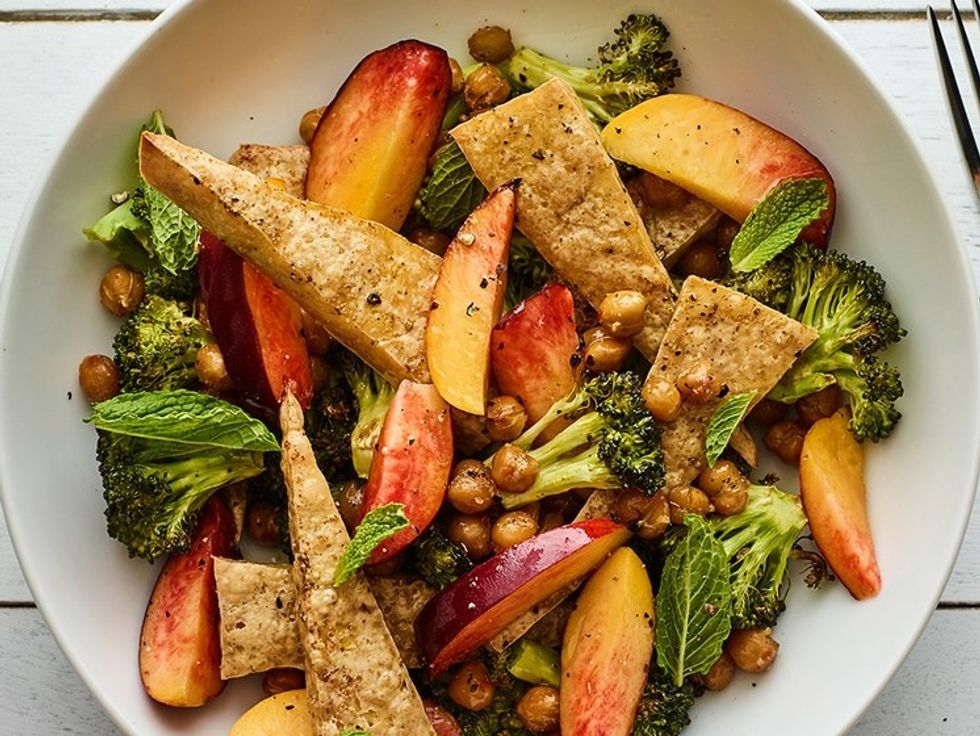 Sheet pan vegetarian bowlSelf Mag
Here's a vegetarian sheet pan recipe from Self Magazine that's super nourishing and easy to make. You might want to make this meal in bulk though. It's easy to use during the week and is great for meal prepping (link to meal prepping article with live). If you aren't strictly vegetarian try throwing a fried egg on top for breakfast or mixing shredded chicken with the leftovers for lunch the next day.
Ingredients:
10 ounces extra-firm tofu, drained
1 ⅓ cup canned chickpeas, rinsed and drained
4 cups broccoli florets
2 tablespoons olive oil
½ teaspoon ground cumin
Salt
Pepper
2 tablespoons fresh mint, chopped
2 tablespoons balsamic vinegar
1 large peach, pitted and cut into wedges
Directions:
Heat oven to 400 degrees. Line a sheet pan with parchment paper.
Cut tofu into rectangles 1-inch thick, then cut each rectangle into long triangles. Press tofu between two paper towels, squeezing out as much moisture as possible.
In a bowl, combine tofu, chickpeas, and broccoli. Add ½ tbsp olive oil and cumin; season with salt and pepper. Gently toss to coat, taking care not to break up tofu.
Spread on lined sheet pan and bake 20 minutes, until chickpeas are lightly browned and broccoli is al dente.
In another bowl, whisk together remaining ½ tbsp olive oil, mint, and vinegar. Add cooked tofu, chickpeas, and broccoli, then add peach wedges. Toss to coat.
Roasted Chicken Thighs with Summer Squash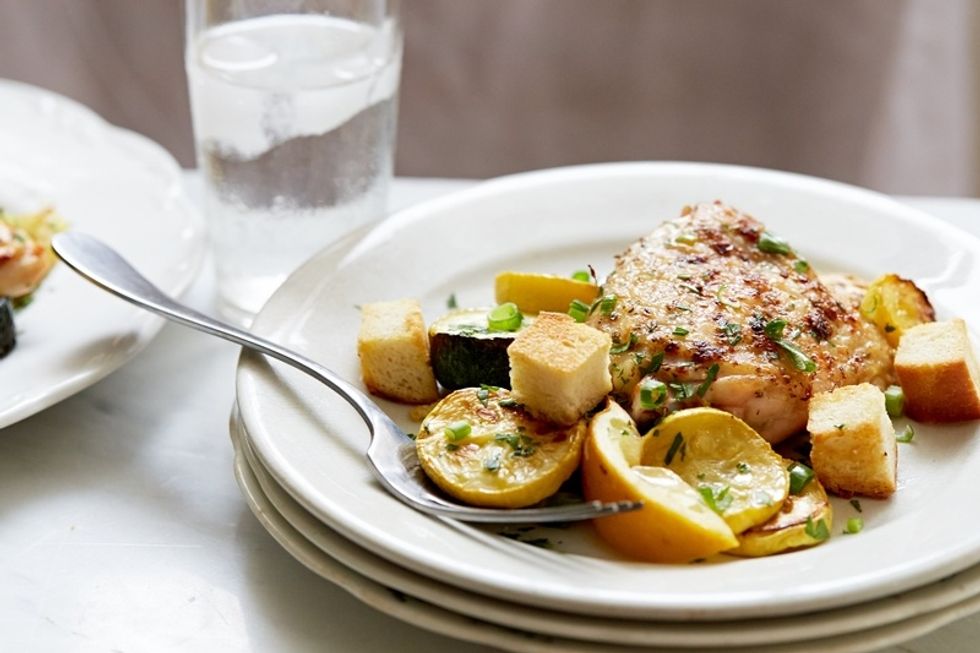 Sheetpan chicken thighs with summer squashGiadzy
Remember when I mentioned that sheet pans dinners let all those protein and vegetable juices mix together in a delicious sauce at the bottom of the pan? This recipe from Giadzy does exactly that. And there's crusty croutons mixed in to soak it all up. You also get delicious caramelization on the chicken skin and summer squash. Yum!
Ingredients:
4 slices French bread, cut into ½-inch cubes (about 1 cup)
1½ teaspoons extra-virgin olive oil, divided
1 tablespoon freshly grated Parmesan cheese
1 teaspoon freshly grated lemon zest
¼ teaspoon red chili flakes
¼ teaspoon dried oregano
¼ teaspoon freshly ground black pepper
½ teaspoon kosher salt, plus ¼ teaspoon
1½ pounds skin-on, bone-in chicken thighs, about 6 thighs
2 small zucchini, sliced into ½-inch rounds
2 small yellow squash, sliced into ½-inch rounds
2 lemons, quartered
3 scallions, finely chopped
1 tablespoon freshly chopped parsley
Directions:
Place an oven rack in the center of the oven and preheat the oven to 450°F. Toss the bread cubes with 1 teaspoon of olive oil and the Parmesan and scatter them around the sheet tray.
Combine the zest, chili flakes, oregano, pepper, and ½ teaspoon salt and sprinkle liberally over the chicken thighs and place them skin-side down on the sheet tray. Roast the chicken and croutons for 15 minutes. Remove the tray from the oven and turn the chicken skin-side up. Add the zucchini, squash, and lemon to the tray, sprinkle with ¼ teaspoon of salt, and drizzle with ½ teaspoon olive oil.
Return the tray back into the oven and continue to roast until the croutons and vegetables are golden and a thermometer inserted into the thickest part of the thigh (avoid the bone) reads 165°F, about 15 minutes. To serve, transfer the chicken and vegetables to a large platter, squeeze the roasted lemons over everything, and sprinkle with the scallions and parsley.
Baked Snapper with Harissa, New Potatoes, and Spring Onions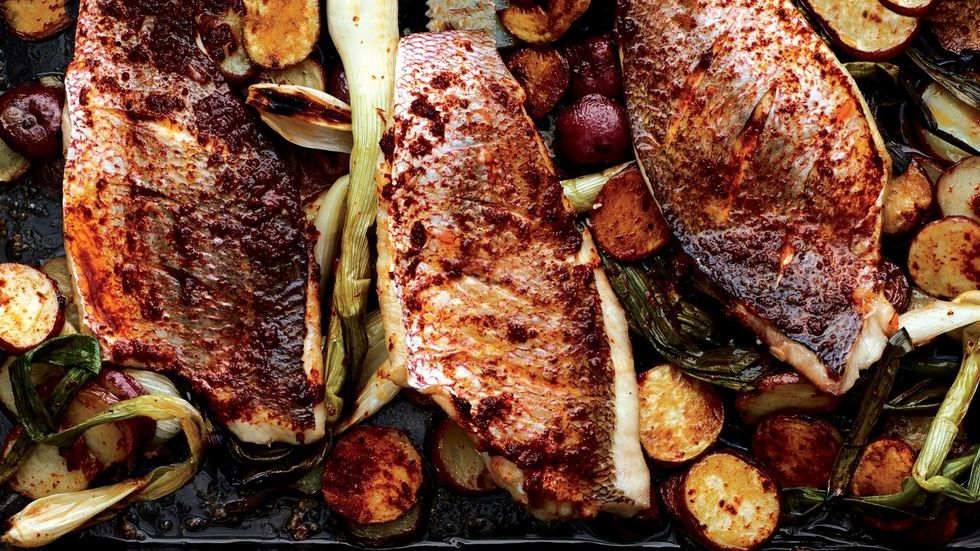 Sheet pan snapper with harissa, potatoes, and spring onionsBon Appetit
Serve this summer, one-pan meal with a glass of cold white wine. It only has 7 ingredients and the result is mouth watering. You'll want to make it over and over again. To get the perfect browning, Bon Appetit uses a two step technique. First you bake, and then you broil.
Ingredients:
6 tablespoons olive oil
2 tablespoons harissa paste
6 spring onions, halved lengthwise, or 8 scallions (left whole)
1 pound new potatoes or small potatoes, scrubbed, thinly sliced
Kosher salt and freshly ground black pepper
1½ pounds skin-on snapper fillets (3–4)
Lemon wedges (for serving)
Directions:
Place an oven rack in upper third of oven; preheat to 425°. Combine oil and harissa in a small bowl; adjust flavor with more harissa if needed (spiciness and flavor vary from brand to brand).
Toss onions and potatoes with half of harissa mixture in a large baking dish; season with salt and pepper, then add ¼ cup water. Roast, tossing once, until potatoes are fork-tender, 20–25 minutes.
Meanwhile, score skin side of fillets about ¼" deep; season with salt and pepper. Rub remaining harissa mixture all over fish, getting into the score marks.
Remove onions and potatoes from oven and heat broiler. Place fish skin side up on top of vegetables and broil until onions and potatoes are tender and fish is cooked through and starting to brown on top, 8–10 minutes.
Serve fish and vegetables with lemon wedges for squeezing over.