Cooking dinner for a crowd can be stressful, but don't panic just yet. The holidays are already hectic enough. Instead of spending hours toiling away in the kitchen, pick up a glass of wine and try these easy recipes instead. We've got you covered with delicious appetizers, entrees, sides, and even a simple cocktail.

All these recipes are straightforward and easy to follow. You might have to leave a pot roast in the oven for a few hours, but you can sit back and sip on the easy mulled wine recipe below while you wait, or just enjoy all the extra time with your friends and family.
For an easy holiday dinner menu, pick an appetizer, an entree, and a side or two from the list below. Prep your sides and desserts the night before. You can even just stick to one simple entree recipe.The maple braised cross rib roast is a holiday feast all on it's own.
Appetizers
Marinated Beet Toast with Yogurt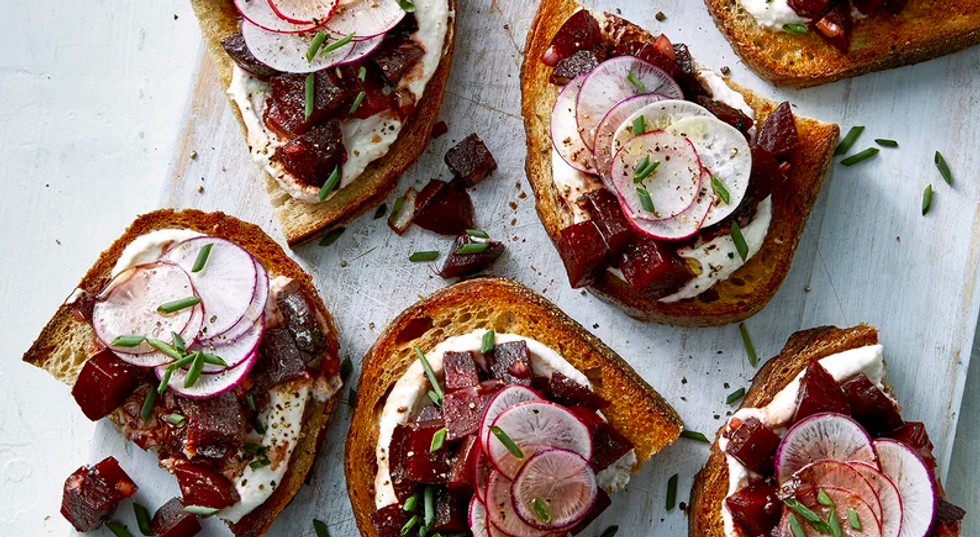 Marinated Beet Toast with YogurtReal Simple
This simple toast recipe is good any time of the year, but also works as a holiday appetizer. It looks festive and your guests will be more than happy to munch it on while the rest of dinner finishes cooking. Creamy greek yogurt and marinated beets are spread on whole grain toast and then topped with radishes and chives. For a more indulgent appetizer swap the yogurt for ricotta. For a vegan version swap the yogurt for hummus.
Pear and Ricotta Crostini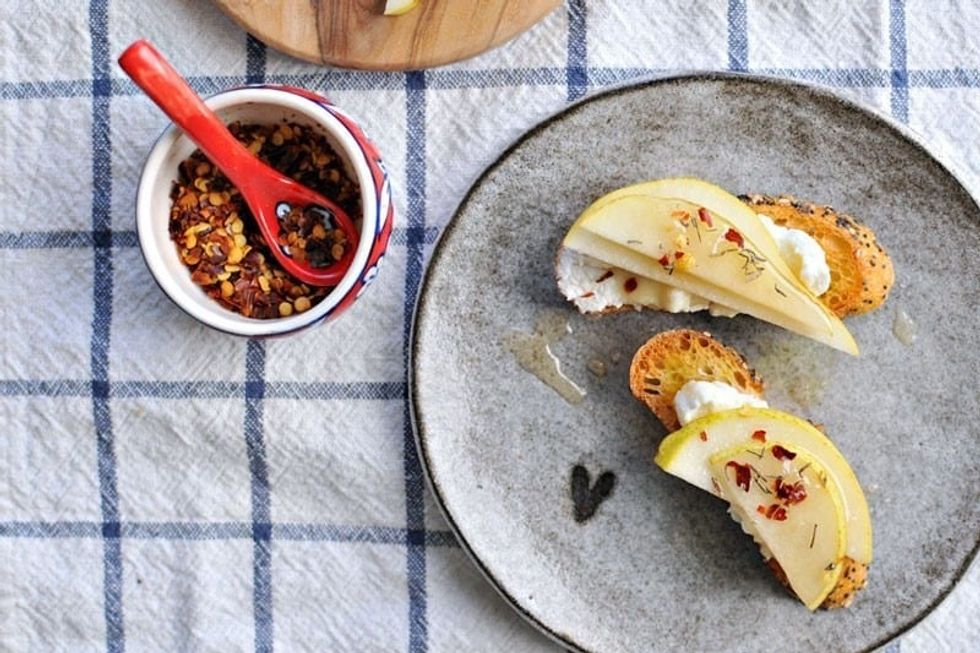 Pear and Ricotta Crostinis The Pig and Quill
It's hard to go wrong with bread and cheese during the holidays, or any time of year really, so here's another cheesy app. Top toasted crostinis with ricotta cheese, sliced pears, honey, thyme, and a sprinkle of red pepper flakes. Yum. This appetizers looks beautiful, tastes delicious, and only takes 10 minutes to whip up. You could also try adding prosciutto under the pear slices.

Easy Baked Figs with Goat Cheese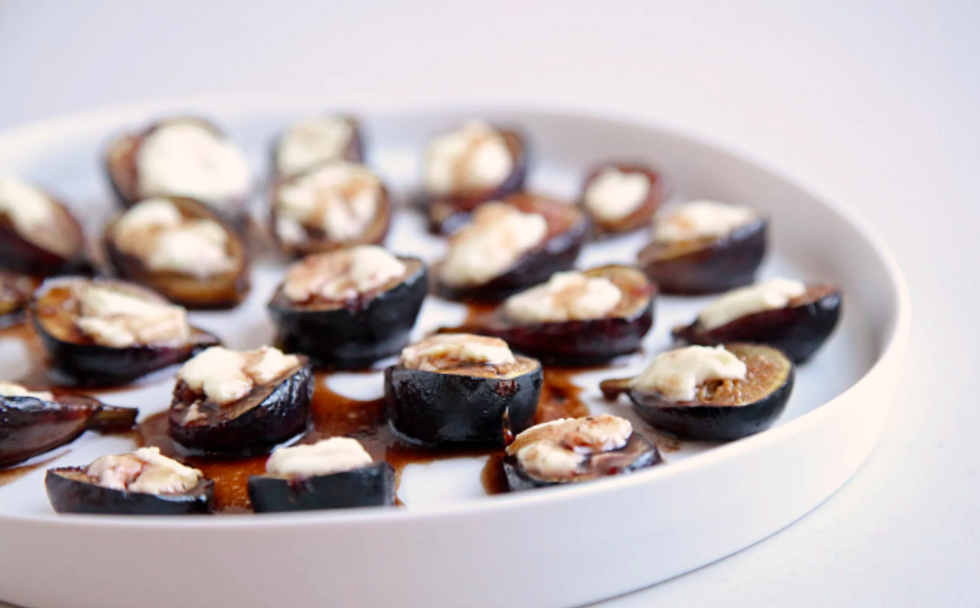 Easy Baked Figs with Goat Cheese AppetizerPop Sugar
If you're only going to make one appetizer for your holiday dinner, make it this one. It's so easy to make and will seriously impress all of your guests. Mission figs are topped with goat cheese and then drizzled with a balsamic honey glaze before going into the oven for just 20 minutes. The presentation is beautiful and festive. The taste is out of this world. You could even serve this as a dessert.
The Only Holiday Cocktail You Need
Easy Mulled Wine Recipe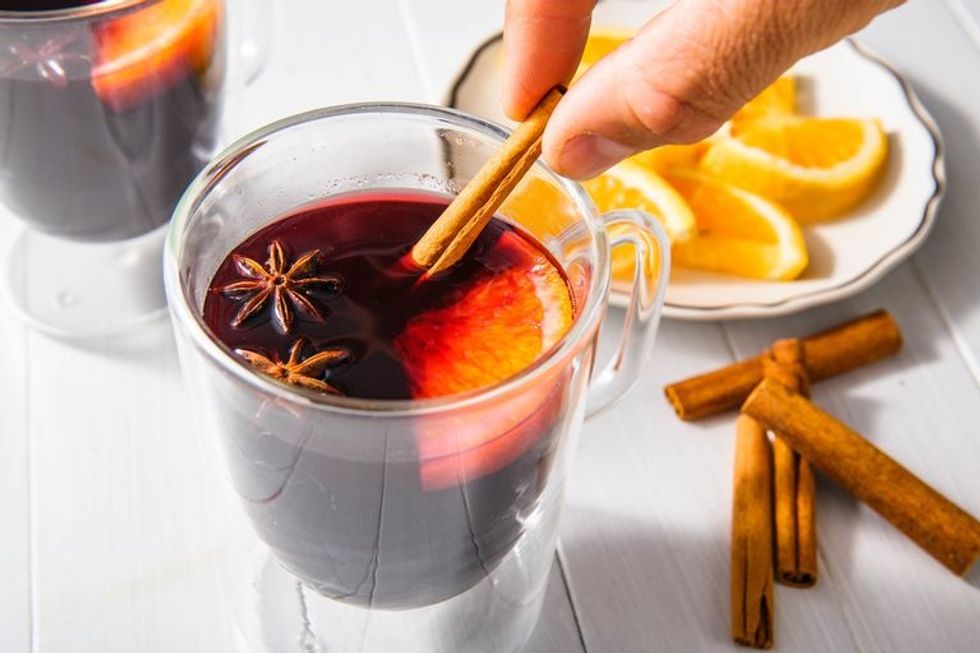 Mulled Wine RecipeDelish
Don't stress out about serving a fancy cocktail, but do put a little effort into dressing up at least one alcoholic beverage that you're serving. What's more festive than mulled wine? This recipe only takes 10 minutes to make and your whole house will smell like the holidays have officially begun. Serving champagne instead? Drop a raspberry in each glass for an easy, decorative touch.
Sides
Endive, Apple, and Celery Salad with Smoked Almonds and Cheddar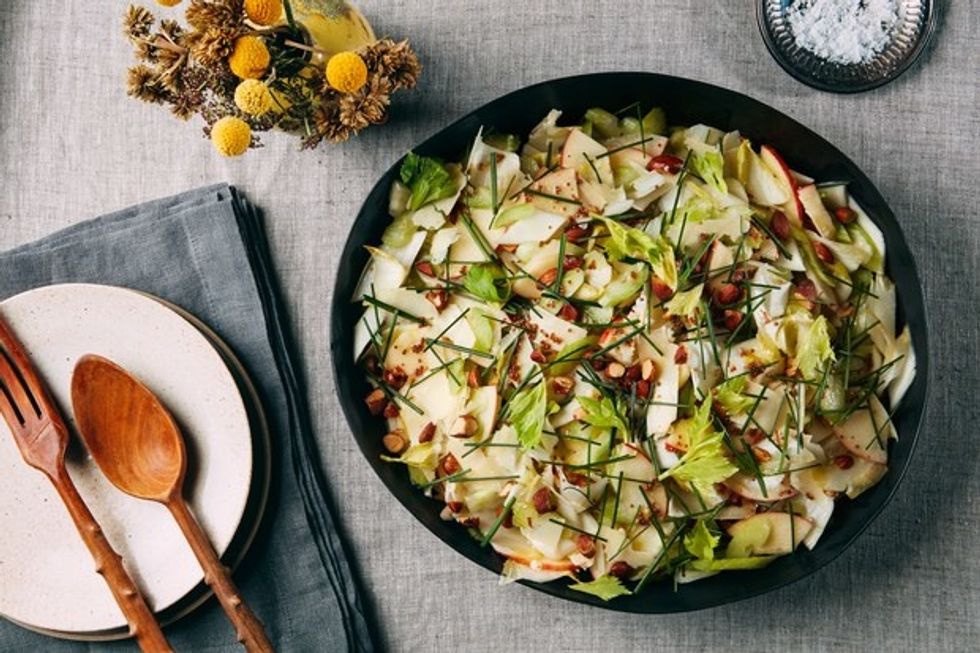 Endive, Apple, and Celery Salad with Smoked Almonds and CheddarEpicurious
This salad is crisp and bright with amazing flavor. It's sweet, smoky, and bitter with a nice crunch from the almonds. Thinly sliced endives, apples, and celery are tossed together with smoked almonds, cheddar, and chives. Dress it with the super easy dijon vinaigrette right before serving.
Maple Roasted Carrots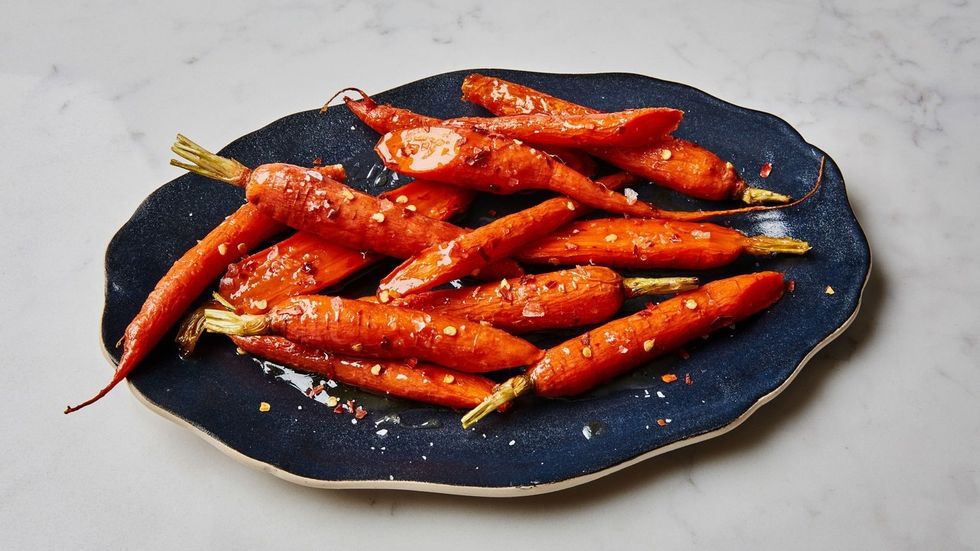 Maple Roasted CarrotsBon Appetit
It doesn't get much easier than this maple glazed carrot side dish. These carrots are so good you won't want to stop eating them. Make a lot of them! Spread the carrots out a baking sheet evenly and then top them with butter, maple syrup, brown sugar, and pepper flakes. Bake until browned and you're done!

Cranberry, Hazelnut Green Beans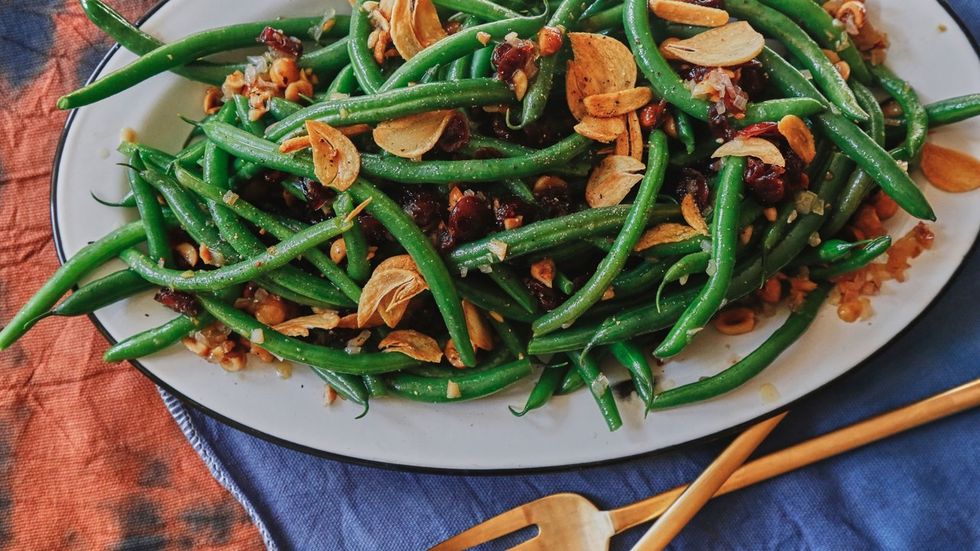 Cranberry, Hazelnut Green BeansBon Appetit
Green beans always seem to make their way onto a holiday dinner table in some form or another. Here's a light green bean recipe that also simple to make. Quickly blanched green beans are tossed with roasted garlic, and hazelnuts. Then a cranberry, honey, and apple cider vinegar sauce (that only takes five minutes) is drizzled over top.

Entrees
Maple Balsamic Braised Cross Rib Roast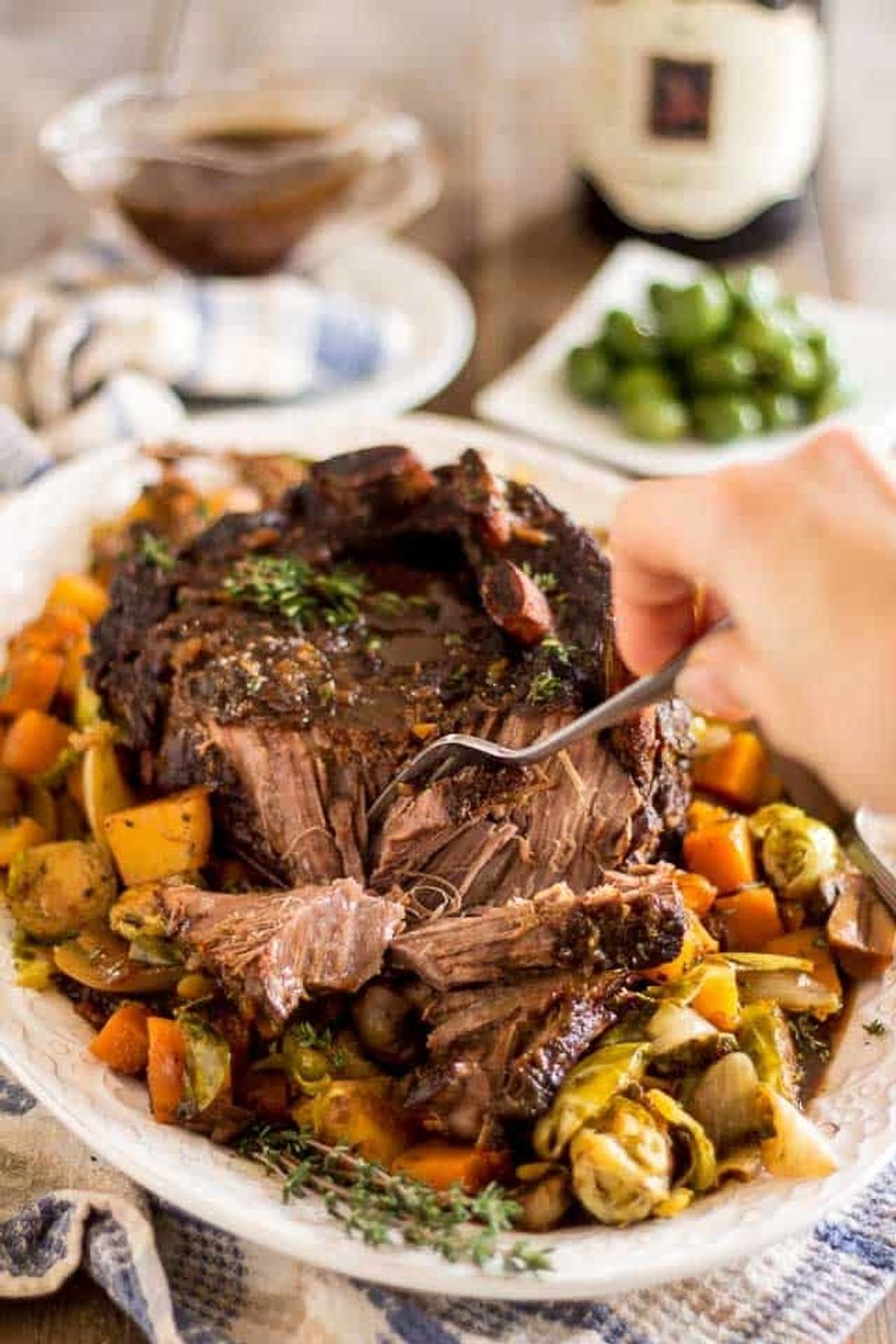 Maple Balsamic The Healthy Foodie
If you're afraid to tackle a roast, don't be. It's easier than you might think. After browning your meat on all sides for a few minutes, it goes in a dutch oven, while you whip up a quick sauce made with broth, balsamic vinegar, dijon, and herbs. After pouring the sauce over your roast, you just let it...roast. Add the vegetables after it's baked for about 3 hours and then once the veggies are browned it's ready to serve. You can even serve this roast alone or with a simple side salad.

Whole Wild Salmon Fillet with Mustard Sauce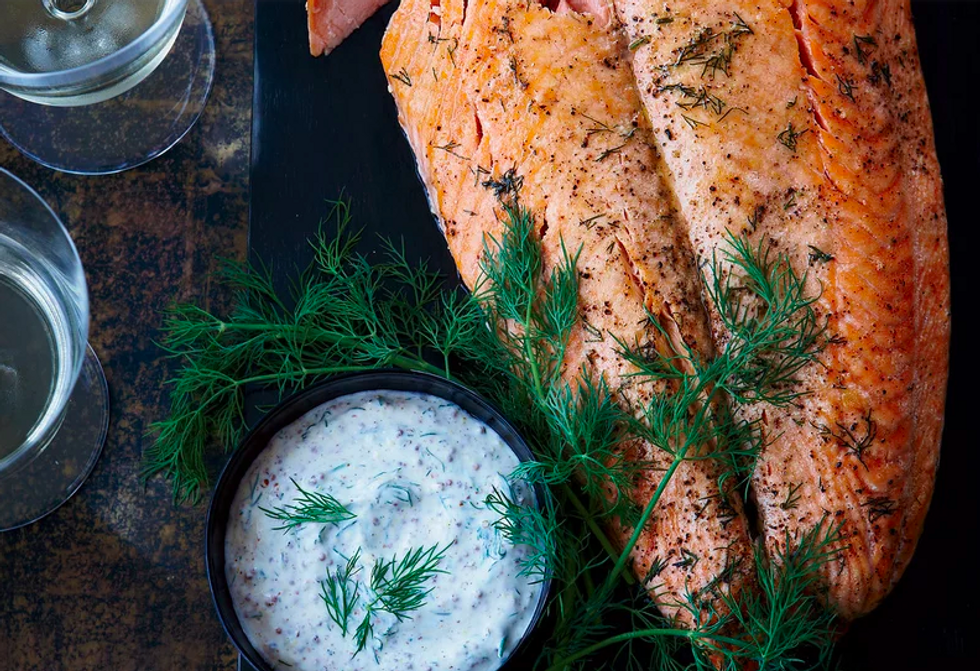 Broiled Wild Salmond with Mustard SauceFood & Wine Magazine
If you don't want to wait hours for your main course to cook try this quick salmon recipe. You'll want to marinate it a few hours before cooking, but it only broils for 12 minutes. Serve it with an easy mustard sauce made with champagne vinegar, dijon mustard, lemon juice, sour cream, and dill.

Simple Orange Glazed Pork Roast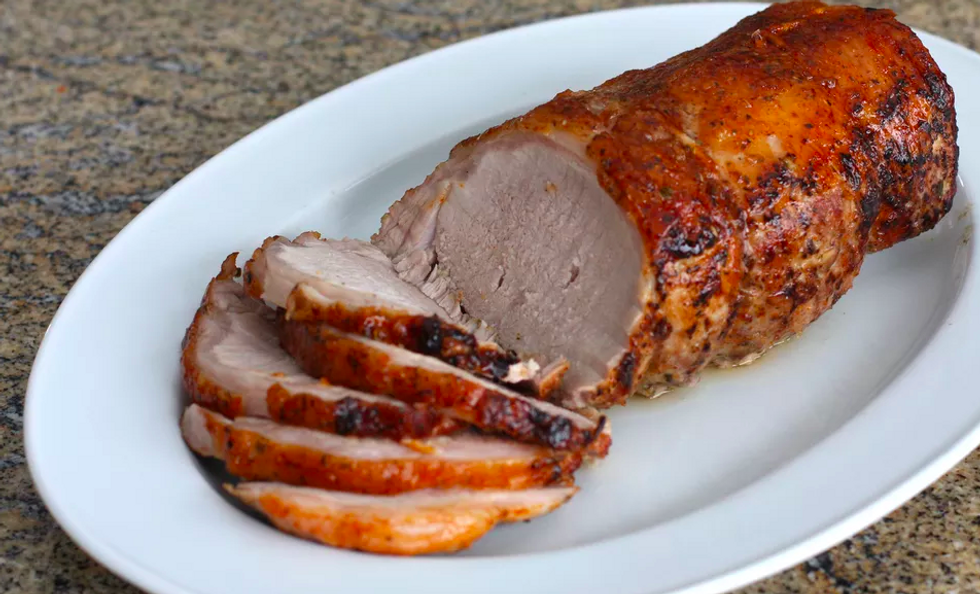 Orange Glazed Pork RoastThe Spruce Eats
This straightforward pork roast recipe is simple enough even for a novice cook to tackle. Whisk together the 3 ingredient orange glaze, brush it over the pork roast, and then let it cook in the oven. To get beautiful caramelization at the end, brush the roast again with the extra glaze about 15 minutes before it's done cooking.