by: Melissa A. Kay
When the weather is hot, who wants to spend time baking in the kitchen? We just can't take the heat, as the saying goes. That said, it's never too hot for dessert, so whipping up some super-easy and pleasing parfaits are just the way to satisfy that summer sweet tooth with a cool treat.
A parfait is, "made by layering parfait cream, ice cream, and/or flavored gelatins in a tall, clear glass, and topping the creation with whipped cream, fresh or canned fruit, and/or liqueurs." But anyway you make a parfait is perfect, so layer whatever makes your mouth happy.
These 3 summer parfaits make for a sweet and cool meal ender, and to create… they are even easier than pie! Guests will love them, you'll be impressed with how beautiful they look, and making them ahead of time gives you the perfect opportunity to grab a sweet treat when the mood strikes.
Each of these recipes makes a single serving, and create each one in a tall sundae glass or even a large wine glass for the most appealing presentation.
"Banana cream pie"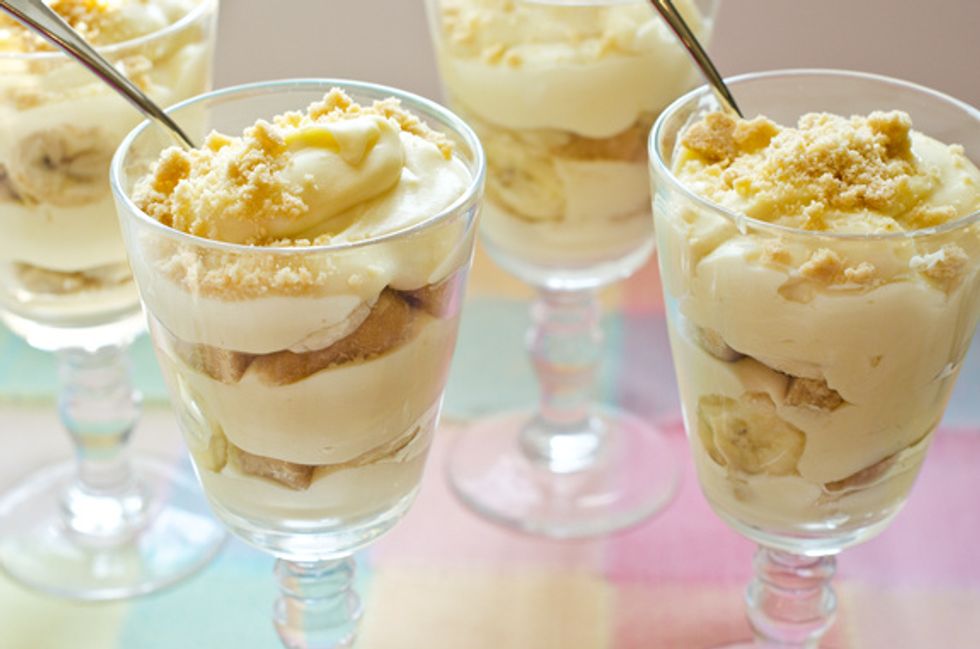 Via onceuponachef.com
Ingredients:
1 small sliced banana
½ cup vanilla pudding (JELL-O is a great choice)
6 crushed Nilla wafers
¼ cup whipped topping (Try Cool Whip)
1 tablespoon crushed pecans
A parfait is all about layering, so that's just what you'll do. Sprinkle ½ of the crushed Nilla wafers in the bottom of the glass and follow with ½ of the sliced bananas, then ½ of the pudding. Repeat the process and top with the whipped topping and sprinkle the nuts on top. Grab a spoon and go bananas over this simple, yet satisfying treat.
Note: Make yours an "adult" treat by swirling 2 tablespoons rum into the pudding. Even more "yum" per spoonful.
"Strawberry shortcake"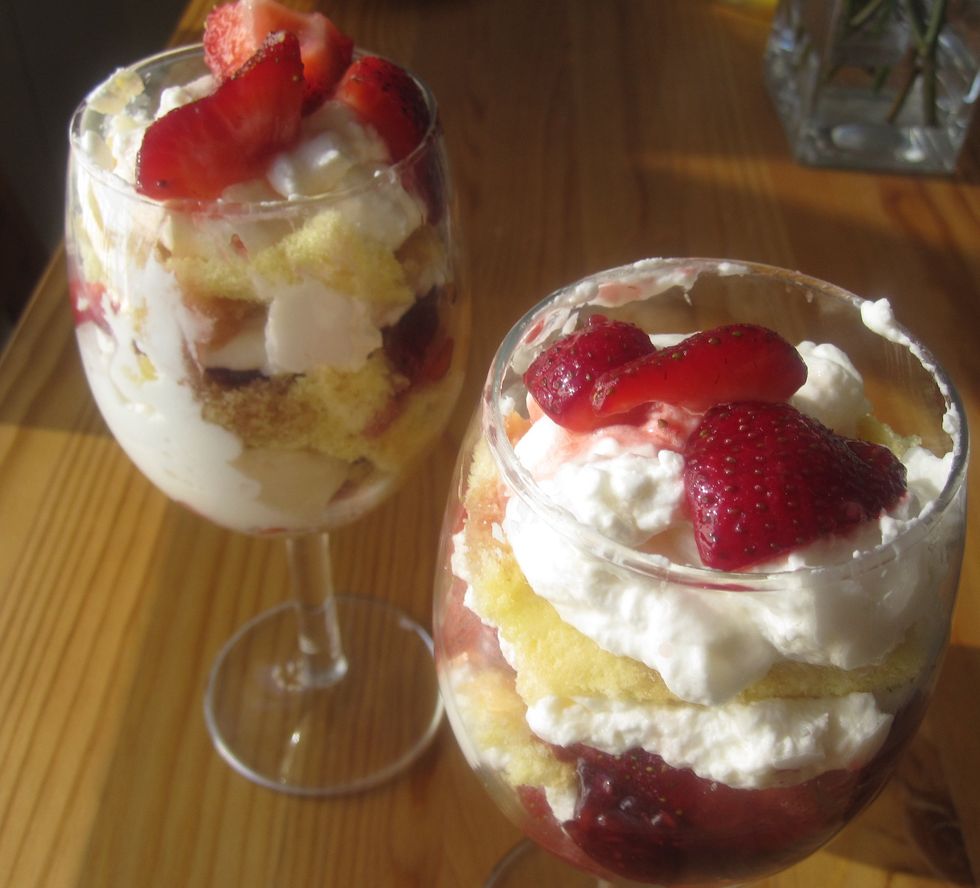 Via popsugar.com
Ingredients:
1 cup diced strawberries
½ cup whipped topping
1 slice cubed store-bought pound cake (Sara Lee is delicious), or opt for angel food for a lighter parfait
1 tablespoon strawberry syrup (Go for Hershey's)
Take ½ of the cake cubes and place at the bottom of the glass and follow with ½ of the strawberries, then ½ of the whipped topping, and repeat the process. Drizzle the strawberry syrup on top and dive right in. Simplicity never tasted so exquisite!
Note: Give your parfait a kick with Fragoli Wild Strawberry Liqueur drizzled over the cake cubes.
"S'mores"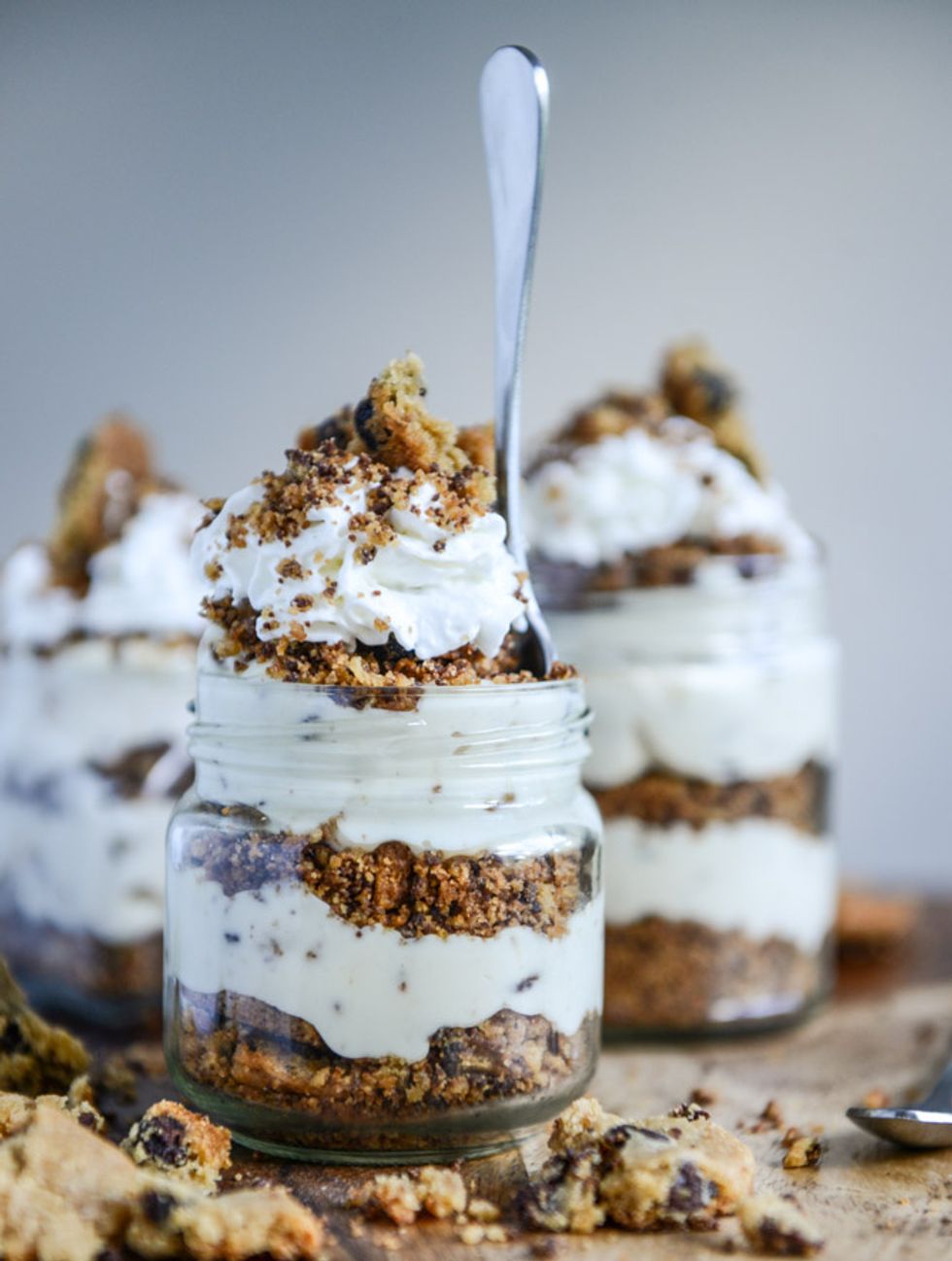 Via howsweeteats.com
Ingredients:
½ cup marshmallow fluff (Kraft Jet-Puffed Marshmallow Creme is the way to go)
¼ cup chocolate chips (Nestle Dark Chocolate Morsels are rich and sweet)
4 crushed graham crackers
¼ cup whipped topping
Start with the graham crackers and place ½ of the crushed treats at the bottom of the glass, then ½ of the chips, then ¼ of the marshmallow fluff. Repeat the process and top with the whipped topping. No campfire required for this s'mores sensation!
Note: Make your s'mores even sweeter with the addition of 2 tablespoons Godiva Chocolate Liqueur mixed into the fluff.
Parties, dessert, and an anytime snack becomes so much more than plain when you bust out a parfait! Try these or create your own today!