Dark under eye circles. Hyper pigmentation. Pallid skin tone. We all have unique skin issues we'd love to get rid of.
Instead of testing out another "miracle solution," natural beauty expert David Wolfe wants you to put down the expensive product and start treating your skin from the inside, out. His book, The Natural Beauty Diet, draws on his 21 years of experience helping models and actors get beautiful, glowing skin. No highlighter needed.
If you already eat a diet of whole, plant-based foods, you've finished half the battle. Wolfe takes things a few step further, though, advocating for super herbs, superior oils, and three important minerals to get that lit-from-within glow. Antioxidant-rich foods boost your skin's natural healing abilities, but key minerals help it maintain optimum health, according to Wolfe.
The three most important minerals for cultivating healthy skin? Magnesium, silica, and sulfur. "Magnesium is an important mineral because it controls processes of detoxification and promotes healthy alkaline tissues," says Wolfe. Alkaline tissue helps prevent skin from breaking out and prematurely aging. Magnesium-rich foods include brown rice, raw pumpkin seeds, almonds, and dark chocolate.
Silica, says Wolfe, is crucial for plumping things up. "It's an underrated anti-fungal mineral that promotes shiny skin, hair and nails, and healthy blood vessels," he says. To get plumper skin and shinier hair, add tomatoes, bell peppers, and cucumbers to your diet.
According to Wolfe, sulfur the anti-aging properties in sulfur promote more flexible tissue (goodbye, fine lines!) and reduce the appearance of scars. Still haunted by acne scars from puberty? Up your sulfur intake naturally by eating eggs, spirulina, and hemp seeds.
Wolfe's one-week beauty "jump start" also includes a lot of what he calls superior oils, like avocado, olive oil, coconut oil, and sea buckthorn oil. These healthy fats are full of antioxidants and vitamins A, C, E—all necessary for cell renewal and protection against premature aging.
Super herbs and supplements like pearl powder, turmeric, aloe vera, schizandra, tulsi, and white peony rootalso top the list of beauty-boosters recommended in The Beauty Diet. These powerful super foods help fight inflammation, promote collagen production, support cell renewal, and hydrate, hydrate, hydrate. And if you're only looking to add one new supplement into your routine, give pearl powder a shot.
Feel strange about ingesting finely-crushed pearls? This ancient Chinese beauty secret has no known side effects, except smoother, brighter looking skin. Not enough to win you over? Pearl powder supports natural collagen production and clear, even skin. It strengthens your bones, supports your nervous system, and promotes a healthier sleep cycle. I started taking these pearl powder capsules (you can also get pearl powder to add to smoothies or tea) a few years ago and never want to stop. Not only was my skin noticeably clearer in just one week, but my mood also improved. Maybe it's the better sleep, but pearl powder seems to promote a general feeling of well being similar to that produced by CBD products.
Ready to jumpstart your beauty routine from the inside, out? Try Wolfe's fall-inspired, super-food soup recipe below. It's seasonal, warm, filling, and low in calories. It's also full of cleansing properties and immune-boosting vitamins A and C. For more recipes, pick up a copy of The Beauty Diet. You're skin will thank you.
Super Food Root Soup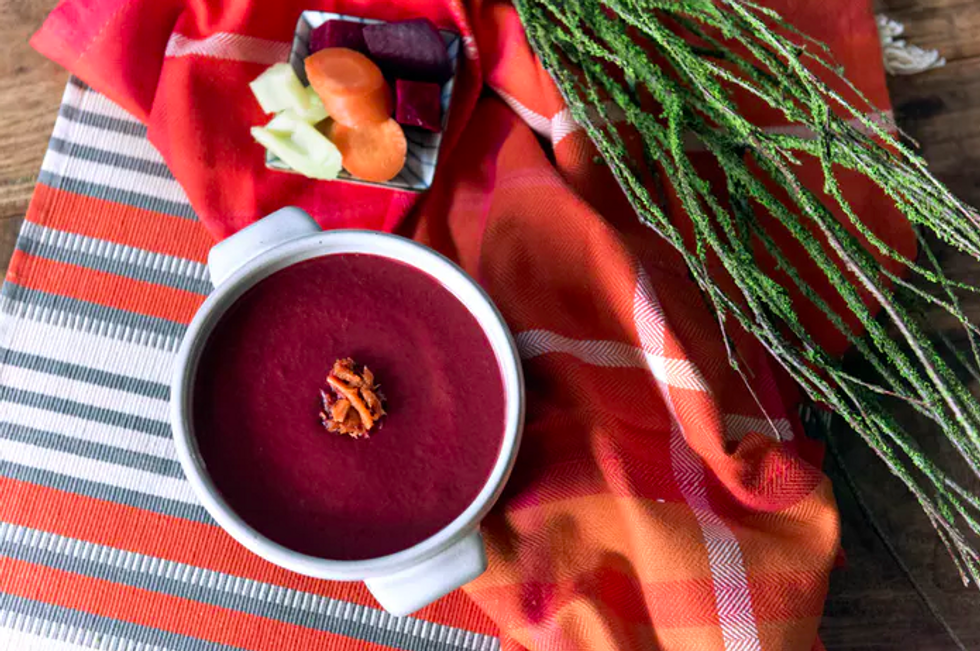 Superfood soup Nutriliving
Ingredients:
4 small raw beets
1 cup of shredded kale
2 stalks of celery
4 medium carrots
4 tablespoons of fresh tarragon
1 teaspoon of caraway seeds
½ teaspoon of sea salt
½ teaspoon of ground pepper
1 cup of coconut water
1 cup of vegetable broth
Directions:
Add all ingredients in a blender or food processor and blend until smooth.
Pour into servings and enjoy!