Stocking your kitchen with all the tools you need can be a lifelong process. It can also be a sentimental one. Good cook wear should last you a lifetime. If you cook often, it's worth investing in quality pieces. Sure, Le Creuset's signature enameled cast iron dutch oven might cost upwards of $300, but it's likely to be the only dutch oven you ever buy. Kitchen tools that are built to last will be around long enough to help you prepare years of delicious recipes and even pass on later to a loved one.
Quality kitchen tools aren't just found at trendy home good stores or with brands names attached to them though. You can often find well-made pots, pans, knives and more for half the price at restaurant supply stores. Don't rule out the dollar store for basics like white plates, bowls, and kitchen towels either.
Whether you've already inherited a few essential lifelong pieces or are starting from ground zero, this list of tools will help you fully stock your kitchen. We've broken down a list of 16 essentials to get you started from scratch and recommended a few extras worth considering. From frozen pizzas to four-course dinners, you'll always have the kitchen tools you need on hand after checking off the items on this list.
Now all you need is to do is #mariekondo you're kitchen drawers, so everything is neatly organized and easy to grab.
Here are 16 kitchen tools you need for a fully stocked kitchen:
The Essentials:
Chef Knife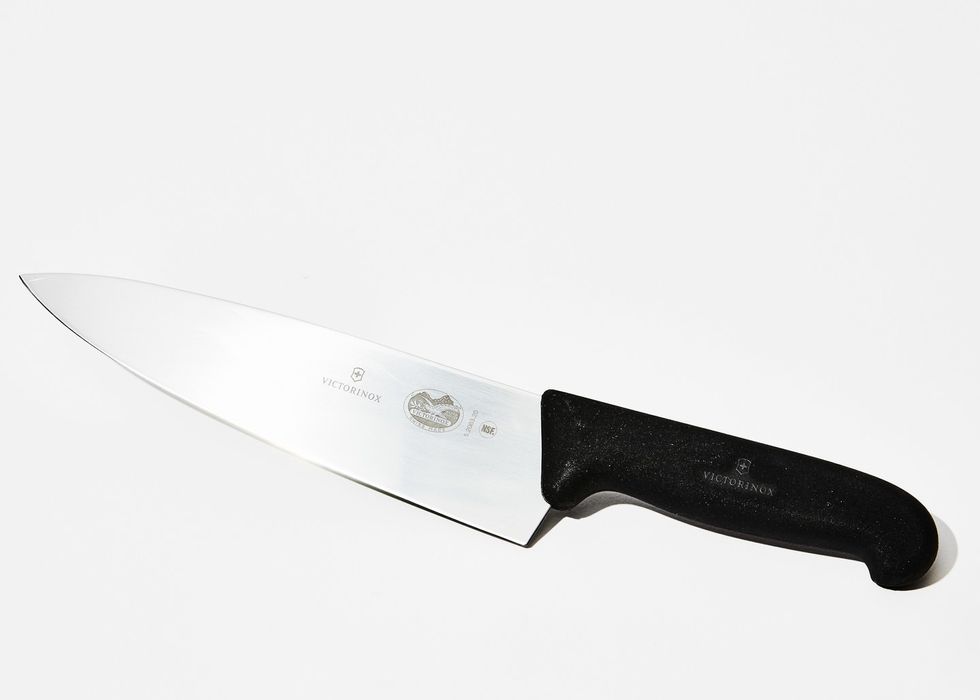 Chef's KnifeBon appetit
If you're only going to buy one knife, make sure it's a quality chefs knife. Look for one that's about 8 inches long. You can buy a well-made chef's knife at most restaurant supply stores for about $20. It won't last you as long as a knife that you spend upwards of $100 on, but it will get the job done, and since you only paid $20 for it, it isn't the biggest deal to have to replace. If you're ready to invest in a high-quality chef's knife consider the Mac Professional Shallow Edge Chef's Knife.
Mac Professional Shallow Edge Chef's Knife: $145 on Amazon
Wood Cutting Board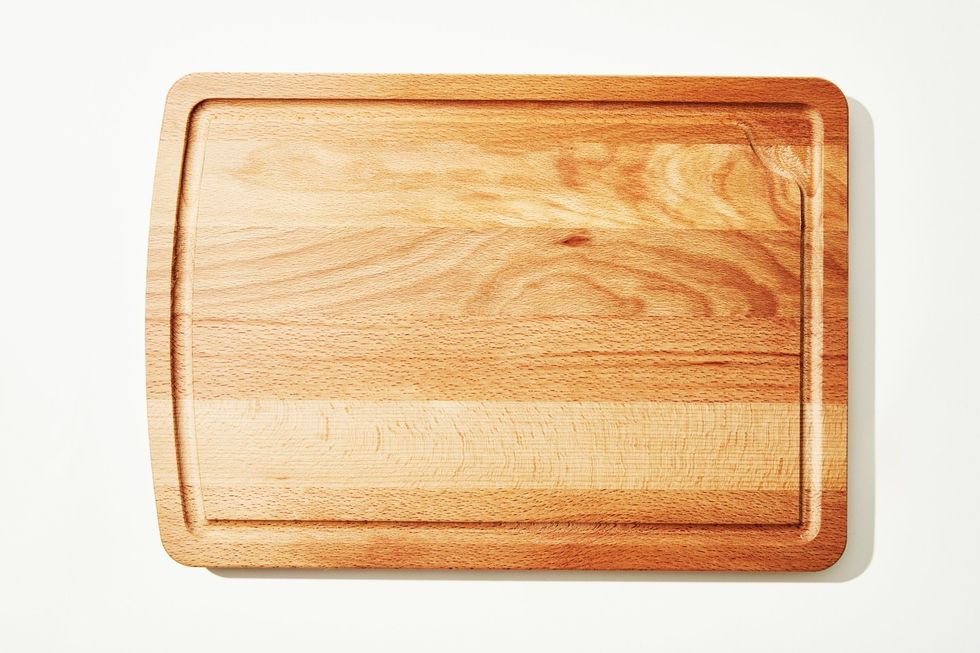 Wood cutting boardBon appetit
Wood cutting boards will last you longer than plastic ones. While plastic cutting boards are dishwasher safe, they'll quickly dull your knives. Invest in a quality wood cutting board to keep your knives around for longer. Look for one that's at least 2 inches thick and made of a hardwood like a maple or oak. A wood cutting board is worth investing in because a cheap, flimsy piece of wood will quickly warp and be useless to you once it gets wet a few times.

John Boos Edge Grain Reversible Cutting Board: $120 on Amazon
Cast Iron Skillet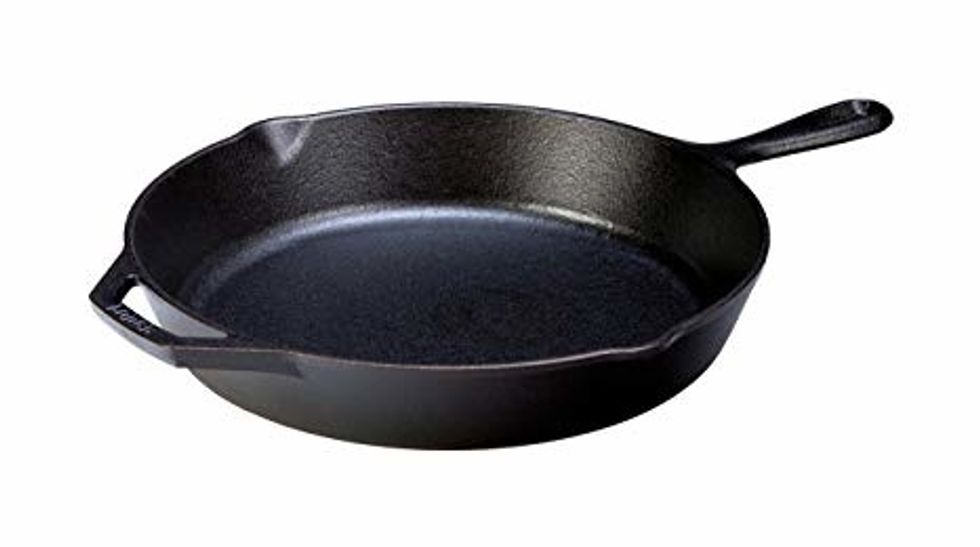 Cast Iron SkilletAmazon/Field Kitchenware
From searing a steak to baking cornbread, a cast iron skillet is an essential kitchen tool for a lot of tasty recipes. A good one will last a lifetime and is easier to clean than a stainless steel skillet. Just make sure you don't leave your cast iron pan soaking in water! That's a big no-no because it'll quickly rust. Wash your cast iron easily with hot water and a soft brush. Avoid using soap and steel wool because it'll strip it of its seasoning.
Here's a list of everything you can make in your cast iron skillet from Bon Appetit.
Field Cast Iron Skillet: $125 at Field Company
8 Quart Pot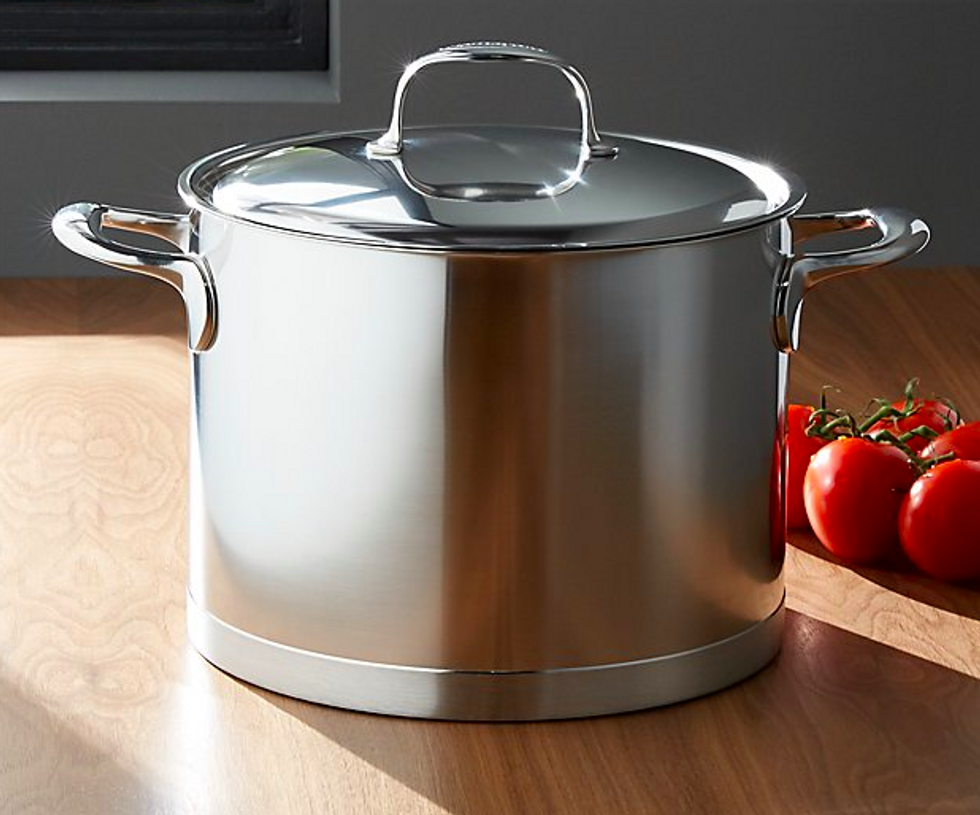 Stainless Steel 8 Quart Pot Amazon
A large, heavy pot is convenient for boiling pasta, making soups, and steaming vegetables. Look for an 8-quart pot that stainless steel on the outside and aluminum or copper on the inside. These dual metal pots, known as clad pots, will distribute heat more evenly.
Whole Clad Tri-Ply Stainless Steel 8 Quart Pot: $49.99 on Amazon
Sheet Pan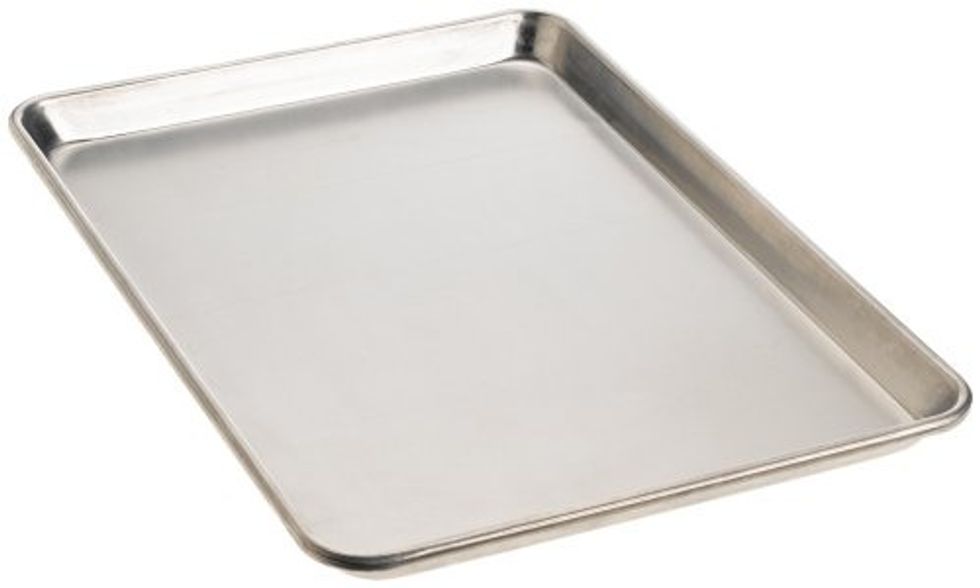 Natural Aluminum Sheet PanNordic Ware
A sheet pan is one of the most versatile cooking tools you'll ever own. You can bake a batch of cookies, roast veggies, heat leftover pizza, and make a variety of easy, healthy recipes. Look for a rolled edge, half sheet pan that's made of natural aluminum.

Nordic Ware Natural Aluminum Commercial Baker's Half Sheet: $19.99 on Amazon
Measuring Cups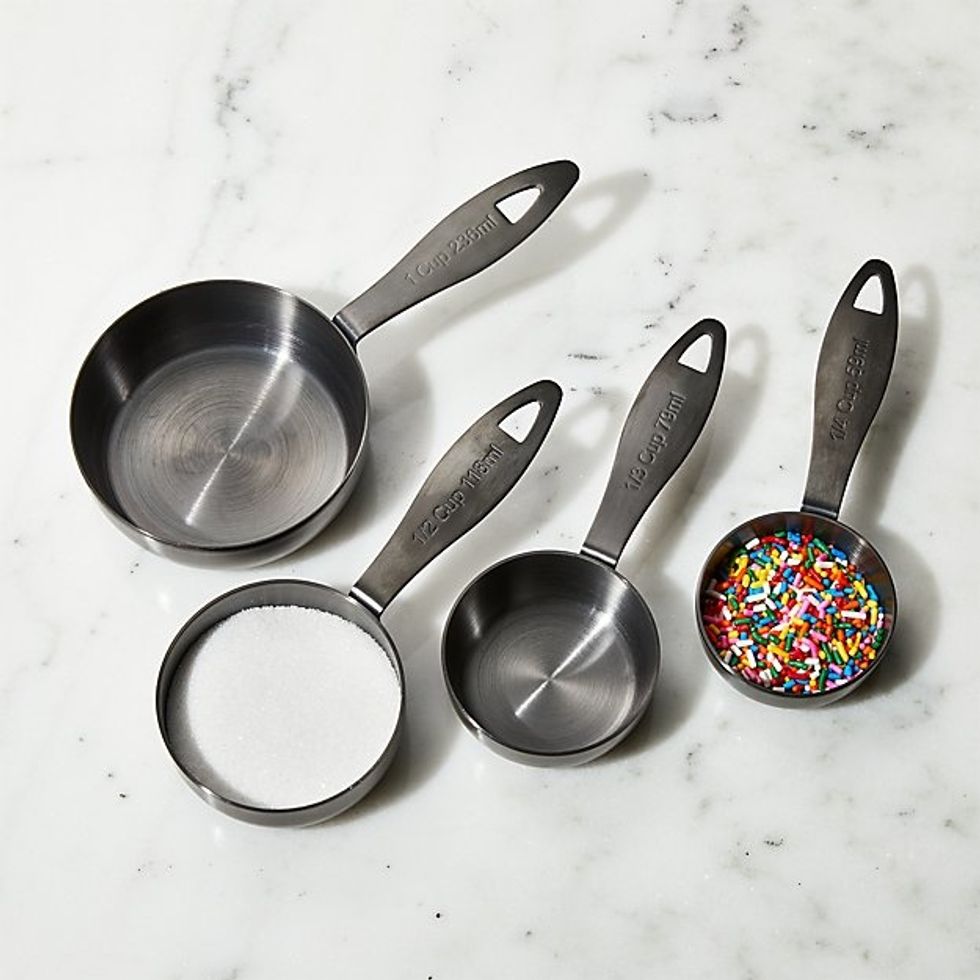 Measuring CupsSur la Table
While you can get away with freestyling savory recipes, it's a lot harder to eyeball measurements when you're baking. Invest in a set of measuring cups, and you'll never have to worry about messing up a recipe again.
Stainless Steel Measuring Cups with Easy Grip: $15.99 on Amazon
Measuring Spoons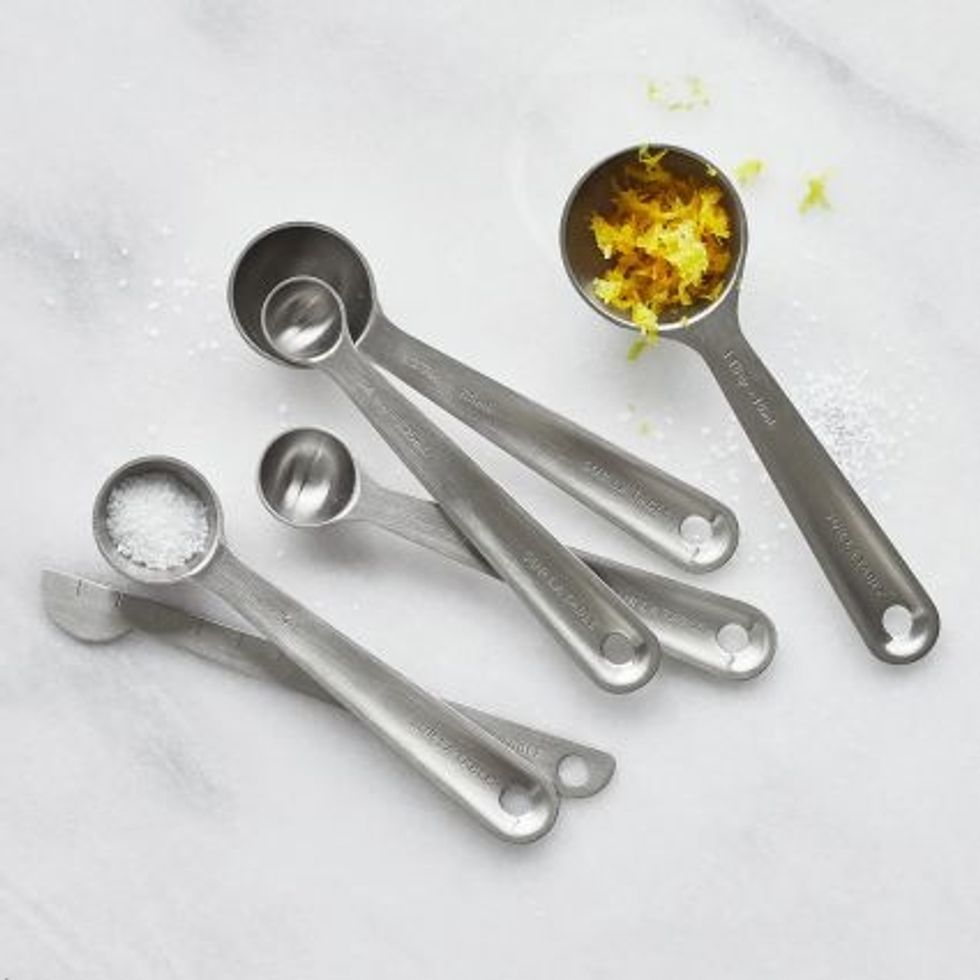 Measuring SpoonsSur la Table
Don't forget a set of measuring spoons! You'll be glad to have them on hand.
Spring Chef Dual Sided Measuring Spoons: $13.97 on Amazon
Set of Mixing Bowls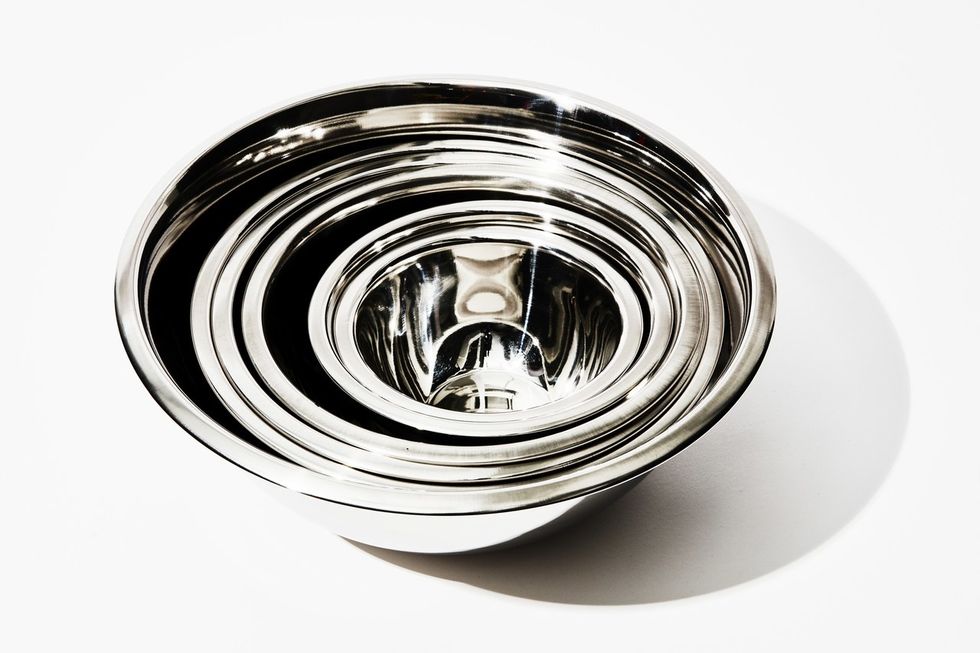 Stainless Steel Mixing BowlsBon Appetit
A nesting set of stainless steel mixing bowls are easy to store and will be put to good use in your kitchen. You can toss a giant salad, whisk a quick dressing together, use them to measure dry and wet ingredients while baking, and prep spices and extra ingredients while cooking. You can also use them to serves salads, dips, and appetizers if you haven't invested in fancier serving dishes yet.

Stainless Steel Mixing Bowls by Fine Dine: $26.99 on Amazon
Vegetable Peeler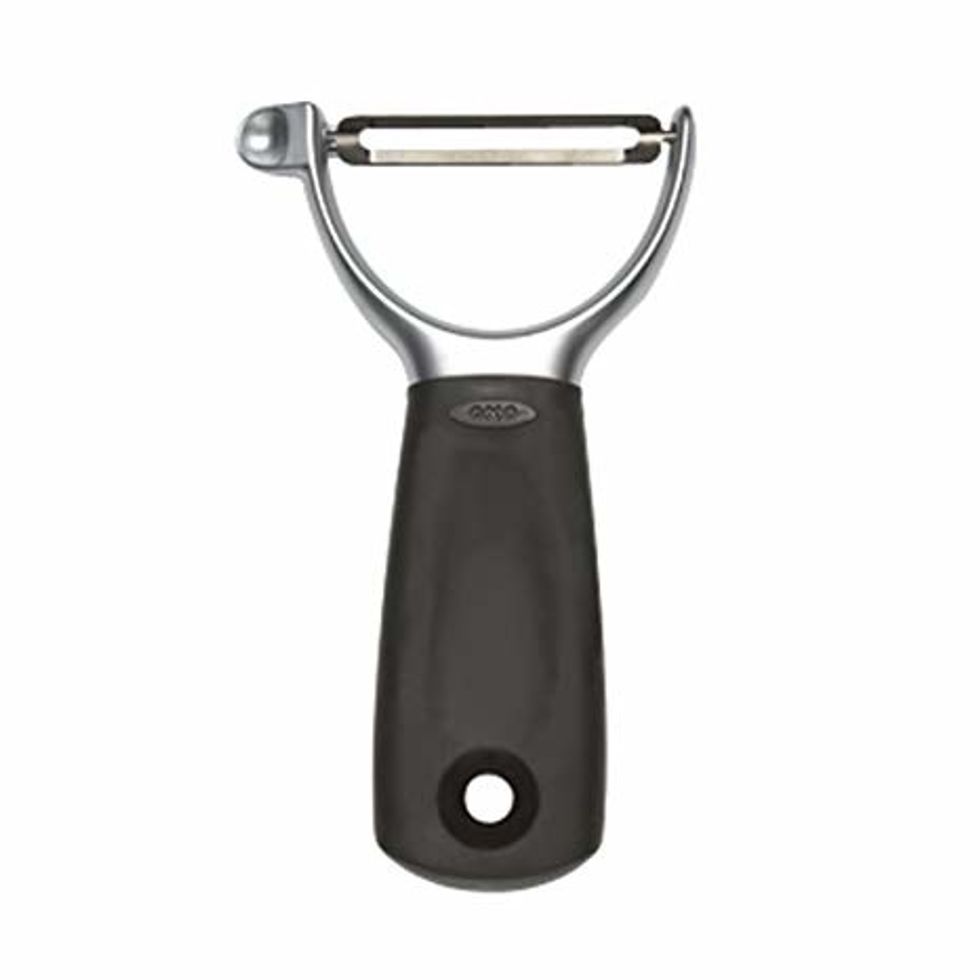 Vegetable PeelerOXO Good Grips
A vegetable peeler comes in handy to peel vegetables of course, but can also double to grate cheese in a pinch. Look for a Y shaped vegetable peeler with a silicon base. They're more comfortable and will help you keep a better grip.
OXO Good Grips Y Vegetable Peeler: $8.99 on Amazon
Slotted Metal Spatula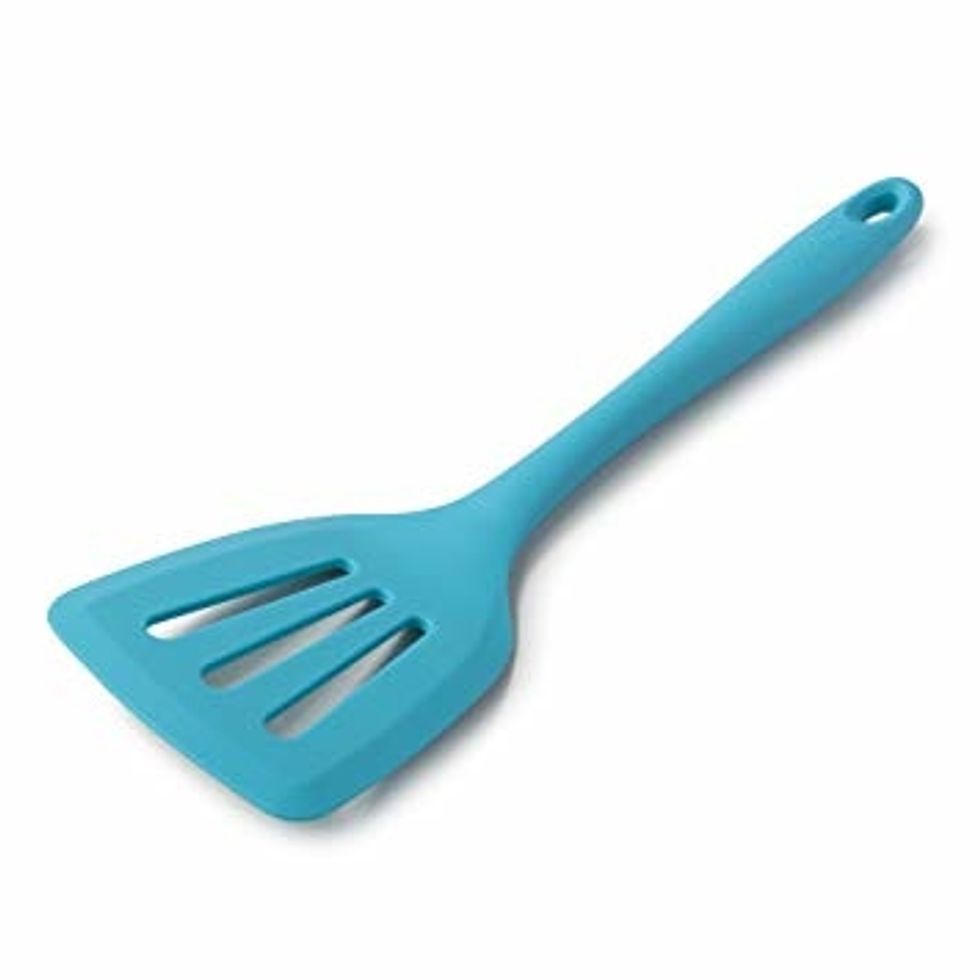 Flat Slotted Silicone Spatula OXO Good Grips
A good spatula will do everything from flip your morning eggs to scrap the tasty caramelized bits off your pan. If you're only going to invest in one spatula look for a flat, slotted spatula made of silicon. A slotted spatula lets excess oil and liquid drip away, and silicon will help keep scratches off your favorite pans.

Chef Frog Silicone Slotted Turner Spatula: $11.99 on Amazon
Dual Wine/Bottle Opener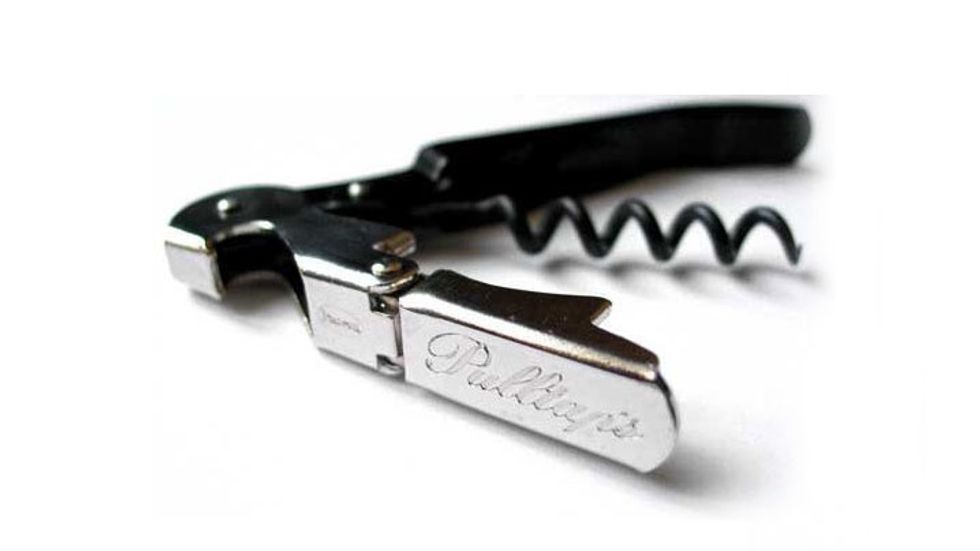 Pull Tab Double Hinged Waiter's CorckscrewFood and Wine Magazine
For opening wine, beer, and other non-alcoholic bottles, every kitchen needs a corkscrew. Food and Wine magazine recently tested a variety of corkscrews and Pull Tab's Double Hinged Waiter's Corkscrew was rated as the best overall. You can pick it up on Amazon for less than $10!

Pull Tab's Double Hinged Waiter's Corkscrew: $7.99 on Amazon
Can Opener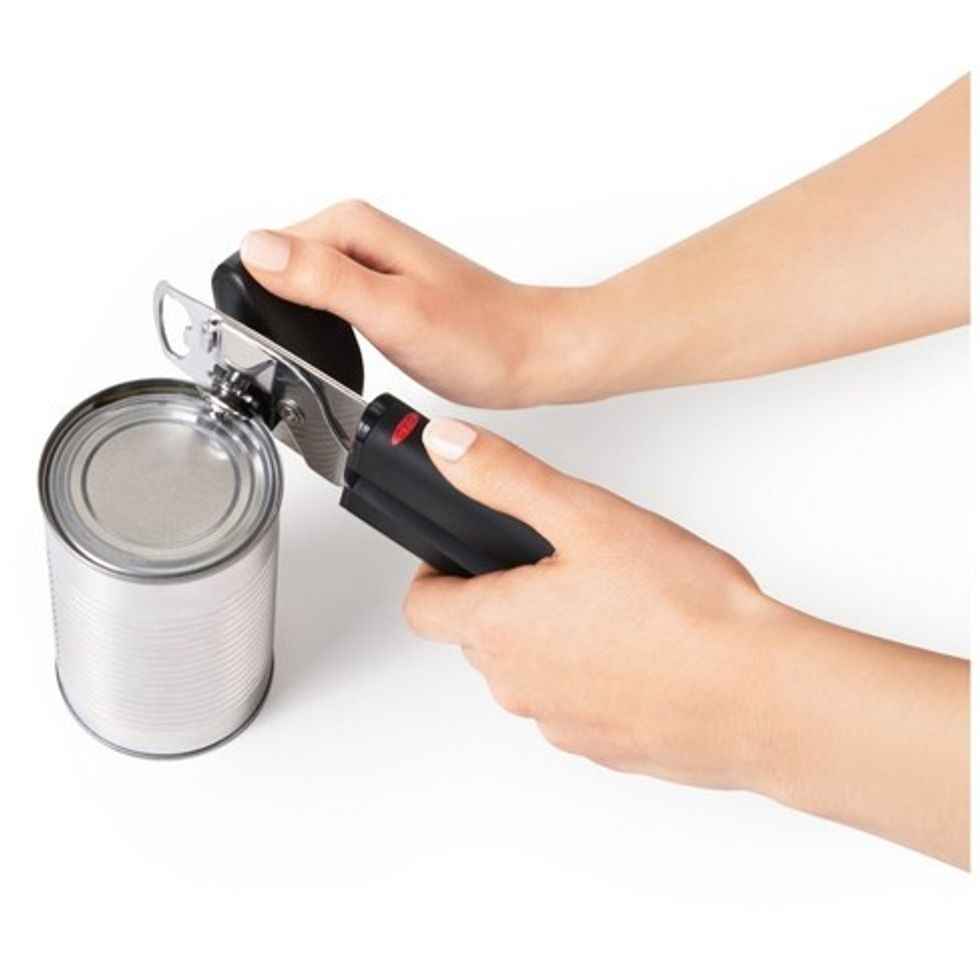 OXO Good Grips Can OpenerTarget
A can opener is likely to get a lot of use in your kitchen. Look for one with a sharp stainless steel cutting wheel and a comfortable silicon grip.

OXO Good Grips Can Opener: $13.95 on Amazon
Tongs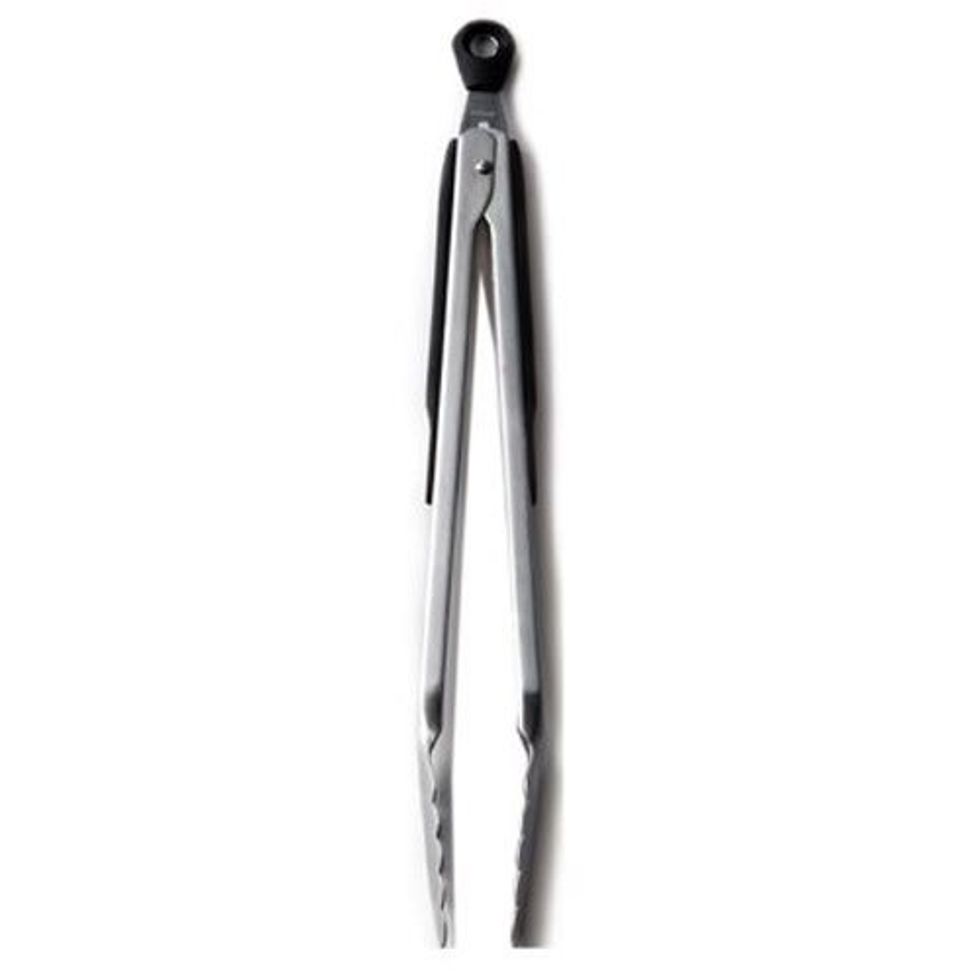 Kitchen TongsOXO Good Grips
Kitchen tongs are like an extra set of hands. You can use them to flip meatballs and shrimp, turn over a steak, and toss salads and pasta with sauces and dressings. They even come in handy when you need to slide hot kitchen pots and pans around and can't find your oven mitt. Look for tongs made of stainless steel with a good grip.
OXO Good Grip 12 inch Stainless Steel Locking Tongs: $12.99 on Amazon
Colander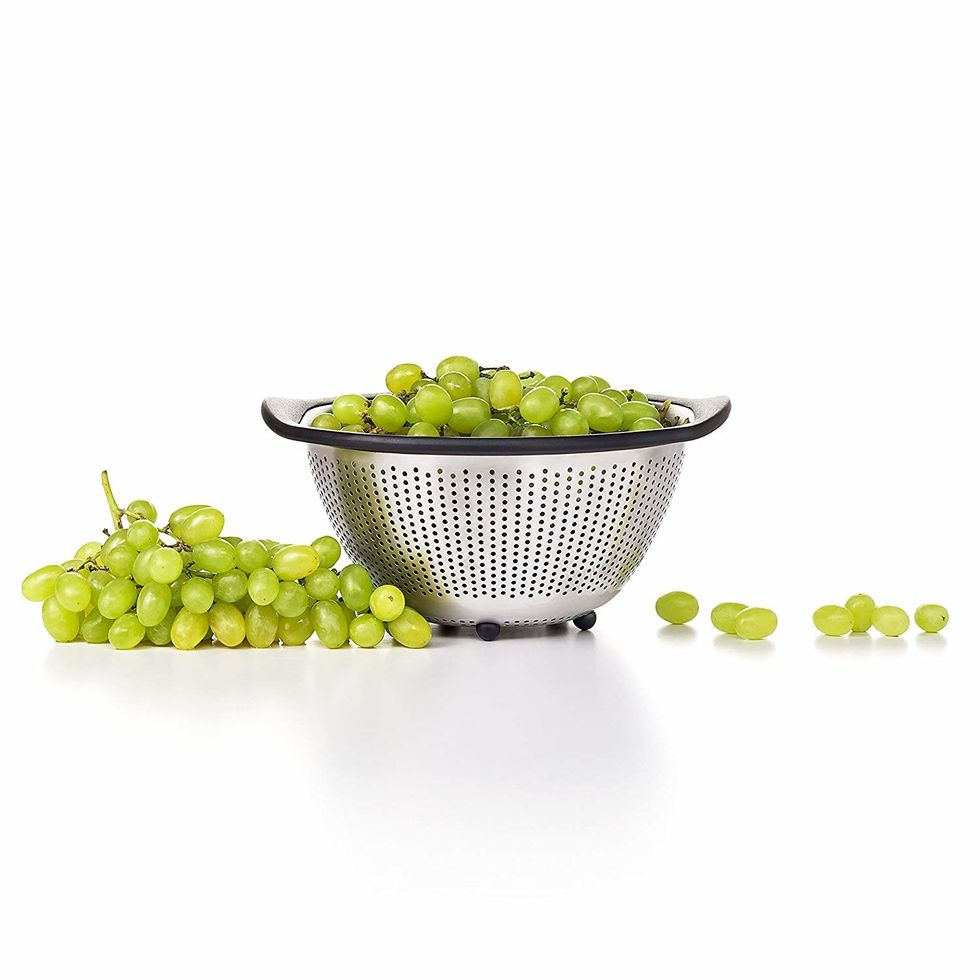 Stainless Steel ColanderOXO Good Grips
A colander is necessary for washing produce, draining pasta, and even rinsing couscous and other grains. You can find both freestanding colanders that you place in your sink and clip on colanders that attach to the side of pots for easy draining. If you're only going to buy one colander, go with a free standing model. You'll be able to wash your fruits and veggies with ease.

OXO Good Grips Stainless Steel Colander: $24.99 on Amazon
Standing Grater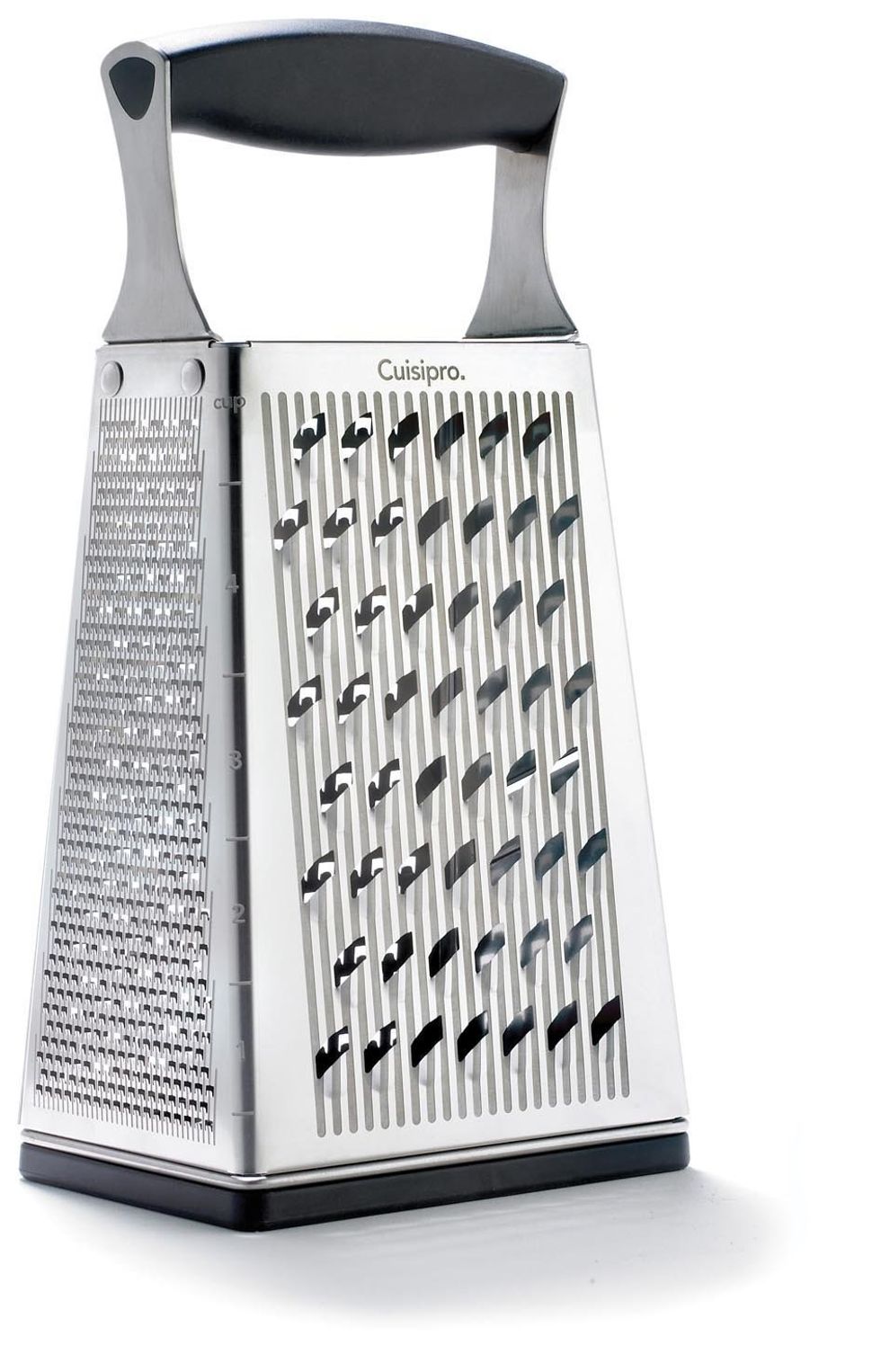 4 Sided Standing GraterCuisipro
A standing grater is great for shredding cheese in various sizes but also shredding vegetables like carrots and potatoes. The model below from Cuisipro is both a standing box grater and a zester all in one!
Cuisipro Surface Glide Technology 4 Sided Grater: $29.17 on Amazon
Dutch Oven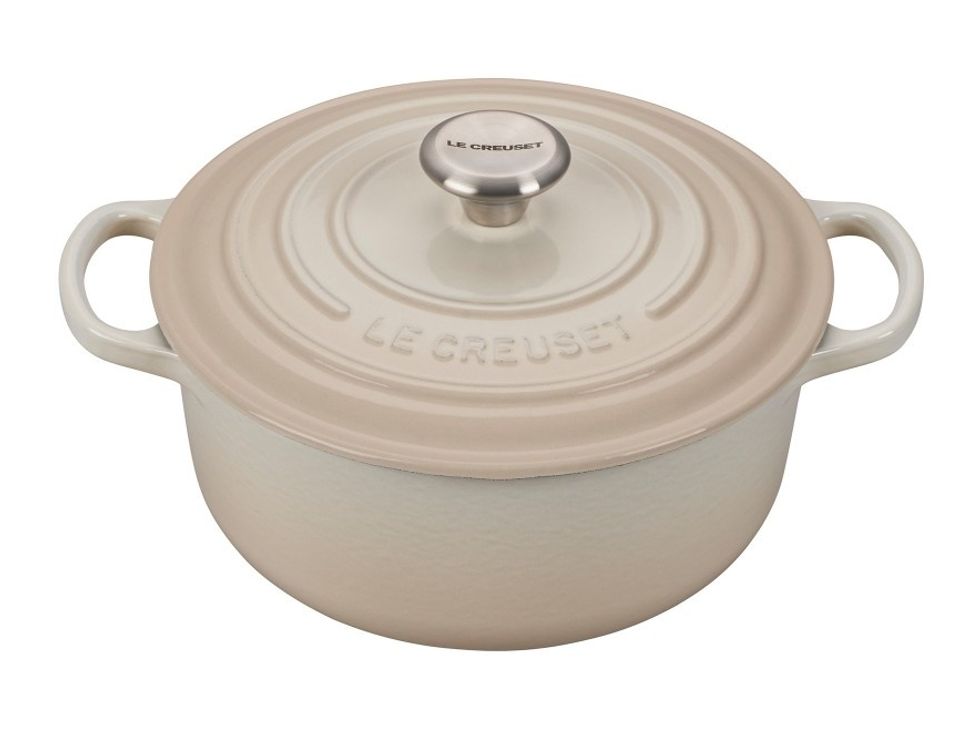 Dutch OvenLe Creuset
A dutch oven is ideal for making stews and soups, roasts, braises, and one pot family dinners like casseroles. Like a cast iron skillet, a dutch oven can be used on the stove top and in the oven. No one makes a dutch oven like Le Creuset. Their reputation is unmatched and so is the price tag, but trust me, this is the only dutch oven you'll ever buy. Go for the 7 1/4 round french oven. It's big enough to make portions for 7-8 people.

Le Creuset 7 1/2 round French Dutch Oven: $385 at Le Creuset
These aren't the only kitchen tools you'll ever need to buy, but checking off the items on this list will make sure you're kitchen is stocked and ready for almost anything. If you want to add a few more things to your list, consider investing in a slow cooker, flexible plastic cutting mats for meats, a meat thermometer, and citrus squeezer. Happy cooking!