Everything You Need To Know About eMeals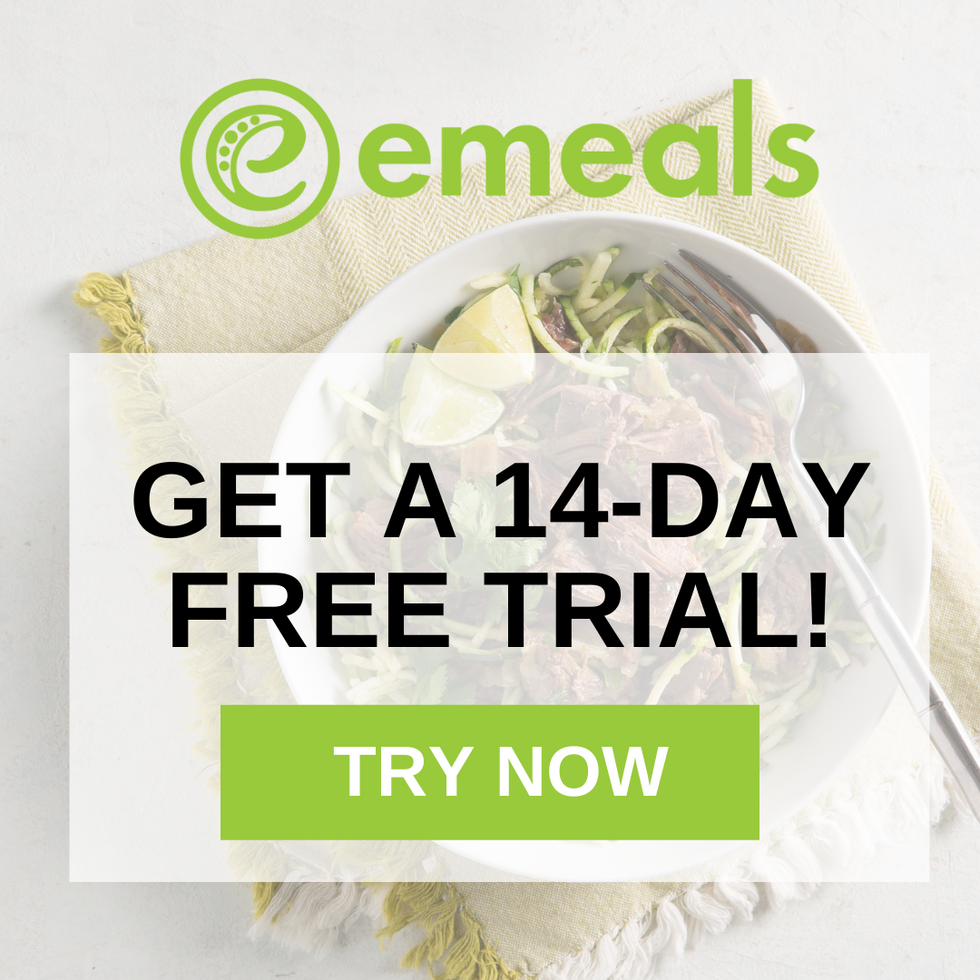 On average, Americans produce 40 million tons of food waste each year.(1) All of us contribute to that much more than we realize.
Cooking at home might seem like less hassle, but between the fresh vegetables, sauces, spices, and staple ingredients it can be a real handful. Most of us feel guilty when we have to throw out an expired bottle of sauce or a plastic bag of sprouted potatoes.
One of the best solutions to food waste is meal planning, but it's tricky when you do it on your own.
Our editors looked into eMeals , a meal planning service where most recipe ingredients are pantry staples that can be used again if they aren't completely used. eMeals creates a weekly meal plan just for you with an exact list of ingredients, so you're not buying items you don't need. There's also the option of sending your list to one of their grocery partners for easy pickup or delivery from stores and services like Walmart, Instacart, Shipt, Amazon Fresh, and more.
We think it's really simple! Spend less time stressing and more time enjoying healthy and delicious meals.
Have questions? Here's how eMeals can revolutionize your cooking habits:
What is eMeals?
With eMeals, simply choose your meal plan, add recipes to your list to let the app generate your customizable shopping list, and send your list over for grocery pickup or delivery to start making their easy-to-follow recipes.
Your shopping list can be linked to a variety of grocery partners - Walmart, Kroger, Amazon Fresh, Instacart, Shipt, and more - and they'll shop the ingredients for you.
The eMeals app - for iPhone and Android - allows you to access meal plans and shopping lists on the go! Super easy in case you forget something and need last-minute add-ons!
What kinds of meal plans do they have?
eMeals' recipes are curated and crafted with a meal team of registered dietitians to provide a range of delicious healthy meals. There's a fantastic array of food from 15 meal plans, including: Quick and Healthy, Keto, Clean Eating, 30 Minute, Budget Friendly, Kid Friendly, Slow Cooker, Paleo, Heart Healthy, Diabetic, Low Calorie, Low Carb, Gluten Free, Plant Based, and Mediterranean.
Do I have to use grocery delivery?
Nope! You can use your shopping list in the app to shop on your own or send over to your favorite store for easy grocery pickup.
Will I like the meals?
It'd be hard not to! Check out these 30-minute favorites like Grilled Buffalo Chicken Cobb Salad, the classic crowd-pleaser Cheesy Bacon Wrapped Chicken Tenders, and luxe-sounding Sheet Pan-Salmon with Roasted Vegetables and Potatoes.
Why not dine in with some classics or try something completely new the whole family will love?
How much does it cost?
A 12-month subscription starts at only $4.99 a month. But you can give it a try with eMeals ' 14-day free trial!
Are there breakfast and lunch options?
Absolutely! Weekly breakfast and lunch recipes can be tailored to align with your dinner plans. Since eMeals's goal is to provide plenty of variety and inspiration, you'll never be short on recipes. You can save your favorites, access your previous plans or sample entirely new recipes from any of their 15 meal plans.
Anything else I should know?
Desserts, holiday planning, and more are included with eMeals collections and occasions plans. When you're looking for festive holiday fare, eMeals will find you just the right inspiration.
Of course you can edit your shopping list so you don't keep buying that same bottle of organic olive oil. If a recipe calls for an ingredient you don't have or don't care for, you can easily swap it out of your cart.
What are people saying?
"The meal choices have been excellent and the app is really easy to use due to the integrations with local grocery stores." - Tyler
"Easy to use especially with the shopping list options w/ Kroger & Shipt. I'm a return customer from years ago & have always loved the options for recipes too." - Jeni
"We've tried other plans and were underwhelmed by the variety and portions. Especially considering the price. It's the exact opposite with eMeals. There's a broad selection, the price is great, and we usually have leftovers for lunch the next day!" - David
On average, eMeals users save 2 hours a week and $2000 a year. So, no more searching for recipes, wandering the grocery aisles looking for substitute ingredients, or guiltily throwing away your rotten vegetables.
Give eMeals a try and never waste food again!
The team at eMeals are extending a special offer to our readers! Follow this link to get a 14-day Free Trial!
1. https://www.rts.com/resources/guides/food-waste-america/#:~:text=How%20much%20food%20is%20wasted,80%20billion%20pounds%20%E2%80%94%20every%20year.