Everything You Need To Know About The #1 Subscription Box For Women
Meet FabFitFun: women's favorite beauty subscription
You guys, I have been trying to get a manicure for three months - literally every time I've set up an appointment, I either have to work late or keep hitting my snooze button because I'm just.so.darn.tired. Work has been insanity lately, and while I'm loving this surge in my career, the lack of me-time has left me feeling not myself.
I decided to try and revamp my routine to shake things up a little in the hopes of making myself more of a priority. Out with the old, in with the new! I've been using the same beauty products for years, and styling my hair the same way every single day- no wonder I was in such a funk! My mornings and my evenings are my own, so I really wanted to inject a little more pampering into those times. After scouring through I don't even know how many lifestyle blogs and Instagram feeds, I was seeing FabFitFun being raved about literally everywhere I looked.
The subscription box service was being hailed as the "it" box of the season by some of my favorite stars from The Bachelorette and Real Housewives. But what was in this cute lil box? Would l even like the products? Not usually a subscription-box kind of girl, but I was intrigued. Scrolling through FabFitFun's Instagram, I needed to know more.
When I saw all of the products that came in past boxes, I knew I had found the inspiration I needed to lift me out of my rut. Each box has the best products from top brands around the world. And the best part? They're delivered right to your doorstep at the beginning of every season! Sounds great right? But I bet you have questions, since I did too….
Ok, I've Seen It All Over The Gram', But What Exactly Is FabFitFun?
What is it not?! Each box has everything you need to get yourself ready for the coming season. You'll get 8-10 full-sized products from the biggest brands in beauty, wellness, fashion, home decor, tech & fitness. Their team of trendsetters is constantly working to discover the next big thing, so you'll be introduced to some brands that will quickly become your new go-to's. Unboxing each limited-edition delivery feels like discovering an amazing new designer or trend—all from the comfort of your couch!
Why are people so obsessed?
Because it's like having a spa weekend and a hug from your bestie wrapped up in one box! We're all so busy, who has the time to look for new products? My first box arrived after a super stressful day at work, followed by me getting caught in a torrential downpour. Opening up the box in my pajamas really turned that bad day around. FabFitFun is a way to give yourself some much-needed pampering without sacrificing your time. Plus, it's an easy way to stay ahead of trends and try new, high-end products for a steal.
What makes this box different than BirchBox or ipsy?
FabFitFun is a lifestyle subscription box, and contains so much more than beauty products alone! They send you high-end everyday essentials that will brighten up your day, as well as treats that you might not buy at full-price but really, really want. Only for much less. Plus, there's nothing worse than those little sample sizes that barely give you enough product to know if you like it or not. Instead of getting 5 tiny products every month, FabFitFun sends you full-sized items!
What kinds of products will I get?
Four times a year, you'll receive must-have products for the upcoming season. In my Spring 2019 box, I got a gorgeous pair of QUAY AUSTRALIA Sunglasses that got me ready for the sunnier months.
My Summer box had a Grace & Stella Rose Facial Spray - so good for those long, hot days. I got the coziest plaid scarf from Plush in my Fall box - bring it on winter!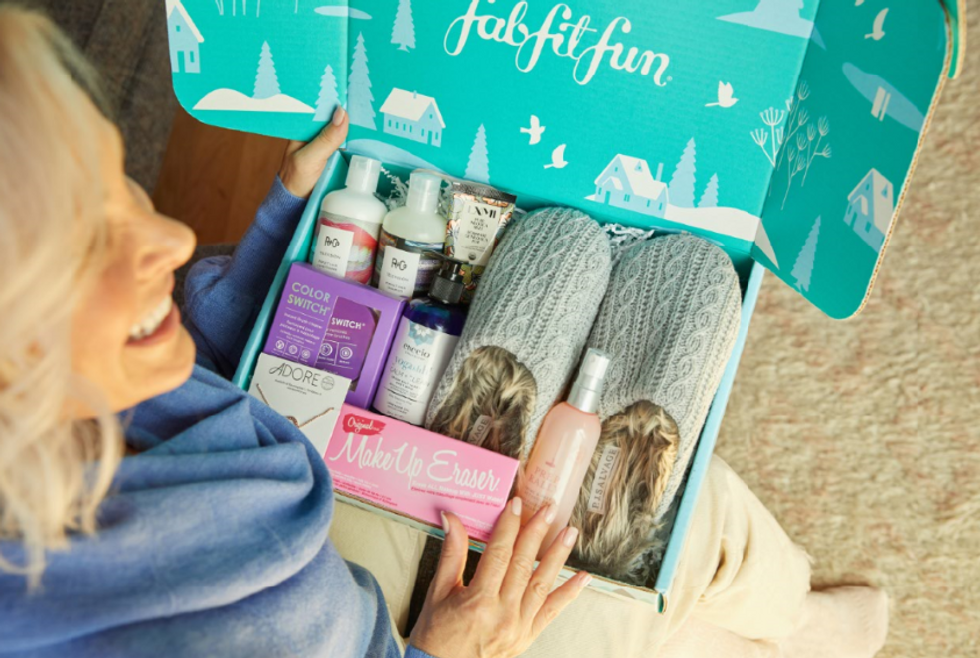 If you're a gal that knows what you want, no problem! You can customize your box. Subscribers get to choose some of the items they get. I chose the most luxurious Rose Gold Brightening Facial Treatment Masks by 111Skin in my Summer box - they retail for $160!!!

How much does it cost?
Each FabFitFun box costs $49.99 for products that are worth at least $200. Some of the individual products cost more than the entire box!! You can pay annually or spread it out and pay seasonally for each box.
Do annual subscribers get other perks?
Yes! There's a ton - your box ships earlier, you get first dibs on customizing your items, AND you save money. Plus you have early access to their seasonal add-ons and editor sales, where you get a huge discount off of great items not in the box. You can also watch FFFTV which has great at home workouts, yoga videos, and so much more.
Am I locked in?
Nope! You can always cancel before the next billing cycle. But trust me, you're not gonna wanna!
Now I get the hype around FabFitFun. None of their boxes have ever disappointed. I get so excited about choosing my items every season, and I must post like a million stories to my friends when I see the beautifully designed box on my doorstep! Everything I've gotten in my boxes are things I use and love. It makes my daily routine a little less mundane, and I get so excited when I spot a fellow FFF girl on the street with the same cute Catherine Malandrino red floral print umbrella or Eleven By Venus Williams gym bag! I'm not one to recommend many products or brands, but you NEED this box in your life.
UPDATE: FabFitFun is giving our readers $10 OFF their first box! That's $200+ of products for $39.99. New Members, Follow This Link To Snag A Box Before It's Sold Out!