Winter blues getting you down? No worries; we've got the hottest thing to keep the cold away: FabFitFun's Winter box! Not to get you too excited, but this might be FabFitFun's BEST box yet, and we've got an exclusive look at everything inside.
Whether you're looking for a mid-winter pick-me-up or the gift that will win the holiday season, FabFitFun has you covered. This seasonal box has 8 full-sized items that are guaranteed to be your next big obsession. You'll find on-trend beauty buys, soft and cozy accessories, and big brand-name surprises (Dry Bar? Kate Somerville? Swarovski?!!)
This is how you do winter right.
Even better? It's all yours for just $49.99 (But you can snag $10 off with our secret deal; you're welcome!) Just hurry up! These sell out quickly!
With each box retailing for $200+, you can snag one for yourself and still have enough money to buy a rockin' look for your office holiday party.
Settle in, because we have the full spoilers for the Winter 2019 Box: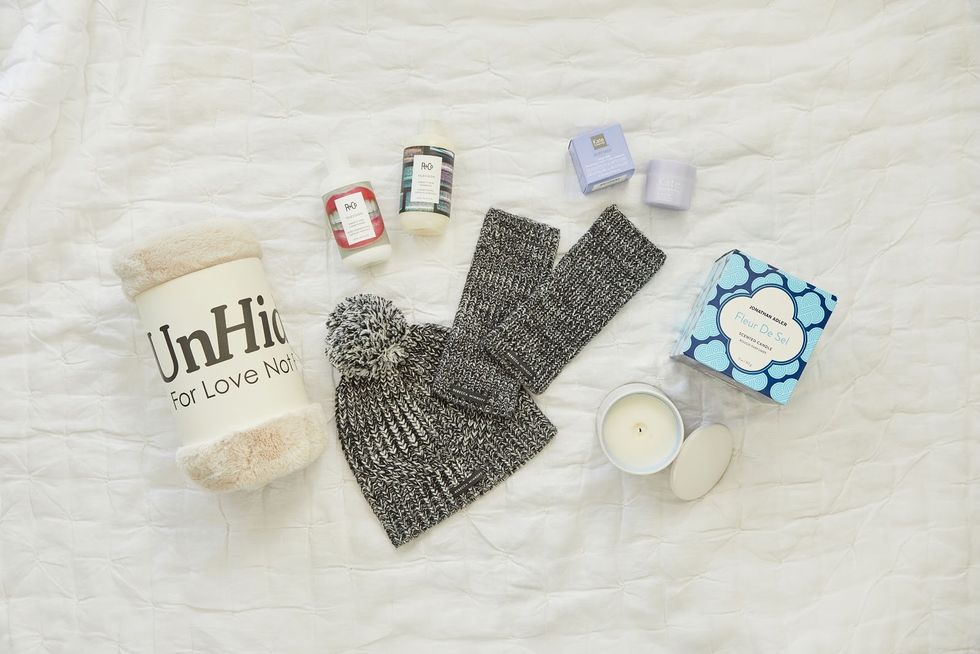 CHOICE 1:

Jonathan Adler Fleur De Sel Ceramic Candle ($48)
This is how you make even a dreary apartment feel like a home.
Notes of an aquatic breeze, marine salt, orange blossom, mimosa, and driftwood will instantly relax tense shoulders and take you away.
Kate Somerville Goat Milk Moisturizing Cream ($65)
Made with goat's milk, jojoba, and avocado, this cream gently soothes and moisturizes dry, damaged skin - the perfect guard for that winter chill!
Bonus: it's certified cruelty-free.
Rebecca Minkoff Marled Beanie & Armwarmer Set ($70)
Arm warmers are back, and you need this matching set - perfect for work commutes, football games, hiking, and holding a piping mug of hot cocoa.
Perfect Hair R+Co Television Shampoo + Conditioner ($64)
Want Bachelorette-perfect hair? This hairdresser-favorited vegan formula will get every strand in its right place for strong, luscious locks that are camera-ready.
UnHide Lil' Marshmallow Faux Fur Blanket ($65)
Could this oversized faux fur blanket be any cuter? Wrap yourself (and maybe someone else 🥰) in luxe animal-friendly fake fur all season long. Proceeds from every UnHide purchase go to The Humane Society, so it's a double win for the cruelty-free community.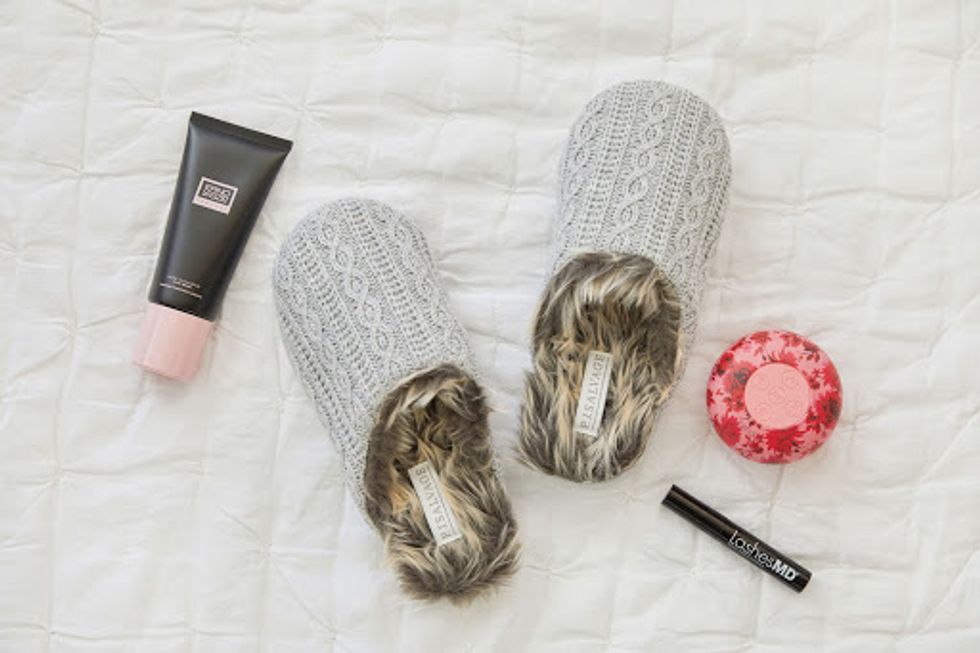 CHOICE 2:

Ban.Do Bluetooth Shower Speaker ($30)
You're already singing in the shower anyway, why not make it karaoke? This floral water-resistant speaker has a 32-foot range, so you can even put on a concert for your cat.
Erno Laszlo Pore Cleansing Clay Mask ($48)
Mask time! Mark it on your calendar. This one uses bentonite clay to remove impurities while infusing moisture and nutrients for skin that glows even in the driest months.
Lashesmd Eyelash Conditioner ($69.95)
Yes, your lashes can be conditioned (who knew)! Rejuvenate them with amino acids, peptides, and vitamins, so they can be their fullest, longest selves.
Pj Salvage Faux Trim Cable Slippers ($45)
For sneaking down the steps to place last-minute gifts under the tree or taking Fluffy outside past your bedtime, these are cozy and supportive in heather grey.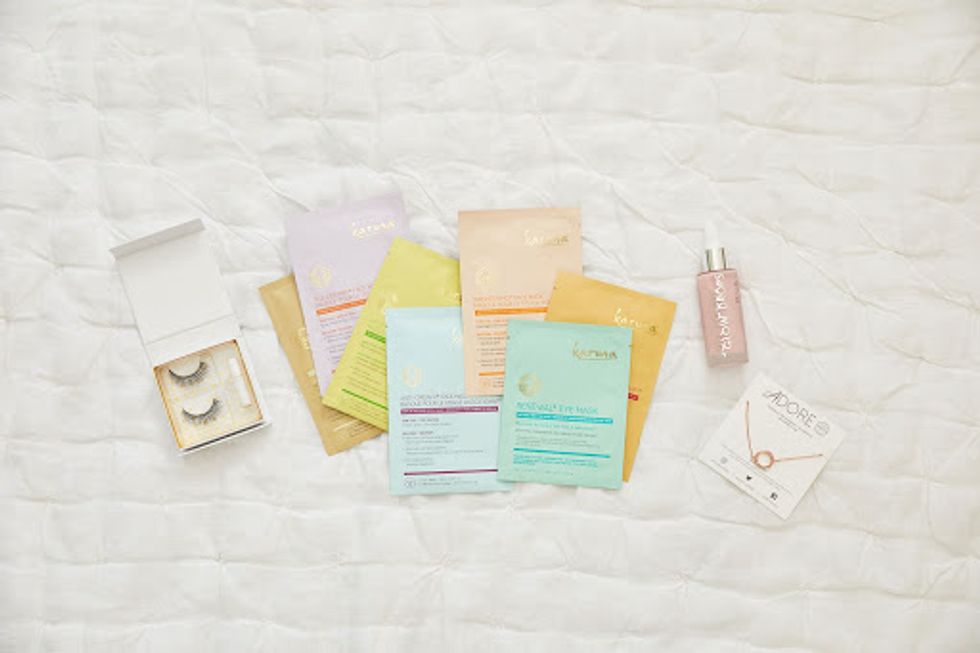 CHOICE 3:

Adore By Swarovski Organic Circle Bracelet In Rose Gold ($39)
The Swarovski + rose gold? This one-of-a-kind bracelet will add a bit of sparkle to any outfit, especially layered over gloves or mittens.
Battington Lashes Monroe 3d Silk Lashes + Glue Kit ($32)
For 25 events, these can be your new go-to lashes. If you love the drama of it all, these bold babies are for you.
Karuna Face For All Face & Eye Mask Set ($42)
Face masks for days! This set addresses all your skin concerns, so save them for stressful weeknights or be generous with a Face Mask Party (no judgement if you hoard them all to yourself!).
Rodial Soft Soft Focus Glow Drops ($55)
More than the price of the box, these glow drops create a radiant base, so your face is primed for makeup and you get that extra glow, like the sun hitting snow.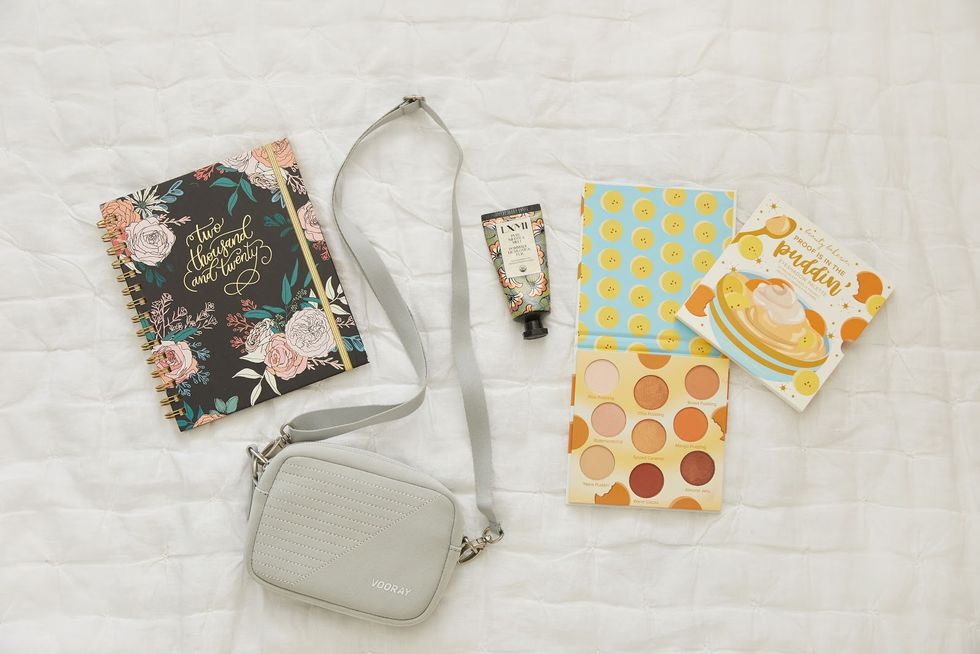 CHOICE 4 (for annual members - seasonal members get a surprise choice!):

Beauty Bakerie Proof Is In The Puddin' Palette ($38)
The proof is in the pudding and your next look is in this palette.
Hard-pressed to minimize fallout, this luxe palette from Beauty Bakerie has four matte and five shimmer shades to complement all skin tones from day-to-night.
Lxmi Pure Nilotica Melt ($28)
For serious hydration, this organic balm-to-oil is your new go-to. For morning protection and nighttime healing, Lxmi has you covered. Not to mention, the beautiful packaging will class up any room.
Vooray Sidekick Crossbody Bag ($17.99)
The most versatile neoprene of your dreams! This light weather-resistant Vooray crossbody bag is all you need for travel, a casual date, or even a quick trip to the 'mart.
Paper Source 12 Month Rose Floral Planner ($27.95)
Nothing better than crossing something off your to-do list. Do it with your favorite pen in this stunning 12 month planner. New Year's Resolutions, anyone?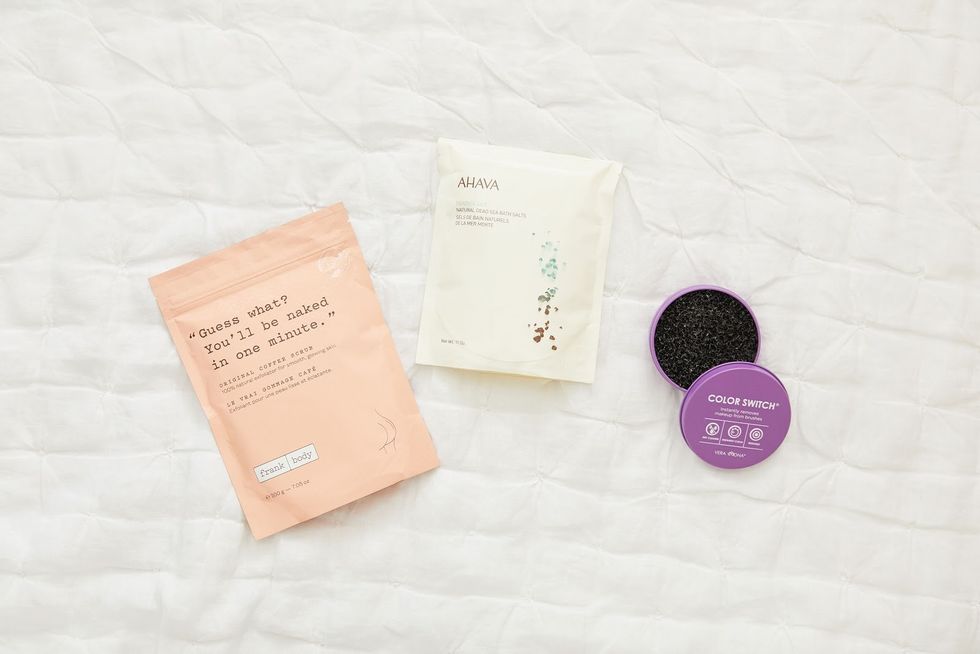 CHOICE 5 (surprise for seasonal!):

Frank Body Original Coffee Scrub ($16.95)
Love the smell of coffee? With almond oil and Vitamin E, this adorably packaged body scrub will leave you soft and craving a mocha frappe (#sorrynotsorry).
Vera Mona Color Switch Solo ($16.99)
Cut down on brushes with this instant brush cleaner - the makeup tool you never knew you needed, but can't live without. It removes all trace of the last color, so you can use less brushes.
Ahava Salt Bag ($16)
Straight from the Dead Sea's healing waters, exfoliate with these Ahava-selected minerals for the softest, calmest skin.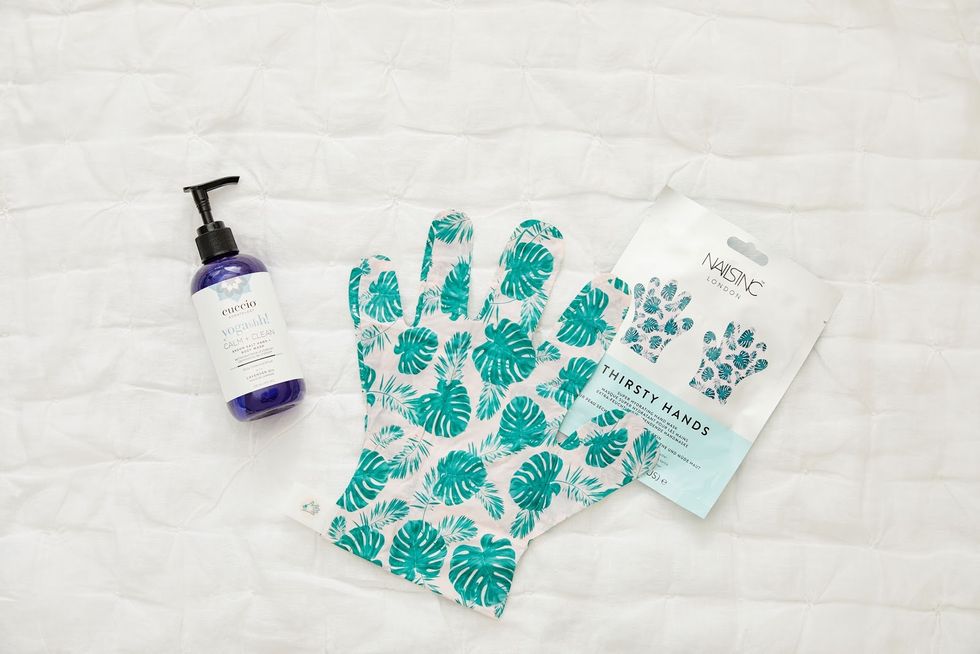 FFF Picks:

Inc.Credible Nailsinc Thirsty Hand Mask Duo ($16)
Dry hands are the worst! Bring them back to life with these gloves - they've got a blend of plant extracts, shea butter, and Vitamin E for instant relief.
Cuccio Somatology Calm + Clean Epsom Salt Hand And Body Wash ($39.95)
This lavender wash gently cleanses and invigorates the skin - it's great for revitalizing sore muscles after a workout or just generally feeling renewed. Use it all winter long to get ahead of the dryness.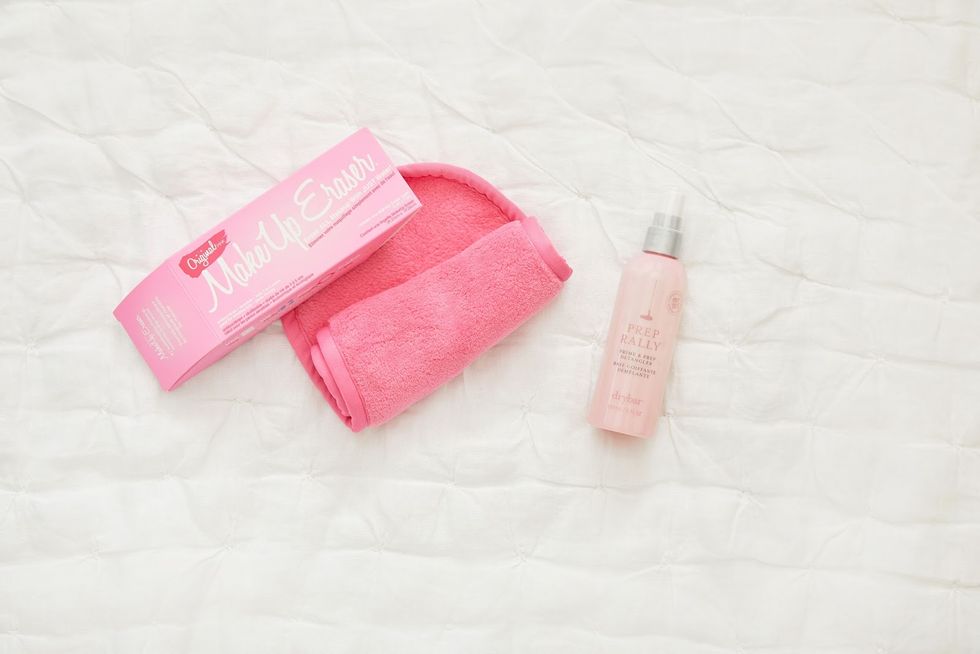 In every box:

Dry Bar Prep Rally Prime & Prep Detangler ($23)
Another hairstylist fave - this detangler blocks UV rays and uses biotin, vitamins B and C, and sea berry oil to protect hair against heat. So don't think twice about the straightener or curling iron for parties all season.
It's great for all hair types and smells like ginger, mint, and sandalwood!
Makeup Eraser In Original Pink ($20)
One side magically removes even mascara with just water and the other exfoliates for a perfect 2-in-1 treat for your face.
Depending on what you get, the total box value is anywhere from $211 to $345.99!
We all need a little bit of TLC to keep us going through the chill of the winter season. You really can't lose with FabFitFun - this amazing box is PACKED to the brim, and will carry you allllll the way to Spring and beyond to hydrate, exfoliate, nourish, and bring that winter magic back into your life.
Now that we've let you in on all the incredible items in this season's box, what are you waiting for? Sign up with our promo to save $10 on your 1st box!