Take A Look At My $300 Haul From Vuori
Vuori is an activewear brand with lines for both men and women available online
Known for their eco-friendly approach to apparel, high-quality fabrics, and innovative tech, Vuori has everything from tops to bottoms and accessories
I tried a range of everyday essentials from their women's line to see if the brand truly delivers must-have performance wear staples
Read below to see everything I got and how it worked out:
Now that temps are destined to start cooling, I can actually dress cute. I've been searching for the ultimate performance wear brand for the season, and that's how I found Vuori.
This California-based company is inspired by an active coastal lifestyle that influences their garments' versatility, color schemes, and technology. But their aesthetically pleasing site and reading so many-many rave reviews still leaves the question open: is Vuori worth it?
I've been wanting to test out Vuori to see if they actually are the best activewear. But once I saw their new colors, esp. the stunning Ultra Violet I was convinced. It was time to cart them ASAP.
Here's what I thought about each of their most popular essentials:
I started with the Studio Pocket Legging.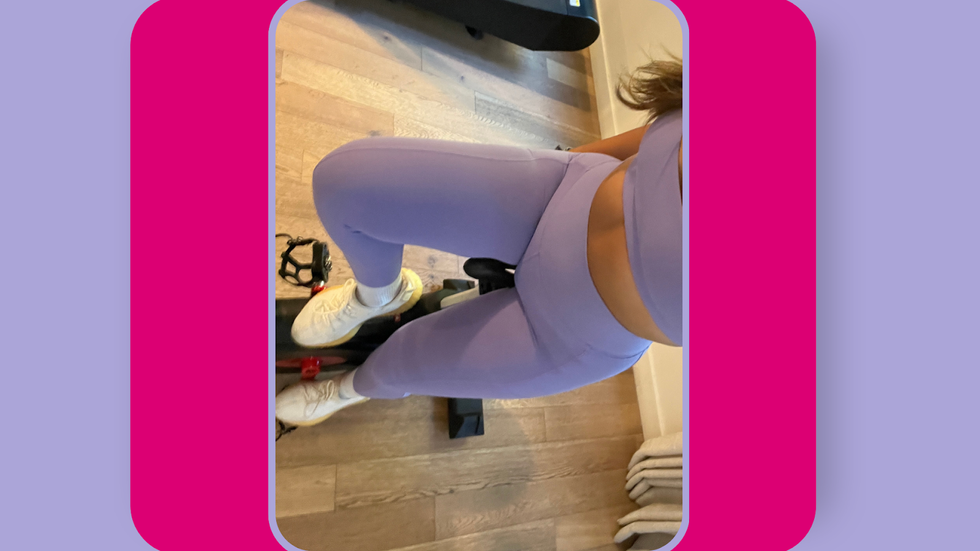 Immediately this legging beat out any of my worn-out Lululemon or Alo Yoga leggings. The color is bright but not overpowering. In fact, it's so unique, it looks good with everything! And the material is extra cool and smooth – perfect for both my cardio warm-ups and my pilates! Vuori's discreet square logo is such a cute touch – I hate when brand logos are too prominent on my activewear.
Once I put the Studio Pocket Leggings on, my life changed.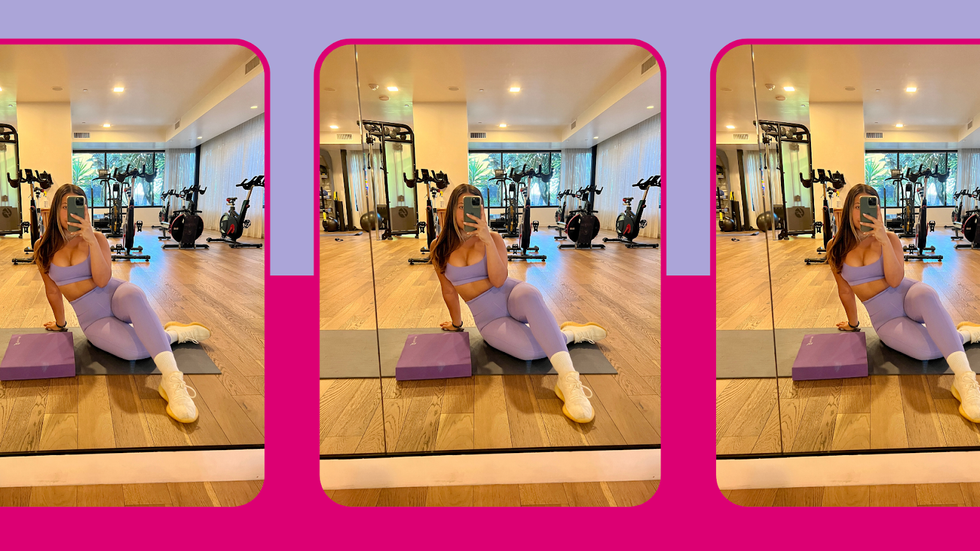 These are the softest leggings I've ever owned, hands down. Vuori'sBreathe Interlock™ fabric is next-level and provides an incredible smoothing effect while providing breathable support. Plus, the Studio Pocket Legging passes the see-through test which is a must. They have full coverage, comfort, and the high rise hits my waist perfectly.
And let us not forget the pockets. A. Game. Changer. Unlike other leggings, the pockets aren't bulky, or worse, teeny. They're so sleek I practically forget they're there – until I need them.
To top off my first Vuori outfit I added the Daily Bra.
Like all of Vuori's collections, this bra is available in sizes XXS to XXL. I stuck with my beloved Ultra Violet color in a size S.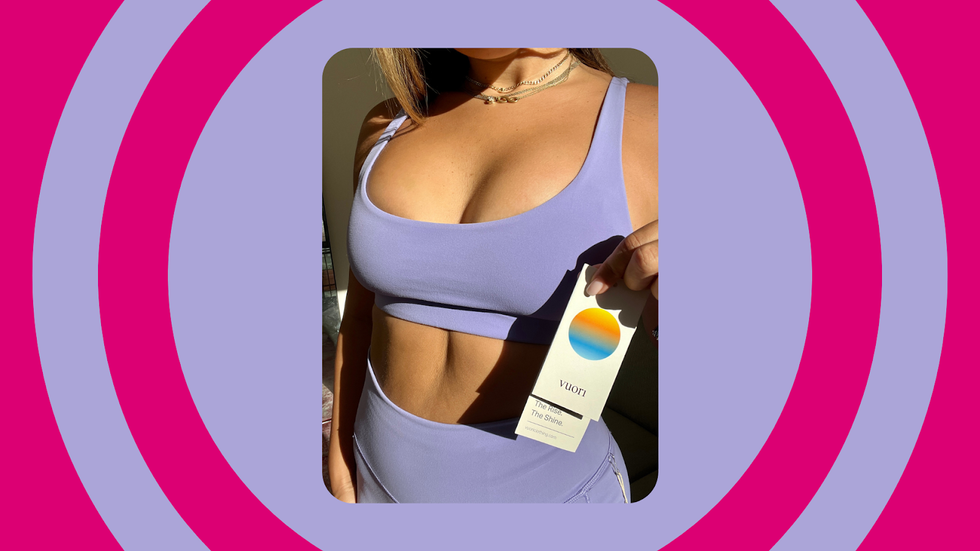 Also made with Vuori's signature buttery fabric, this bra is meant to pair with my gorgeous Studio Pocket Legging. I love how supportive – yet minimalist – it is for a sports bra. The medium support provides just the right amount of security I need for a wide range of activities.
No matter what I'm doing, the Daily Bra's tech takes me through my entire day from the gym or a training run, to a post-workout coffee break with my friends. It's moisture-wicking, quick-drying, and lined with removable cups. I'm not gonna lie, this bra is so comfy I wear this bra in between workouts too.
Pro Tip: If in doubt, size up! The S fit me but after trying it on I could've gone up a size.
I'm so obsessed with this color, I also ordered the Studio Pocket Shorts.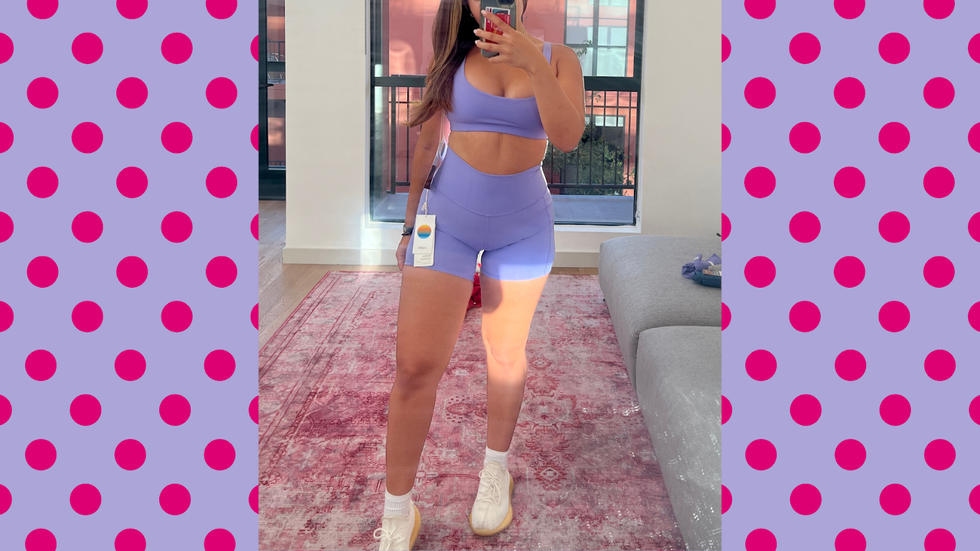 When I really want to work up a sweat, shorts it is. Maybe it's the 4-way stretch, but these do not roll up, even when I jogged up and down the stairs. And the pockets are exceptional for holding my phone and keys securely when I need to run an errand or if go for a quick run.
My last Vuori pick was the Daily Legging in Cactus and Pool Blue.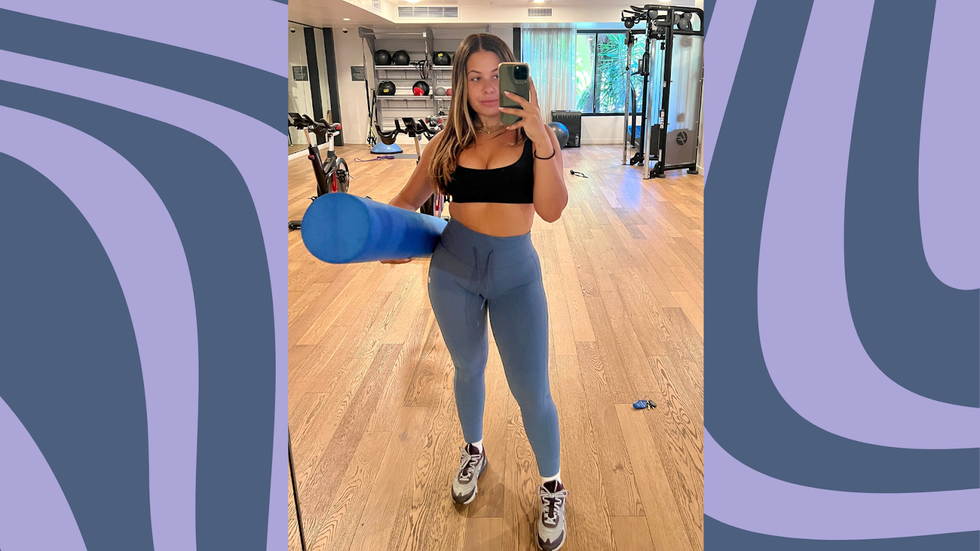 Ultra Violet has my heart, but the versatility of these Cactus Leggings can't be beat. The Cactus says Fall, and this Pool Blue is such an exquisite denim color; they go with absolutely everything.
Peachy to the touch, the Daily Leggingis moisture-wicking and super high-quality.
Vuori is the best place for activewear, hands-down.
My Fall mini-haul proved to be such a success. I have no doubt that the rest of Vuori's collection – and colors – are just as amazing. With unparalleled comfort, quality, and tech, I've never felt so ready to tackle whatever the day brings in my Vuori fits – or so stylish.
Vuori is the next place to stock up on performance wear. And if the women's line is this good, the men's line will surely hit the mark.
While you're filling up your cart, don't forget that you're not only getting high-quality apparel but Vuori is an eco-friendly brand. You can read up on their sustainability efforts here!
If you're hesitant to shop Vuori, trust me this is the best activewear you'll find out there.
JUST FOR YOU: Our Friends At Vuori Are Giving Readers FREE Shipping On All Orders $75 & Up! Follow This Link To Shop!