When winter rolls in, cold and raw salads suddenly don't sound appealing. In the summer, fresh ingredients like lettuce, tomatoes, and cucumber can make the base for a variety of delicious salads. In the fall and winter, our bodies naturally start craving comfort foods like warm, slow cooked soups, stews, and roasts, proving summer's not the only season for colorful, healthy salads.
Though it's still possible to get produce like lettuce and tomatoes year round in most grocery stores, quality is hard to come by. Nutritionists and chefs recommend eating seasonally to get the most flavor out of your food and help your body adjust to changing temperatures. Eating locally grown, seasonal produce can also save you money. Out-of-season fruits and vegetables that are flown in from around the world usually cost more and taste mediocre.
The good news is there's actually a variety of fruits and vegetables that are great even in some of the coldest months, like kale, Brussels sprouts, root vegetables, squash, apples, and pumpkins are all great grocery go-tos.
Here are 7 hearty, cooler-season salad recipes to enjoy.
Parmesan Brussel Sprout Salad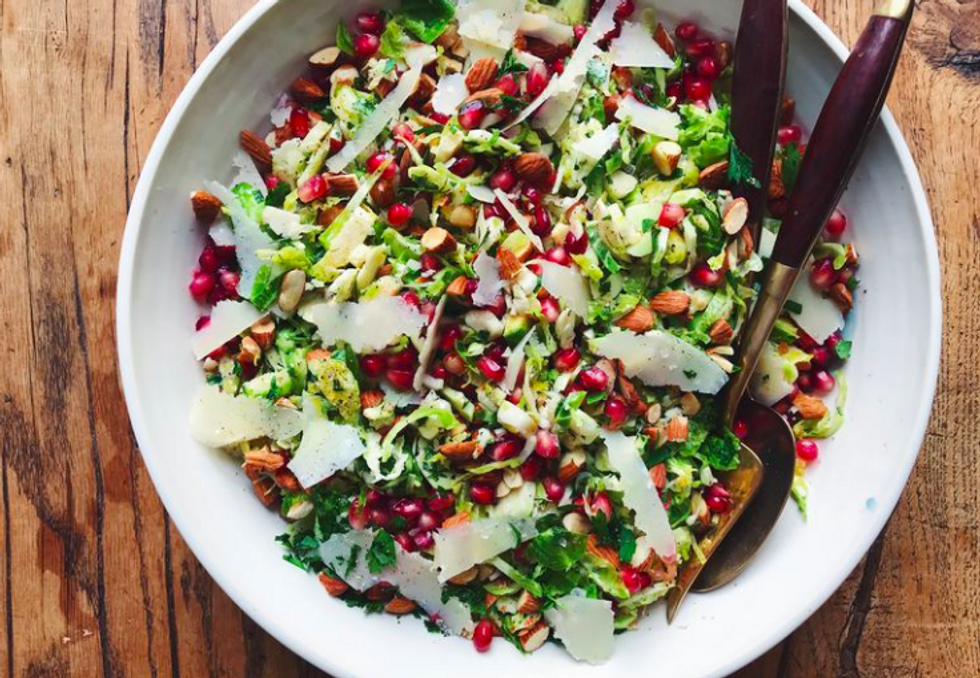 Brussels sprout, parmesan, almond, and pomegranate saladDelish
Brussels sprouts are in peak season from September to mid-February. They're rich in antioxidants, high in fiber, and make a great base for any salad or side. Sliced thin enough and with the right dressing, raw Brussels sprouts are absolutely delicious. This parmesan and Brussels sprout salad by Delish combines the seasonal sprouts with toasted almonds, shaved parmesan, and pomegranate seeds.
Shredded Collard Green Salad with Roasted Sweet Potatoes and Cashews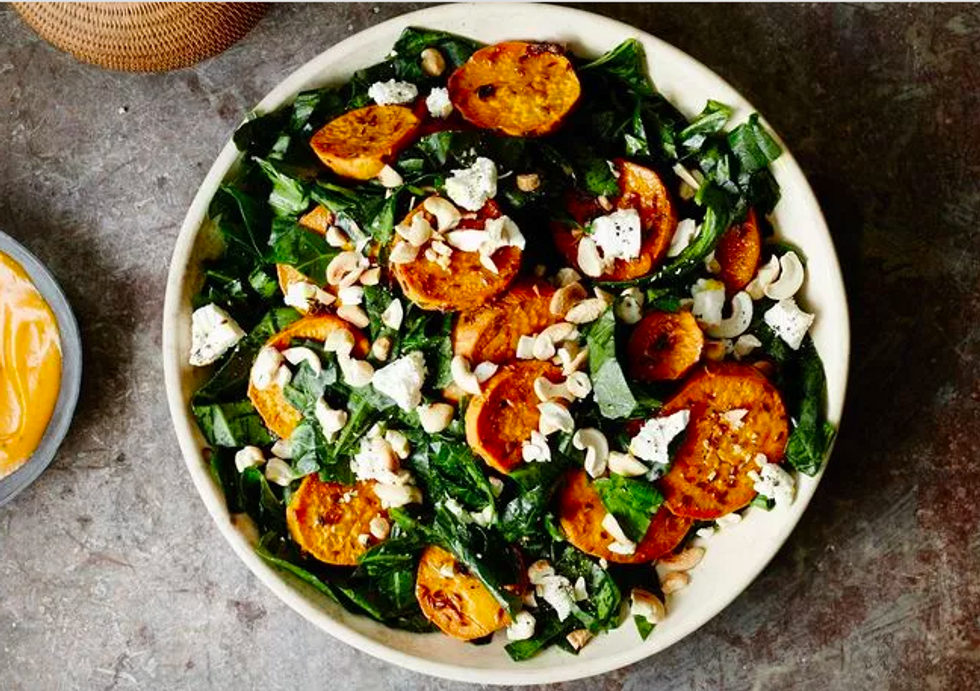 Collard green salad with sweet potatoes and cashewsSaveur
This warm sweet potato and collard green salad from Saveur Magazine is comforting, hearty, and full of flavor. Add extra protein like shredded chicken or a slow-cooked brisket for a more satisfying lunch, but topped with rich, creamy goat cheese and a crunch of cashews, this salad is filling on its own.
Roasted Apple and Pumpkin Farro Salad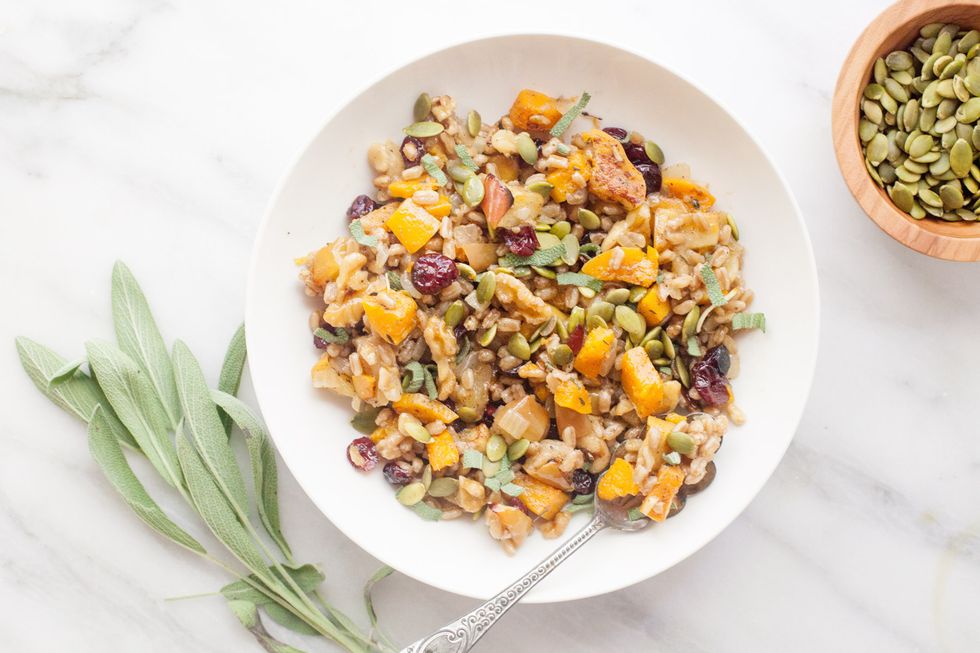 Apple, pumpkin, Farro, and pumpkin seed saladWholefully
Farro is a versatile grain packed with fiber, protein, and iron that makes any salad a little heartier. In this sweet and savory salad, Farro is cooked in vegetable broth and combined with roasted pumpkin and apples. It's delicious hot or cold, as a side or a main course. Serve it with cedar plank roasted salmon and a dry pinot grigio.
Warm Duck and Cabbage Salad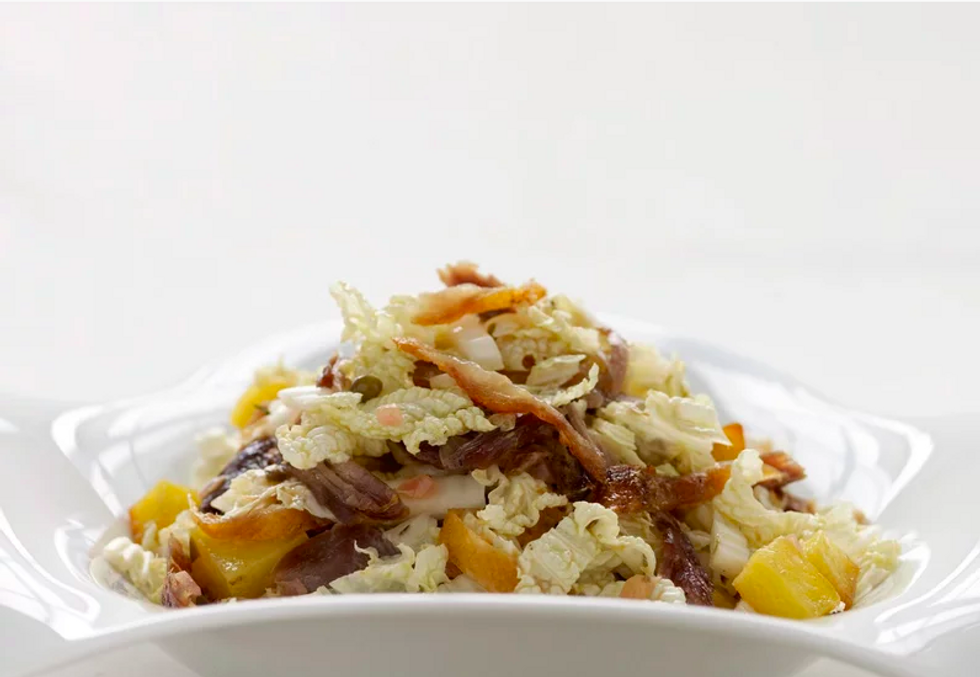 Warm duck and cabbage saladFood and Wine
Cabbage is still flavorful in the fall and perfect to pair with the richness of duck. If you aren't a fan of duck, you can easily substitute rotisserie chicken, just don't forget the crispy skin! With roasted potatoes, thyme, and capers mixed in, this salad is a savory and tangy dish. Serve it as a main course and pair it with a glass of pinot noir or merlot.
Emerald Salad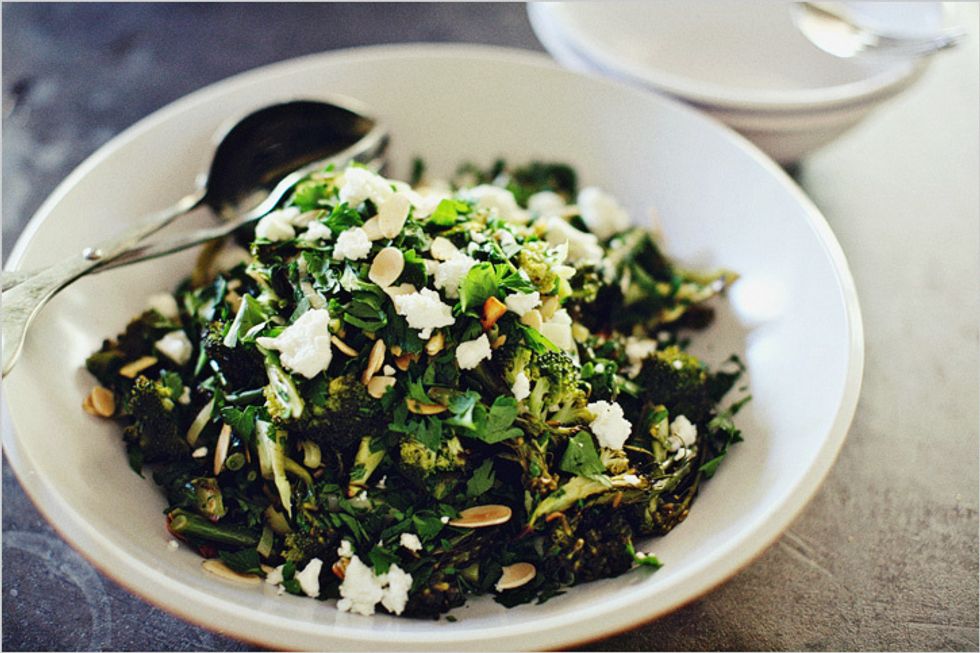 Broccoli, spinach, and parsley salad with feta and almondsSprouted Kitchen
This big bowl of green goodness is easy to whip up and sure to be a crowd pleaser. It's also packed with nutrient-rich broccoli, spinach, and parsley. Topped with feta and toasted almonds, it works best as a side. Roast the vegetables in the oven with chicken breasts for the perfect meal to turn into leftover lunch the next day.
Warm Potato Salad with Pancetta and Brown Butter Dressing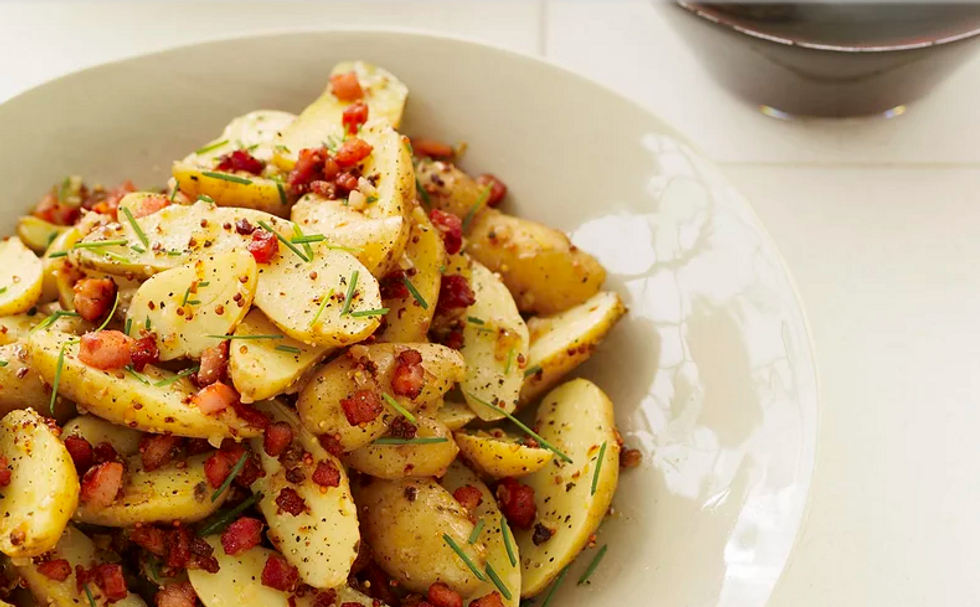 Warm Potato Salad with PancettaFood and Wine
In the fall and winter, I crave potatoes in all their delicious forms. Mashed, roasted, slow cooked into a soup—there's nothing quite as comforting as root vegetables in peak season. This warm potato salad with pancetta and brown butter dressing is inspired by a salad served at Le Pigeon in Portland, Oregon. It's tangy, hearty, creamy, and so satisfying on a cold day. Reheated, this warm salad also makes a delicious hash to serve under an egg for breakfast in the morning.
Roasted Vegetable Salad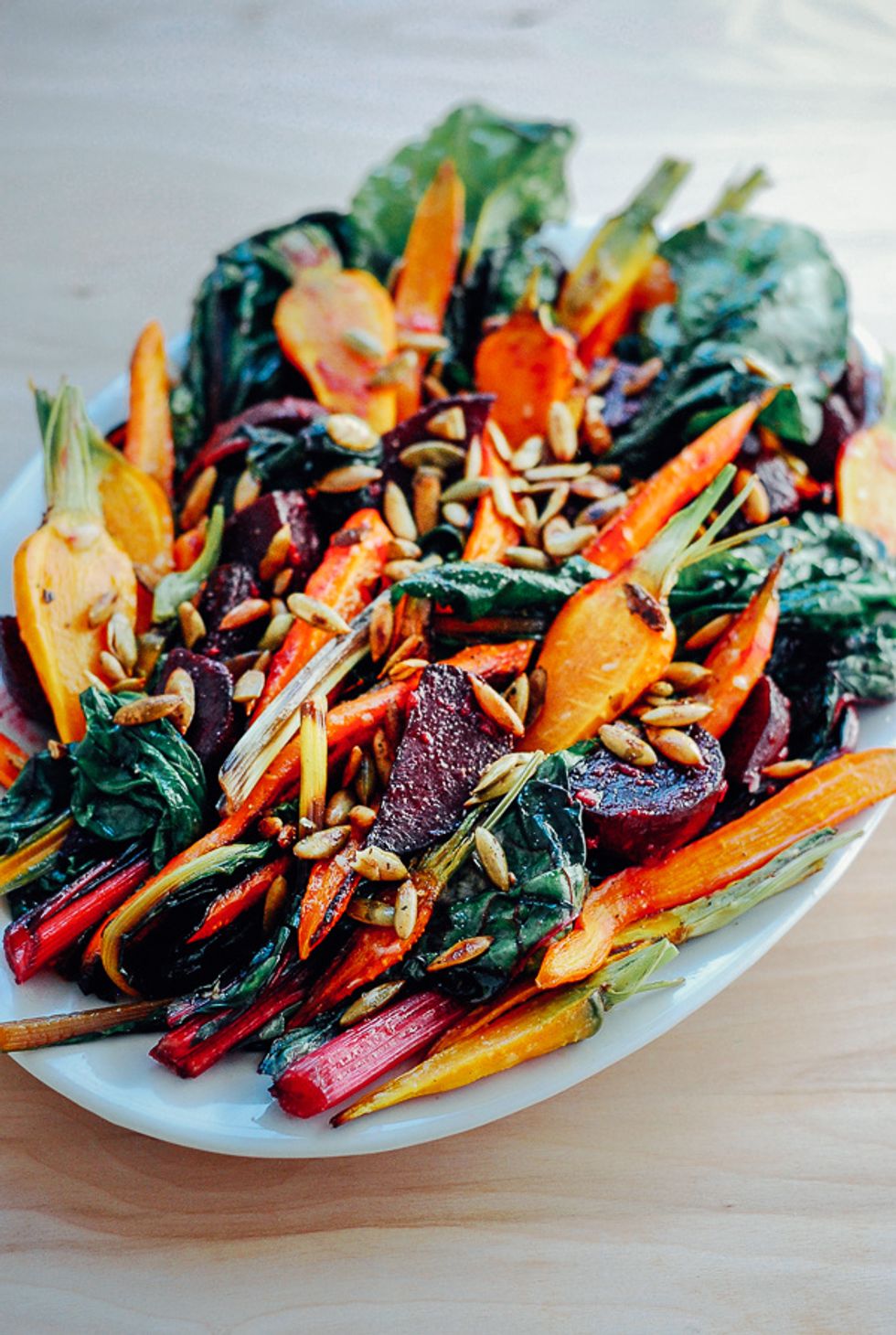 Roasted Root Vegetable SaladBrooklyn Supper
This colorful, roasted salad is a tasty tribute to the fall season. What's better than a heaping side of perfectly cooked, seasonal vegetables with a flavorful garlic dressing is drizzled on top? Pepitas give an extra crunch to this salad of jewel-toned fall produce like carrots, beets, and collard greens.