Matcha tea has been part of Japanese tradition and culture for centuries, and its popularity has skyrocketed in America with good reason. Matcha is packed with antioxidants, and is rich in chlorophyll; it does everything from lower cholesterol and blood sugar to boost metabolism and prevent disease. It's also a good alternative to coffee. Matcha has a subtle floral fragrance, and its emerald green color is a feast for the eyes. Perhaps matcha's most important attribute is its taste; smooth, distinctive, rich yet clean. Thanks to Starbucks, I'm sure we've all had enough Matcha lattes to last us a lifetime. Here are a few other ways to use matcha that are easy and delicious.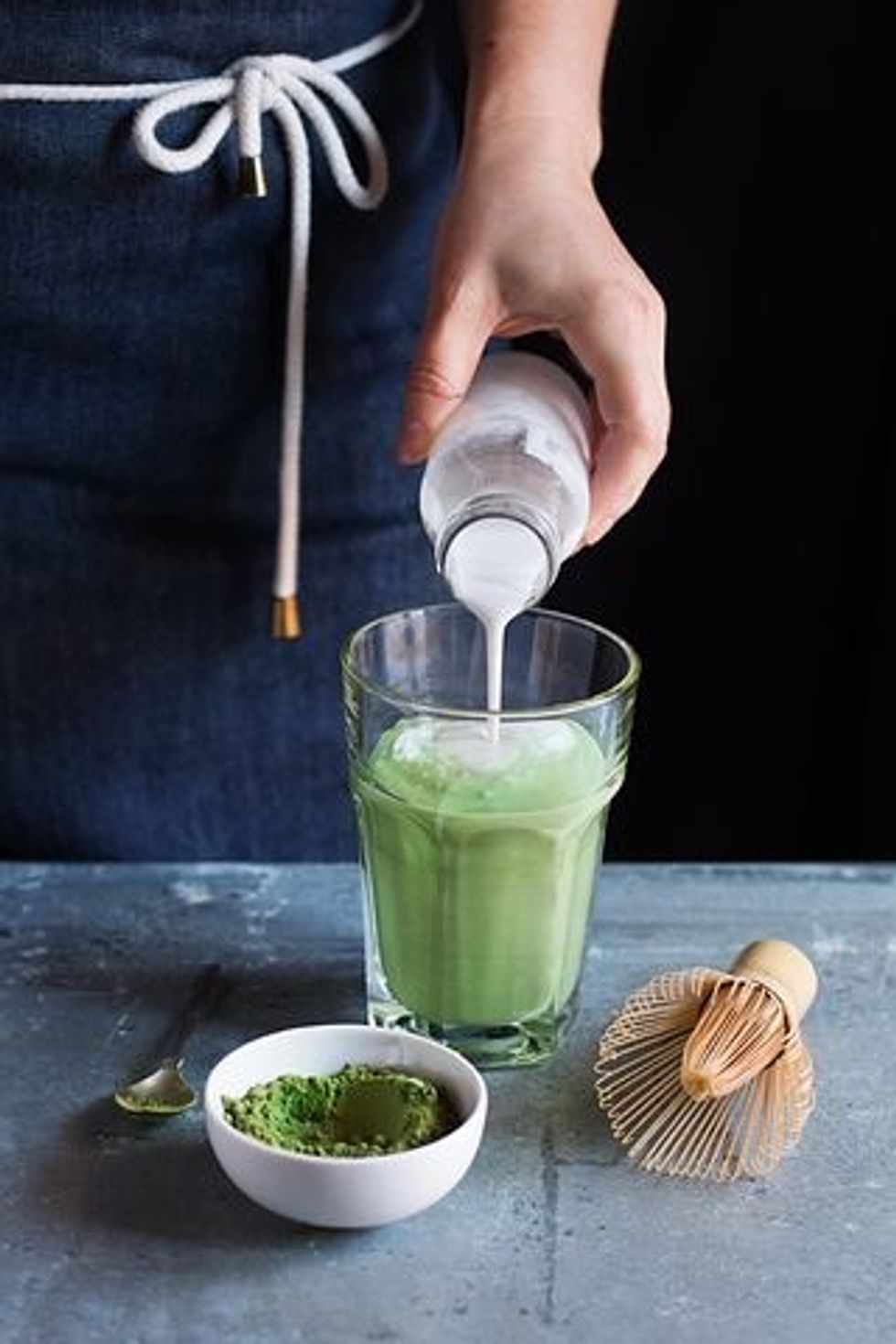 Mighty Matcha Smoothie – serves 1

1 teaspoon matcha
2-3 tablespoons boiling water
1 banana, sliced and frozen
1 ½ cups cold almond, soy or regular milk
¼ cup frozen chunked pineapple
Sift the matcha into a small bowl, add the boiling water and whisk the matcha into a slurry using a bamboo whisk or a small wire whisk. Place all of the other ingredients in a blender and then pour in the matcha liquid. Blend until smooth and drink immediately.
Note: If you prefer to use fresh fruit instead of frozen, add 4-5 ice cubes to your blender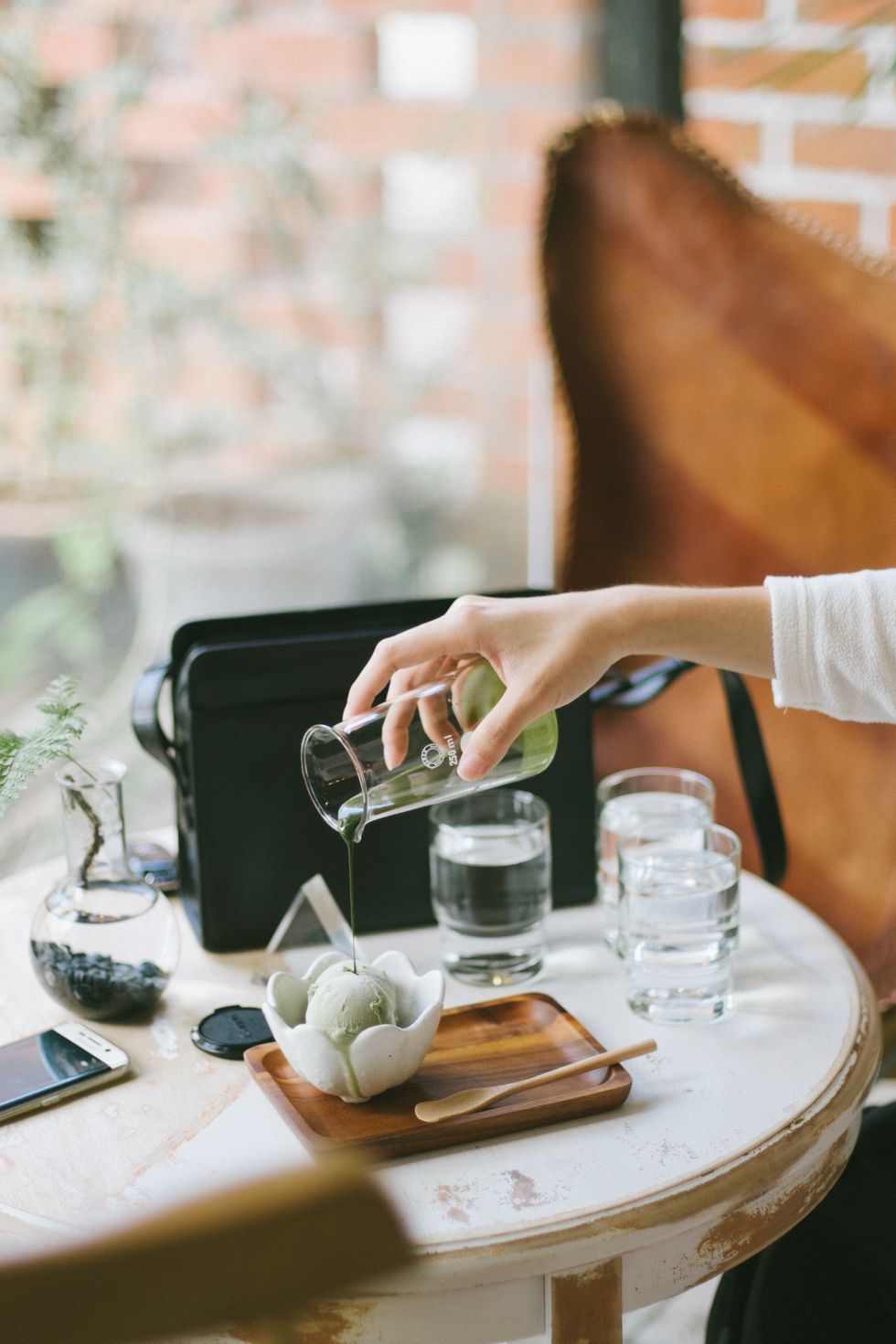 Matcha no-churn ice cream
Nigella Lawson has the most brilliant recipes for no-churn ice cream. One is better than the next.
I've taken her basic technique and ingredients and added matcha.
3 teaspoons matcha
5 tablespoons boiling water
¼ cup sugar
2 cups heavy cream
½ teaspoon vanilla
Sift the matcha into a small bowl, add the boiling water and whisk into a slurry. In a separate bowl, beat the cream and sugar until it thickens slightly, then add the vanilla and macha liquid and beat until soft peaks form. Pour the mixture into a shallow baking dish, cover with plastic wrap and freeze for at least 3 hours.
Matcha Granita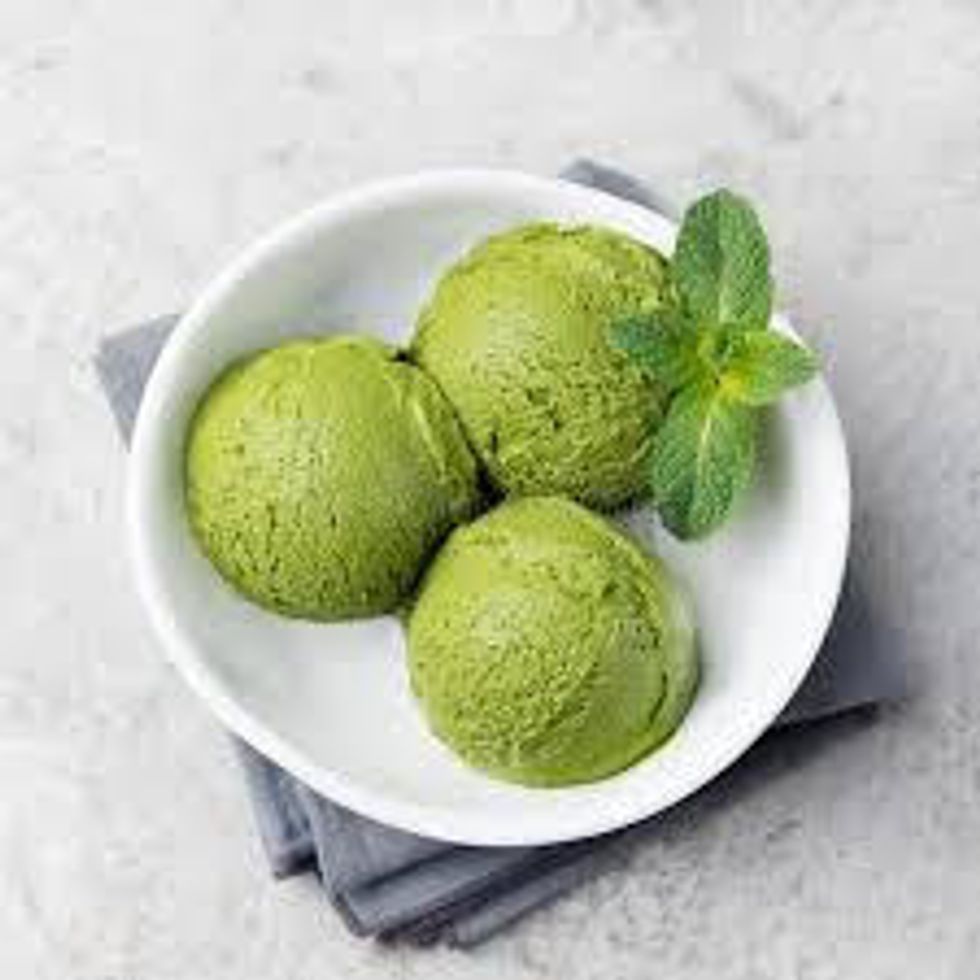 3 teaspoons matcha
½ cup boiling water
¼ cup sugar
2 ½ cups water
in a deep bowl, whisk the matcha with the boiling water until it is frothy. Add in the sugar and mix to dissolve. Stir in the cold water and pour mixture into a shallow Pyrex dish. Freeze for 2 hours, rake with a fork, freeze for another hour, rake with a fork again and serve. This is delicious with grilled or roasted pineapple.
Matcha Rice with Salmon and cucumber salad - serves 4
For the rice:
1 ½ cups white rice (jasmine)
1 ½ teaspoons matcha
1 teaspoon rice vinegar
1 tablespoon butter
Salt to taste
Put the rice, matcha and salt in a pot with 3 cups of cold water. Bring to a boil, lower heat to simmer, cover and cook for 16 minutes. Turn off heat. Add butter and vinegar, fluff with a fork and cover for five more minutes before serving.
For the Salmon:
Four skinless salmon filets about ½ pound each
1 tablespoon fresh grated ginger
1 tablespoon white or yellow miso paste
2 tablespoons tamari or soy sauce
2 tablespoons dark toasted sesame oil
1 tablespoon fresh lime juice
1 tablespoon honey
8 scallions, cleaned and trimmed
Heat your broiler to high. In a medium sized bowl, grate the ginger, mix in the miso paste, the soy, lime, and oil. Line a shallow baking dish or broiling pan with foil and place the scallions lengthwise together. Place the fillets on top of the scallion bed, sprinkle with a pinch of salt, and brush each fillet with the soy mixture. Place under the broiler for 5-8 minutes, depending on the thickness of your fillets and on how you like them cooked. Take care that the fish is not too close to the broiler as the miso mixture tends to burn quite quickly. Remove the fillets to a warm serving platter and place the scallions underneath the broiler for another 2-3 minutes, or until they are slightly charred. Remove and place next to the salmon.
For the Cucumber Salad:
2 seedless cucumbers, peeled and thinly sliced
1 tablespoon sesame seeds
½ cup daikon radish, peeled and thinly sliced
2 tablespoons rice vinegar
2 tablespoons dark toasted sesame oil
1-2 tablespoons dark peanut oil
1 tablespoon soy sauce or tamari
salt to taste
Mix the liquid ingredients in a bowl and whisk. Add in the rest of the ingredients and gently toss.
To serve:
Place two grilled scallions and salmon fillet on each plate with a portion of the cucumber salad, matcha rice and wedge of lime.