I Tried Function Of Beauty's Customized Formula: Here's What Happened
Here's why you need to try this personalized shampoo and conditioner.
Recently, I was at a dinner party at an old friend's house when I couldn't help but notice how well put together her bathroom was. Everything - even her shampoo bottle - coordinated with her aqua shower mat. I took a peek and noticed her name on the bottle! - "Function of Layla".
Typical Layla. She always had the coolest accessories when we were in high school. I used to ask her all the time where she got such great stuff and this occasion was no different.
Layla told me her shampoo's called Function of Beauty. Not only is the bottle personalized, but she has an individualized formula based on her hair needs. She even got to choose her own shampoo scent and color.
Super cool - I could match my shampoo bottle with my monochrome bathroom. I was definitely interested, but imagined this product had to be outrageously expensive. I decided to check - maybe it would be worth my while.
I went on the website and took a quiz. They ask for your hair type (straight, curly etc.), structure (fine, coarse, etc.), and finally, your moisture level (dry, oily, etc.).
Next, I chose my hair goals. My hair goals? No one's asked me that before! There are so many goals to choose from – color protection, volumize, even fix split ends, to name a few. Since I grew out my most recent dye job - purple. I haven't had any major hair problems. But I want to conserve my healthy new hair growth.
So, I chose anti-aging, shine (your hair can never be too shiny), lengthen, and heat protection (for the special occasions I like to curl my hair). Then . . . the fun part - I picked a scent (fl)ower to the people, as well as a color for my bottle. I went with the lilac color- so pretty!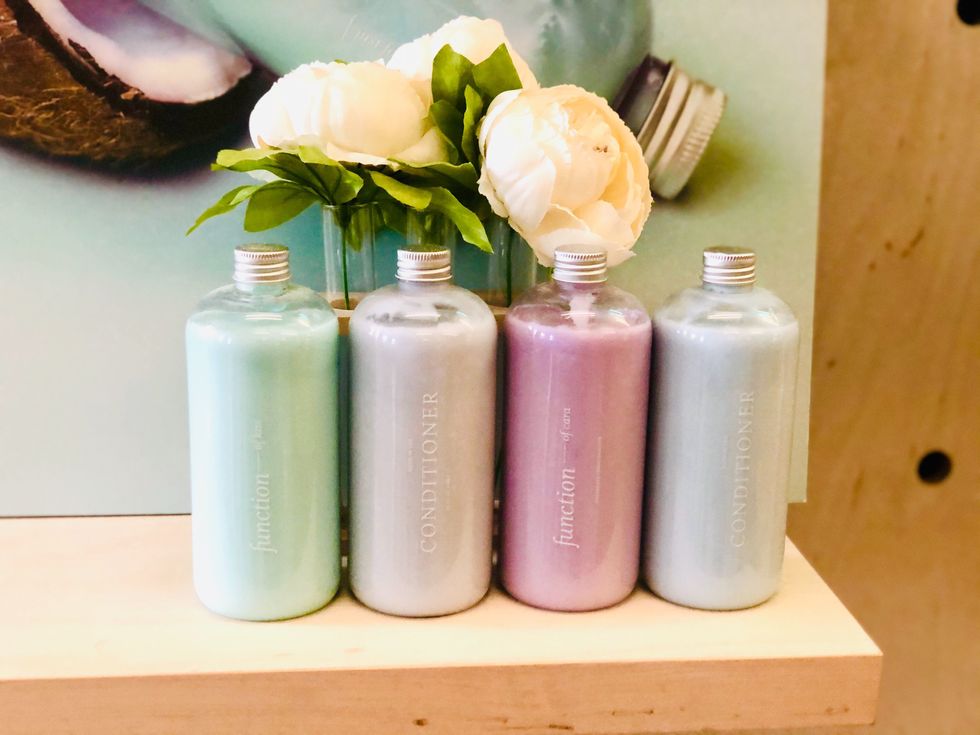 I was happily surprised with Function of Beauty's reasonable prices.They offer a 16oz shampoo + 16oz conditioner for only $49. There's also an 8oz shampoo + 8oz conditioner for $39. That's way cheaper than high-end salon brands like Oribe, Kerastase, and Aveda. You can mix and match sizes of shampoo and conditioner bottles. Excellent, because I go through shampoo much faster than my conditioner. Plus, I was happy to see that it is vegan, cruelty free, free of parabens and sulfates
When I saw how affordable it is, I knew I had to buy it. So, I ordered my first bottles of 8oz shampoo and conditioner. The shipping was free, and it only took a few days to arrive. It was so satisfying to throw out my old eyesore shampoo bottles. My cute, new Function of Beauty shampoo and conditioner look impressive on my shower caddy.

Since my first use, my hair is shinier and smells amazing. The formula really works. I loved it so much I subscribed and receive a fresh bottle of shampoo and conditioner every month. It's so convenient, I used to always forget to buy shampoo and would have to squeeze out the last drop.
The subscription is flexible, so you can change the formula as your hair needs change. I changed my shampoo to black to match my sleek, minimalist bathroom, since black is only available for subscribers. Black shampoo - Never seen that before! Next summer, I definitely plan to add hydrate to my formula - my hair gets super dry in hot weather.
Function of Beauty really is the best shampoo and conditioner out there. The bottles are adorable, I plan to gift one to my sister for the holiday season. It's pretty, it's customizable, it's good for your hair,
and
it looks pretty in your bathroom! Try it, you can thank me later.
SPECIAL OFFER: Function Of Beauty is giving our TrueSelf readers 20% OFF their first order.Follow this link and start the hair profile quiz!