Looking for the perfect bean? Cannellini beans (or white kidney beans) are a staple of Italian cooking, particularly Northern Italian cooking. Believed to have originated in Peru (or Argentina, depending on the source), the beans were introduced to Europe in the 15th century by Spanish explorers. With their ability to hold their shape in soups and casseroles, as well as their unique creamy texture and versatility, it's not hard to understand how the cannellini bean gained such enormous popularity. Whether in Tuscan bean soup, cassoulet, pasta e fagioli, minestrone, or on their own with garlic and rosemary, you can't go wrong with the cannellini bean. It's not every bean that can complement chicken or fish, work equally well in soups, salads, sauces and dips, and stand up to lamb or venison.

In terms of heath, cannellini's are truly a dream-bean. They're high in fiber, protein, calcium, potassium and antioxidants, and low in calories.
This recipe is totally delicious and incredibly simple. It's also easily adapted into a full meal if you add pasta, or an even healthier side dish if you add sautéed kale. It's perfect with chicken or fish. I use canned beans (if it's okay with Mark Bittman, it's okay for me ), but you can certainly use dried, soaking them and then cooking according to the packages' instructions.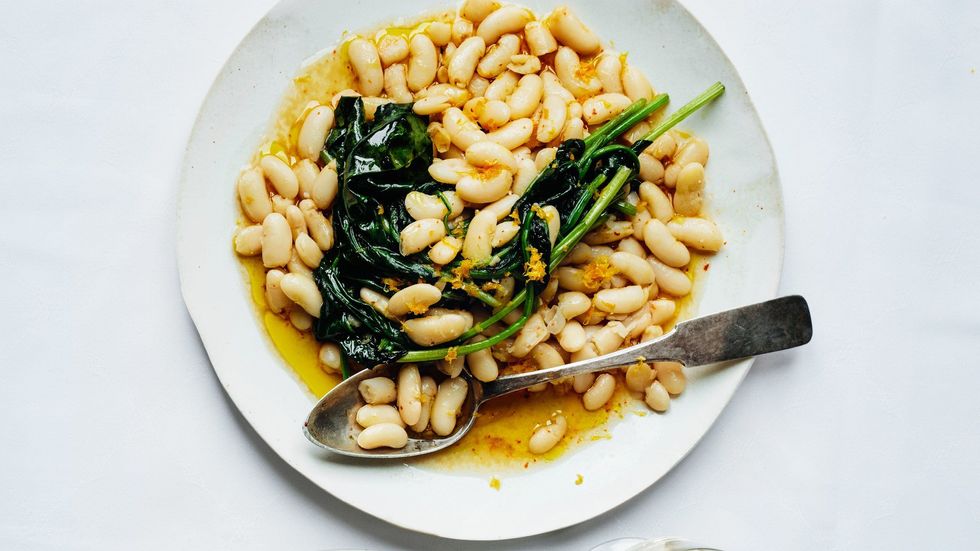 DeliciousBon Appetit
White beans with garlic, wine and rosemary – serves 2:
Ingredients:
1 can (15 oz.) of white beans
1-2 cloves garlic
1 spring fresh rosemary
¼ - 1/3 cup extra virgin olive oil
¼ cup dry white wine
kosher salt
---
Drain the beans and set aside. Mince the rosemary and crush it together with the garlic and ½ teaspoon of kosher salt in a mortar and pestle. Heat the olive oil over medium heat in a sauté pan and cook the garlic and rosemary for about a minute, taking great care not to brown or burn. Add the beans and let cook for about 5 minutes, stirring once to prevent burning. Add the wine, stir and lower heat a bit. Cook, stirring occasionally, for about 10 minutes, or until wine is absorbed. Remove from heat and drizzle with a bit of extra olive oil and some grated parmesan cheese, if desired. These beans can be served hot or at room temperature.
If you are adding pasta: Cook a box of your favorite shape (rigatoni works very well here) in generously salted water according to package instructions. Reserve ½ cup of the cooking water before draining. Add the cooked pasta to the finished beans over a medium heat. Add the cooking water as needed to create a sauce. You should not need more than ¼ cup. Drizzle with extra olive oil and plenty of grated parmesan cheese.
If you are using kale: Rinse, dry, remove woody center stems and chop the kale into ½ inch ribbons, (lacinato is great with this, but any kale will do). Add to the oil before you add the beans and cook together as instructed above.
Enjoy!