Since September, every Sunday has been reserved for football. It's the only subject anyone can talk about: the all-consuming, seemingly endless football season that has America in a chokehold…and I'm no exception.
---
While the games themselves are worth the watch, one of the most highly anticipated events this season is the reveal Gameday Fit. It comes before the game when the players arrive at the facility in their literal Sunday Best….and the players are coming to serve.
The Tunnel is the new Runway. Some of the best players in the NFL sport bold colors, fun prints, standout shoes, vests, and ski masks. Others choose leathers, oversized sweaters, and iced-out chains. Regardless, the men of the National Football League are showing they have talent and style.
We're in a new era of men's fashion where we've begun holding men to higher standards. Instead of just the trusty sweatpants and t-shirt combo we'd have normally expected, we've come to expect an ostentatious Gameday Fit. It's each player's chance to let their personality shine through before they shove into their pads for 3 and a half hours.

NFL stars like the Buffalo Bills' wide receiver, Stefon Diggs, are known for donning insane fits that rival fashion week. And we're not the only ones paying attention, GQ now has readers voting for the NFL's Most Stylish Player 2023 - much like they did for the NBA and winner Shai Gilgeous-Alexander.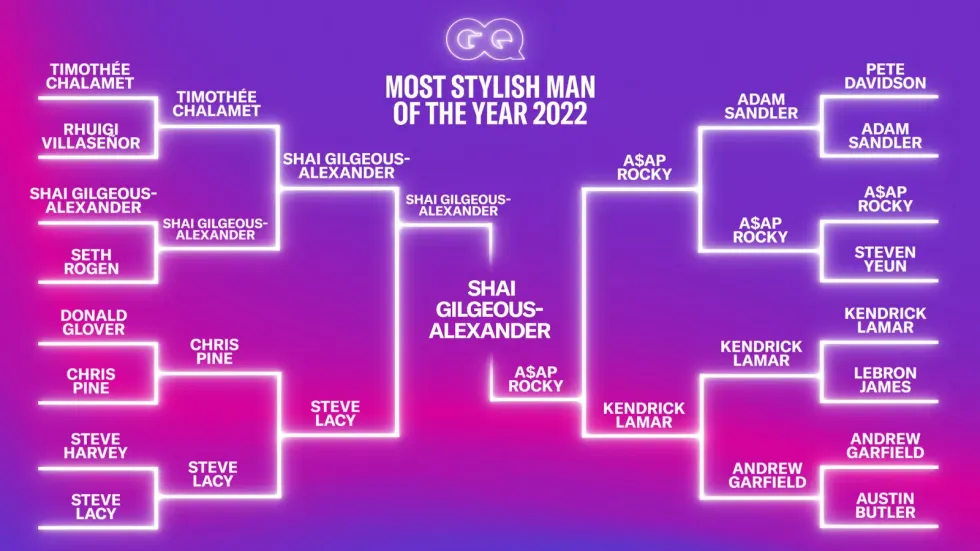 GQ
Amongst a star-studded bracket with names like Travis Kelce, Ceedee Lamb, and Saquon Barkley, the resounding winner was the Philadelphia Eagles' wide receiver Devonta Smith. Smith defeated Stefon Diggs in the final round of voting. While Smith looks forward to the Super Bowl this upcoming Sunday against the Kansas City Chiefs, I'm sure this award is equally important to him.
If you want to find a menswear outfit that could give Joe Burrow's Cartier glasses a run for their money…here are our fave gameday-inspired fits.
Dress Like Joe Burrow 
Cartier glasses, fur jackets, floral suits, and turtlenecks with an icy chain a la The Rock…he has the nickname "Joe Shiesty" for a reason. One of his most iconic looks, when asked if his diamonds were real he responded "I make too much money for them to be fake."
An easy way to elevate your look is with a statement jacket and sunglasses. While your diamonds may not be real, you can still achieve the Joey B look with ease. All you need is a chain, this oversized fur bomber, a black turtleneck, and rectangle-frame glasses for the Joey B look.
Dress Like Devonta Smith 
Devonta Smith has a Heisman Trophy, an NCAA Championship, and some of the finest fashion taste under his belt. King of the wide brim hat and fitted suit, he is always looking polished…down to his tie complementing his bag.
If you want the "Skinny Batman" look, Smith is a fan of matching his colorway from head-to-toe. If you're wearing pink, include subtle accents throughout your entire outfit…not just the suit. These Ralph Lauren Shorts and Blazer pair perfectly with Nike Air Force 1's to complete a Devonta-esque outfit.
Dress Like Stefon Diggs
Credited as the king of NFL fashion to many, Stefon Diggs never misses. A fan of the bomber jacket, layering and experimenting with oversized pieces, and an advocate for crossbody bags…but he never regrets a fit. He told GQ,
"Hell, no. If I put it on, then it was the right shit. [laughs] I don't regret any fit. I look at all my fits like, "That was the time in my life when I felt like that was okay."
Dress like SD with a pair of oversized jeans, a bomber jacket, and t-shirt for a relaxed, comfortable fit that still serves.
Dress Like Jason Kelce
It wouldn't be an NFL fashion article with Philadelphia's Jason Kelce, who will meet his brother Travis in the Super Bowl next week. The Kelce Bowl is all the rage right now, but may I introduce you to one of the best dressed players in the league?
Kelce is known for saying things like "I'm not here to play dress up" when wearing flip flops on gameday. He's famously dressed as Doug Whitmore from 50 First Dates or in an Ocean Drive shirt (a Sea Isle City, NJ bar where Kelce holds fundraisers). If you want to dress like the older Kelce, buy a pair of Rainbows and cut your jeans to short length...it's about fun and comfort.
Dress Like Travis Kelce
Jason's younger brother, Kansas City tight end, Travis Kelce, has his own clothing line "Tru Kolors," selling 90's-inspired athleisure. He wears different styles of peacoats, experiments with different prints, and is not afraid of accessorizing. Travis has always been interested in fashion outside of football.
A Travis Kelce look is not complete without a statement peacoat like this one. From there, don't be afraid to accessorize with chains, watches, sunglasses, and hats. It's an easy way to spice up any old "basic" outfit.