The Best Getaway To Reconnect and Unwind This Spring
My husband and I haven't properly celebrated our anniversary in years.
I mean, we always go out for a meal, but we haven't had a chance to do something special together since before the kids were born. This year is our 7th wedding anniversary – not a big one, but we thought since the kids are a little older now, we could finally take a well-deserved trip away.
I suggested getting a hotel with some spa treatments, but then that went out the window. Even considering everything that is going on, we wanted to find a way to celebrate and mark the occasion in a safe, responsible way. Since it's finally spring, he suggested a weekend trip to the great outdoors. "You mean camping?!" was my initial reaction. He then proceeded to tell me about these Getaway cabins that his friend at work told him about. He said you get the perks of camping, without having to rough it.
My husband is a real outdoorsy type, so I wasn't surprised by this suggestion. But I was skeptical, I mean, I just wanted a nice relaxing weekend trip away from the kids. Being a mother of 2 small children is tiring, and I wanted a trip that involved some comfort.
I explained all this to my husband, and he insisted that this would be the perfect break that we would both enjoy. He said that the cabins are fully equipped with everything we'd need and that being tucked away in the spring foliage for a few days is the break we needed from our crazy lives.
After looking at the website and checking out a few of the photos, I realized the cabins didn't look so bad after all. Actually, they looked really cozy. I wanted to be sure that it would be 100% safe for us to go there and that we wouldn't come in contact with anyone along the way. I emailed the Getaway support team and read their Journal posts, and they reassured me that they have upped their cleaning procedures to make the cabins as safe as possible and that the cabins are at least 50-150 ft away from each other. We wouldn't even have to check-in at a front desk, and we could just drive straight to the cabin.

So I agreed to go, and my husband booked it. A few days later, off we went. The journey wasn't too long – only about 2 hours, thankfully. When we arrived at the cabin, the first thing that struck me was how peaceful and how quiet it was. The flowers were starting to bloom on the ground and it looked picturesque. It had been a long time since I'd been away from all the chaos of my family life. I could even hear birds singing!
Then when we stepped into the cabin, it was so much nicer and more modern than I expected. I was relieved to see all the facilities they have.
Getaway cabins have AC and heat, a private bathroom with a toilet and a hot shower, a kitchenette with a two-burner stove, mini-fridge, and all the kitchen essentials. Plus, the bed was super soft. There's a large window beside it so you can appreciate nature as you relax.
We really liked that they had a phone "lockbox" – a nice touch to allow you to truly unplug. Of course, we would be checking up on the kids every few hours, but it's nice not to be distracted by notifications all day.
For the first evening, we made pasta on the stove and played scrabble with a bottle of wine as we breathed in the fresh, spring evening air. We used to always play scrabble before the kids came along. It had been so long I forgot how competitive we got!
The next morning, we woke up early to the sound of birds chirping instead of fighting teenagers or a jarring alarm, it was bliss seeing the sun shining through the window and how gorgeous it was outside made me want to get out and explore it right away. We went out for a short scenic hike in the woods. Nothing too strenuous, just a walk around the area to appreciate the colorful landscape - and gorgeous views.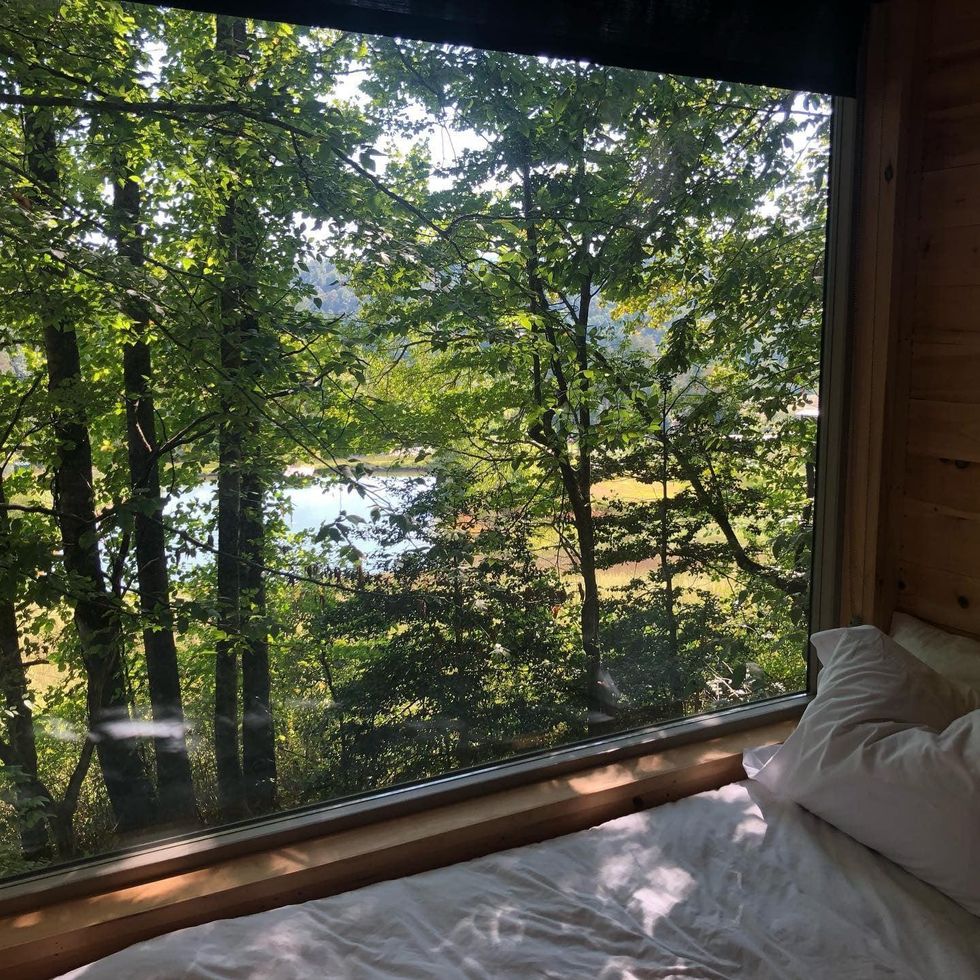 Once we got back to the cabin, we both took turns in the shower before making lunch – we grilled veggies and chicken skewers and ate them at the picnic table. The next day, we had another stroll and came back and chilled out by the fire in the Adirondack chairs for our last evening – we laughed so hard reminiscing on some of the trips we took when we were young.
We left feeling super refreshed. But as much as we needed a weekend away, we both admitted that we missed the kids. The trip turned out to be the perfect mix of camping and comfort.

Offer Expires In