How We Were Able To Safely Take A Break In Fall 2020
A break from productivity, social media, stress - all of it.
Anyone else need a break from social media? Pre-quarantine, my husband, Sam, and I were stressed to our limits. We began planning a brief vacation for relief, but now that small break is indefinitely postponed.
So now, the only thing that's changed is we're stressed while stuck on the couch rather than commuting. Our mutt, Riley, however is having a ball with us home, and that does bring a little bit of comfort! We talked about how this is the perfect time to take up new hobbies–like learning a second language or getting in serious shape or finally starting that huge novel or, I don't know, learning to knit, maybe?
Sam was trying to learn Russian with a free app on his phone, but he told me it just felt like another chore. That's how all these new hobbies felt. That didn't stop the guilt that poured in from the constant stream of ads telling us to take advantage of all our "free" time.
We wished we could turn everything off for a bit, especially when we saw on Instagram that Sam's cousin went camping! He called her with the intention of asking why she wasn't practicing social distancing, but then she told him about Getaway—a naturally remote experience in nature.
Getaway offers year-round cabin bookings that come with AC/heat, indoor plumbing (including hot showers) and a small kitchen, all in a clean and modern little package. When we looked online, we saw that they're a pretty affordable option with nights starting at $99, which is really important for us right now.
There are outposts all over the country, about 2 hours from major cities. She'd driven to one that was about an hour from us in Austin.
We were extremely wary about leaving our home, even for grocery shopping, but after checking Getaway's website, their Journal posts, and emailing their team, I felt much better about us being safe. Their team shared that they have been working closely with the CDC and have intensified their cleaning procedures to ensure all cabins are as safe as possible.
On top of that, although there are other cabins nearby, they're much, much further than 6 feet away - they're actually 50 -150 ft away. With no communal spaces (each cabin comes with a private campfire and adirondack chairs) and self check-in and check-out, it was as simple as driving straight from our home to the cabin.
The best part about Getaway? There's no wifi so we could completely avoid our social media spirals and the pressure to be "doing something" all the time.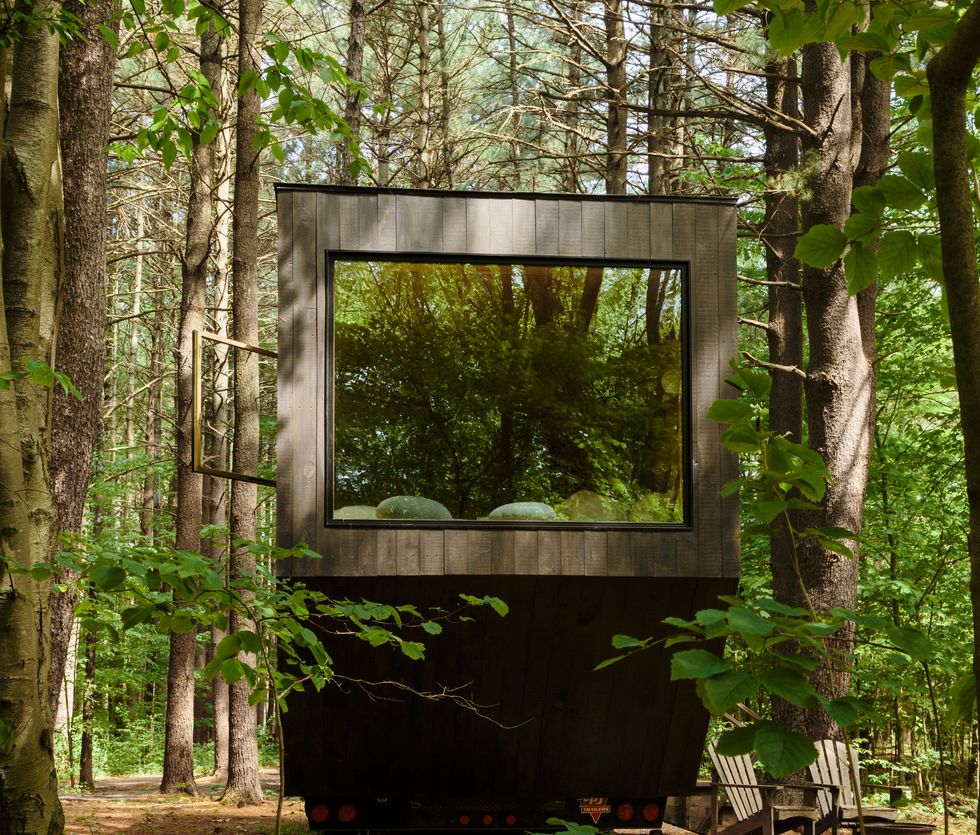 They had an availability that weekend, so we made the decision to book and take Riley with us because, on top of everything, they're dog-friendly. There's a $40 pet fee, but Getaway's cabins provide dog bowls, treats, an outdoor lead, and waste bags, and everything else we might need if we forgot something for our pup!
We packed light—just bringing some food, clothes, dog toys, and a deck of Uno cards. With the kitchenette and basic provisions, we'd be fine, plus we could even grab items for purchase in the cabin if needed. The fees are simply tacked on afterwards.
On the drive up, we hit no traffic for the first time in our lives. The Outpost was beautiful, and the flowers were just starting to pop through the dirt. It was easy to find our cabin, and Riley immediately made himself at home, running around for a bit, then conking out on the bed for a nap.
Getaway offers a lockbox for your electronics and since we'd already told our closest friends and family where we were, we decided to lock up our phones. Then, we joined Riley for a nap.
We decided on zero plans for the weekend, and it was wonderful. We got more sleep than we'd had in a while, more exercise from exploring the nearby trails with Riley, and we devoured more s'mores than we're comfortable admitting. We played cards and talked late, but didn't try to better ourselves in any way, which was so refreshing.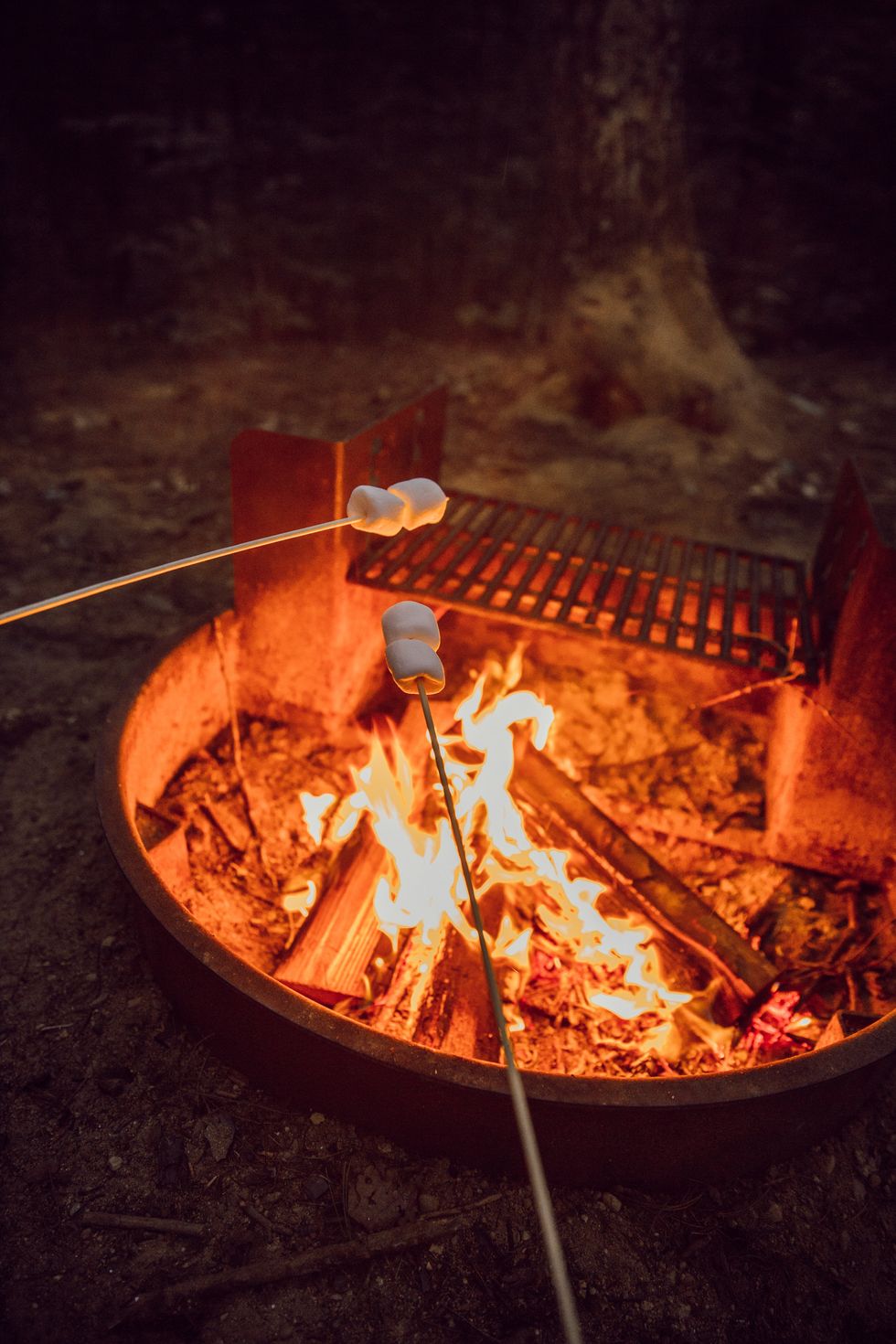 When we arrived home, we felt a noticeable difference in our stress levels.. We thought all this free time at home would be good for us, but without fresh air and freedom to just relax, it was terrible. Getawayhelped us to get fresh air in a safe way, spend quality time with each other and Riley, and say goodbye to our guilt about not being productive.
If we'd chosen to be productive during all this free time, that would be one thing. But forced productivity is unbearable, and we only learned that lesson when we chose to take a break.
We'll be productive for the rest of this quarantine only if we want to be. Without Getaway, we wouldn't have developed this perspective and we'd still be searching for some peace of mind.
Plan Your Escape With Getaway! Book One Month In Advance And Take $20 Off Your Adventure With The Code FALL20!
Offer Expires In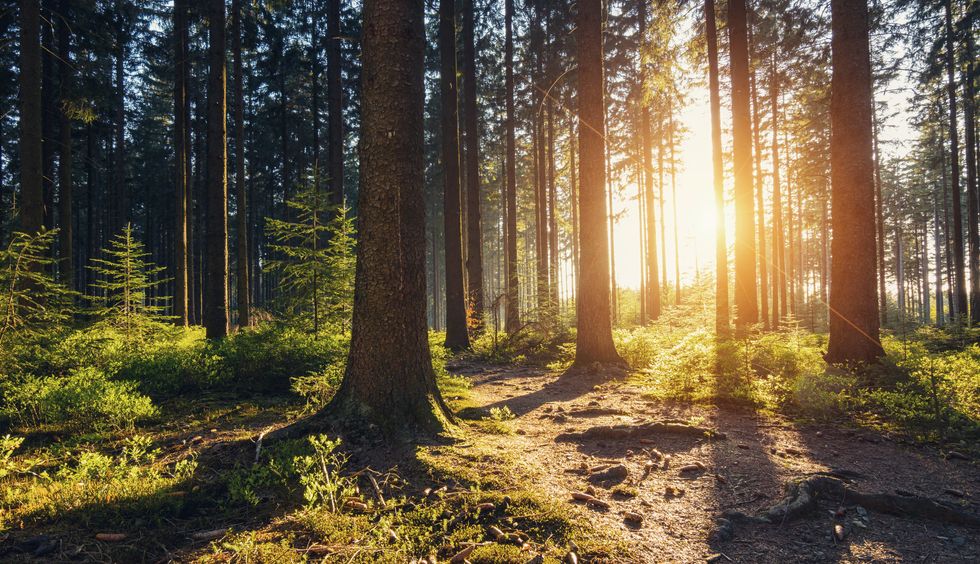 Pine Trees In Forest Getty Images/EyeEm