Getaway: The Self Care Break We All Need Right Now
This year, my roommates and I made a pact to take our self-care seriously. The main thing we wanted to focus on was spending less time looking at screens, which had been tough considering the amount of time we were spending at home.
Nonetheless, we didn't want this to affect our self-care goals.
We had been cooped up for too long, so we decided that we needed to spend some time with nature and get some fresh air.
I've been friends with Amy and Chloe since high school - we have many fun memories of trips from when we were younger. Recently, we were laughing about how we could no longer travel around for weeks on end, hopping on train after train and taking dips in the ocean at 4 am. Those days are behind us now.
We needed a self-care break, but we wanted to make sure that we'd be safe - we were apprehensive to make any travel plans with everything going on. We had fantasies of going on a yoga retreat or a spa weekend, but everything seemed to be canceled at the moment.
Amy threw out the idea of camping. Chloe cracked us up by recounting our one lame attempt during high school - we ended up driving home early because we got creeped out by weird noises.
We were stumped, but then it came to me - I'd seen an article about Getaway cabins, and they looked delightful! Getaway would be perfect for the self-care, tech-detox trip we were craving.
While Getaway cabins are located only two hours from major cities - Atlanta, Boston, Dallas, Austin, Los Angeles, New York, Pittsburgh, Cleveland, Portland, and Washington D.C. - they're totally disconnected from our busy lives.
Getaways' cabins are scattered among the trees and offer the best camping conditions without having to rough it (or get creeped out by nature's mysterious nocturnal creatures!). Beautiful views, but with a cozy bed tucked into a huge window to admire them. On top of that, each cabin has a "cell phone lockbox" to motivate you to go technology-free. And, we would be able to use my car to drive straight to the cabin and not have to take any flights.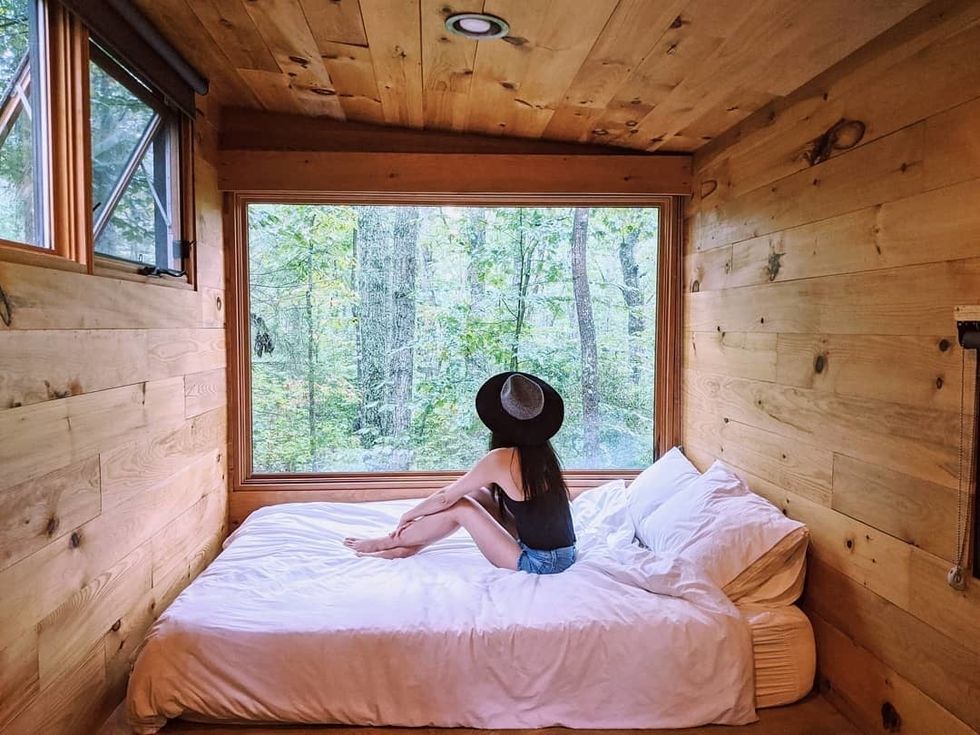 When I suggested Getaway, Chloe and Amy thought it sounded ideal. We were a little apprehensive about traveling at first with everything going on, but we did our research reading up on Getaway's Journal posts and website and emailing their team, and they helped ease our concerns. They assured us that they've revamped their cleaning procedures to make the cabins as safe as possible for us and that we'll be at least 50-150 ft away from the next cabin. With self-check-in and self check-out, Getaway was the perfect option for our self-care trip.

We decided to bring our yoga mats and have our own mini yoga retreat. We planned our whole adventure out – morning yoga, nature walks, mountain climbs, no phones, and just us.
The next weekend, we set off - the drive really took only 2 hours. When we stepped into the cabin, the view outside the window was stunning - the sun was setting and the sky was a beautiful shade of pink. It had been a while since we'd seen a view like that! We put our phones in the lockbox, first thing. Then we relaxed by the fire pit, sipping cups of chamomile tea and enjoying the peace and quiet before going to bed.
The next morning, we got up bright and early and started the day with yoga outside. It was super refreshing to hear the birds chirping while running through our asanas. Later that day, we walked along an absolutely breathtaking trail - leaves crunching underfoot as we rambled through the forest. Don't worry - we followed guidelines and regularly washed our hands. There's lots of running water so you don't have that normal camping stress.
At home, we each enjoyed a nice, hot shower. Amy grilled chicken and vegetable skewers on the grilling grate for dinner, before we went inside for a night of board games (I won our game of Monopoly).
Getaway's beds are so cozy, everyone slept soundly preparing us for our hike the next day. We woke to birds singing and eagerly headed out for our morning session. Outside yoga and meditation made us feel peckish, so Chloe made eggs on the cast iron pan - so cute - and we ate around the picnic table. This sure ain't roughing it!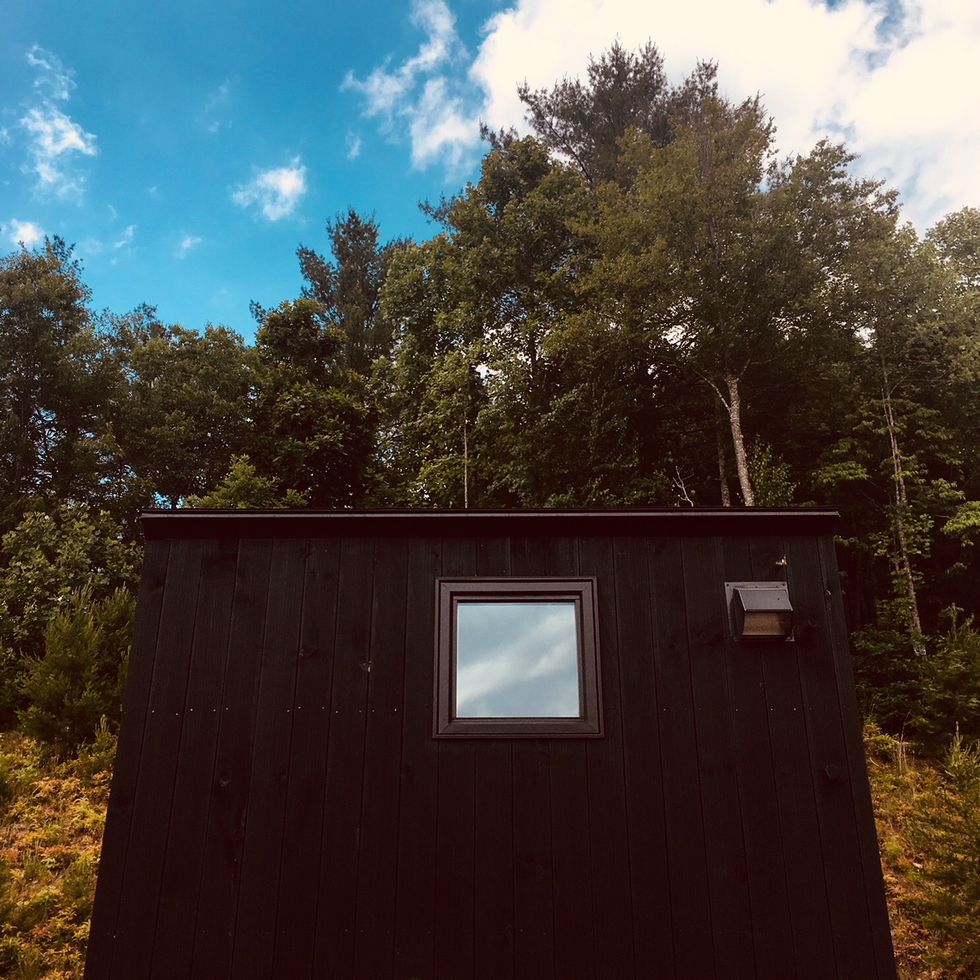 We then set off on a 3-hour hike through the mountains. The views were spectacular, and it was wonderful to completely escape the chaos of the city and our smartphones and fully appreciate the great outdoors.

That evening we were so exhausted, we went straight to bed. The next day, it was time to leave our haven in nature. As we packed our stuff and turned our phones back on, notifications instantly flooded in. We all sighed. "Back to reality," Chloe said.
On the journey home, we chatted about how our Getaway weekend really cleared our heads and was a nice escape from all the craziness going on in the world - it was just what we needed!
We vowed to make it a regular adventure to get out in nature for walking and hiking as much as we could. Getaway has truly inspired us to care more for ourselves in little ways and allowed us to clear our heads and have a fresh mindset coming home.
Plan Your Escape With Getaway! Book One Month In Advance And Take $20 Off Your Adventure With Code WINTER20!