Why I Never Imagined I'd Live Through A Winter In The Woods - Here's What Happened
My big sister Kate is always ahead of the curve. The latest movie, series, podcast – you name it, she's there wayyy before me. If she didn't have such good taste, I'd hate her. Anything she recommends is marvelous. Take Getaway, for instance.
Getaway offers the comforts of the city in a rustic setting. They've revolutionized camping and made it something to enjoy – not endure. Kate went there twice last summer and had a blast.
She and my niece kicked around a local village, picked up some antique knick-knacks, and shopped for fresh greens and tomatoes at a nearby farmer's market. There was even a scooter rental place! Although I was a bit sick of all her boasting, I really needed a break from 10-hour days on my work laptop and phone.
But my time-off requests got pushed into the winter. To say I'm not a winter person is putting it mildly. Would I enjoy myself if I actually booked a Getaway cabin? What about heat? Would I be warm enough? Maybe I'd freeze. What if I got there and hated it? I shouldn't have worried. Thanks to Getaway, I had myself a genuine, walking-in-a-winter-wonderland time.
You may be close to nature, but you're sure not roughing it. Picturesquely situated, Getaway's cabins have heat! A real shower with hot water! And fluffy towels, and a private toilet. This sure ain't camping. The charming kitchenette has a mini-fridge, a two-burner stove, and cooking basics like salt, pepper, olive oil.
Outside, you'll find a fire pit, chairs, a picnic table, and more. You can pack light because so much is waiting for you inside.
No wifi means you can disconnect from your screens and truly enjoy some peace and comfort. You can even ditch your mobile device by putting it in a lockbox. The wooden box has the words "for a true escape, forget your phone inside" on it – I took its advice.
After inspecting – and being quite impressed by – the cabin, I collapsed in the warm and ultra-comfy bed and had a deliciously long nap. I woke to the winter sun shining through the huge window. The woods looked so inviting I took a small hike, shuffling through a light, sprinkling of snow.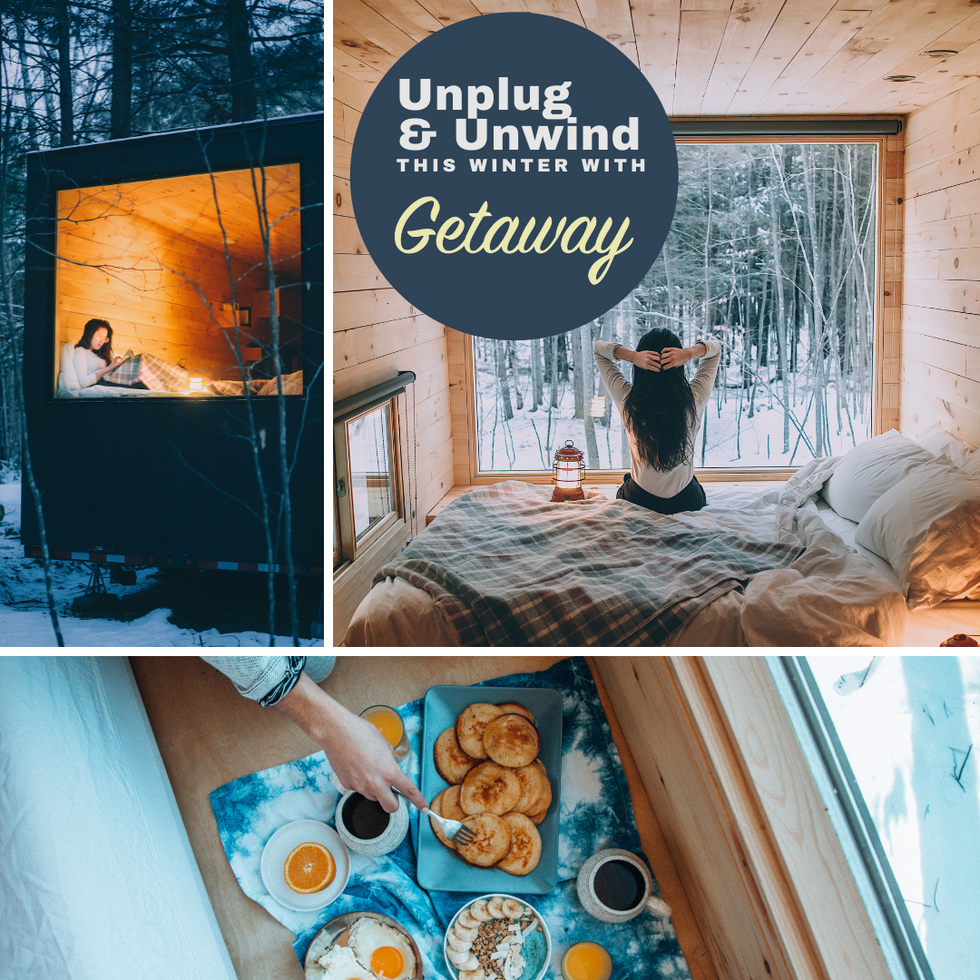 For someone who rarely sees this many trees, I was thrilled to amble under snow-laden branches, breathe in the crisp, fresh air, and let the stresses of the city fade away. Getaway has over a dozen outposts across the nation with nearby hiking trails, sledding, ice-skating, mountains, rivers, and lakes. There are so many options for the outdoorsy type.
My Outpost was close to a bookstore, a sweet coffee shop with yummy home-baked goodies only a 15-minute drive away, and a beautiful red lighthouse! When Getaway says they combine the best of the city and the country, they mean it.
Getaway's even family and pet-friendly. There's just a small fee to bring your dog. I just may have to get one just so it can come along on my next Getaway!
With 50 to 150 feet between cabins, Getaway is socially distant by design – check-in and check-out are contact-free. Rates start at only $99/night.
And, they're super convenient. Getaway's Outposts are about a two-hour drive from many cities: Atlanta, Austin, Chicago, Portland, Seattle, San Antonio, Dallas, Houston, New Orleans, Los Angeles, Boston, Charlotte, Nashville, New York, Pittsburgh/Cleveland, and Washington, D.C.
I spent a good part of my first evening wrapped up in a blanket, perched in an Adirondack chair in front of the blazing fire pit, toasting the brightly shining stars and Getaway for this exquisite setting and the opportunity to sit back, relax, think, plan my life, and rejuvenate.
I also offered a toast to my sister, Kate. She can drive me up the wall. But, I must admit, when she's right, she is so right.
Getaway gave me the winter getaway of my dreams.